These soft and flavorful zucchini muffins are sweet and topped with a delicious glaze. The kids will never even know they're filled with zucchini!
Muffins are one of those food items that can be eaten for breakfast or a snack. These ones are a bonus because they have a veggie hidden inside. 😉 Some of our other family favorites include banana muffins, lemon poppy seed muffins, and chocolate chip muffins!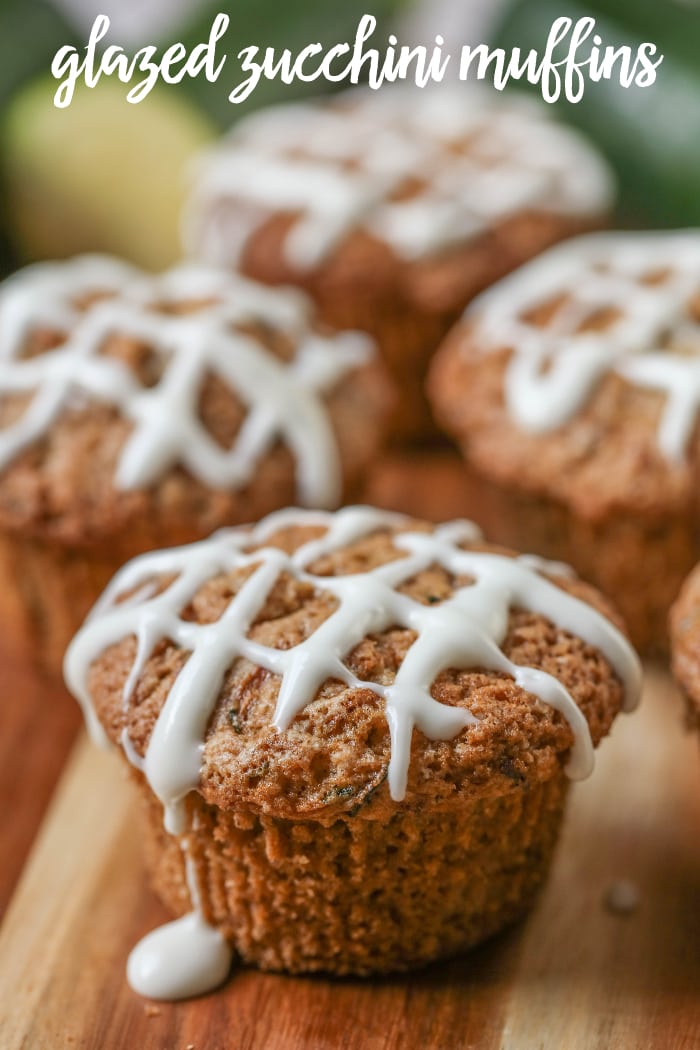 A Healthy after school snack!
One of my very favorite things about the kids being in school, is having fun treats and snacks for them when they get home. I know that this is not on the top of most peoples "excited for" lists. But, it was something I always cherished from my mom and have loved carrying it on with my own littles.
These zucchini muffins make the perfect after school snack! We decided to turn a zucchini bread recipe into a muffin recipe, which turned out to be a bit tricky. After some trial and error, my talented mom was able to perfect it.
We're glad she did, because sometimes a muffin is just so darn good. And my kids are suckers for a muffin. What about yours? I think they'll be a big hit. AND they have a hidden veggie in them, zucchini! Shhh… my kids don't know yet. 😉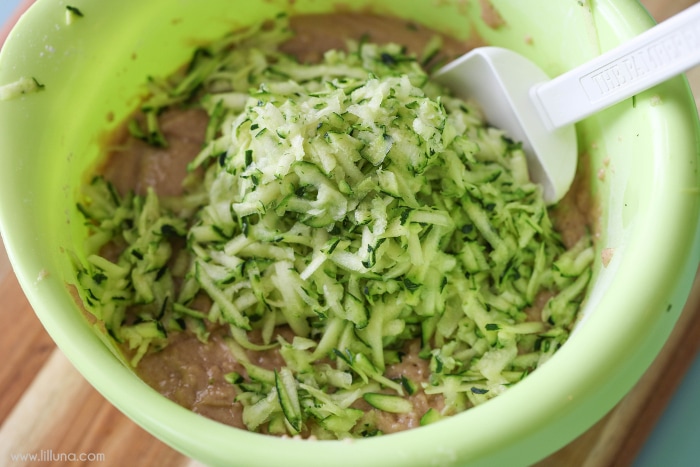 Let's talk zucchinis
Zucchinis are full of magnesium, vitamin A and C, fiber, potassium and more. So any time you can sneak it into a recipe is a win! 

When harvesting or purchasing zucchinis look for ones that are 6-8 inches long and have a dark green glossy skin. They should be heavy and firm, but the skin can be dented with the fingernail 

Store zucchinis in a cool dry place. The crisper drawer in the fridge is a perfect spot. You can also freeze shredded zucchini. I store 2 cups of shredded zucchini per freezer bag because that's how much the recipe calls for. Label and freeze for up to 10 months. Thaw overnight in the fridge before using. 

You do not need to peel the zucchini before shredding it. Just wash and dry it. I recommend using the smaller grate as the finer pieces will be less noticeable in the muffins.
Should I press the liquid from the shredded zucchini? That depends on a couple of things. 
First, some recipes account for, and even rely on, the extra moisture that a zucchini will provide. Pay close attention to the directions in the recipe. 
Second, some zucchinis have more moisture than others. For example, a large homegrown garden zucchini will have more moisture than a medium store bought zucchini. When a recipe does suggest squeezing out the excess moisture keep that in consideration.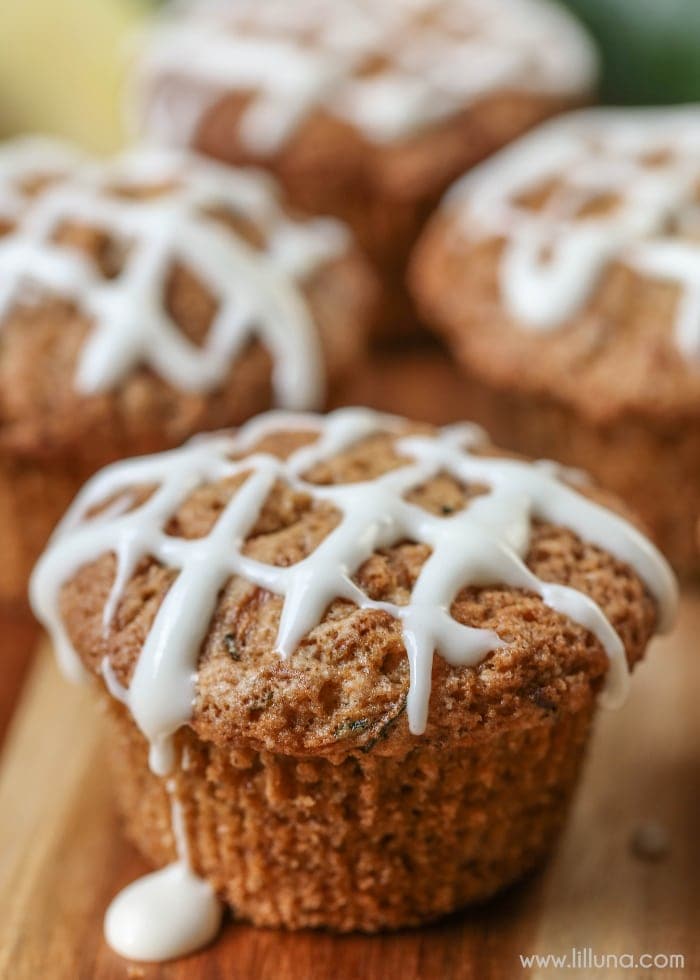 Additions and storing
Muffins mixins: Though these muffins are delicious as they are, it can be fun to change things up every now and then. Try adding mini chocolate chips, raisins, nuts or dried cranberries.
How to store zucchini muffins:
Counter: Store in an airtight container for 3-4 days. 

Freezer: Wrap muffins individually with plastic wrap or flash freeze them before placing them into an airtight freezer safe container. Label and freeze for 2-3 months. Thaw before serving. 
If you like, you can check out these other zucchini recipes:
Zucchini Muffins Recipe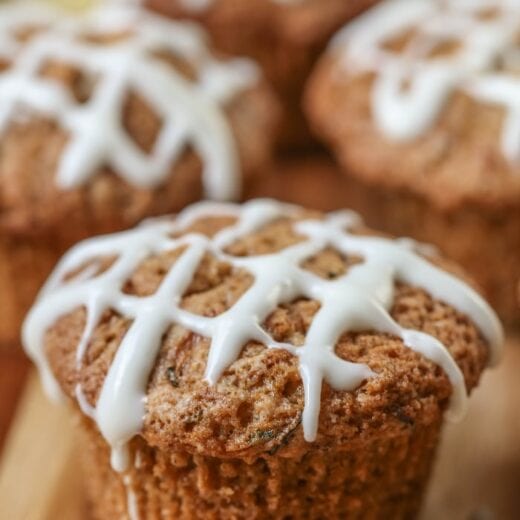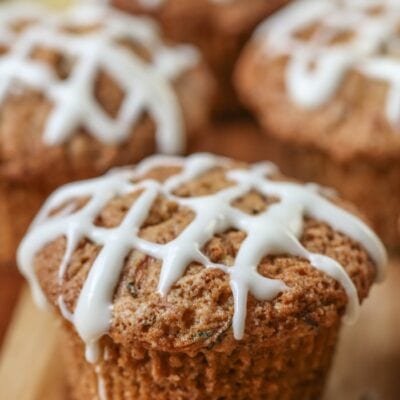 These soft and flavorful zucchini muffins are sweet and topped with a delicious glaze. The kids will never even know they're filled with zucchini!
Ingredients
Muffin
3

cups

all purpose flour

1

tsp

salt

1

tsp

baking soda

1

tsp

baking powder

3

tsp

ground cinnamon

3

eggs

1

cup

vegetable oil

2 1/4

cups

white sugar

3

tsp

vanilla extract

2

cups

zucchini

grated

1

cup

walnuts

chopped
Glaze
1

cup

powdered sugar

sifted

1-2

tsp

lemon juice

or vanilla

3-5

tbsp

milk
Instructions
In a bowl, sift together your flour, salt, baking powder, soda, and cinnamon.

In a separate bowl, beat together eggs, oil, vanilla, and sugar.

Add sifted ingredients to the creamed mixture, and beat well. Stir in zucchini and nuts until well combined.

Pour batter into muffins tins, about ½-3/4 full. Bake at 350 for approximately 18 minutes. Check oven around 14 and every minute after to make sure your muffins do not burn. Top with glaze and ENJOY!
Adapted from allrecipes.com.