Whether you have a reason to celebrate or not, this soft and chewy M&M COOKIE CAKE is the perfect dessert to enjoy with friends and family. A sugar cookie dough filled with M&M's and some chocolate buttercream frosting on top! YUM!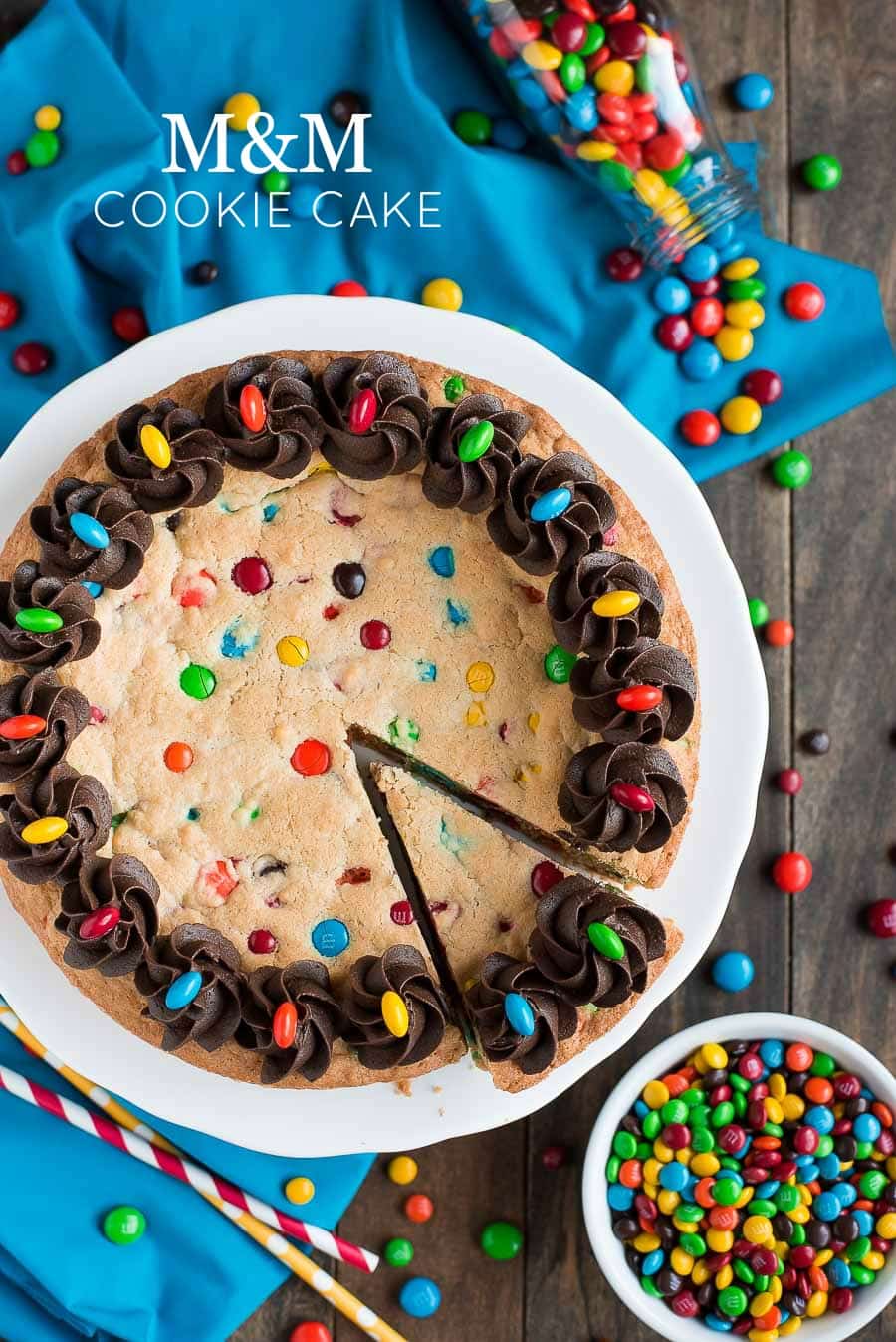 Cookie Cake
Have you had a Cookie Cake before? They are the best! You don't have to cook multiple batches of cookies, they're great for a party, and it has frosting! How could you not want a slice of this M&M Cookie Cake?!
Back in the 90's when I was still in elementary school, the coolest treat to bring to share with your class for your birthday was Chocolate Chip Cookie Cake. Some people even brought double layer cookie cake! Well, I thought it'd be fun to make an M&M variation.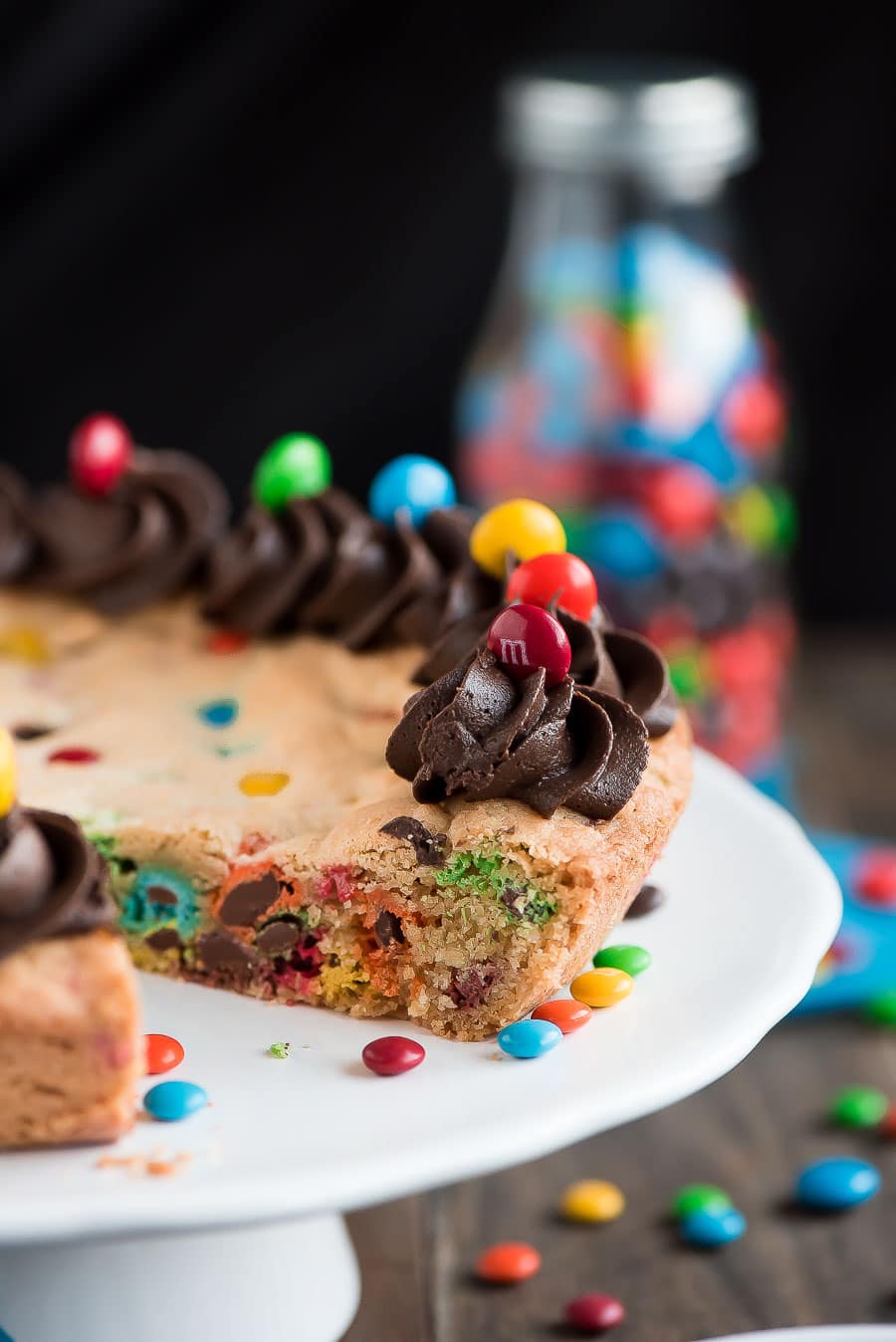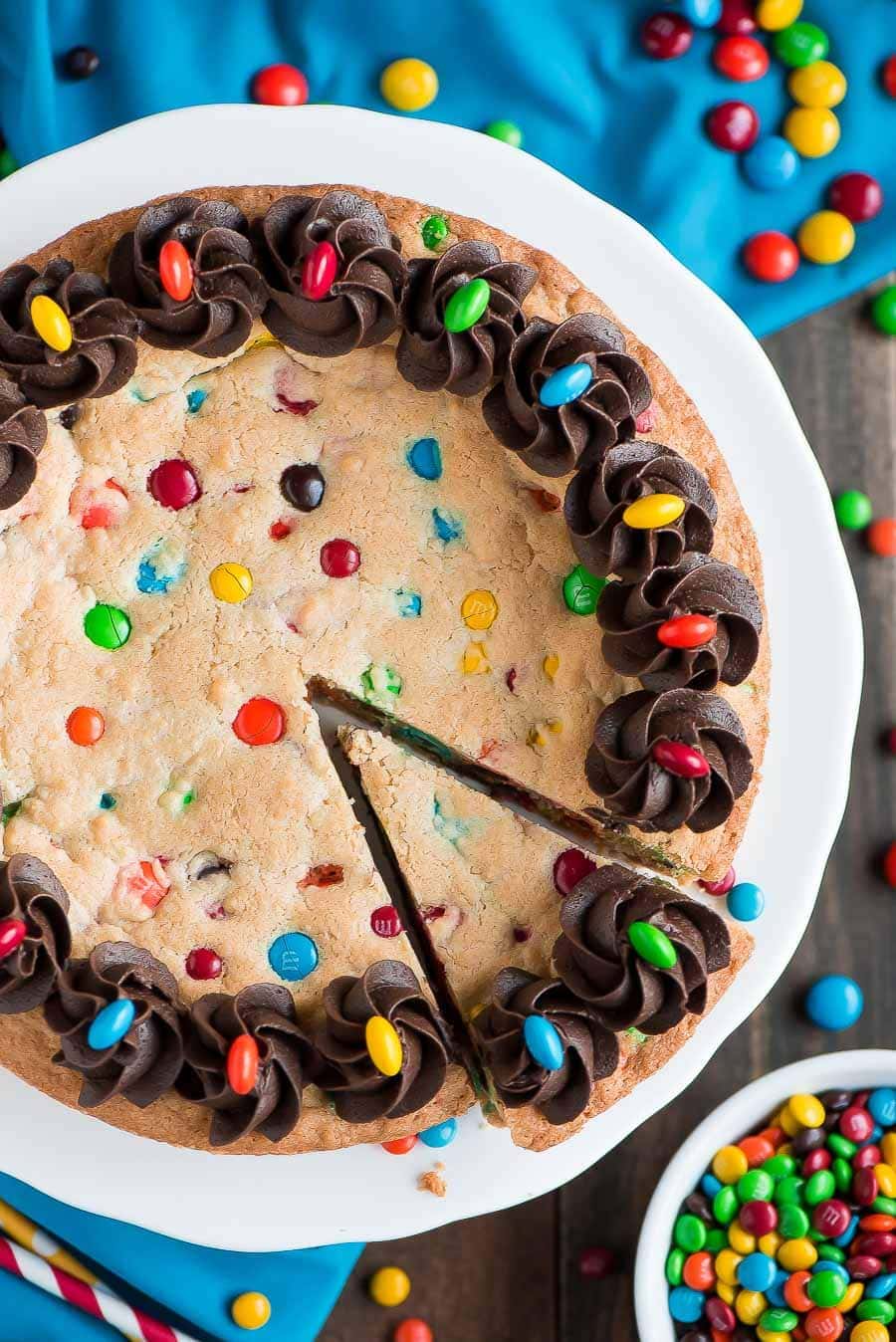 M&M Cake
Who doesn't love M&M's with their colorful crunchy shell and milk chocolate center?! They're dangerous little devils! They're so small so you keep telling yourself "just one more" until you find yourself a the bottom of the bag and a tummy full of chocolate (Worth it!)
The batter for this is more like a sugar cookie since it doesn't have brown sugar and tastes like the beloved M&M cookies you'd get from the Mrs. Field's stand in the mall.
How to make Cookie Cake
Once you whip up your dough you just press it evenly into a greased pie dish and pop it in the oven. Let it cook completely and then run your knife along the edge and the whole thing will pop out to place on a platter. You can also just leave it in the pie plate.
The frosting is a simple chocolate buttercream. I used half dark cocoa powder and half regular. It was super yummy but you can just use whatever cocoa powder you have on hand. After you pipe on the rich chocolate frosting, top it with more M&M's and feel free to throw on some sprinkles for good measure. Now you're ready to slice and party!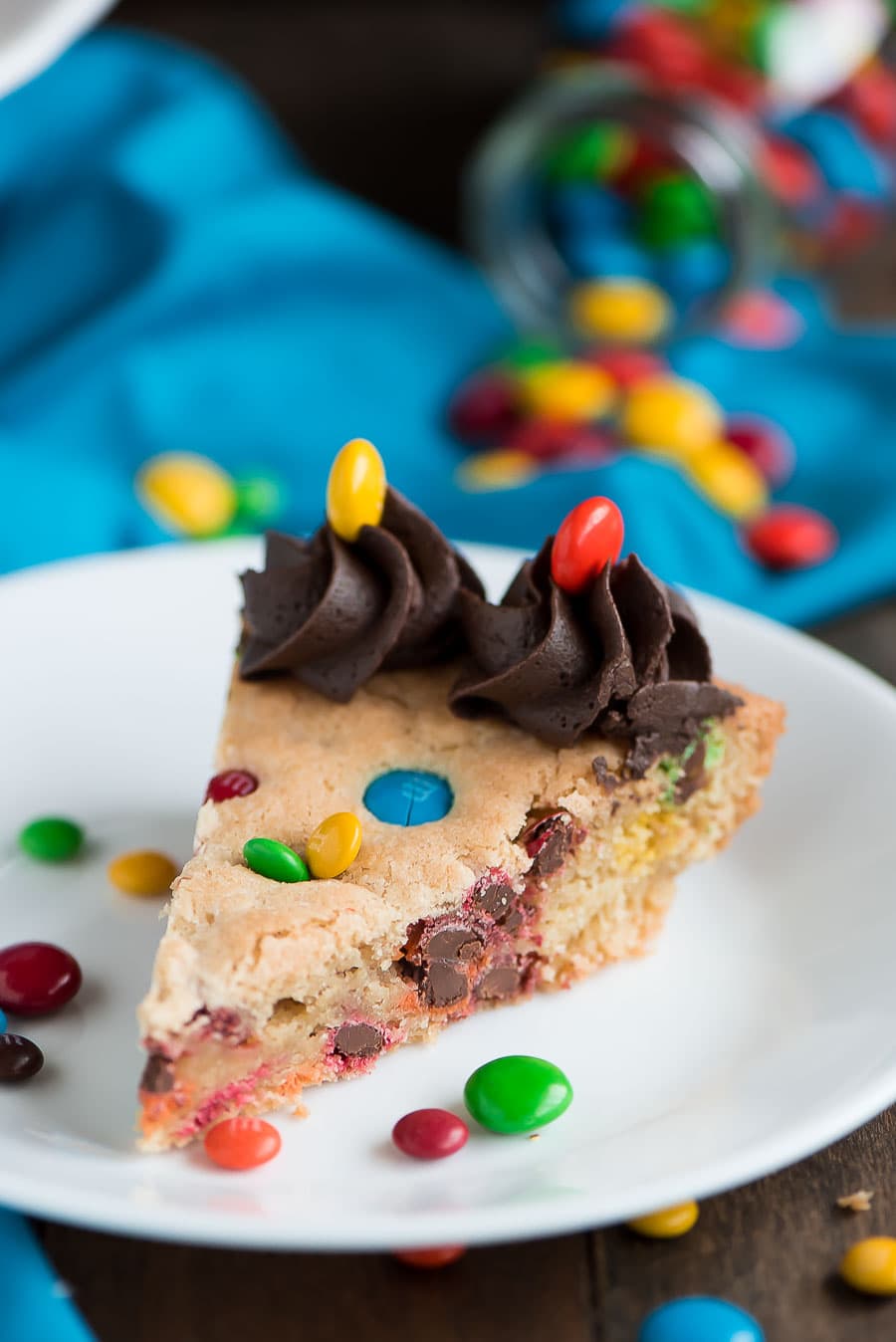 You can't go wrong with this M&M Cookie Cake. Kid's go crazy over it!
For more cookie creations, check out:
How to make a Cookie Cake: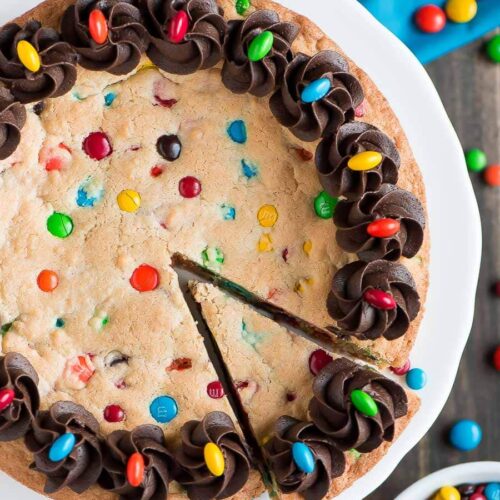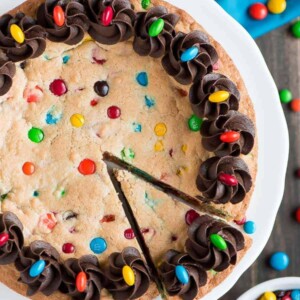 M&M COOKIE CAKE
This M&M COOKIE CAKE has a sugar cookie dough filled with M&M's and some chocolate buttercream frosting on top and is the perfect dessert to enjoy with friends and family.

Ingredients
Dough
1/2

cup

salted butter

3/4

cup

granulated sugar

1

large

egg

1

egg yolk

1 1/2

cup

all-purpose flour

1

tbsp

cornstarch

1

tsp

baking powder

1/2

tsp

baking soda

1/4

tsp

salt

3/4

cup

m&m's

1/4

cup

mini m&m's
Instructions
Dough
Preheat oven to 350 degrees F and grease a 9 inch pie dish.

Beat butter for 2 minutes until smooth. Mix in sugar until fluffy. Add in the egg, yolk, and vanilla until smooth, creamy, and light in color.


Add the flour, cornstarch, baking powder, baking soda, and salt and mix until combined.


Mix in the m&m's by hand (they're break if you use the mixer) until evenly distributed.


Spread dough in the greased pie dish. Bake for 23-26 minutes. Cool completely before removing from pie dish and frosting.

Frosting
Beat butter and cocoa powder together. Mix in the powdered sugar and vanilla. Add the milk as needed to get desired consistency.

Place frosting in a piping bag with an M1 tip and decorate the cookie cake. Immediately add the M&M's and sprinkles.

Also be sure to check out this Peanut Butter Cookie Cake: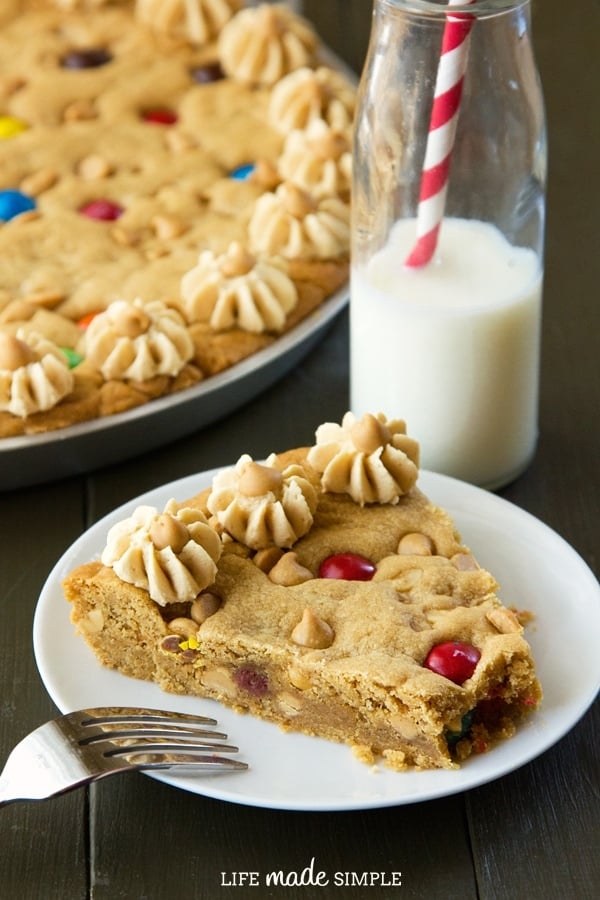 __________________
I'm craving some M&M cookies after reading this! 😉 Cookie cakes for the win! Thanks for sharing this recipe with us Melanie!! For more delicious recipes by her, visit her site Garnish and Glaze!
For all Dessert recipes, CLICK HERE.
For all Cake recipes, CLICK HERE.