M&M Cookie Cake is made from sugar cookie dough filled with M&M's and topped with some chocolate buttercream frosting. It's the perfect dessert to enjoy with friends and family.
Cookie cakes are a fun alternative to regular cakes. For some other flavor options, try our Chocolate Chip Cookie Cake or Peanut Butter Cookie Cake!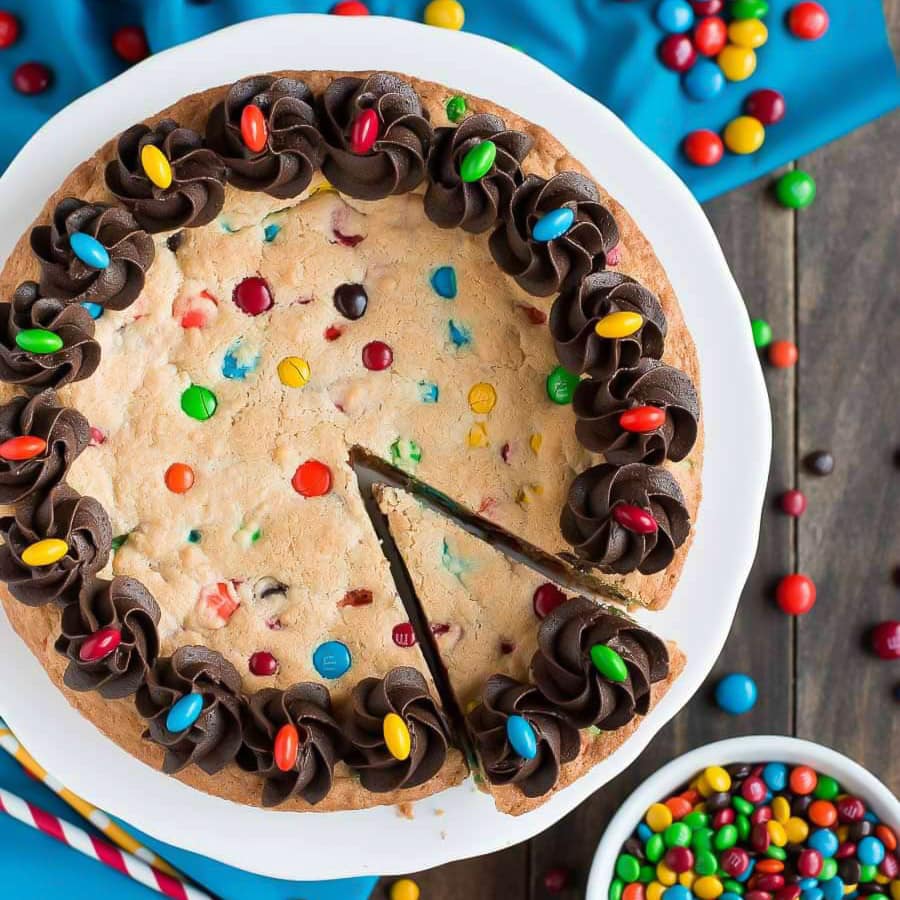 Cookie Cake with M&Ms
Have you had a Cookie Cake before? They are the best! You don't have to cook multiple batches of cookies, they're great for a party, and it has frosting! Plus, this version is jam packed with M&M's!
Who doesn't love M&M's with their colorful crunchy shell and milk chocolate center?! They're so small so you keep telling yourself "just one more" until you find yourself a the bottom of the bag and a tummy full of chocolate (Worth it!).
The batter for this is more like a sugar cookie since it doesn't have brown sugar and tastes like the beloved M&M cookies you'd get from the Mrs. Field's stand in the mall. Trust us – it's amazing!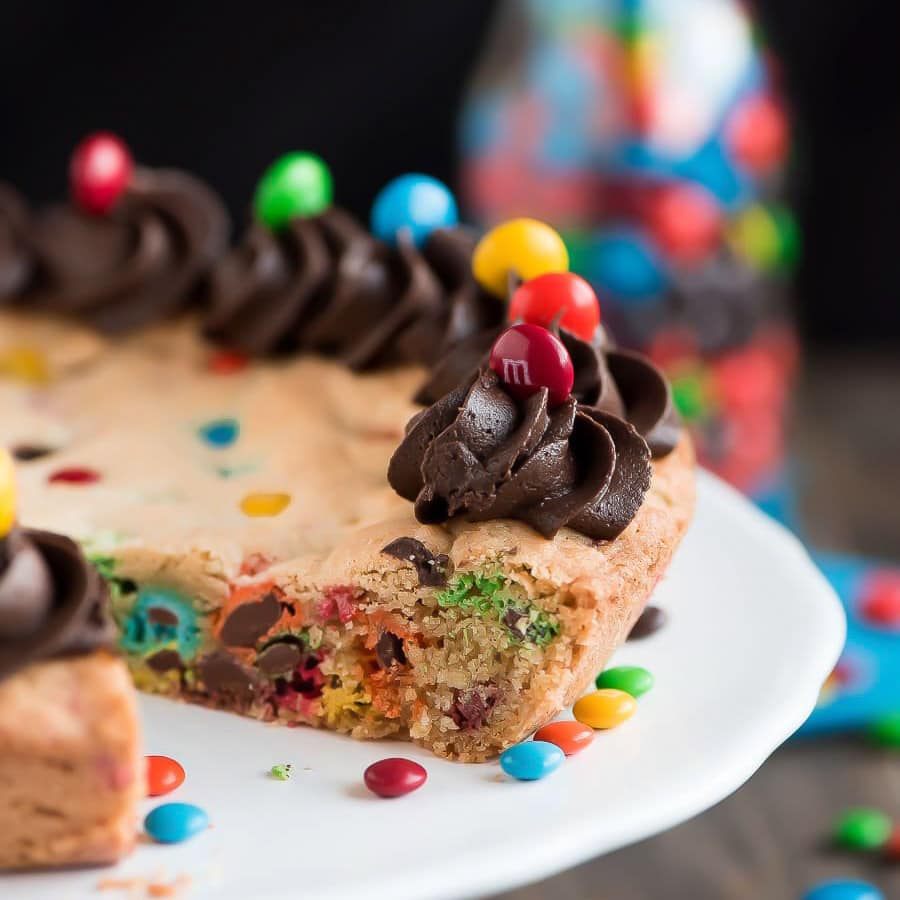 How to make M&M Cake
COOKIE. Once you whip up your dough you just press it evenly into a greased pie dish and pop it in the oven. Let it cool completely before trying to remove.
How to remove the cake from the pan: Here a few things to keep in mind for easy removal.
Line the bottom of the pan with parchment paper and grease the sides of the pan

let it cool COMPLETELY while still in the pan.

Loosen the sides of the cake from the pan using a butter knife or cooking spatula

Flip the cake out onto a large cutting board. Since it will be upside down, flip it over again onto the serving plate.
FROSTING. The frosting is a simple chocolate buttercream. I used half dark cocoa powder and half regular. It was super yummy but you can just use whatever cocoa powder you have on hand.
DECORATE. After you pipe on the rich chocolate frosting, top it with more M&M's and feel free to throw on some sprinkles for good measure.
How do cookie cakes work with candles? If you wanna put candles in the cake make sure that you push the candles in while the cookie is still soft. If the cookie is harder when you try to add candles on make sure that you "glue" the candles on the cake with some dollops of frosting.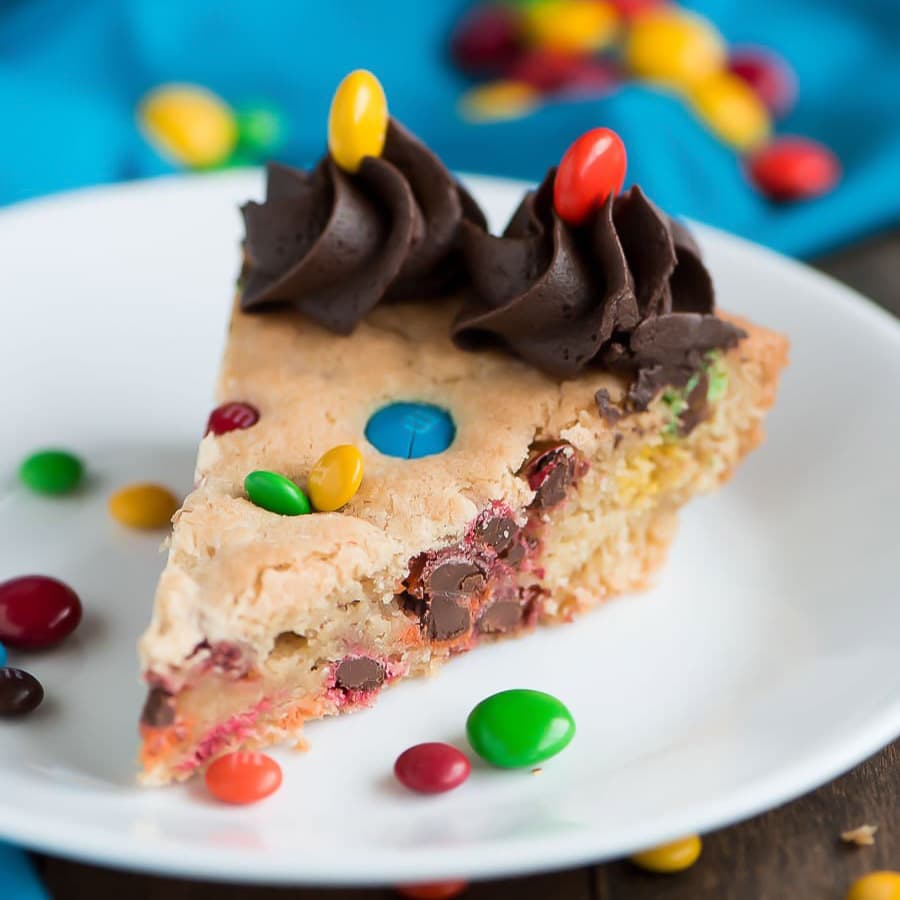 Variations
Like any cake you can easily make the base and change it up with different decorations and frosting choices. This cookie cake is no different.
Toppings:

Make the cookie base and add chocolate chips, chopped up candy bars, use chocolate sprinkles, reeses pieces, nuts and more…

Change up the

frosting

: We used a chocolate frosting, but you can use

vanilla

,

marshmallow

, peanut butter, a ganache…whatever your heart desires.

Different Pan

: You can use an 8 or 9 inch round cake pan. The 9 inch pan will need a little less baking time and will be thinner. Aside from using a round pan you can use a similar sized square pan. If you want to make a thinner, more crispy cookie cake, try using a slightly bigger pan and adjust the bake time.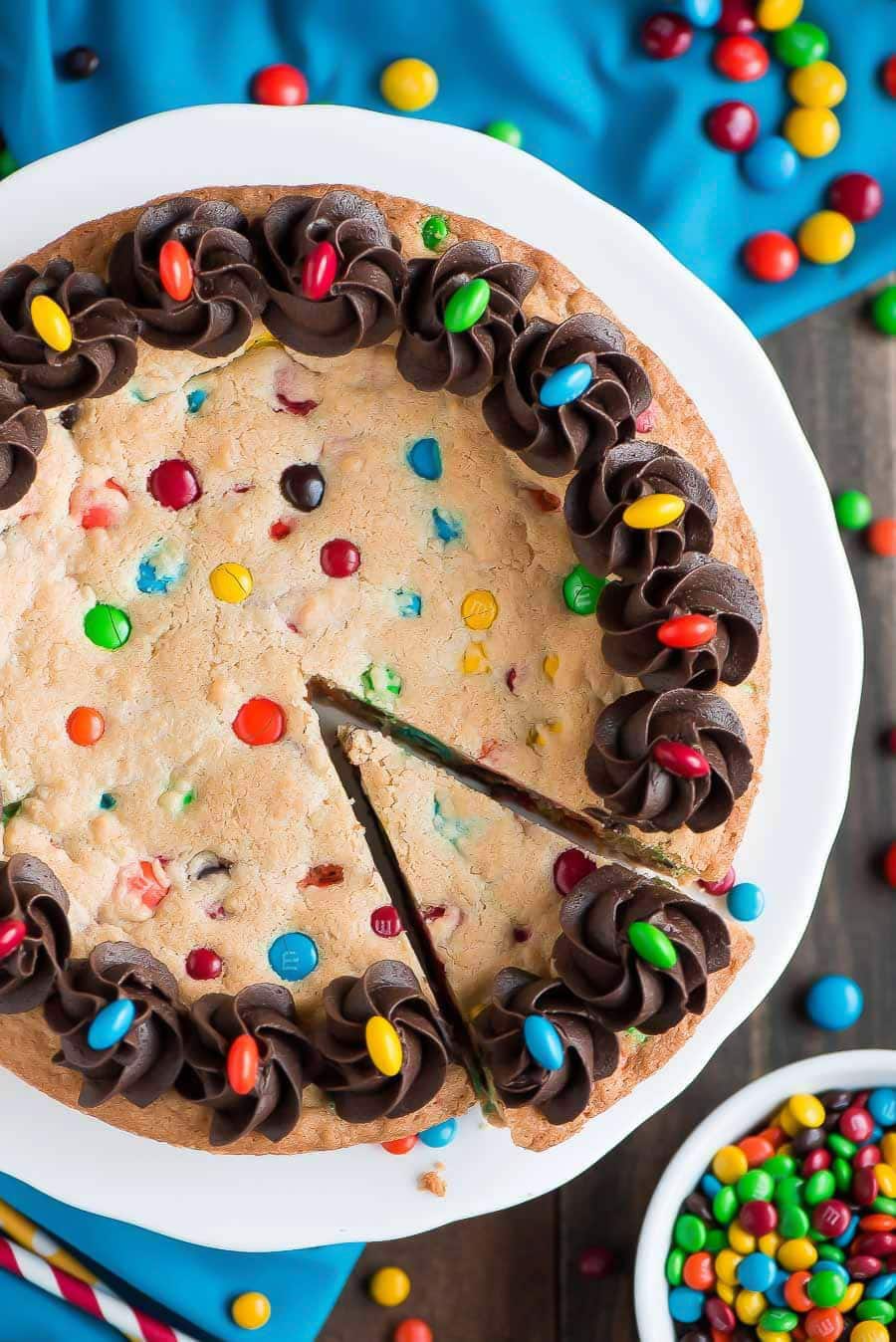 Storage Tips
If you want to keep the cookie cake fresh, the best way would be to STORE it in an air-tight container on the counter. Avoid storing it in the fridge, however you can store it long term in the freezer.
You should be fine to FREEZE the cookie cake, just like you would normal cookies. Ideally you freeze it unfrosted. Wrap the entire cake tightly with plastic wrap and again with foil. If you want to freeze the frosting, keep it in a separate airtight container and freeze. Thaw before spreading/piping.
If it has already been frosted, put the cake in the freezer to set the frosting then, wrap and store in the freezer. Unwrap before thawing.
For more cookie creations, check out:
M&M Cookie Cake Recipe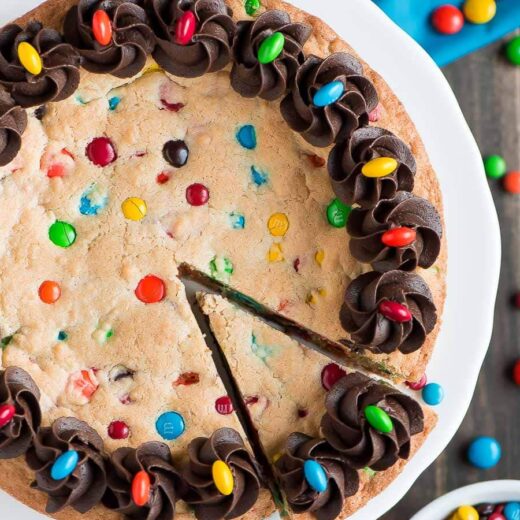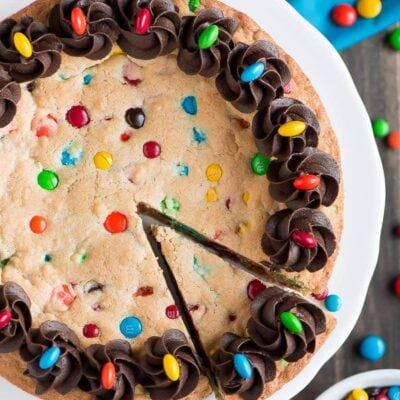 M&M Cookie Cake is made from sugar cookie dough filled with M&M's and topped with some chocolate buttercream frosting. It's the perfect dessert to enjoy with friends and family.
Instructions
Dough
Preheat oven to 350 degrees F and grease a 9 inch pie dish.

Beat butter for 2 minutes until smooth. Mix in sugar until fluffy. Add in the egg, yolk, and vanilla until smooth, creamy, and light in color.


Add the flour, cornstarch, baking powder, baking soda, and salt and mix until combined.


Mix in the m&m's by hand (they're break if you use the mixer) until evenly distributed.


Spread dough in the greased pie dish. Bake for 23-26 minutes. Cool completely before removing from pie dish and frosting.

Frosting
Beat butter and cocoa powder together. Mix in the powdered sugar and vanilla. Add the milk as needed to get desired consistency.

Place frosting in a piping bag with an M1 tip and decorate the cookie cake. Immediately add the M&M's and sprinkles.