This post brought to you by Mrs. Smith's. All opinions are 100% mine.
Did you guys get your fill of pie last week?
My family sure did. I think we ended up with 9 different pies at our Thanksgiving! From pumpkin to butterscotch, every flavor was there and every pie was happily consumed by the entire family.
As if we hadn't had enough pie, I bought several more this week to review. My hubby is a HUGE pie fan so he had NO objection (he would take a slice of pie over a piece of cake any day!)
MY OTHER RECIPES
We were able to try out the new line of Mrs. Smith's Signature Deep Dish Pies, which are available at most Wal-Marts nationwide.  These are the pies they have:
Signature Deep Dish Dutch Apple Pie with Caramel Sauce
Signature Deep Dish Cherry Pie with Butter Fudge Sauce
Signature Deep Dish Peach Pie with Cream Cheese Frosting
Signature Deep Dish Pumpkin Pie with Cream Cheese Frosting
Don't they all sound delicious? So far, we've tried the Apple Pie (one of the hubby's favorites). Not only was it easy to make but it was topped off with the yummiest streusel and caramel that made the pie that much better! It was like customizing your own pie which is even better!
Check it out: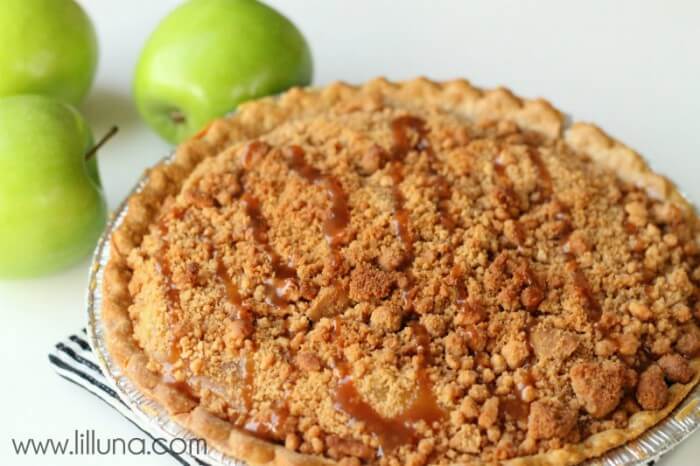 Looks heavenly, right?
I will admit that I brought this over to my mom's house for dessert this past week and let the family have it not knowing it wasn't homemade. They all loved it!! I told them it was a Mrs. Smith's frozen pie, and they had thought for sure it was homemade…. love those kinds of treats!!
Would you like to try out some of these pies for yourself by getting 4 coupons for FREE PIES?
And how about even winning a $50 Gift Card to Williams-Sonoma?
Thought you would… 🙂
TO ENTER:
Giveaway will end one week from today at midnight. Winner will be emailed the following day and must claim their prize within 48 hours before a new winner is chosen.
For more information about Mrs. Smith you can go to the following links to find them on  Facebook and Pinterest.
Good Luck and ENJOY!