One of our favorite desserts in cookie form. These Texas Sheet Cake cookies are soft, delicious and taste just like cake. They're great for get togethers and holidays!
We are all about trying new and delicious cookies, especially if chocolate is involved!! These are a new favorite and will become go-to's like our classic chocolate chip cookies and crinkles cookies.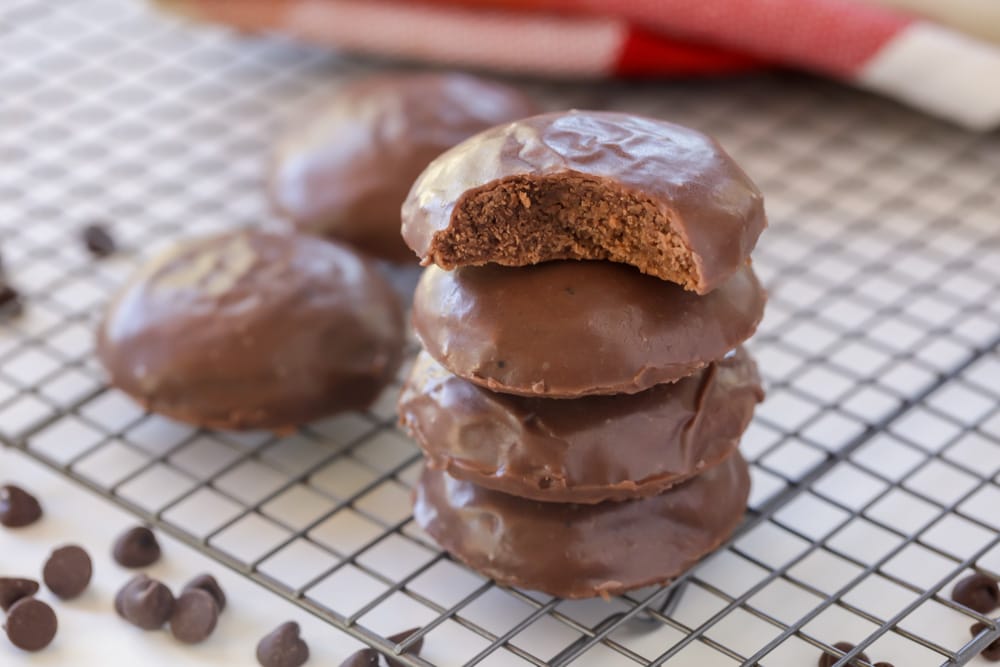 Favorite Cake in Cookie Form
Have I mentioned before how much we love our Texas Sheet Cake recipe?! It's definitely one of our go-to's for get together, holidays and special occasions. It's soft, delicious, and feeds a ton.
When we saw a recipe to make them into a cookie, we knew we had to try it, because who can deny a piece of cake in cookie form?! Not I!
We were so glad we gave these a go because they were delicious and loved by all. They are soft, chocolate-y and topped with a delicious chocolate frosting that makes them irresistible. Give them a try – we think you will agree!!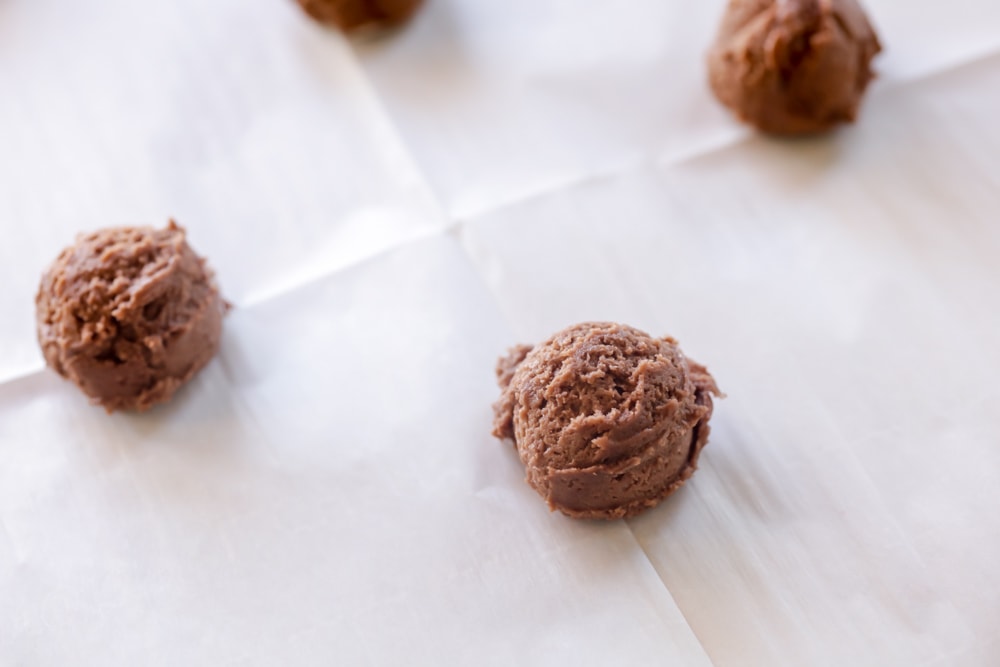 How to Make Texas Sheet Cake Cookies
We love how simple these cookies are to make!
Line the baking sheet with parchment paper, or a silicone mat and preheat the oven to 350°F
Beat together the butter and sugar in a stand mixer until light. Be sure to scrape the sides down frequently.
Mix in the egg and vanilla. Once incorporated add the baking powder and salt. Slowly mix in the flour on low speed. The dough will be thick.
Melt the chocolate chips in the microwave. Heat for 30 second increments, stirring in between, until melted. Add the melted chocolate into the cookie dough and mix.
Use a cookie scoop to drop the dough onto the baking sheet. Bake for 8-9 minutes for smaller cookies and 9-11 minutes for larger cookies. Be sure you do not overcook. The top should be dry to the touch, but soft and moist in the middle.
Chocolate icing: Using a medium saucepan stir together the butter, cocoa powder, and milk over medium heat. Whisk until the butter is melted and ingredients are combined. Remove from the heat and stir in the powdered sugar.
Once the cookies have been baked DO NOT remove them from the pan. Use a spoon to cover each hot cookie with the icing. The cookies will get good and chocolatey! Allow the icing to set. Once set and the cookies have cooled, carefully remove the cookies from the pan.
Chocolate Sheet Cake Cookie Tips:
Pre whisking the egg before adding it to the other ingredients helps it incorporate faster. 

Only mix dry ingredients until incorporated.

Use a cookie scoop to make even sized cookies. 

Don't overbake-

The center of the cookie should be soft and dense.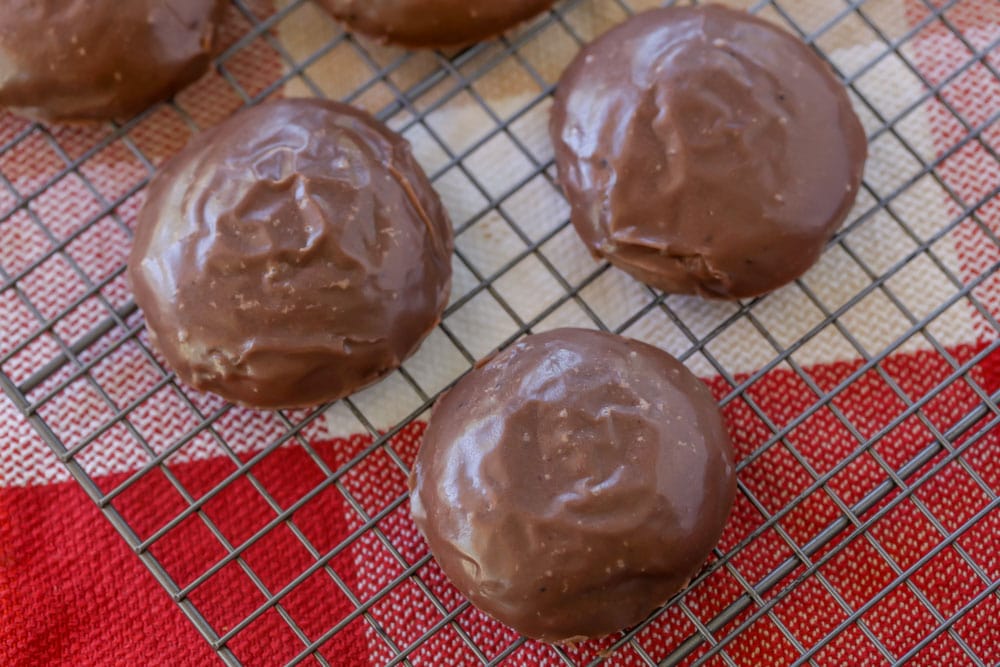 Toppings + Storing Tips
We added just frosting on ours but here are some other ideas of what to add to your cookies!
Top with:
Sprinkles

Chopped nuts

Berries: raspberries, blueberries, strawberries
How to Store? Traditional Texas Sheet cake stores really well and so do these cookies. Store the cookies at room temperature for 3 days. Separate layers with parchment paper.
How to freeze?
Baked cookie: If you want to freeze these cookies I would do so unfrosted, but frosted can also work. Either way, flash freeze first by placing cookies in a single layer on a baking sheet. Freeze until solid and transfer to an airtight freezer safe container. Freeze for up to 3 months. 

Dough: Flash freeze the dough balls before transferring them to a freezer safe container. Freeze for up to 3 months. To bake thaw cookies for about 30 minutes on a baking sheet. You may need to adjust the bake time to account for the chilled dough.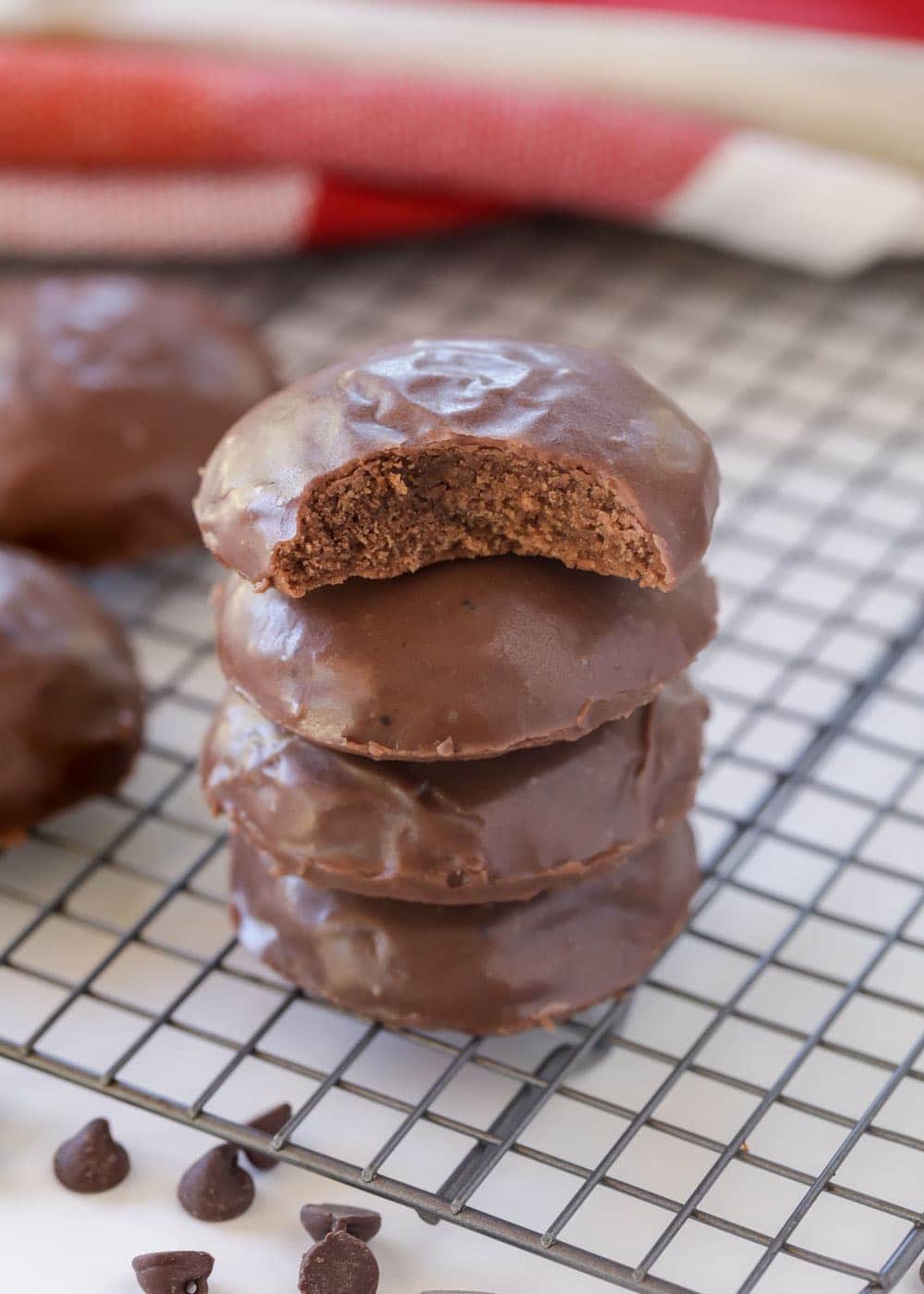 For more chocolate cookies, check out:
Instructions
Line the baking sheet with parchment paper, or a silicone mat and preheat the oven to 350°F

Beat together the butter and sugar in a stand mixer until light. Be sure to scrape the sides down frequently.

Mix in the egg and vanilla. Once incorporated add the baking powder and salt.

Slowly mix in the flour on low speed. The dough will be thick.

Melt the chocolate chips in the microwave. Heat for 30 second increments, stirring in between, until melted. Add the melted chocolate into the cookie dough and mix.

Use a cookie scoop to drop the dough onto the baking sheet. Bake for 8-9 minutes for smaller cookies and 9-11 minutes for larger cookies. Be sure you do not overcook. The top should be dry to the touch, but soft and moist in the middle.

Chocolate icing: Using a medium saucepan stir together the butter, cocoa powder, and milk over medium heat. Whisk until the butter is melted and ingredients are combined. Remove from the heat and stir in the powdered sugar.

Once the cookies have been baked DO NOT remove them from the pan.

Use a spoon to cover each hot cookie with the icing. The cookies will get good and chocolatey! Allow the icing to set.

Once set and the cookies have cooled, carefully remove the cookies from the pan.

*Again do not over bake the cookies.

*Store at room temperature for up to 3 days