This deliciously Easy Chocolate Cake is topped with homemade chocolate frosting. This 2-layer cake is simple and decadent!
You can't beat a slice of Easy Chocolate Cake served with ice cream. If you love chocolate cake, you'll also love our classic chocolate sheet cake and flourless chocolate cake.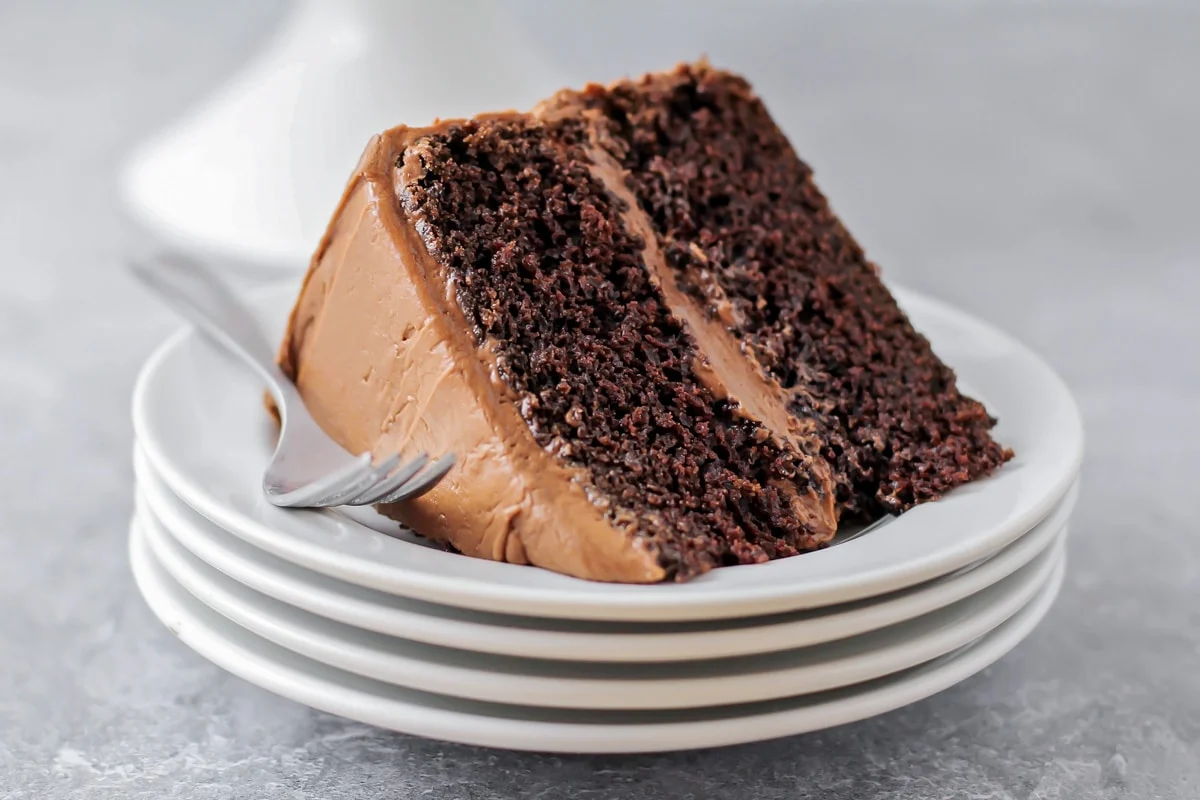 The Easiest chocolate cake
I've tried several made-from-scratch chocolate cake recipes over the years, and I finally found a winner!
I prefer cakes that are dense and tender, more like brownies than cake from a cake mix. This homemade Easy Chocolate Cake was perfectly fudgy and moist.
This Easy Chocolate Cake calls for simple ingredients that I always have on hand so it can easily be made without a trip to the store!
We love dessert, and especially cake, which is why we have so many cake recipes here on the site (have you tried our Cream Puff Cake and Favorite Sheet Cake recipes?!)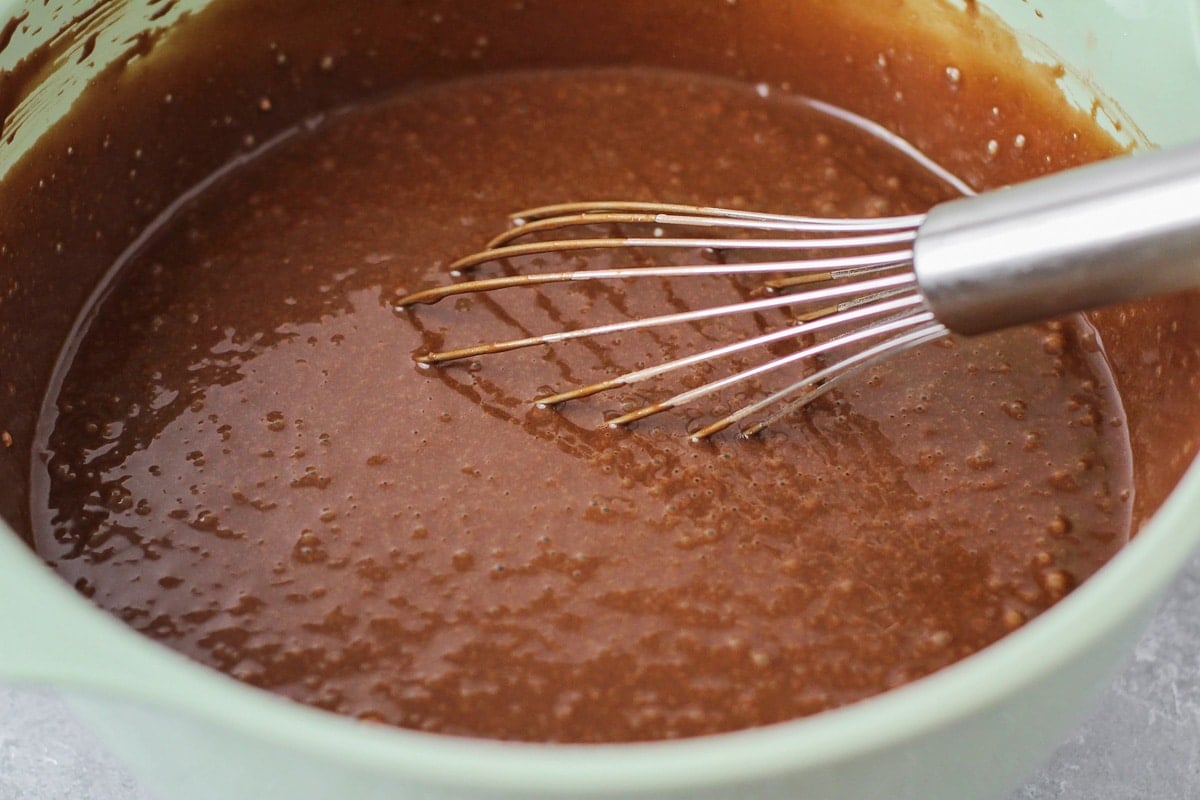 How to make chocolate cake
You don't even need a mixer for this cake, a whisk will do just fine.
PREP. Grease two 9″ round pans, line with parchment paper, and set aside. Preheat oven to 350° F.
DRY INGREDIENTS. Whisk together flour, sugar, cocoa powder, baking powder, baking soda, and salt together in a large bowl.
ADD WET INGREDIENTS. Whisk in milk, oil, eggs, and vanilla extract.
COMBINE. To finish it off, pour in a cup of boiling water and stir everything together.
BAKE. The cake batter will be thin. Pour the batter into greased 9″ round cake pans that have been lined with parchment paper. Bake at 350° for 30-35 minutes.
COOL. Let the cakes cool for about 10 minutes in the pan, then invert onto cooling racks. Cool completely and frost with chocolate frosting.
Turn them into Cupcakes:
Turn this cake into cupcakes! Just add cupcake liners to a muffin tin and fill to about 2/3 full. Bake for 17-19 minutes. Makes about 24-30 cupcakes.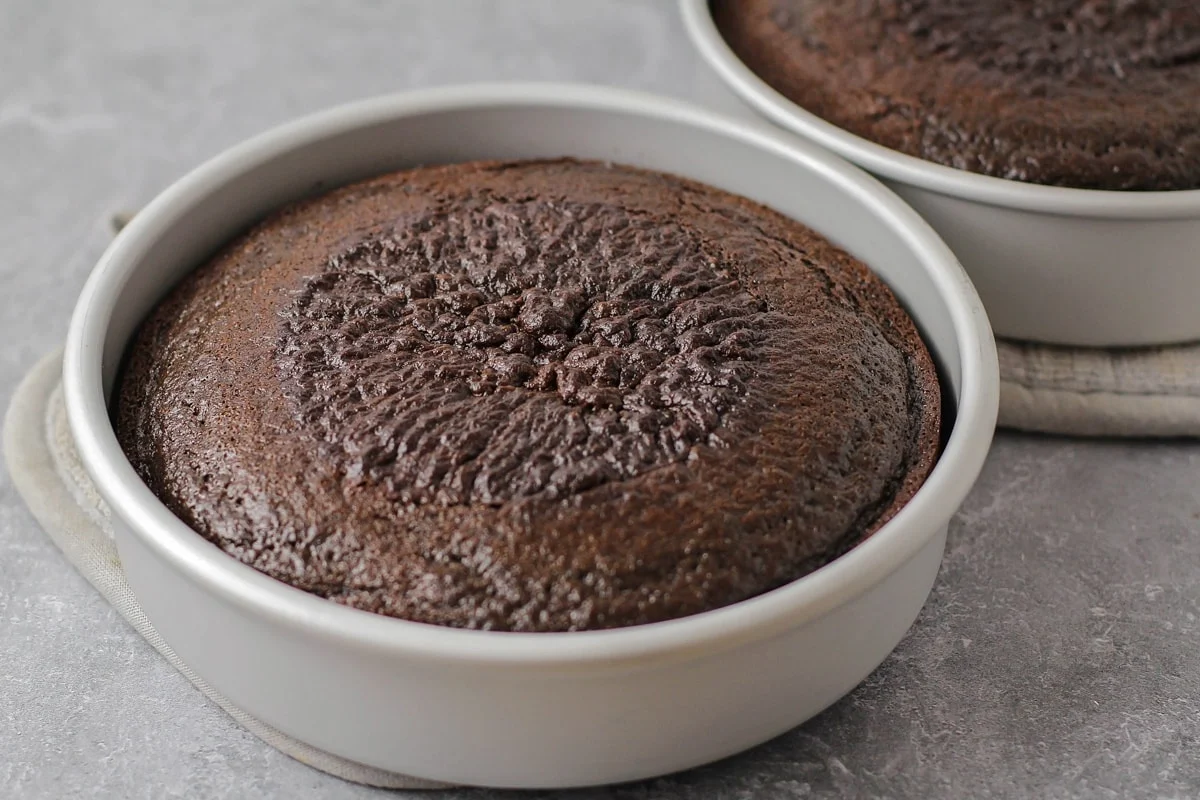 Chocolate Cake Tips + variations
Unsweetened Cocoa Powder: Cocoa powder is made from roasted ground cocoa beans. There are different types of cocoa powder, and they will each react differently when baked in a recipe.
If a recipe doesn't specify a type, assume they are referring to natural unsweetened cocoa powder.
Natural vs. Dutch processed: They have different levels of acidity so use the type listed in the recipe. However, if you are in a pinch you can substitute one for the other just be aware that the results may vary.
Dutch processed cocoa will cause the cake to be a little less sweet and have a darker chocolate color than unsweetened cocoa.
Variations: A beautifully frosted chocolate cake is as pretty as can be all on its own. You can leave it undecorated or add decorations that fit the occasion. Here are just a few ideas:
sprinkles and birthday candles
frosting flowers
a worded message
beautiful berries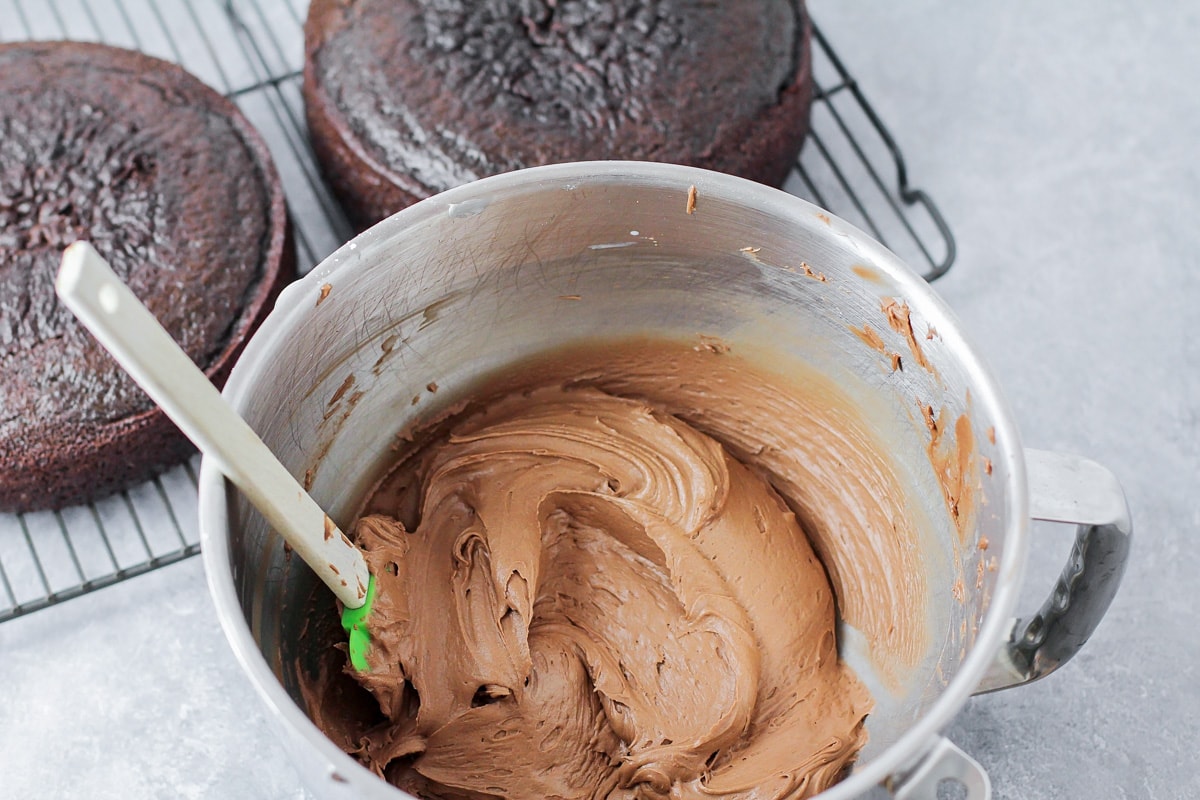 the Frosting
It's hard for us not to make a delicious chocolate buttercream frosting for this cake. It's the perfect touch that takes the cake to a whole new level of delicious-ness and is so easy to make:
BEAT. The frosting is best when the butter is already softened. Once it is, beat all the ingredients in a small bowl until smooth. Add or take away half and half to get it to be the frosting consistency you desire.
FROST. Spread this delicious frosting over your cake and add any sprinkles before it sets up.
Frosting Tips
Crumb Coat. When frosting your cake, you want to add a thin layer to coat the crumbs. This is called a crumb coating. Let it set and then you can add a thicker layer of frosting without worry that the crumbs will get caught up in it.
Cool. Allow time for the cake to cool completely before frosting it. Otherwise the frosting will melt into and right off the cake.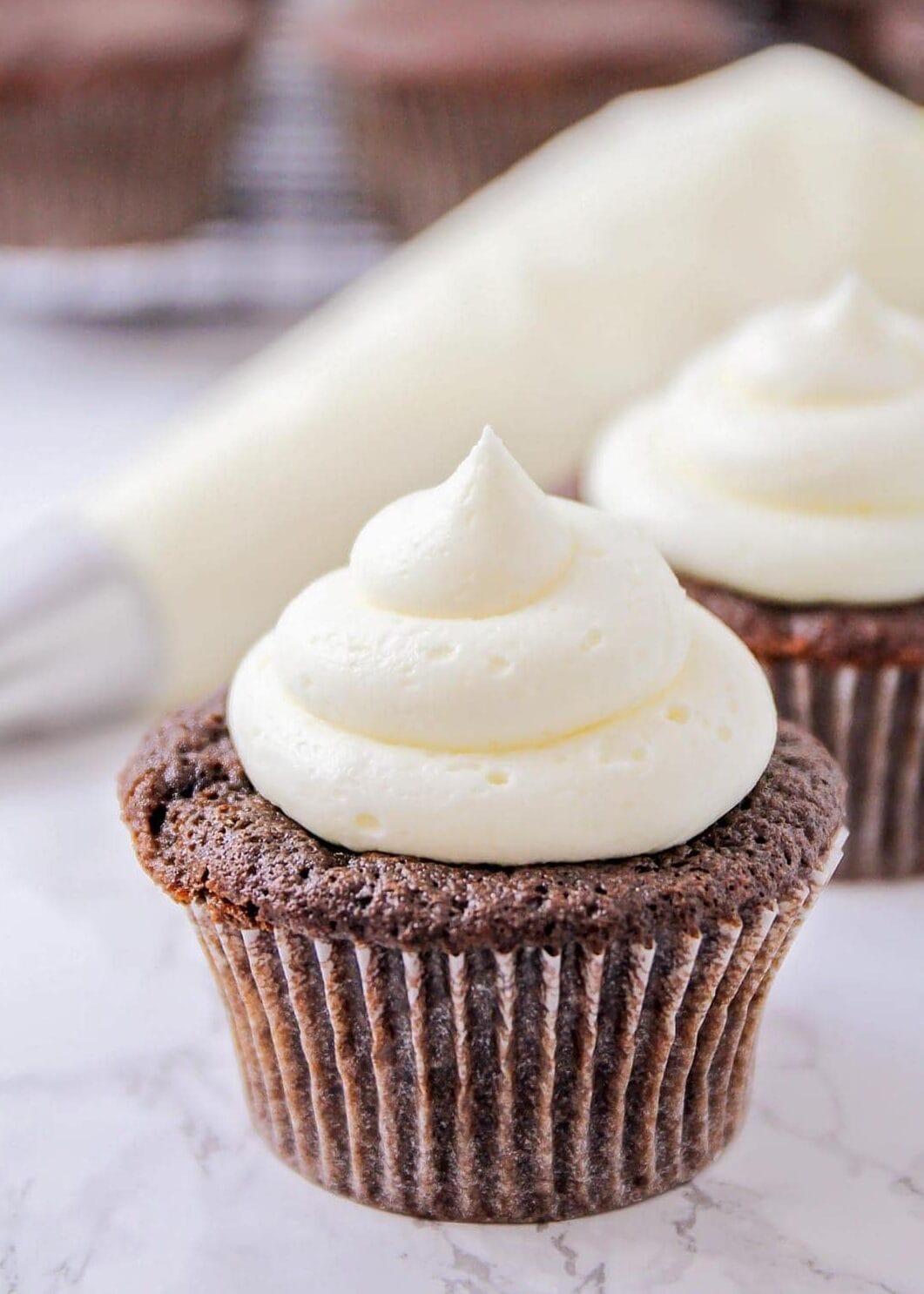 Other Frostings to Try
You can't go wrong with the way you want to frost your cake. Just figure out what taste, texture, and look you want, then apply a few tips and tricks and you'll create a masterpiece!
Types of frosting. There are many different kinds of frostings to choose from: buttercream, royal icing, ganache, icing or even a simple whipped cream.
Frostings that pair well with chocolate. There are many frosting flavors that pair well with chocolate cake. You can add a sweet vanilla frosting, caramel frosting, or even peanut butter frosting. Bright flavors like lemon, orange, and berry are a perfect contrast that work well, too.
Layers. Buttercream and custard are both great choices to spread between cake layers. Spread it in an even layer and leave about 1/4 inch from the edge so there is room for it to spread when the next layer is added.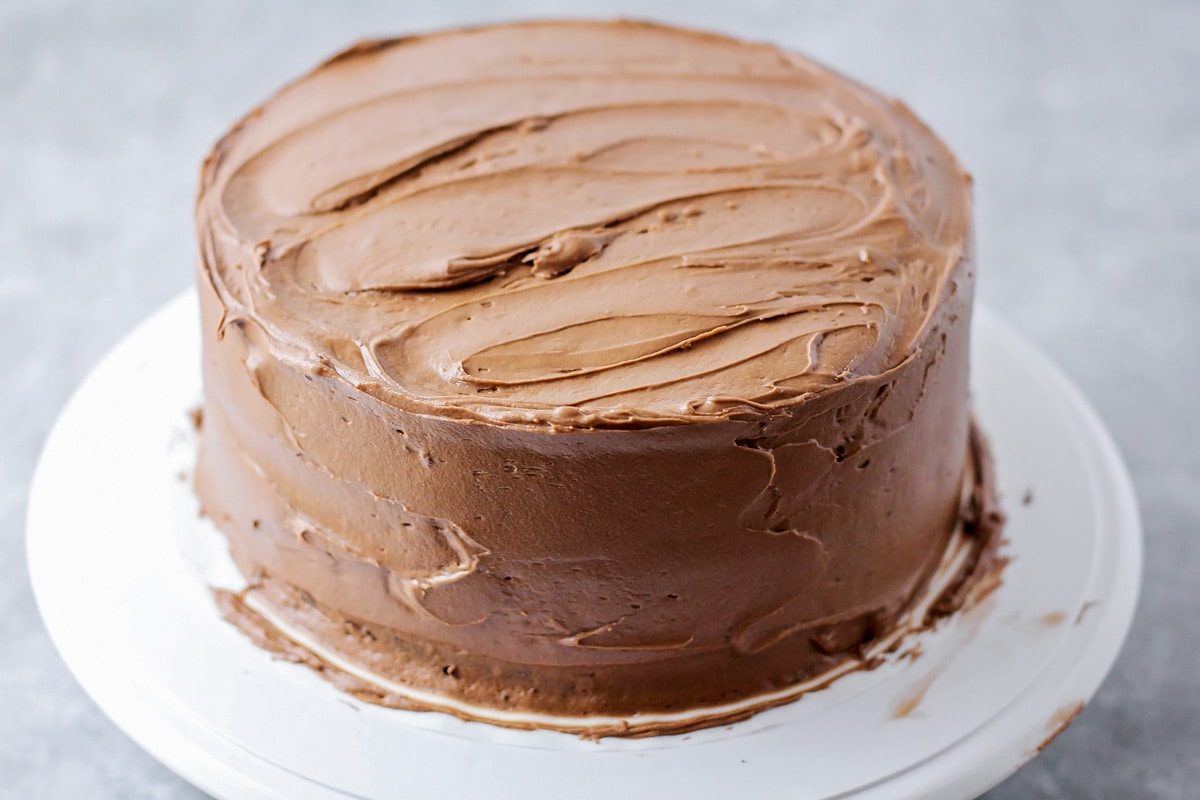 Storing frosted cake
STORE frosted cake. Once frosted the cake can be stored, uncut, on the counter for 4-5 days. Be sure to cover it with a cake keeper or turn a large bowl over the top to protect the cake from dust.
Once the cake has been cut, press a piece of plastic wrap directly onto the exposed cake, or you can cover it with more frosting. This will help keep the cake from drying out. A cut cake can keep for 3-4 days at room temperature.
FREEZE frosted cake. Place the cake in the freezer for 4-5 hours, long enough for the frosting to become solid. Wrap it tightly with plastic wrap and then again with aluminum foil. The cake will keep for 4-6 weeks. Unwrap the plastic wrap, recover it lightly with the foil and allow the cake to thaw.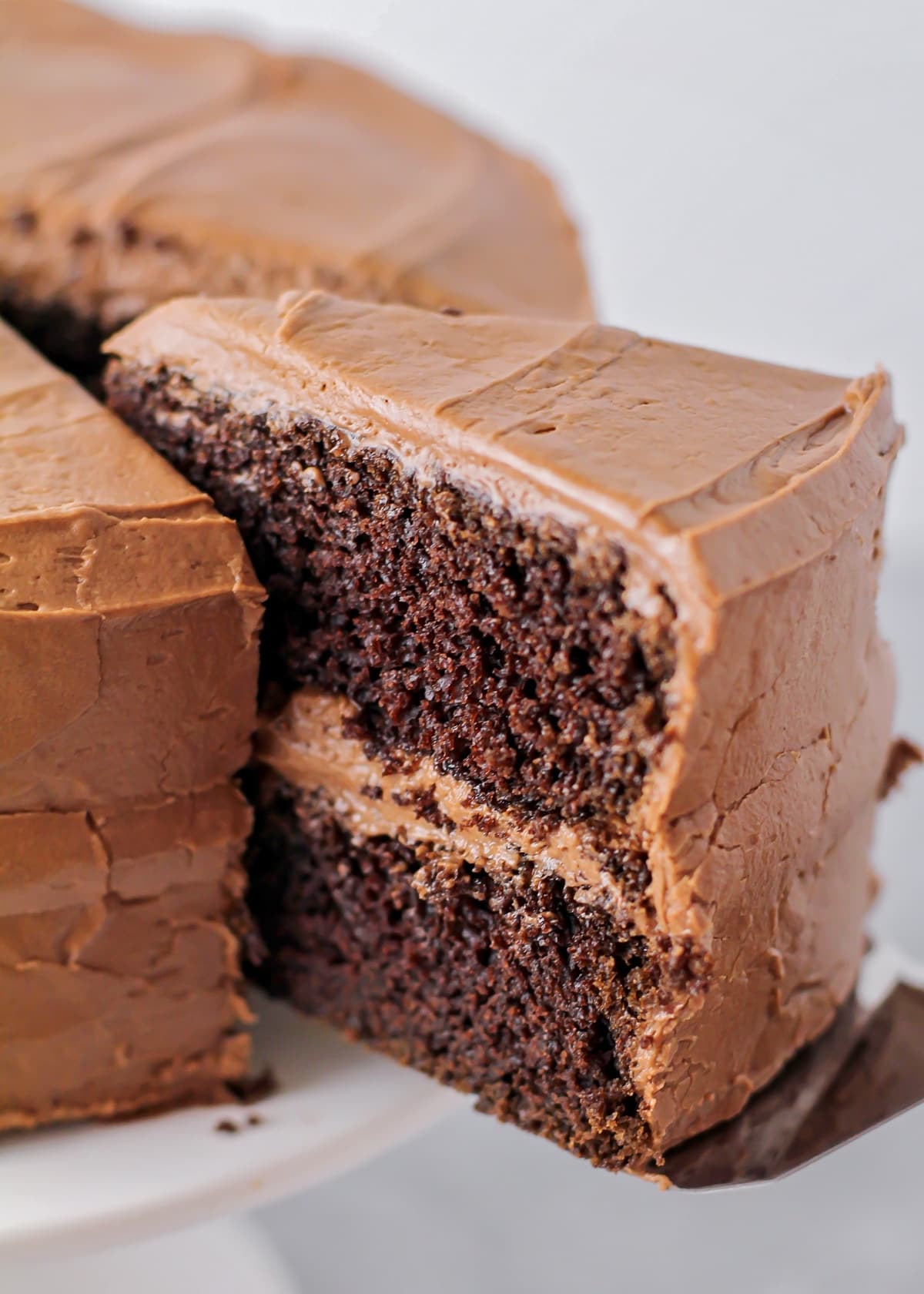 storing Unfrosted Cake
Bake ahead of time. You can bake a cake 2-3 weeks ahead of time and store it in the freezer until you are ready to frost it. Allow the cake to cool and wrap each layer with plastic wrap and again with foil before freezing.
STORE unfrosted cake. If the cake is baked but unfrosted, it's best stored when tightly wrapped in plastic wrap and then placed in a Ziploc bag and stored on the kitchen counter for up to 3-4 days. This can be extended placing it in the fridge for an extra day.
FREEZE unfrosted cake. These layers if needing to use later than 5-6 days. If already frosted, you can cover and keep on the counter for up to 5 days or in the fridge for up to a week, but you will need to cover the cake to keep from drying out.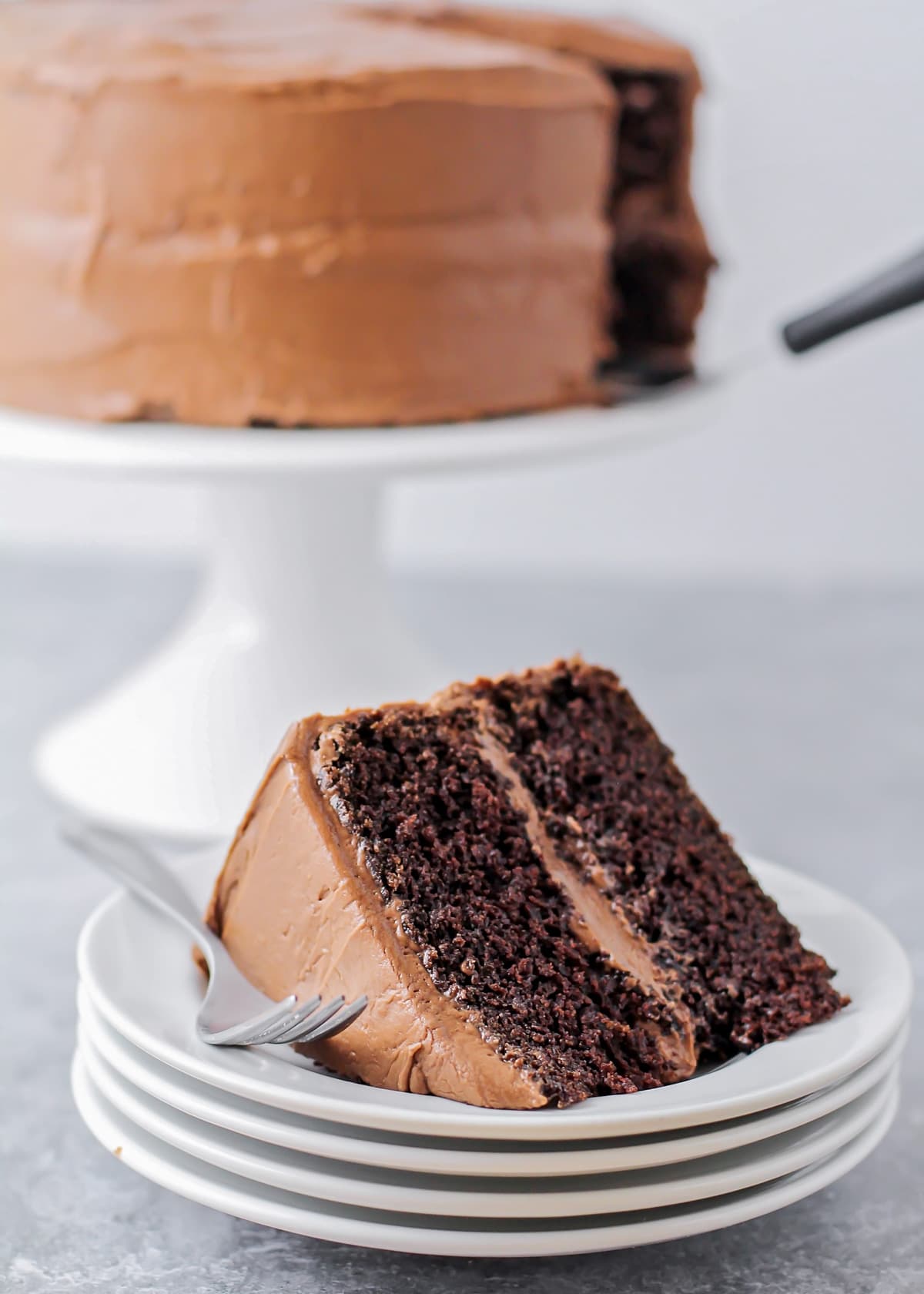 For more cake recipes: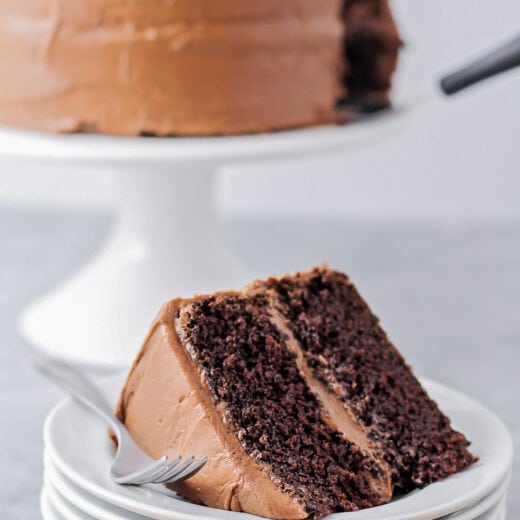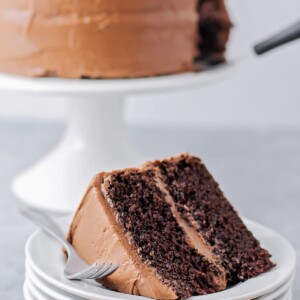 Easy Chocolate Cake Recipe
This deliciously Easy Chocolate Cake is topped with homemade chocolate frosting. This 2-layer cake is simple and decadent!
Instructions
Preheat oven to 350°. Line two 9" round pans with parchment paper and spray with non-stick spray.

Whisk together the flour, sugar, cocoa, baking powder, baking soda, and salt in a large mixing bowl.

Whisk in the milk, oil, eggs, and vanilla till smooth. Stir in the boiling water, mixing until smooth.

Divide batter evenly between the two pans. Bake at 350° for 30-35 minutes or till toothpick inserted in the center comes out clean.

Cool for 10 minutes in the pans, then invert onto cooling racks. Cool completely.

While cake is cooling, make frosting by beating all ingredients in a bowl until smooth, adding enough half and half to get a spreadable consistency.

Place one cake on a cake stand or serving tray. Spread about one cup of frosting on the top. Place the other cake on top. Frost sides and top of the cake with the remaining frosting.

Serve immediately or cover and let sit overnight.
Notes
Turn this cake into cupcakes! Just add cupcake liners to a muffin tin and fill to about 2/3 full. Bake at 350 for 17-19 minutes. Makes about 24-30 cupcakes.
Nutrition
Calories:
562
kcal
,
Carbohydrates:
96
g
,
Protein:
5
g
,
Fat:
20
g
,
Saturated Fat:
7
g
,
Cholesterol:
50
mg
,
Sodium:
449
mg
,
Potassium:
289
mg
,
Fiber:
3
g
,
Sugar:
74
g
,
Vitamin A:
320
IU
,
Calcium:
89
mg
,
Iron:
2.4
mg
Nutrition information is automatically calculated, so should only be used as an approximation.
Making this recipe? Tag us!
Share it with us on Instagram using the hashtag #lilluna, so we can see what you're creating in the kitchen!
---