Let me brag here for a second… My mom makes THE best rolls in the world!! They are always SO soft and so delicious and are requested by family members and friends all the time!! Although she makes them for our family a few times a year, she ALWAYS makes them for the extended family for Thanksgiving, and they are always devoured in minutes. No joke. Everyone knows that you have to grab at least one right away or you won't get one. That's just how good they are. Most people eat them plain or with a little butter, but I like to have them with a little strawberry jam.
These rolls are so good that they're called Heavenly Rolls. Yup. Pretty much describes what they are – heavenly. I know you may think I'm exaggerating, but I promise I am not. I have yet to make them on my own just yet, but being away from family I may have to give them a go this year because it wouldn't be Thanksgiving without them. This really is the BEST Dinner Roll recipe. ;D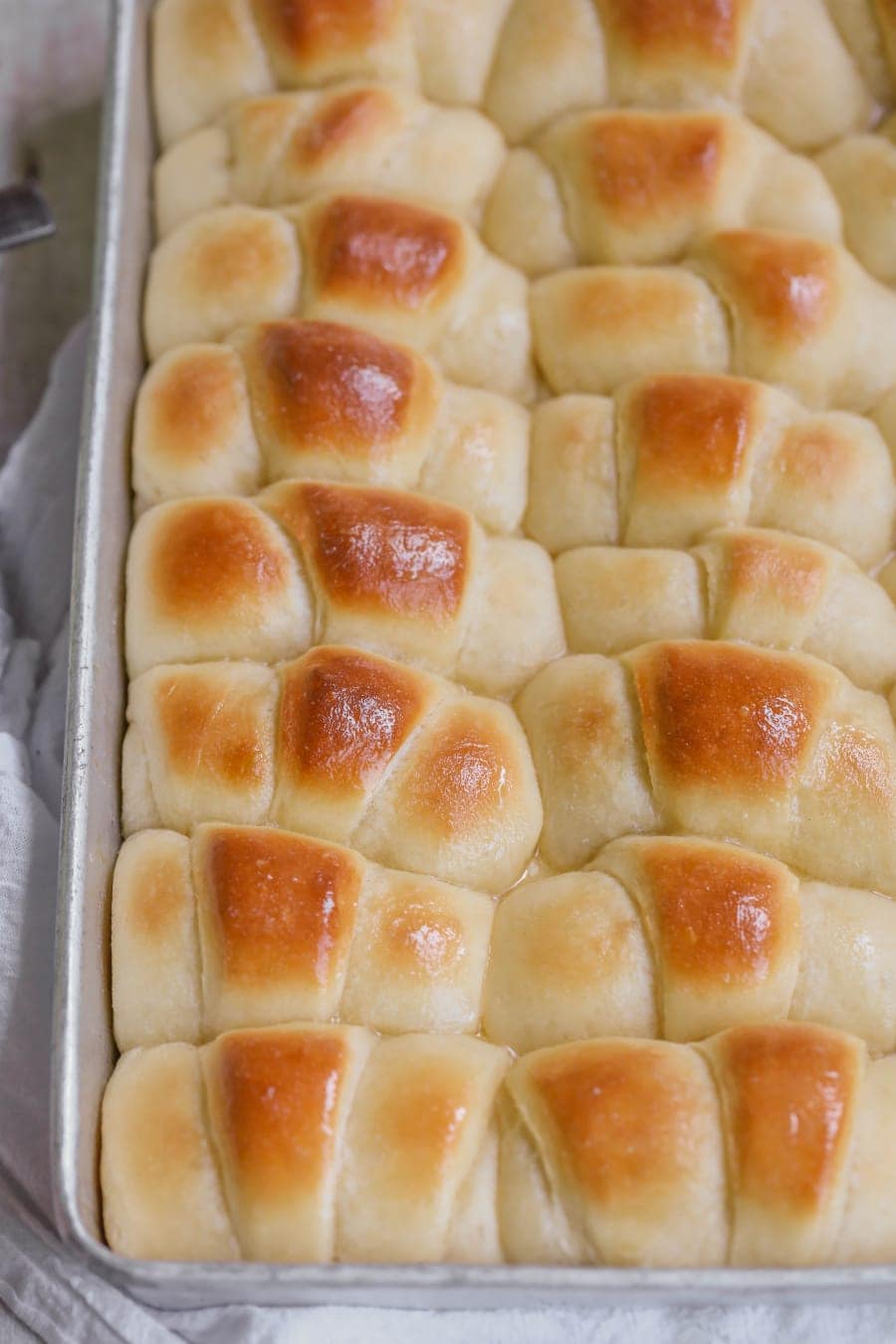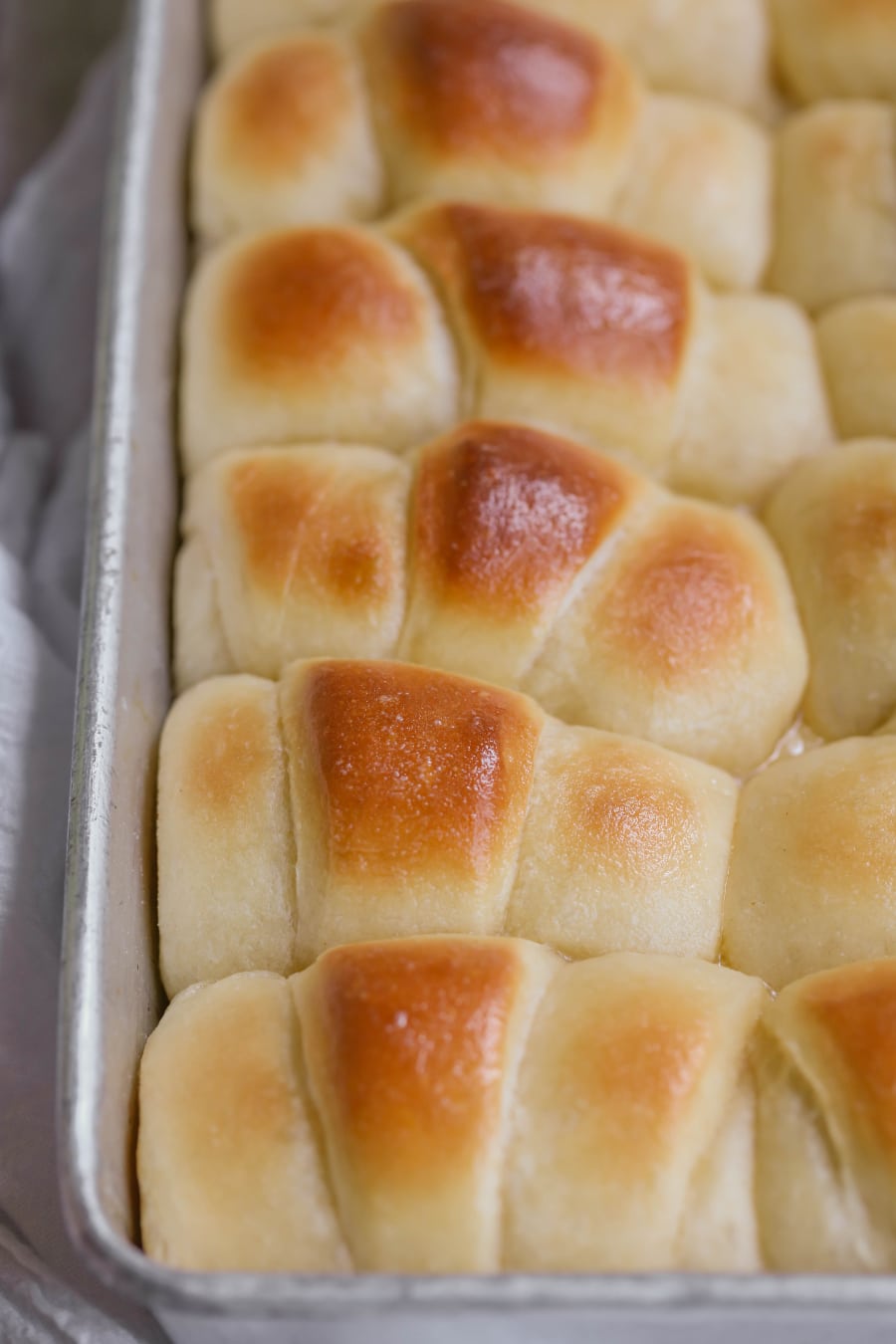 MY OTHER RECIPES
Don't they look just perfect?!
For more dinner rolls, check out:
Here are the video instructions to make these rolls:
How to make Dinner Rolls:
Heavenly Rolls Recipe
THE BEST Dinner Roll Recipe - these soft, butter-y and delicious homemade rolls are always gone in minutes and get rave reviews!
Ingredients
1 TB yeast
¼ cup warm water
½ tsp. sugar
1 cups warm milk
½ cup vegetable oil
½ cup sugar
1 tsp. salt
1 cup flour
2 eggs
3-4 cups flour
butter melted
Instructions
Mix 1 TB yeast with ¼ cup warm water and ½ tsp. sugar. Let stand until bubbly.
In a large bowl mix 1 cup warm milk, ½ cup oil, ½ cup sugar, 1 tsp. salt with a wooden spoon.
Add 1 cups of flour to mixture, and mix well. Add 2 eggs and beat until smooth (mix vigorously be hand). Add yeast mixture and mix vigorously until smooth.
Add 3-4 cups flour to the yeast mixture. Dough should be very sticky. Pour the dough into a large bowl. Cover with a tea towel and let rise for a few hours until it has doubled in size.
Once the dough has doubled in size punch down and divide in half.
Roll dough onto a floured surface making a circle about 12 inches round. Dough should be about ⅜" thick.
Brush dough with melted butter. Cut circles with a pizza cutter into 12 pieces (like a pizza). Roll from rounded edge to the point to make a crescent roll. Place into a greased pan (we use an 11 x16 metal pan and do 3 across and 8 rows down).
Cover dough with a tea towel and let rise for a few hours until it doubles in size.
Bake at 375 until light lightly browned, which is about 15-20 minutes. NOTE: Touch rolls to see if they bounce back - if they do not, bake a little longer).
Brushed with melted butter right while warm. ENJOY!