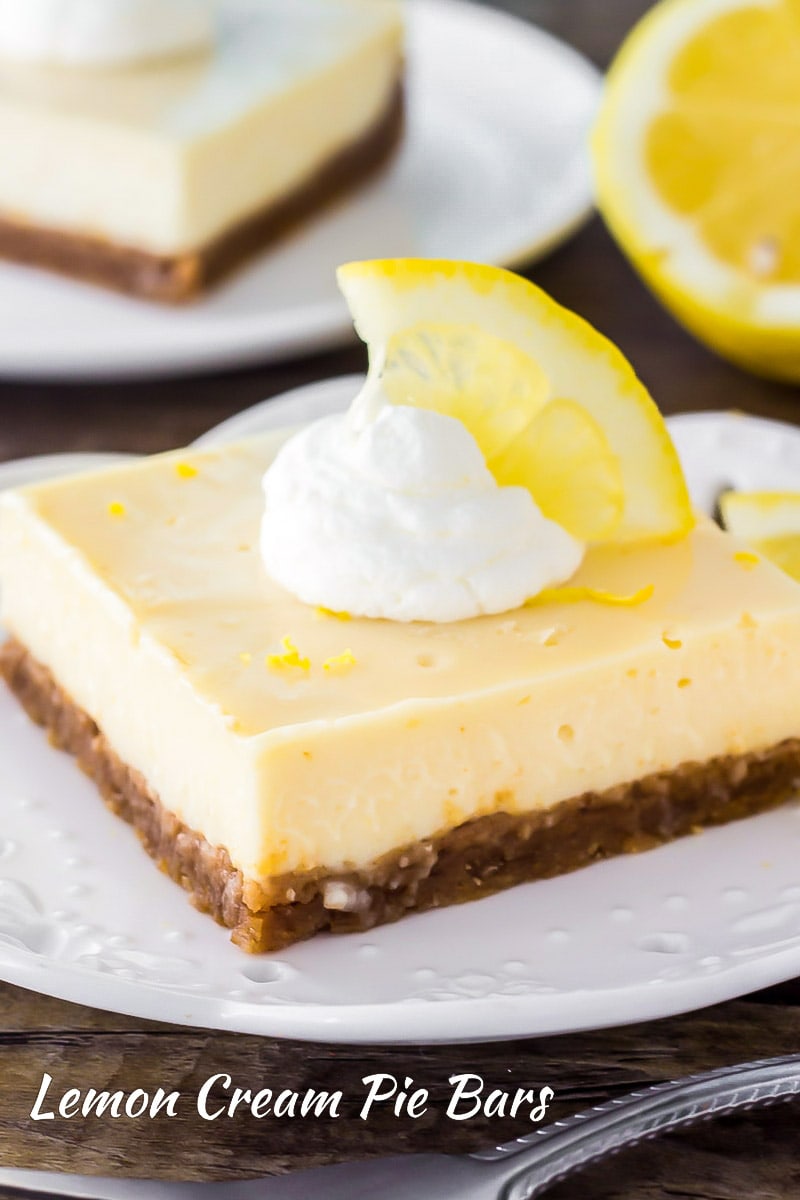 Hi there! Fiona here – stopping in from Just So Tasty. And today I'm sharing these Lemon Cream Pie Bars.
They're a creamy lemon bar with a crunchy graham cracker crust. They remind me of key lime pie – only they're less tart and the sunshine-y yellow color makes me think of sunshine and warm weather. And if you love lemon pie – then this is the perfect easier alternative.
Now, I don't know about you – but I always get nervous making pies. I know so many fantastic pie makers, so I always feel like there's a lot to live up to.
MY OTHER RECIPES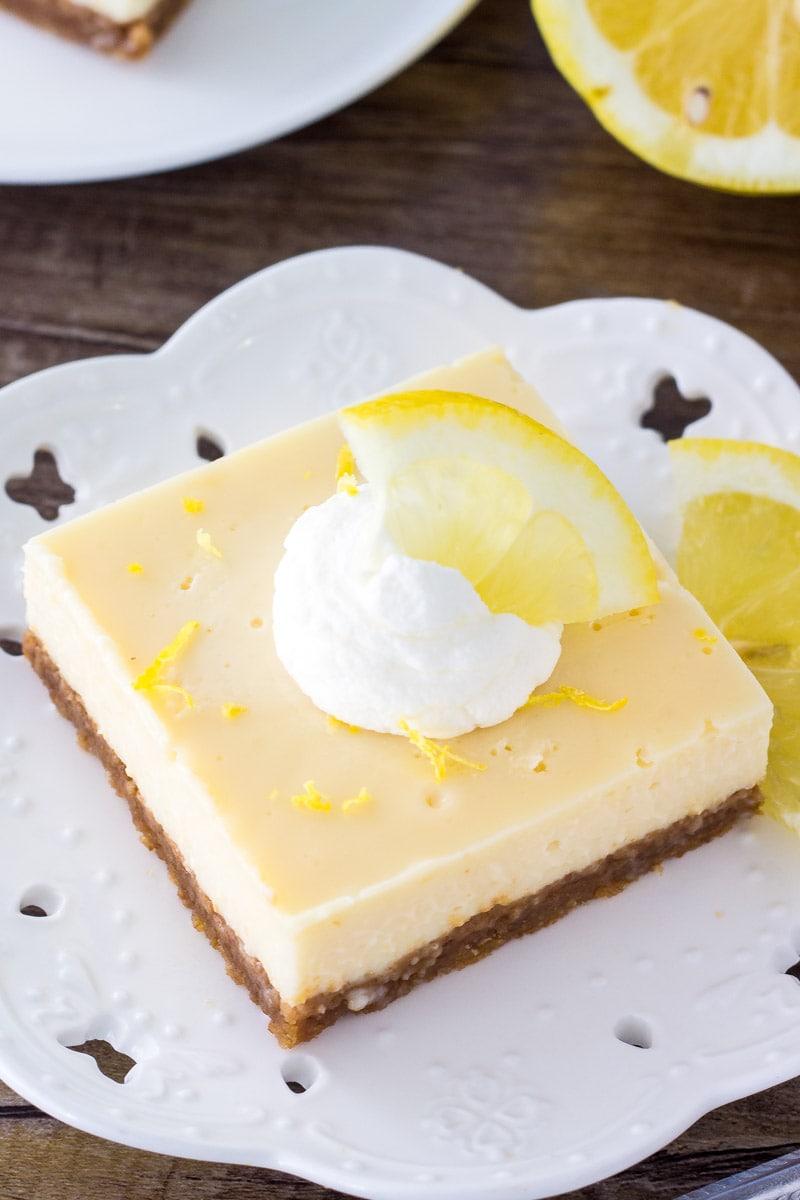 Especially when it comes to making the perfect pie crust. But that's why these lemon cream pie bars are so perfect and way easier than making pie.
Instead of making pastry – the crust is a simple graham cracker crust made from melted butter, a little sugar and graham cracker crumbs.
Then the creamy lemon layer is made from freshly squeezed lemon juice, lemon zest, sweetened condensed milk, egg yolks, and heavy cream. Everything is whisked together, then the bars are ready to bake.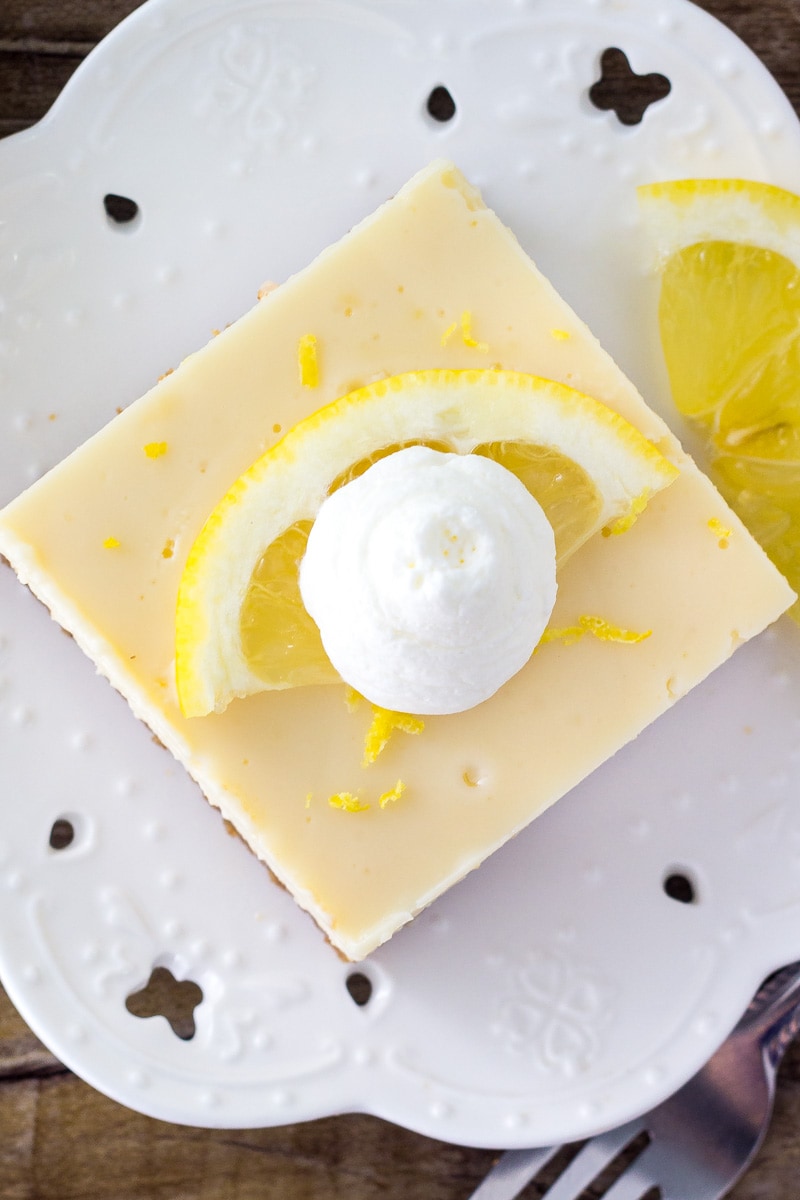 For this recipe, make sure to use freshly squeezed lemon juice instead of lemon juice from the bottle. Otherwise your bars will taste sour – which is definitely not what we want.
Then my main tip is to make sure the bars are completely cooled before cutting into them. After they're done baking, allow them to cool to room temperature then pop them in the fridge. The flavor actually improves as they sit in the fridge – plus they'll be easier to cut into.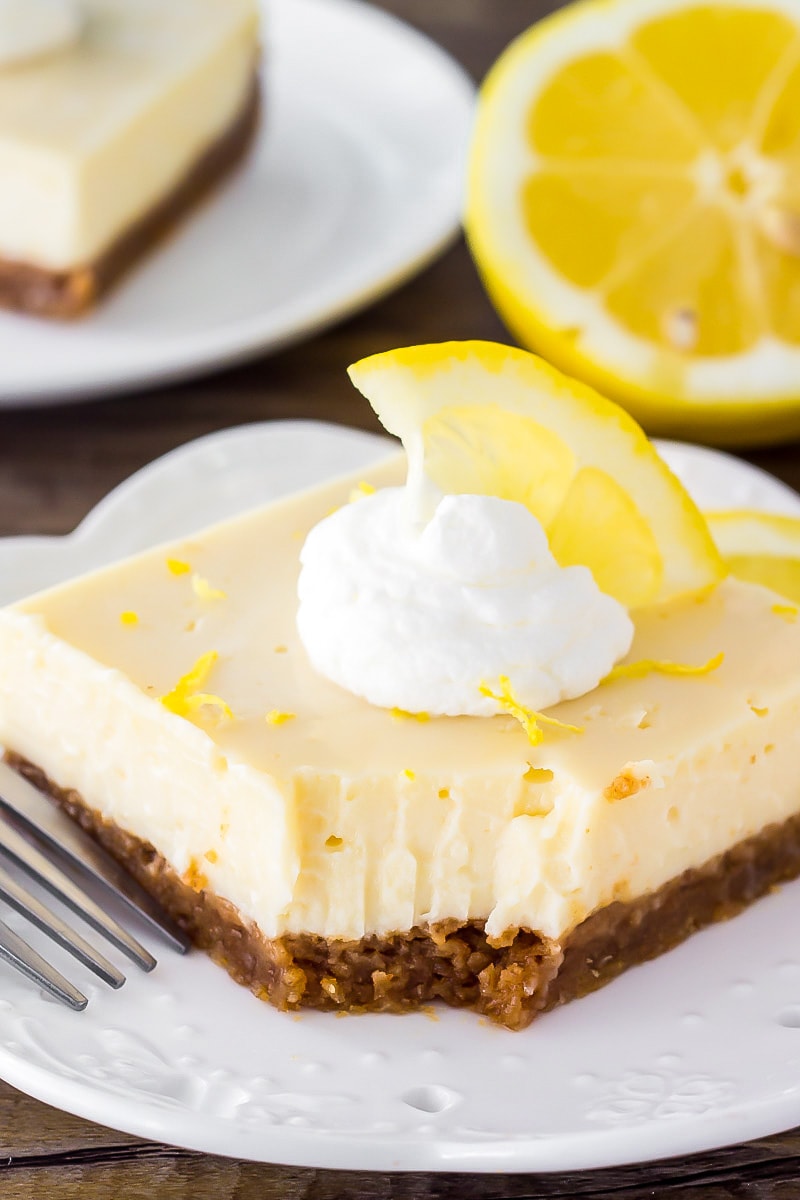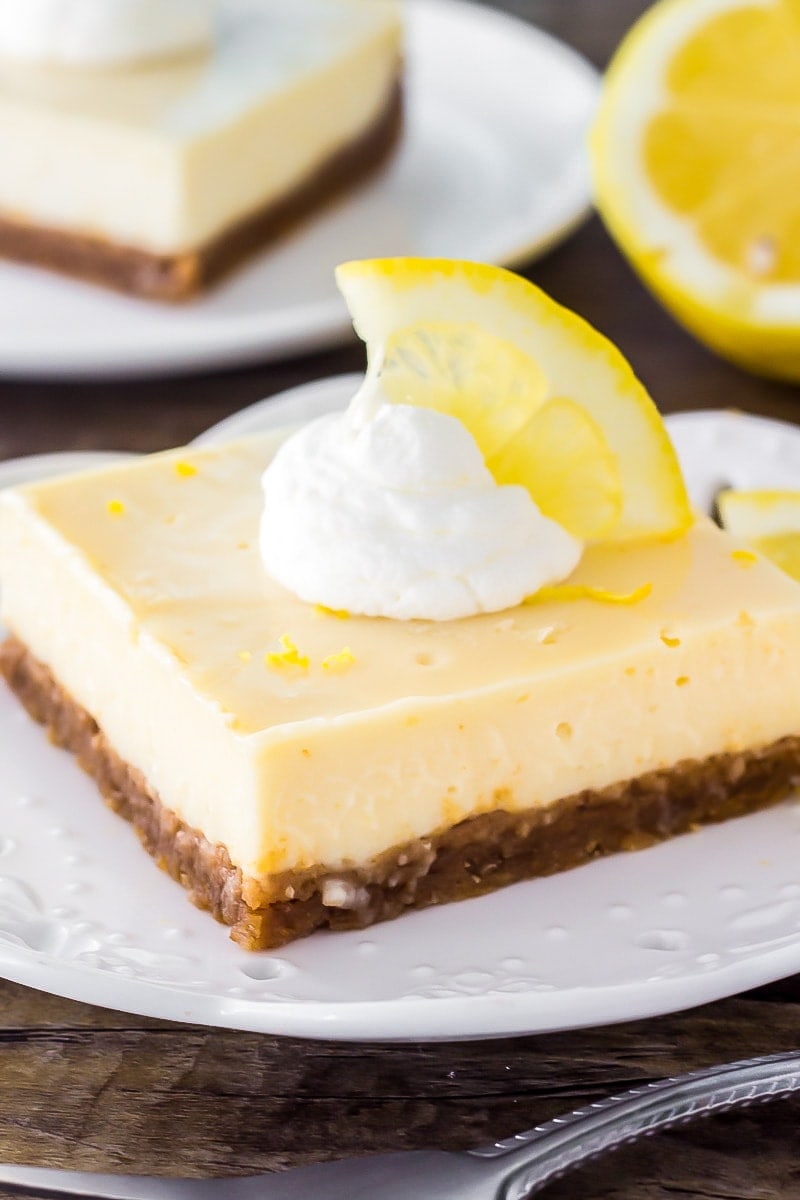 I love how the lemon flavor of these bars is fresh and bright without tasting sour or tart. Then the creamy smooth texture of the lemon layer pairs so deliciously with the crunchy graham cracker crust.
If you love citrus desserts – you'll definitely want to try these lemon cream pie bars. I hope you like them as much as we did.

Lemon Cream Pie Bars
These lemon cream pie bars are smooth and creamy with a bright sunshine-y lemon flavor. With a graham cracker crust - they're way easier than making lemon pie!
Ingredients
Graham Cracker Crust
2 cups graham cracker crumbs
2 tablespoons granulated sugar
½ cup melted butter
Lemon Cream Pie Layer
½ cup freshly squeezed lemon juice
2 tablespoons lemon zest
3 large egg yolks
1 14 oz can sweetened condensed milk
1 tablespoon cornstarch
½ cup heavy cream (30-35% fat)
whipping cream for serving, optional
Instructions
Preheat the oven to 325F degrees.
Line an 8x8 inch square pan with aluminium foil and grease with non-stick cooking spray.
To make the crust, in a medium bowl stir together the graham cracker crumbs, granulated sugar and melted butter.
Press into the bottom of the prepared pan, and place in the freezer while you make the lemon filling.
To make the lemon layer, in a medium bowl whisk together the lemon juice, lemon zest, egg yolks, sweetened condensed milk and cornstarch. Once evenly combined, whisk in the heavy cream.
Pour the mixture overtop of the crust.
Then bake in your preheated oven for 25-30 minutes. The top should look just set and there can be a little wobble in the middle, but not too much.
Turn off the oven and open the oven door. Then let the cake cool in the oven for about 10 minutes, before removing from the oven and allowing to cool at room temperature.
Once completely cooled, cover and place in the fridge for at least 4 hours.
To serve, cut into bars and top with whipped cream.
These Lemon Cream Pie Bars look like the perfect summer treat (and like she said – way easier than making pie!) Can't wait to try this! For more great recipes from Fiona, be sure to head on over to
Just So Tasty
.
For another favorite lemon treat, check out: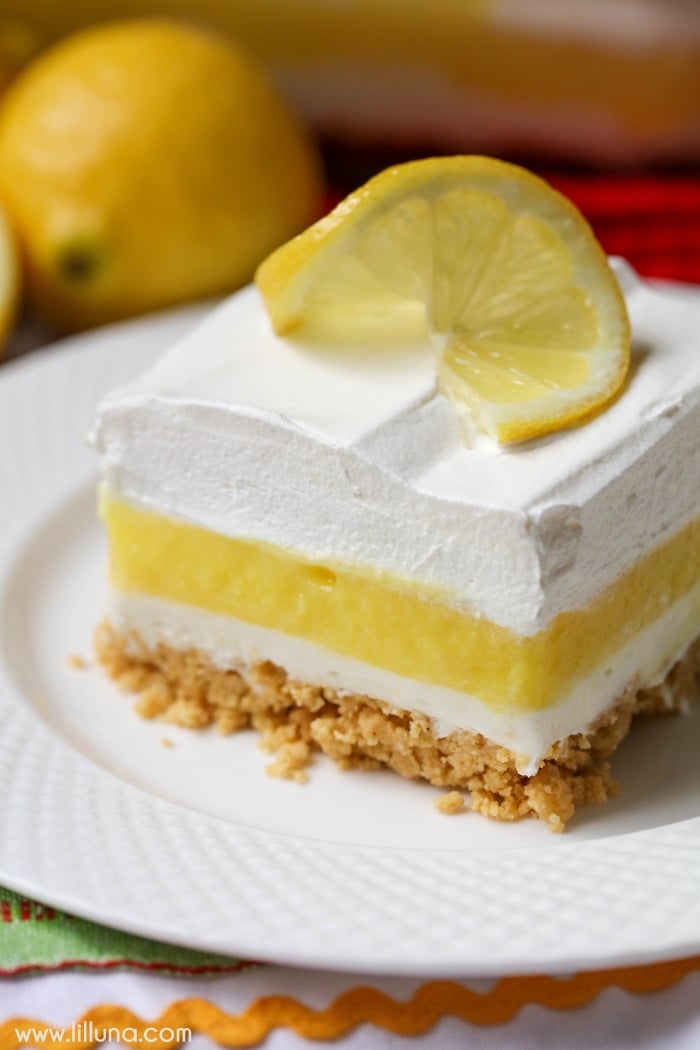 For even more lemon desserts, check out:
ENJOY!