Jump to Recipe
All-time Favorite Party Drink – this Pink Drink recipe (aka Baby Shower Punch) takes a minute to make and is made with 3 ingredients including  –  pink lemonade dry mix, sprite, & pineapple juice!
We love delicious, refreshing drinks that are kid-friendly!! This version is a classic at parties, showers and holidays. For more favorites, check out: Cherry Limeade and Sprite Lemonade.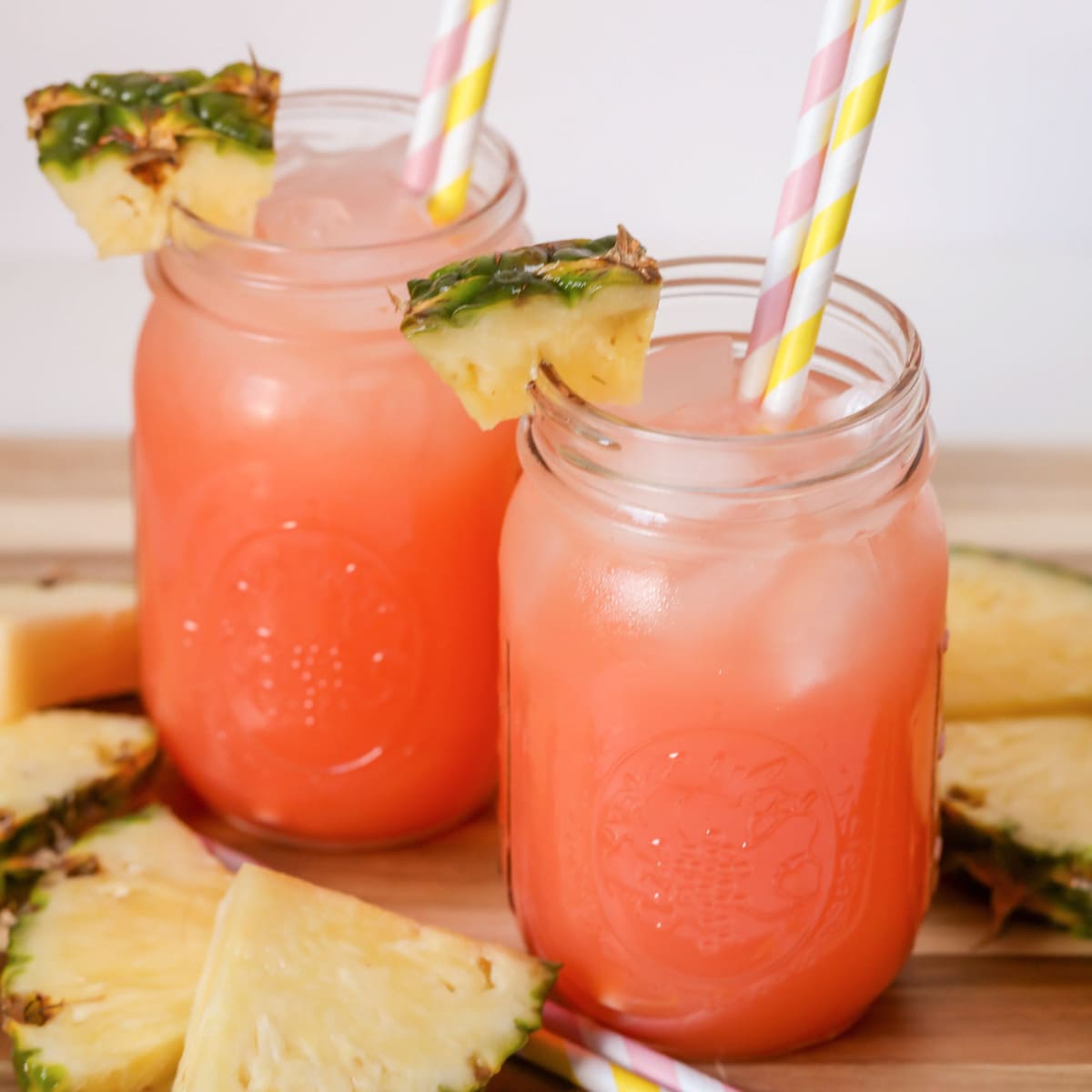 Pink punch Recipe
Our family has so many "favorite" recipes… favorite cookies, favorite lasagna, favorite marinade, favorite brownies – you name it! Once we try a recipe we LOVE, we keep it and use it over and over again.
This next recipe is no different. It is, by far, our family's favorite drink. It doesn't have an official name so I'm going to call it Pineapple Pink Lemonade Soda (aka the Pink Drink!) We have it at most family functions because it's easy, it's SO refreshing, and it is SO yummy. It only requires three ingredients and can be made in a minute, which is also a bonus. 🙂
I can't remember where we got the recipe because we've been having it for years, but I can promise you this – if you try it, you'll LOVE it! It is so yummy to drink on a hot summer day especially because it is quite refreshing.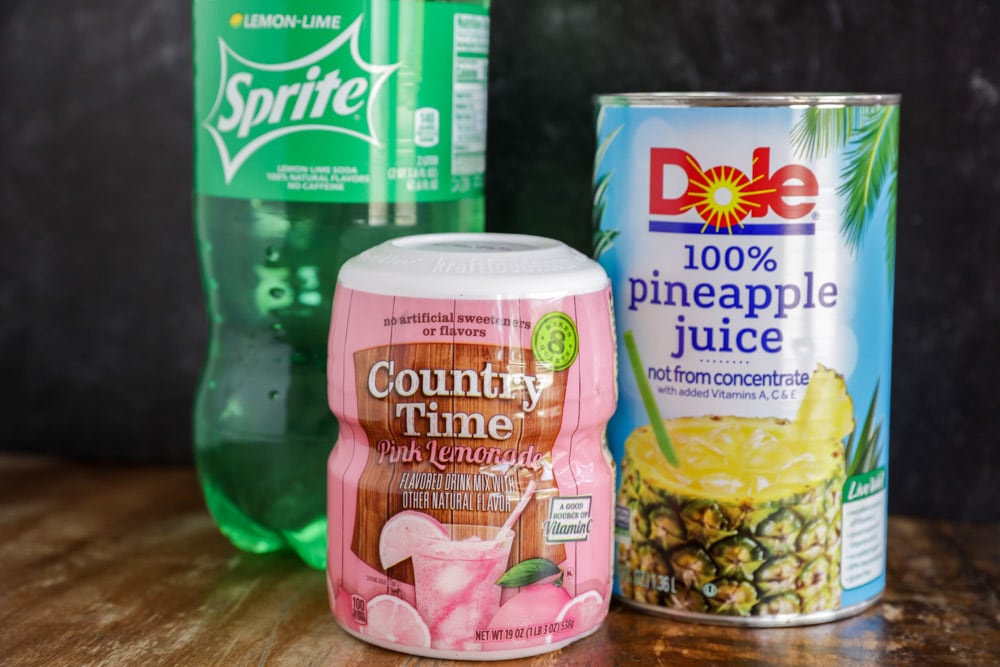 Recipe Notes + Variations
Just a few notes about this recipe…
There's a measuring scoop that comes with the lemonade can. Don't use that to measure the powder. Instead use an actual 1 cup measuring cup. 

Do not mix the powder with water as stated on the can. You are only using the lemonade powder.

If you add the powder last then it will fizz so much that it overflows.

It can be a little tricky to read the ingredient for sprite on the recipe card. You will need one 2 liter of sprite.

Make sure pineapple juice and sprite are cold. Starting with cold liquids will reduce the amount of ice you need and in turn reduces how watered down the punch may get.
CHANGE IT UP. We typically use this recipe every time, but I do admit that we've changed up the lemonade a few times to try different flavors. Sometimes, we use:
Regular Yellow Lemonade Mix
Blue Raspberry Lemonade Mix
Cherry Limeade Lemonade Mix
The pink lemonade will always be our favorite, but we also love the variety the other lemonade mixes make. 😉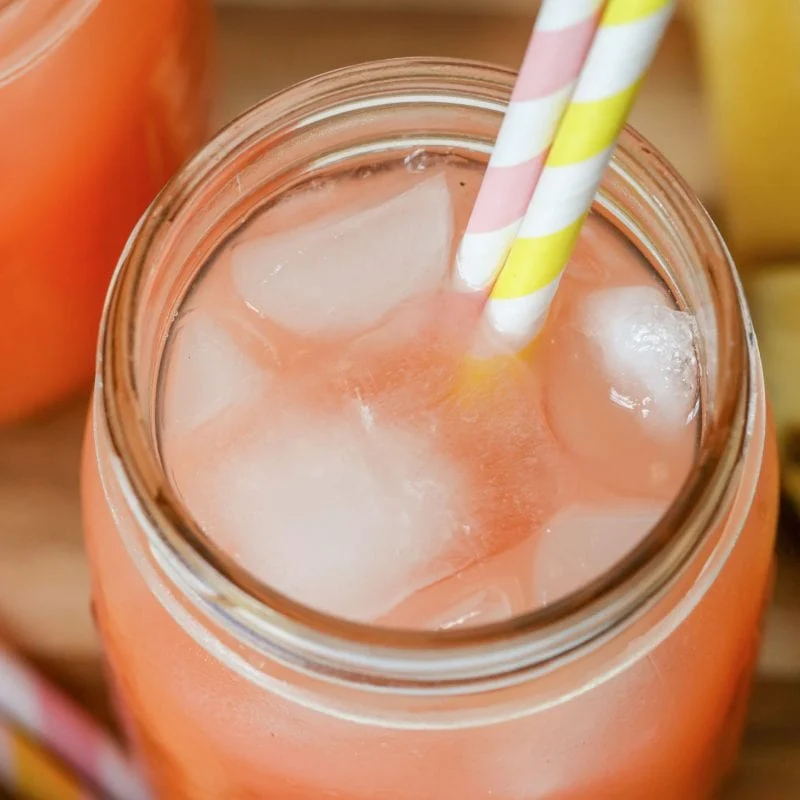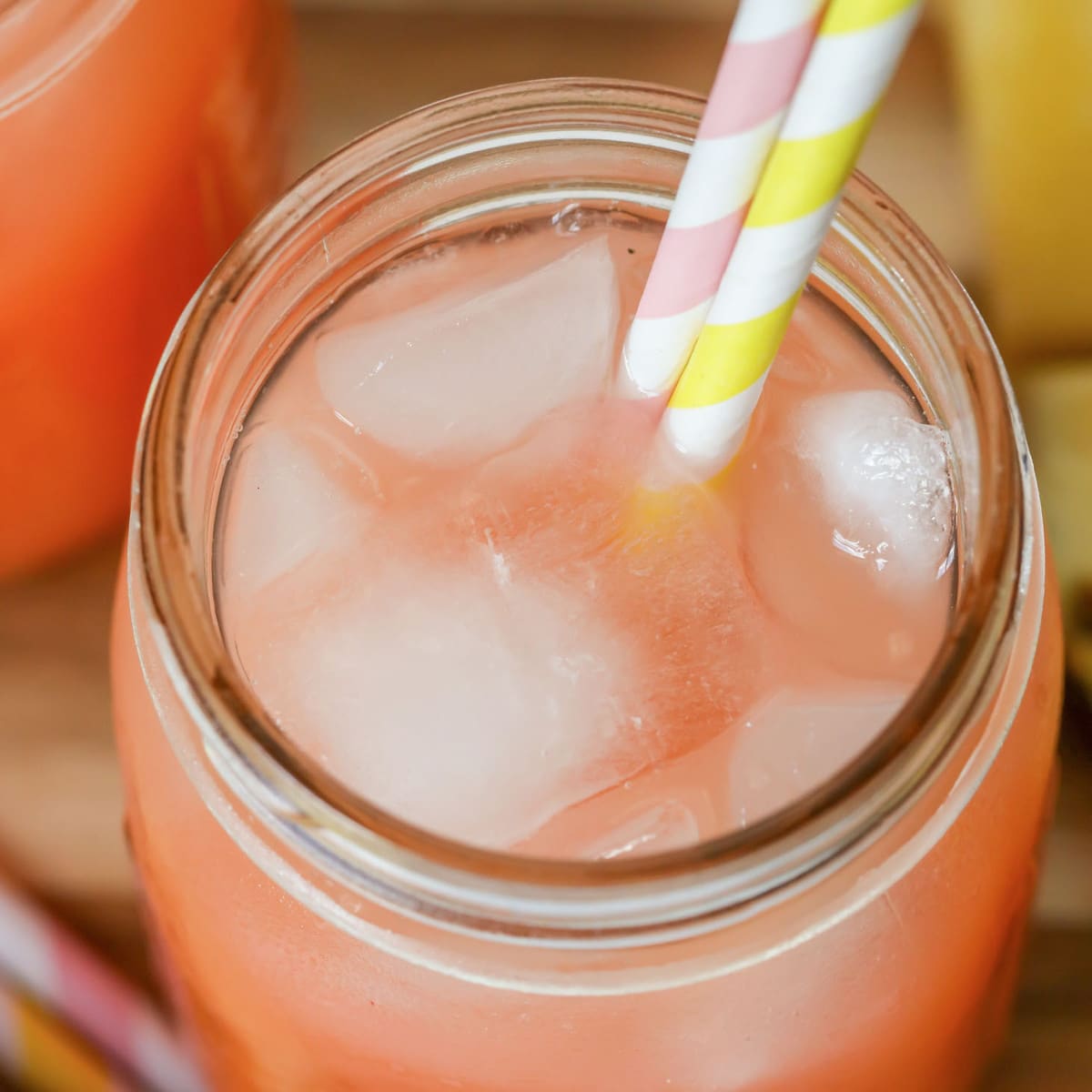 How to Make it a Slushy
Turn this drink into a slushy. It makes a refreshing treat on a hot summer day. 
Mix up the punch recipe or use leftover punch. 

Fill a quart size ziploc with punch. Seal completely. (Not all the punch can fit so you'll need to work in batches)

Place the punch bag into a gallon ziploc. Fill it with ice and rock salt. You will need 1tbsp salt for every 11 large ice cubes. Seal the gallon bag closed. 

Shake the bag for 5 minutes or until the punch turns to a slushy texture. 

If it takes much longer than 5 minutes then your ice bag isn't cold enough. Drain liquid and add more salt and ice. 

Tip: the bag gets pretty cold so I suggest putting on gloves or mittens.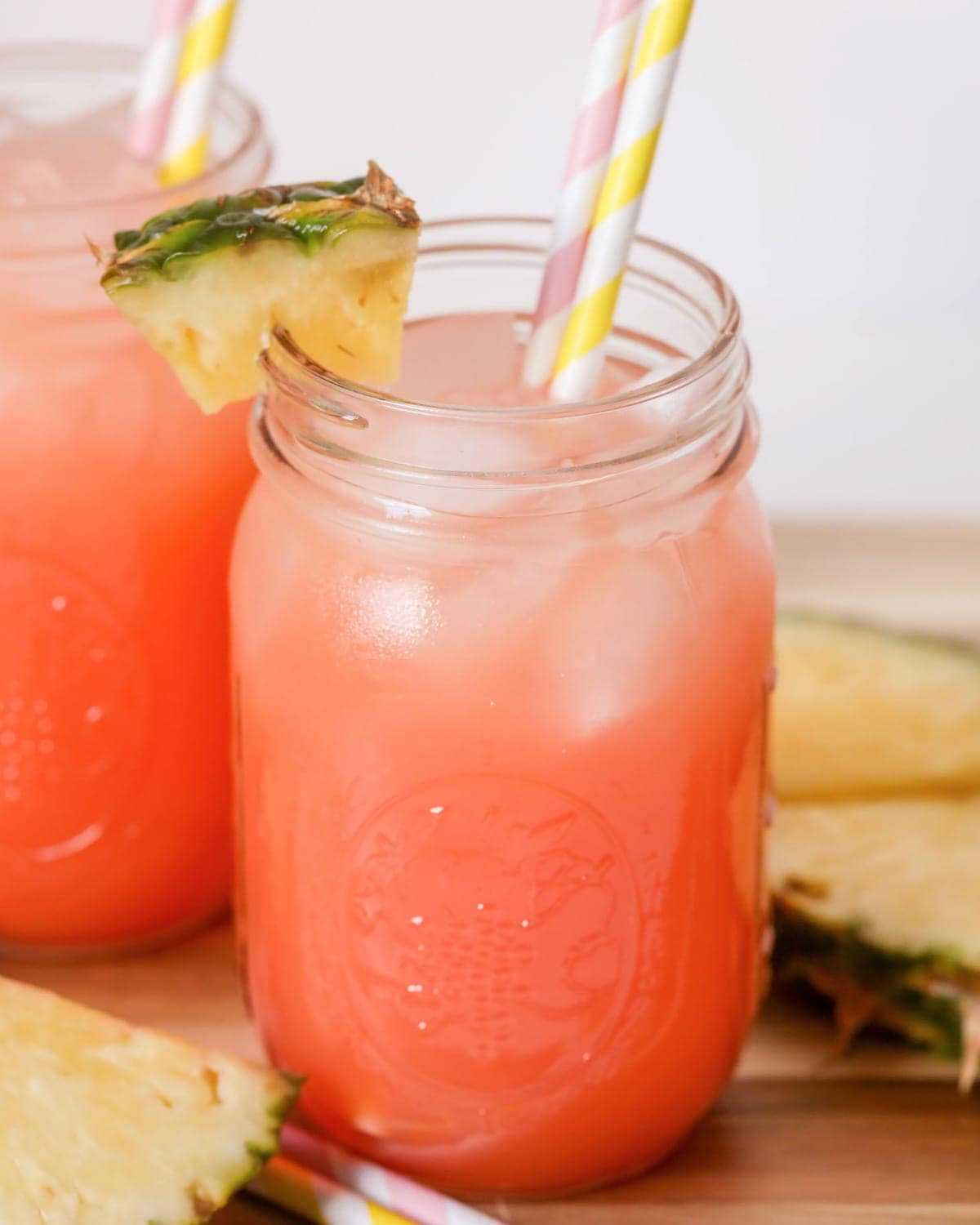 Baby Shower Punch + Making ahead
Any time we make this recipe for functions, I'm always asked what's in it. After I tell them, someone almost always says "I had this at a baby shower before." It's true – it's super popular for showers, so it's also known as the baby shower punch. Whatever you call, we promise it will be a hit at your next get together. The flavors and carbonation make it so addicting!
Presentation: This punch looks so delicious and pretty in a glass pitcher, bowl or beverage dispenser. To really make it shine add sliced lemon rounds and pineapple rings. You can even include strawberries, raspberries or cranberries. 
Making ahead of time: you can mix the pineapple juice with the lemonade powder and keep it refrigerated for 2-3 days. You can also keep it in the freezer for at least 3 months. Thaw if needed and add the sprite just before serving. 
Leftovers: Store leftover punch in the fridge for 2-3 days or in the freezer for up to 3 months. Be aware that the carbonation in the soda will diminish with storage.
For more drinks we love, check out: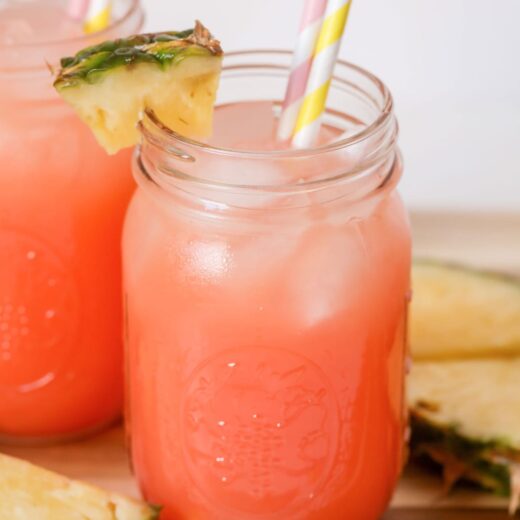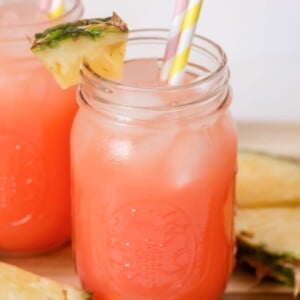 Pineapple Pink Lemonade Soda Recipe
All-time Favorite Party Drink - this Pink Drink recipe (aka Baby Shower Punch) takes a minute to make and is made with 3 ingredients including - pink lemonade dry mix, sprite, & pineapple juice!
Ingredients
1

48 oz. can

DOLE Pineapple Juice

1

cup

Pink Lemonade Mix

1

2 liter

Sprite or 7UP
Instructions
Add pineapple juice and lemonade mix to a large pitcher. Right before serving, add Sprite and mix well. Add ice and ENJOY!
Nutrition
Calories:
68
kcal
,
Carbohydrates:
17
g
,
Sodium:
9
mg
,
Potassium:
26
mg
,
Sugar:
17
g
,
Vitamin C:
7.3
mg
,
Calcium:
4
mg
Nutrition information is automatically calculated, so should only be used as an approximation.
Making this recipe? Tag us!
Share it with us on Instagram using the hashtag #lilluna, so we can see what you're creating in the kitchen!