My whole family loves ART, and it makes me so happy.
Every day, my kids ask for paper so that they can make something creative. In fact, they ask for paper, crayons, glue and washi tape more than I could ever imagine but I give it to them without question most times because I am encouraging them to be creative. It actually makes me laugh that my oldest two ask for Washi Tape every day. I always tell my son, "You're one of very few 5 year olds who actually know what washi tape is." He usually smiles and runs off to make something only to return a few minutes later with his "masterpiece."
Because my kids love Art so much, I thought it would be fun to make some Art Supplies Valentines (including a cute Art Lover Birthday Gift Idea) in case your kiddos love being creative too. These are the Valentines I ended up making:
BEARY SWEET SCENTED MARKER VALENTINES:
 and MONSTER PEN VALENTINES:
Aren't they so fun?!
I know my kids will LOVE to pass these out on Valentines to their best friends! I also plan on giving them to my kids too since we usually give them a special Valentine on February 14th.
I found the cute Monster Pens and Scented Markers from a company called International Arrivals.
Here is a little note from the company:
We at International Arrivals believe that everyone has a desire to express themselves creatively. That is why we help people "create their world" with tools that inspire crafting and creation in their daily lives.
Our products are for the young and the young at heart which are colorful, unique and always fun.
I must definitely be one of those young at heart because these bright and fun art supplies make me smile, and I know I would definitely use them just as much as my own kids would.
Here are some of my favorite art supplies that International Arrivals carries:
Pocket-sized markers with monstrously bright colors. Take your neon writing needs on the go with Mini Monsters Scented Markers. Writes with bold and bright neon colors and screams "Fun" with goofy monster faces. Comes in six sweet smelling scents (Melon, Banana, Orange, Strawberry, Grape and Blueberry).
These cute little monsters like to keep connected. For real! Monster Gel Pens not only write well, they snap together too; hand in monster hand. Featuring a medium sized 0.7mm point and smooth black colored gel ink, Monster Gel Pens are your go-to pens for fun writing that leaves a perfectly functional and professional look. No need for your boss or teacher to know that you write with funny monster pens. Set of 4 Monster Gel Pens.
TOTALLY TAFFY SCENTED GEL PENS
Totally Taffy Scented Gel Pens are a pleasure for your writing and drawing needs… and delights. Each pen lays down a steady sheen of wonderfully smooth and vibrant pastel color gel ink. Each set comes with six delicious pastel colors each with its own candy scent (Orange, Lemon, Grape, Strawberry, Apple and Cherry). Totally Taffy Gel Scented Gel Pens look great on our black paper sketchbooks too. Set of 6.
Combining the smooth gel experience of a gel pen with the precision of a fine point pen and you've got yourself the perfect combination for precise penmanship. Color Luxe Fine Tip Gel Pens provide everything you love about gel pens; the sleek and smooth lay of gel ink makes writing and drawing a pleasure. And with a 0.7mm point tip Color Luxe Pens are great for the tiny details in handwriting. You can make your notes really small for more condensed note taking. Color Luxe comes in a set of 12 brilliant colored gel ink pens which are great for colored note-taking and fantastic for detailed gel pen art.
Discover the best of both color worlds; pastel and neon colors with Mini Mini Gel Pens. You can use them for mixed colored drawings or for organizing your notes with color. Mini Mini's are small enough to take wherever you go but big enough to get the job done. Each set comes with 10 gel pens each less than 4 inches long. Looks great on black paper too.
DIAMOND DOTS DOUBLE SIDED MARKERS
Say "hi" to a group of fancy markers that have everything going for them. Double sided felt tipped markers? Check. Both a chisel tip and a regular felt point tip? Check. Squared barrels so the markers don't roll away? Check. Cute polka dot barrels and fancy diamond gemstone toppers? Check! Diamond Dots Double Sided Markers have it all! Use them for drawing, highlighting and writing. These markers are great for school for textbook and note highlighting and they're fun to draw and color with too. Each set comes with 6 markers in yellow, orange, pink, purple, blue, and green colors.
The most "Appeeling" crayons you'll find. Color Appeel crayons are made with high quality wax giving you a strong crayon that lays down bright and smooth colors. Color Appeel comes in 12 bold colors with unique patterned barrels. And when the crayon starts to wear down, just simply pull the string to peel away the paper for more crayon coloring fun.
—————————————-
Aren't all of these SO much fun?!
I used the Beary Sweet Scented Neon Markers and Monster Gel Pens to make some really cute Valentine prints + gifts.
Here is how I did the first one…
Using these super cute scented markers, I went with the "BEAR-Y" theme and made some prints to go with them.
All you have to do to is DOWNLOAD the prints by going HERE.
Then cut them out and attach them to the product using Glue Dots.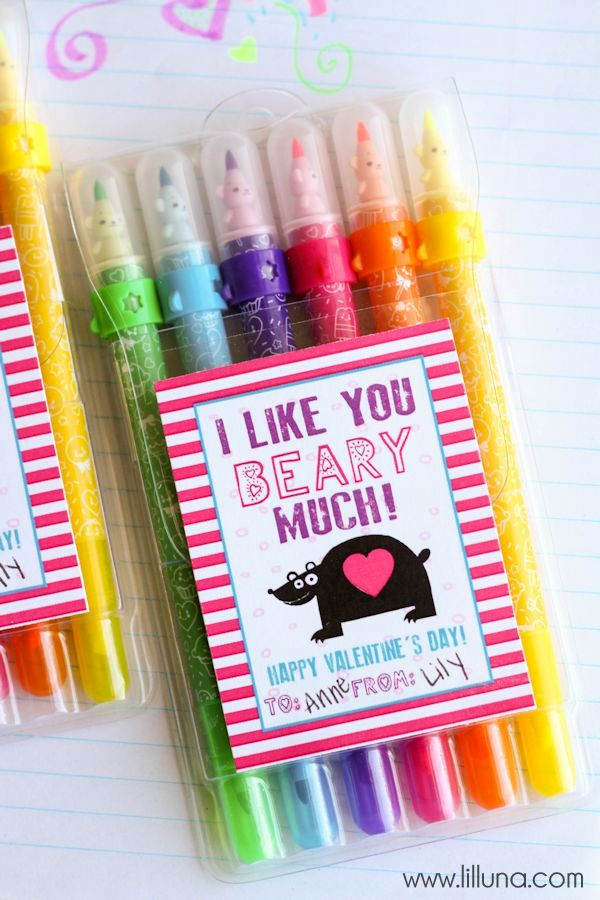 It's just as simple for the Monster Gel Pen Valentines…
All you have to do to is DOWNLOAD the prints by going HERE.
Then cut them out and attach them to the product using Glue Dots.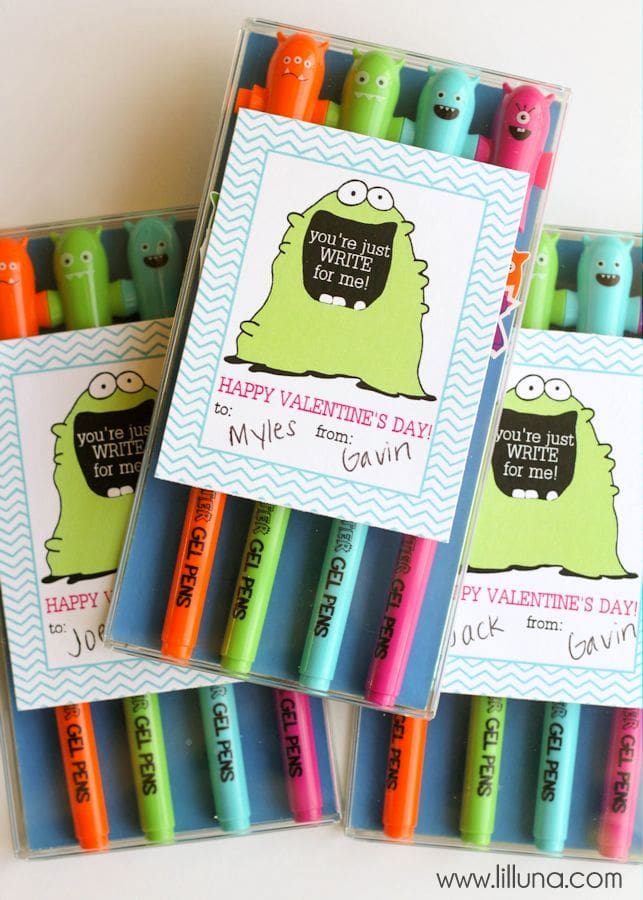 Super cute and super simple, right?!
I knew my kiddos would love these Valentines ideas so much, and that got me thinking… what if I ALSO made a cute Art LOVER Birthday Gift too?! I don't know a kid who wouldn't love to receive a ton of cute and bright art supplies for their birthday? I could honestly say that it would probably be my kids' favorite gift!
All you'll need are some fun and bright supplies like the ones pictured above as well as a cute pail or bucket to put it all in.
From there, I filled my pail halfway with paper grass and then added the supplies.
 ——————-
I also made a cute Printable to attach to the pail – one for GIRLS and one for BOYS.
To download, just click HERE for the girl tag and click HERE for the boy tag.
Such a BRIGHT and FUN gift idea!
I know I would have been so happy to have gotten this as a kid. Shoot, I'd still be happy to get this!! For some reason, cute and bright art supplies are a weakness of mine and I love buying them to create with. 😉
For more fun and cute Valentine's ideas be sure to check out: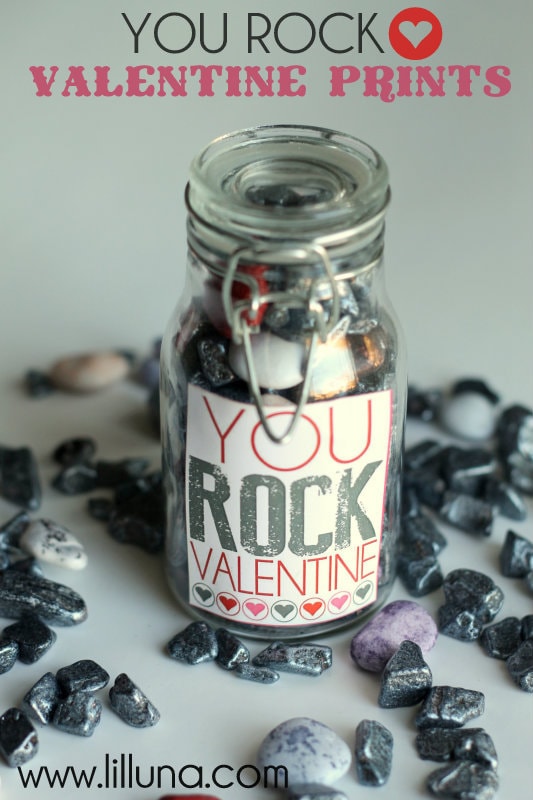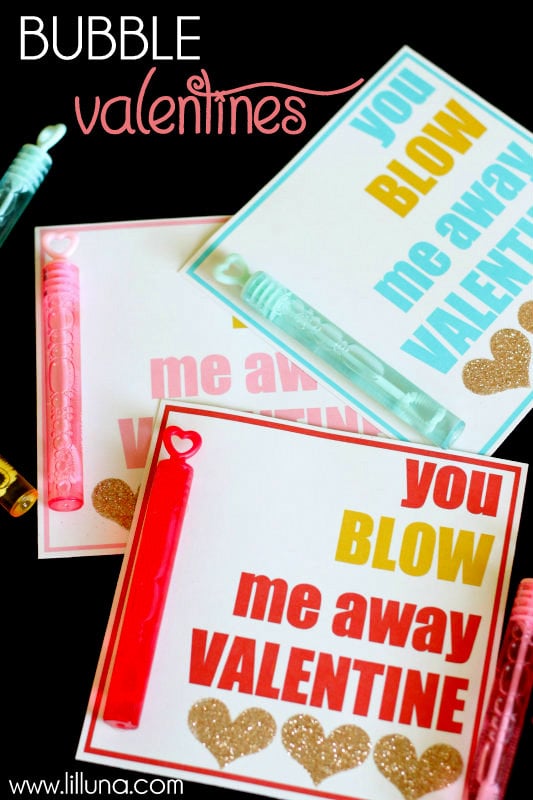 For more information about International Arrivals be sure to find them by checking them out on:
Twitter – Pinterest – Facebook – Instagram
I really think you'll love all their awesome and bright products!! 😉
For all Valentine's ideas on the site go HERE.
For all birthday gift ideas go HERE.
And get weekly emails with monthly freebies by signing up for the Lil' Luna newsletter. 🙂
For even more great ideas follow me on Facebook – Pinterest – Instagram – Twitter – Periscope – Snapchat.
Don't miss a thing – Sign up for the Lil' Luna Newsletter today!
ENJOY!