Can you guys believe that Easter is just a few weeks away?! I seriously cannot believe it and feel like 2015 is already flying by! Anyone else feel the same way?
As this fun holiday approaches, I've already been thinking of the menu for that day. Yes, I understand I still have a few weeks, but planning the menu is something us Lunas like to do in advance. We're just crazy like that. 😉
I wanted to think of a yummy brunch recipe that was easy, delicious and used ingredients I had on hand, so that's what I did. I looked in the fridge and the freezer and decided to make a Cheesy Breakfast Pie using items I already had. My entire family loves breakfast casseroles, and I knew you couldn't go wrong with eggs, potatoes and bacon. With that in mind, I pulled out the Bisquick and the other ingredients and went to work. Altogether, this dish took about 10 minutes to prepare, but could be even quicker if you used pre-cooked bacon. Mixing everything together is simple and quick, and in a little bit over a half hour you can have a delicious and SIMPLE Easter recipe.
MY OTHER RECIPES
Here is what you'll need to make it:

Cheesy Breakfast Pie
Ingredients
3 eggs
¾ cup Bisquick
1 cup milk
salt and pepper
6 pieces of bacon - cooked and chopped up (divided)
1 cup cheddar cheese (divided)
2 cups frozen diced hashbrowns (thawed)
Instructions
Begin by cooking your bacon. Let drain on paper towel and cut into small pieces. Set aside.
In a medium bowl, mix eggs, bisquick, milk, salt and pepper, 3 of your bacon pieces (chopped) and ½ cup cheddar cheese. Whisk together until well combined.
Pour this mixture into a greased 10" circle pan.
Pour hashbrowns over this mixture making sure they are evenly spread.
Top off with remaining cheese and bacon pieces.
Bake at 400 for 20-24 minutes (or until a toothpick comes out clean).
Serve warm and ENJOY!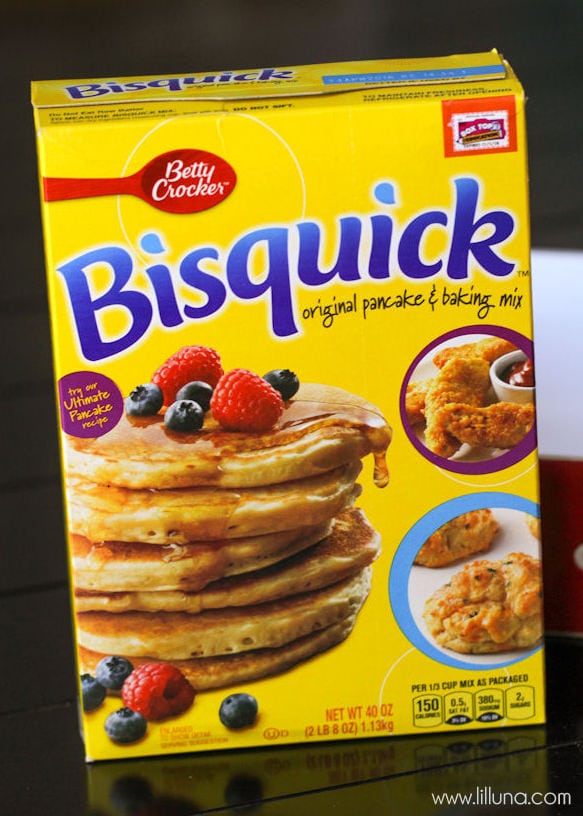 This recipe was delicious! I asked my hubby if there was anything I could change, and he said more bacon and cheese, lol! I guess everything tastes even better with more bacon and cheese, huh?!
I may be slightly addicted to breakfast and brunch recipes and am so glad we have a new one to make for holidays and meals. ;D Like I mentioned before, you can't go wrong with a simple and tasty recipe that takes little prep time – am I right?!
I also decided to make another Easter recipe using ingredients I had on hand. This time, a dessert!! I decided to make some Eastre Oat Cookies inspired by these monster cookies on Betty Crocker. It was another simple recipe that I knew everyone would love and would be perfect for the Easter festivities that day.
If you'd like to try these Easter Oat Cookies, here's what you'll need:
INGREDIENTS:
1 1/4 cups packed brown sugar
1/2 cup shortening
2 eggs
2 1/2 cups Original Bisquick™ mix
1 cup old-fashioned or quick-cooking oats
1 cup candy-coated chocolate candies
Easter Sprinkles
2 tsp. vanilla
DIRECTIONS:
1. Heat oven to 375.
2. In large bowl, beat brown sugar, shortening and eggs with electric mixer until well combined. Stir in remaining ingredients.
3. Scoop dough onto a greased cookie sheet using a cookie scoop.
4. Top with a few candy-coated chocolate candies and some Easter sprinkles.
4. Bake for 7-9 minutes.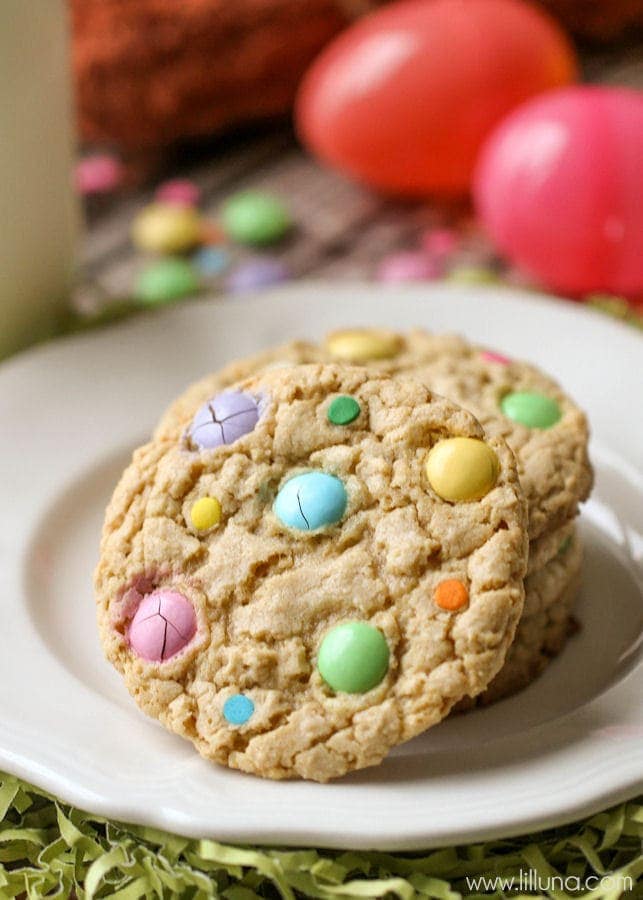 You guys know how much I LOVE easy and yummy recipes!
More than anything, these recipes have made me really excited for Easter coming up, and I'm excited to try even more recipes for the upcoming holiday.
For even more simple and delicious Easter brunch ideas, be sure to go to HERE and for all recipes go HERE.
Be sure to check out Bisquick on Facebook, Twitter, and Pinterest for even more delicious inspiration.
For all recipes on the site be sure to go HERE.
ENJOY!
This is a sponsored conversation written by me on behalf of Betty Crocker via Burst Media. The opinions and text are all mine.