Our favorite chocolate sheet cake recipe. It's simple, moist, delicious and serves a lot making it our go-to party dessert – perfect with ice cream.
This is our most-requested dessert for family functions! This classic sheet cake is simple, moist and topped with an irresistible frosting making it great for holidays, BBQs and parties.

best-ever Sheet Cake
I think it's pretty hard NOT to like cake. It's just so good… and today's recipe is probably the dessert that I consider the most addicting of any I've ever made before. It's true – this Texas Chocolate Sheet Cake is the BEST EVER, and it's easy (Also be sure to check out our White Sheet Cake recipe).
If you don't believe me, just try it. I promise it will not disappoint. We got the recipe from a family friend years ago, and it quickly became a favorite.
This particular cake makes a lot, so it's become a staple for get togethers and birthday parties (it's big where the word Texas comes in). 😉 We change out the sprinkles based on the occasion and usually serve it with different kinds of ice cream. If you like chopped pecans you can add those too!
If I'm going to be honest, I can't have this cake laying around at my house, because I will literally eat the whole pan. It's just so soft, so flavorful and SO addicting!!

How to Make Sheet cake:
Although this cake is made in a jelly-roll pan and is made with classic pantry ingredients, we omit the pecans which are classic in a Texas Sheet Cake recipe.
Can you add the pecans if you like them? Of course!! We just have so many kids in the family that sprinkles tend to get a better response than the nuts. But as I mentioned, we tend to have all these ingredients on hand which means we make this all the time!
To make this cake, mix the flour, sugar, Hershey's baking cocoa, baking soda, and salt together. Add eggs, oil, buttermilk and hot water and mix all together.
Pour this into a greased jelly roll pan or an 11×15 baking pan. Bake at 350 for 20-25 minutes.
While cake is still warm, make frosting by combining butter, cocoa, milk, vanilla and powdered sugar in a small pot. Heat and whisk until butter is melted and there are no more clumps. Pour over the warm cake and top with sprinkles right away before the frosting sets.
Can you add nuts? Of course! Most classic Texas sheet cake recipes have chopped pecans in the frosting. Our kids just happen to like sprinkles better so that is why we use them. 😉

Buttermilk Substitute
This recipe calls for buttermilk, but that is the one ingredient that many don't always have on hand. Although there really isn't anything that tastes JUST like buttermilk, there are plenty of buttermilk substitutes than you can use in a recipe.
 ACIDIFIED MILK

Add 1 tablespoon white vinegar or lemon juice to a measuring cup, and add enough milk until it measures 1 cup. Stir, and let sit for five minutes before using.

WATERED-DOWN YOGURT

Whisk a bit of milk or water into plain, unsweetened yogurt until you get a buttermilk-like consistency (generally around ¼ liquid with ¾ cup yogurt).

WATERED-DOWN SOUR CREAM

Whisk together equal parts sour cream and water. This hack is particular good in Pancakes.

CREAM OF TARTAR AND MILK

Whisk 1 ¾ teaspoons cream of tartar into one cup of milk.
Even though this cake may be the demise of any diet or healthy eating I'm trying to accomplish, it's also my cheat treat! I really don't think you can find a cake that is more soft or scrumptious!
How to store + FREEZE sheet cake?
STORING. If properly stored, which means tightly covered or in an air-tight container, sheet cake can last on the counter for up to 3 days. Place in the fridge and it should last for up to 1 week.
FREEZING. You can freeze sheet cake, but we recommend not frosting it. Wrap the cake with aluminum foil making sure none of the cake is exposed. Be sure to roll the foil seam slowly and press all the ends together to preserve its freshness, then place in the freezer for up to 2 months.

We love having friends and family over and typically turn to our sheet cakes to feed so many people. This is definitely one of our favorites, but be sure to check out the rest of the sheet cakes found on the site. They're all delicious and feed a crowd.
For all my gluten-free friends, be sure to check out this Flourless Chocolate Cake.
For more sheet cake recipes, check out:
More Collections: Cakes That Feed A Crowd
Chocolate Sheet Cake Recipe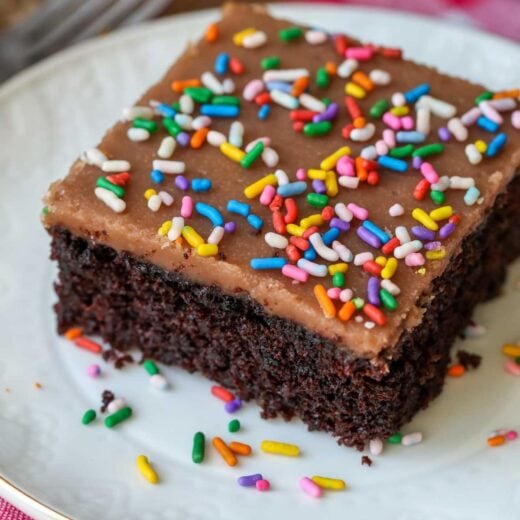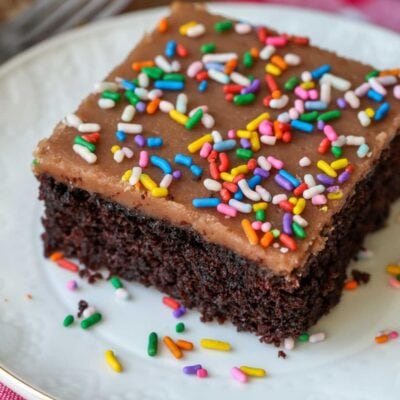 Our favorite chocolate sheet cake recipe. It's simple, moist, delicious and serves a lot making it our go-to party dessert - perfect with ice cream.

Ingredients
Cake
2

cups

all-purpose flour

2

cups

sugar

1/2

cup

Hershey's cocoa

3

tsp

baking soda

1

tsp

salt

2

eggs

2/3

cup

vegetable oil

1

cup

buttermilk

1

cup

water

hot
Instructions
Cake
Mix all dry ingredients in a bowl.

Add eggs, oil, buttermilk, hot water. Mix all together and pour into a greased 11x15 pan.

Bake at 350-375 degrees for 20 minutes.
Frosting
Melt 1 cube (½ cup) butter in a medium pot.

Add 2-3 tablespoons of cocoa, 4-6 tablespoons of milk, 1 tsp. vanilla and 3½ cups (1 box) of powdered sugar (sift beforehand).

Mix well and spread over warm cake. Add sprinkles if desired.