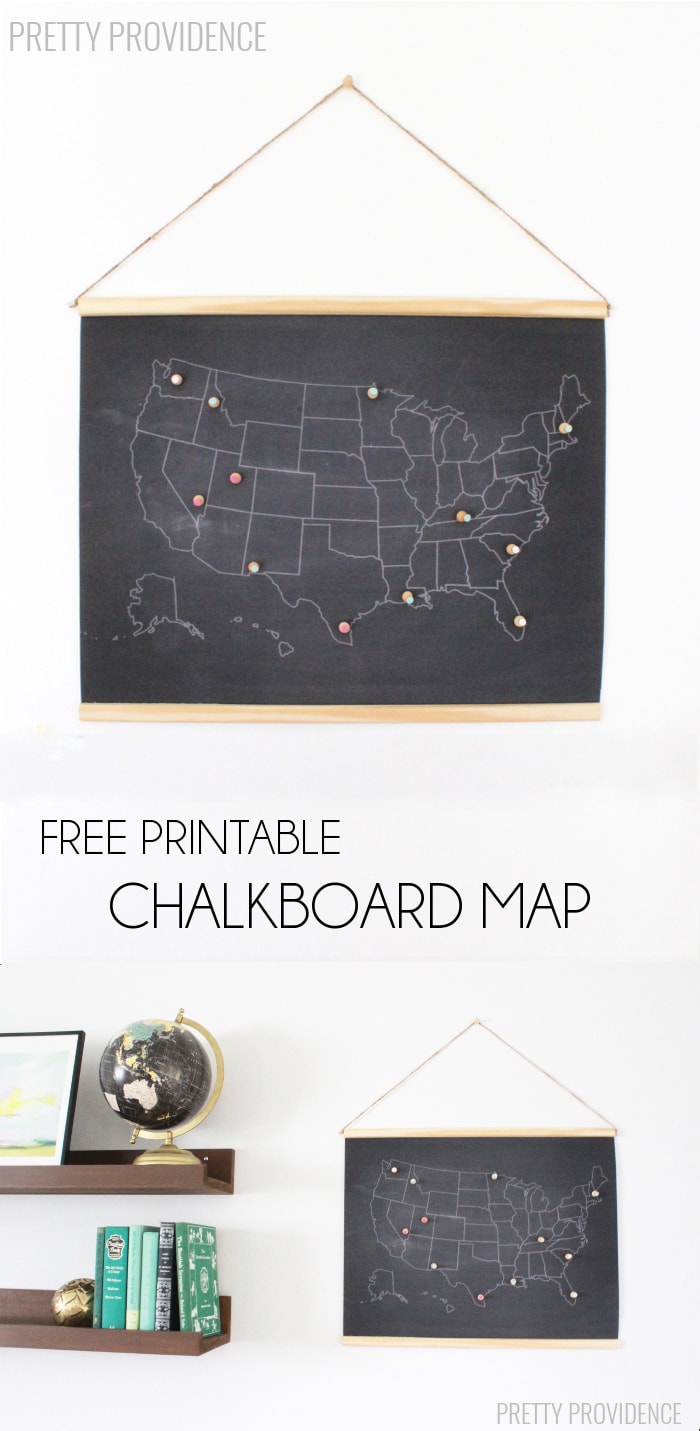 Hey friends!
I'm Sarah from Pretty Providence, where my BFF Jess and I share the ways we have fun, look stylish, eat well and create beautiful homes without spending a lot of money. I am excited to share this free chalkboard US map printable today – it is such a fun and classy addition to my home decor. I had wanted a map where my family and I could keep track of where we have traveled, where we still want to travel and so on with little push pins, but I didn't want it to be expensive. So, I just made it myself and now I'm sharing it for free! Plus, I made a quick and easy frame for it so read on for the tutorial.
MATERIALS: 
Chalkboard Map Printable
2 thin wood molding strips
Push pins
Acrylic paint
Thick double-sided tape
Twine
2 Finishing nails or sewing pins
[optional] Cork board
TUTORIAL:
Have your chalkboard map printed by a printer. [I chose black and white printing at Fedex Office on 32 lb paper, in size 20 inches by 16 inches, it cost about $22.]
Cut dowel rods to 20″ each [this can be done at the hardware store] and attach one to the top and one to the bottom with thick double-sided scotch tape.
Paint the tips of push pins in whatever colors you like and let them dry.
Add a finishing nail or sewing pin to either side of the top frame, leaving 1/4″ to 1/2″ of space.
Attach twine to both of the nails at the top.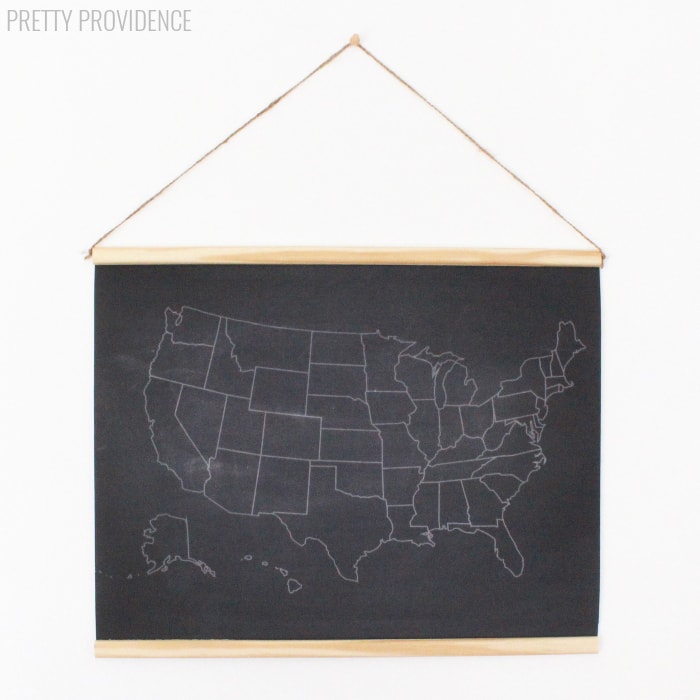 Optional – you can try attaching cork board behind your map, but I tried modpodge and I don't recommend that. It really wrinkled my map! I actually ended up just hanging my US map on my wall as it is, and I can still put push pins in it just fine without actually sticking them into the wall or cork, etc.
I did three colors of push pins – one for where we've been, one for where we want to go, and one for where we've lived.
See? So fun. If you like this you can also check out these posts:
__________________________
I'm a huge fan of maps, and I LOVE this idea for keeping track of family travels!!
Plus it makes the cutest wall decor. Thanks for sharing with us Sarah!
Head over to Pretty Providence to see all of her amazing decor ideas, and more!
For more DIY decor projects, check out these posts: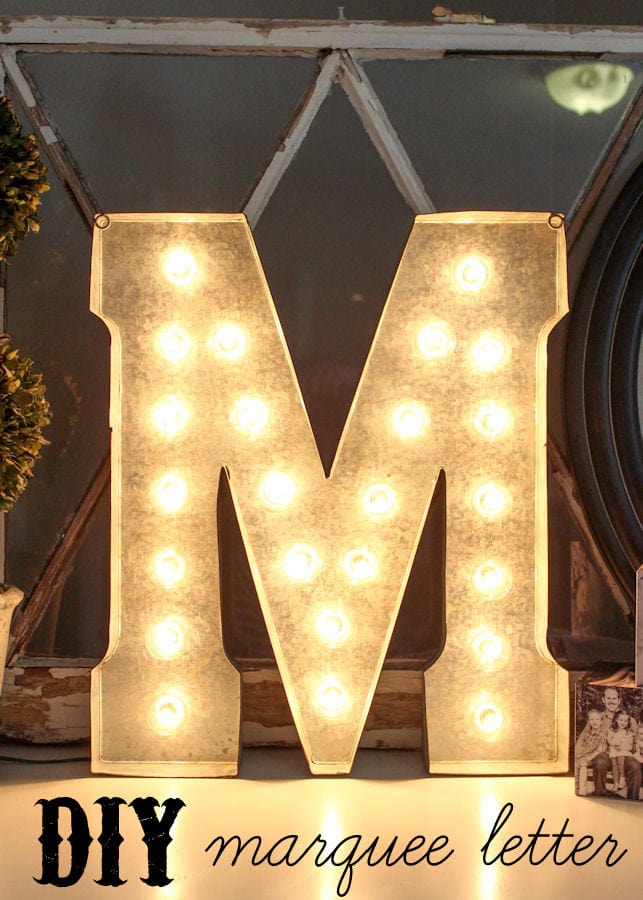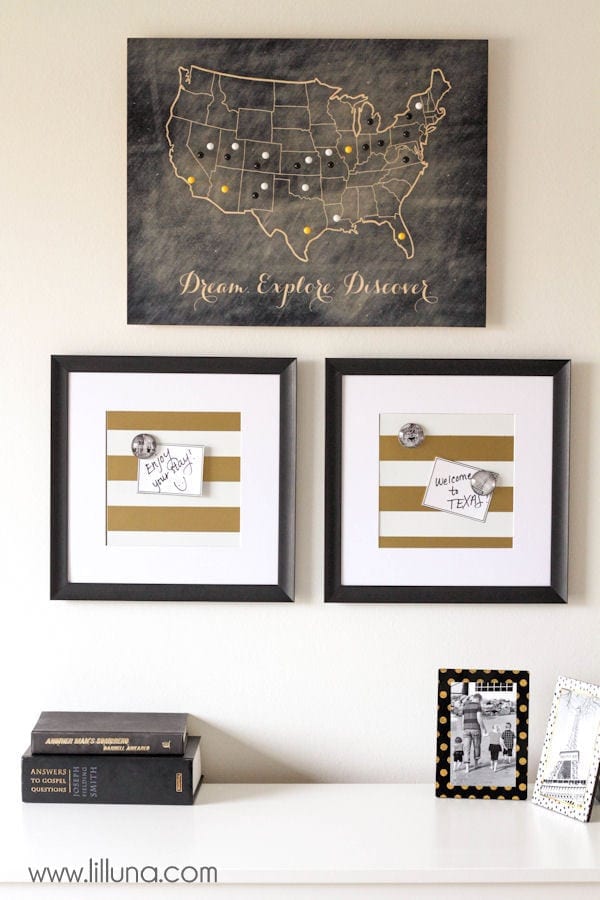 For all decor ideas, go HERE.
For all DIY projects, go HERE.