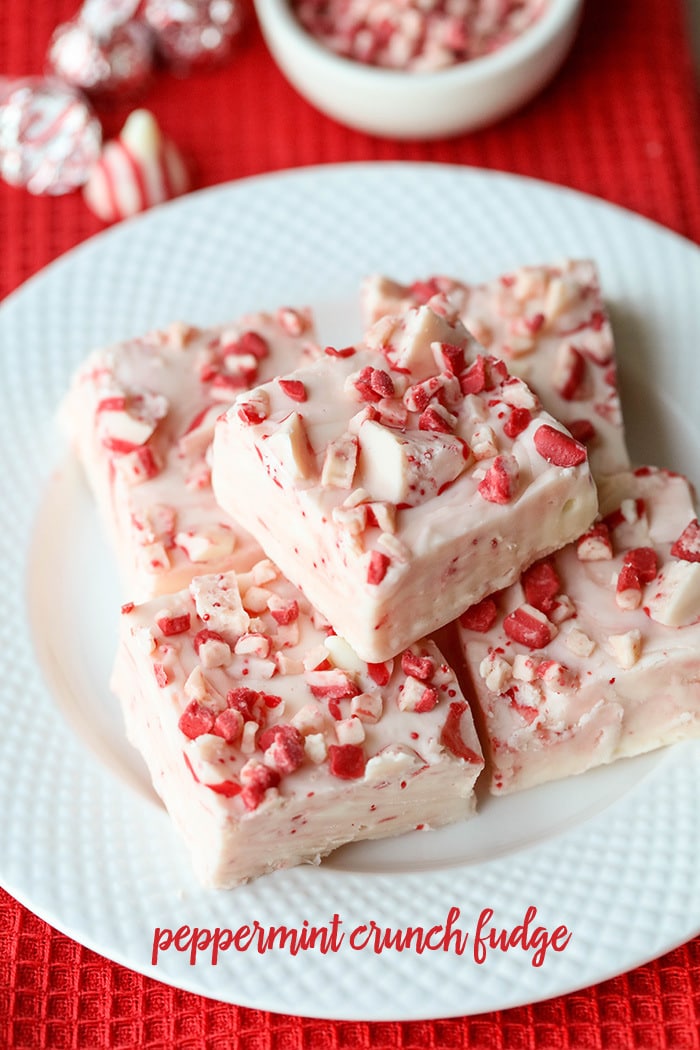 Hi, it's me Lily again!
On Friday I had a Lockdown Drill and it was really scary for me. We were going to hide and not talk, and if we talked you'd have 2 color changes!! I did not want that. Well, I found out that it wasn't that scary at all. A police man came and knocked on the door in PE, and we covered the windows with paper. I put a bubble in my mouth so I wouldn't talk. I was trying to think of my happy place so I wouldn't be nervous. When it was done I realized it wasn't bad at all!!
When I was thinking of my happy place during the drill, I thought of being home with mommy making something yummy like Fudge!! We decided to try a new fudge recipe cuz I was thinking about that. We made Peppermint Crunch Fudge, and I liked it SUPER MUCH! Mommy let me have 2 pieces!!
THE GAME PLAN: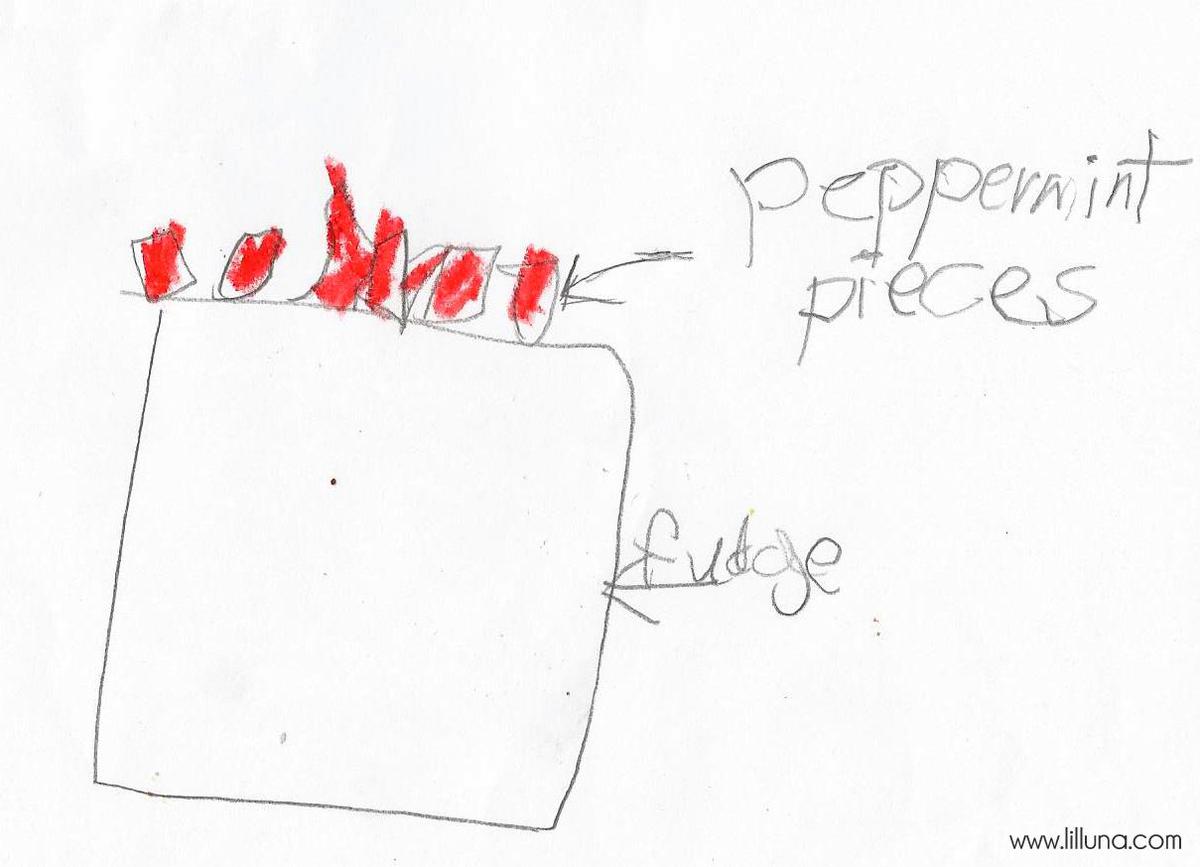 We used our White Chocolate Reese Fudge and just added some other yummy peppermint treats like Hershey's Candy Cane Kisses and Andes Peppermint Crunch Bits. We hope you like this a lot.
My mom said you could use Chopped up Candy Canes, but we think the Andes Peppermint Bits are yummier and softer. I think they smell so good!!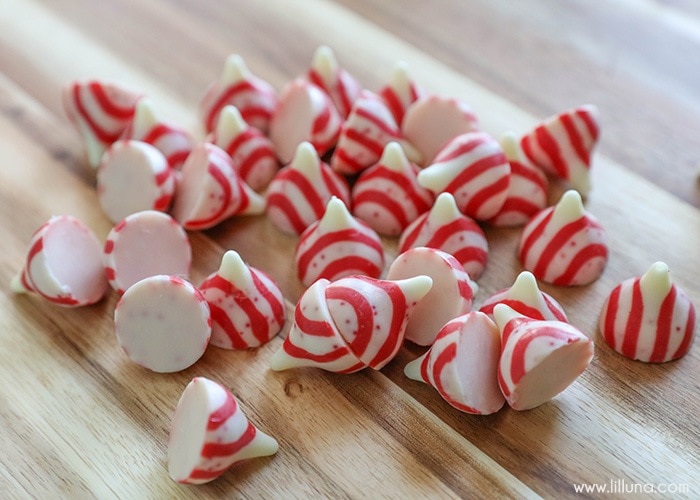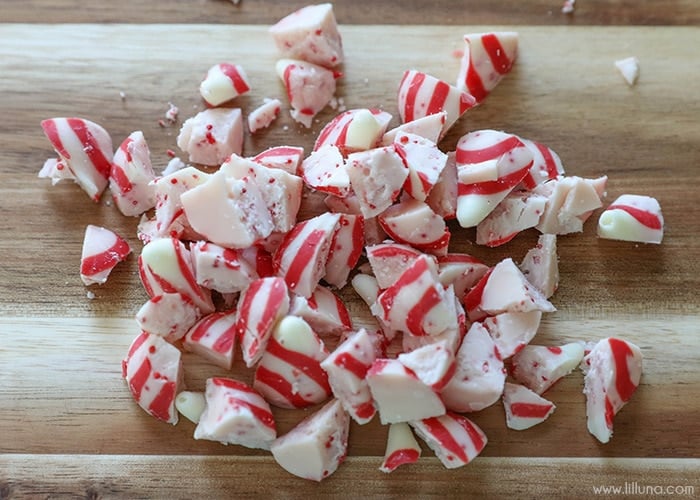 Mommy chopped the Kisses up into fours. I unwrapped them all for her. My brother helped too!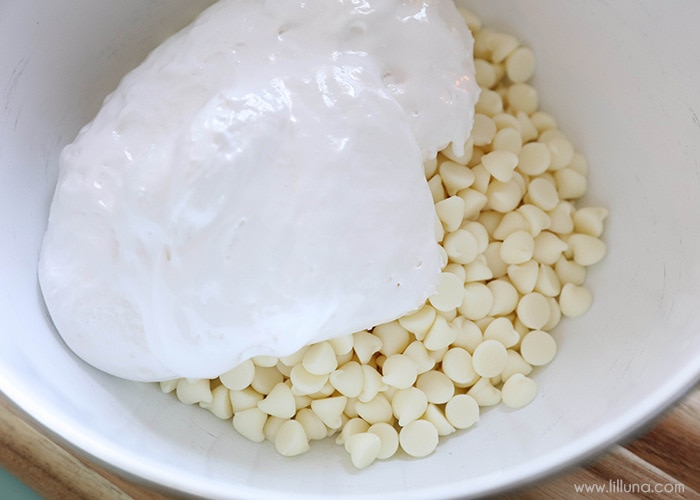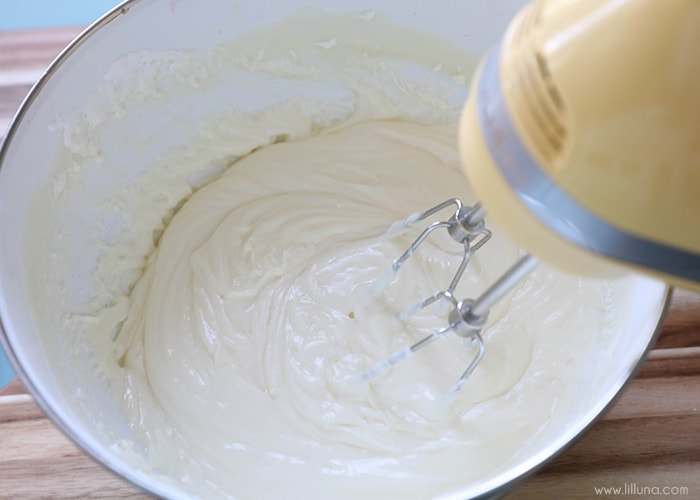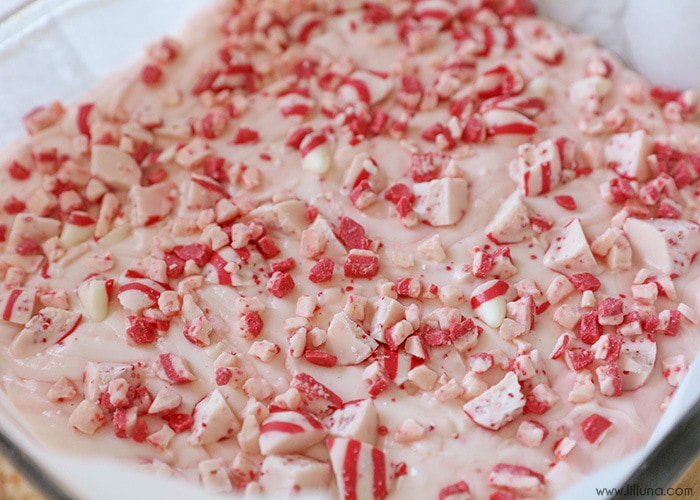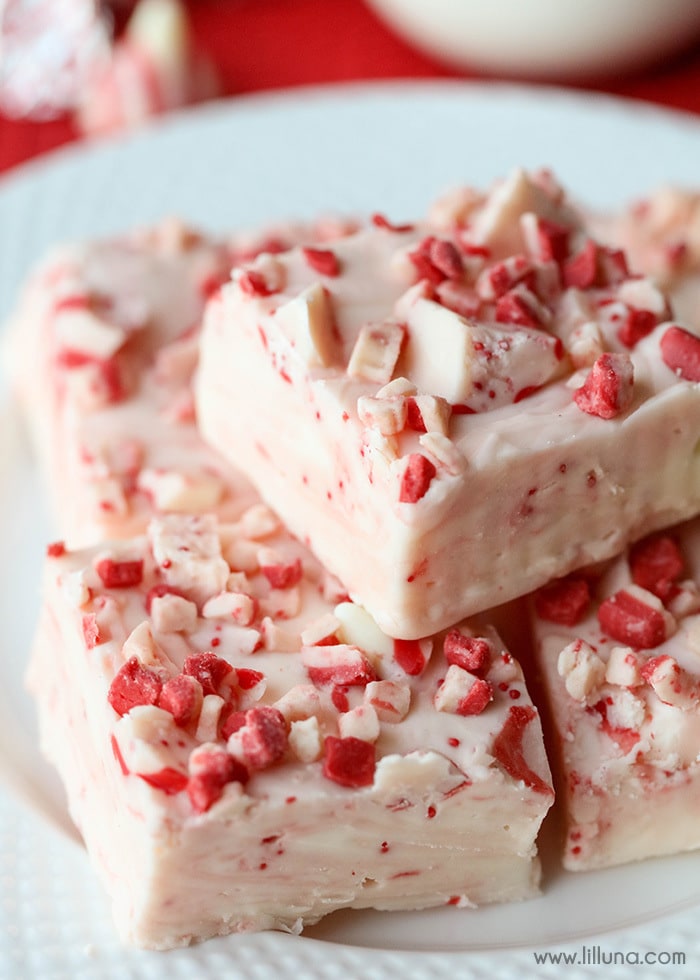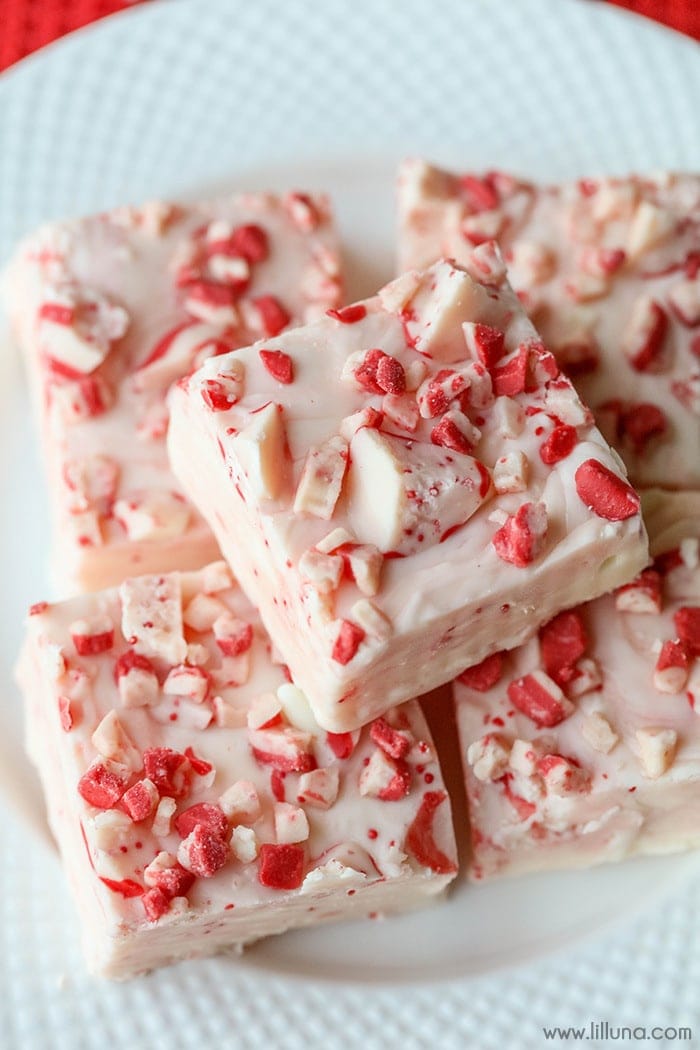 I already asked my mom if I could have more and she said NO! Maybe I can sneak one tomorrow. 😉
I hope you can come back again soon for more yummy treats from me.
Love, Lily
For more yummy treats by my mommy, be sure to check out:
Peppermint Fudge VIDEO:
Peppermint Crunch Fudge Recipe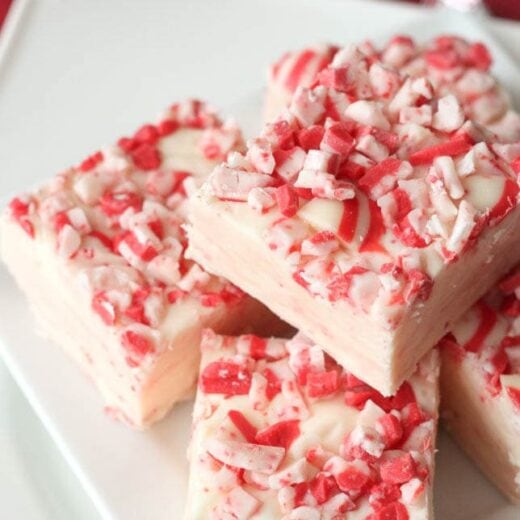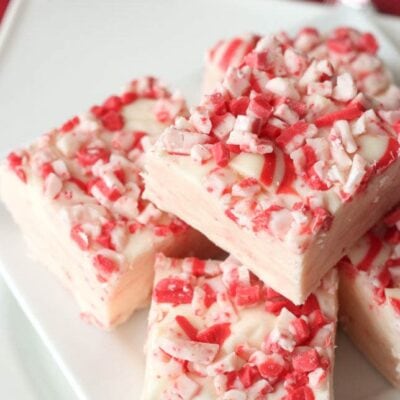 Peppermint Crunch Fudge Recipe - one of the easiest and most delicious winter treats. If you love fudge, you'll love this recipe! Ingredients include white chocolate chips, marshmallow fluff, candy cane kisses, & Andes peppermint baking chips!
Ingredients
Instructions
We started by peeling off all the Hershey's Kisses wrappers and cutting them in fours.

Then we put parchment paper on the 9x9 pan. This keeps the fudge from sticking to the pan.

Put the white chocolate chips and marshmallow fluff in a big bowl. Set aside.

In a pan melt the sugar, heavy cream, salt and butter on medium heat until it starts to boil. Cook for 5 minutes.

Pour the hot stuff into the bowl of chocolate chips and mix with the mixer until it's smooth and soft.

Mix (fold) in ¾ of the Kisses. Pour into your pan.

Sprinkle the rest of the Kisses on the top along with the Andes Bits. Press down a bit. Put in the fridge for 3-5 hours to let it set. Hope you like it!
ENJOY!!
BEHIND THE SCENES AT LILLUNA.COM: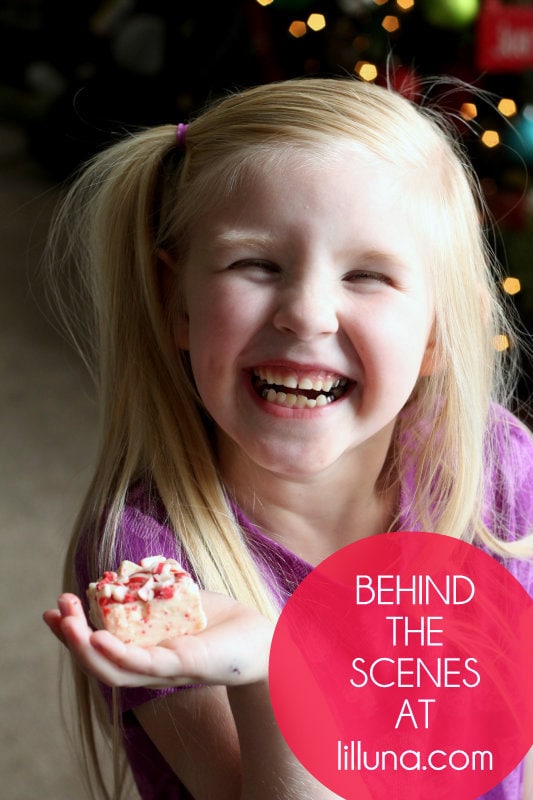 YUMMY!