This sweet and tangy chinese chicken dish is the perfect entree for an oriental meal! Everyone loves Sweet and Sour chicken, on its own or served with rice.
I've blogged about my love of Chinese food before. It is my absolute FAVORITE! And this is probably one of my favorite Chinese chicken recipes, right up there with Orange Chicken! If you're looking for a lighter version, try our Baked Sweet and Sour Chicken.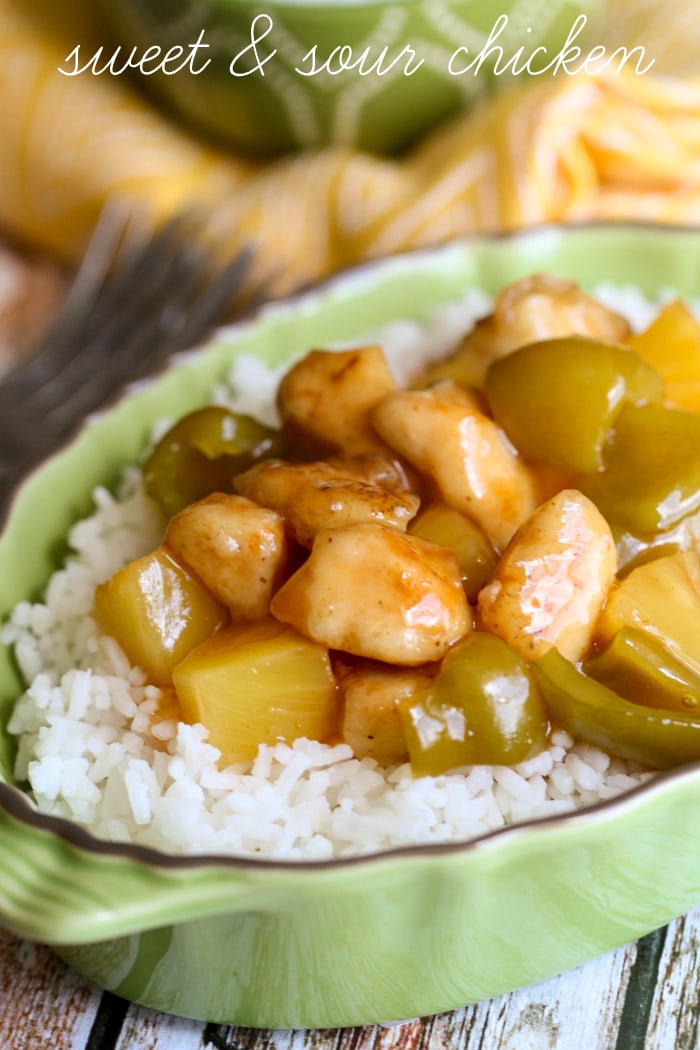 Sweet and Tangy Chinese Chicken
Every year when Chinese New Year rolls around, I like to go all out celebrating. You better believe I make ALL kinds of Chinese food! From entrees to sides, to fortune cookies… We do it all. One of the recipes I always make is this sweet and sour chicken. It is very good and easy to make, which is always a bonus. 😉
I don't know what it is about sweet and sour sauce that's so tasty. It's such a unique flavor—savory, but also sweet, and a little tangy. There's nothing else like it, but I sure do love it! I love it so much that we've made sweet and sour pork, and even meatballs!
Don't let the long ingredient list scare you!
I know it looks like a lengthy list of ingredients, but most of them are really small amounts of seasonings for the chicken batter and the sauce. I promise, this recipe really is more simple than you think! Here are some more specific instructions:
CHICKEN. Mix together the ingredients for the batter, cut the chicken into 1 inch cubes, and dip chicken in batter. Drop each piece into a pan with hot oil, and fry until golden brown on the outside and cooked through on the inside.
SAUCE. Mix together all of the ingredients for the sweet and sour sauce and bring to a boil. Add corn starch and water mixture and simmer.
COMBINE. Add bell peppers and pineapple (and any other vegetables you choose to add), and simmer until the peppers are cooked. Lastly, add chicken right before serving.
Other vegetables: You can easily add your favorite veggies to add color and flavor to the dish. Try mushrooms, carrots, water chestnuts, baby corn ears, red/yellow/green bell peppers, broccoli florets, snow peas.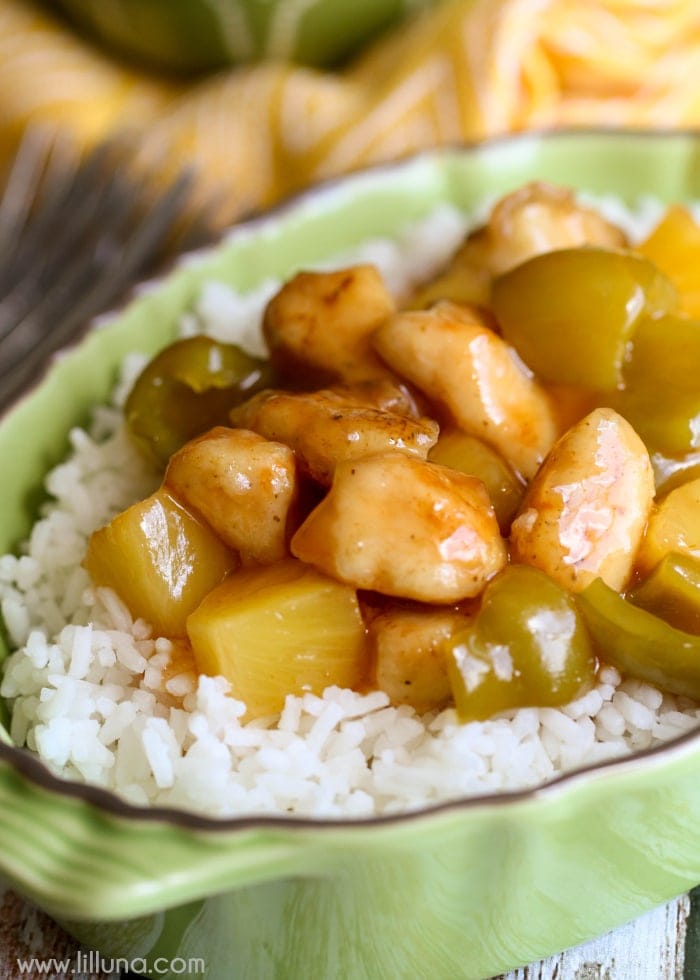 Tips for storing and reheating
STORING. Properly stored, leftover sweet and sour chicken will last for 3 to 4 days in the refrigerator. You can also freeze it in an airtight container. The quality of the dish will last for up to 4 months.
When you're ready to eat, thaw in the fridge. If it has been continuously thawing in the fridge it will last for 3 days before heating.  
REHEATING. The best way to reheat Chinese food is in a wok, or pan, on the stove top. Add a little oil and water to the pan, toss in the leftovers and stir. Be sure to watch each item in the pan to prevent burning. Enjoy!
For more Chinese dishes, be sure to check out these: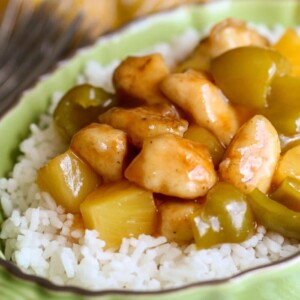 Sweet and Sour Chicken Recipe
This is our favorite recipe for Sweet and Sour Chicken! It's delicious and is one of the best dinner recipes.

Ingredients
Chicken
1/2

cup

flour

2

tbsp

cornstarch

1

tbsp

sugar

1

tsp

salt

1/4

tsp

pepper

1/8

tsp

baking powder

2

tbsp

oil

2/3

cup

water

2

lb

boneless skinless chicken breasts
Sweet and Sour Sauce
20

oz

pineapple chunks

reserve juice from can

1

cup

water

1/2

cup

vinegar

3/4

cup

sugar

1/4

cup

water

3

tbsp

cornstarch

1/8

tsp

salt

1/2

cup

ketchup

1

bell pepper

cut into 1x1 inch chunks
Instructions
Make the batter by combining ½ cup flour, 2 TB cornstarch, 1 TB sugar, 1 tsp. salt, ¼ tsp. pepper and ⅛ tsp. baking powder in a bowl. Add 2 TB oil and ⅔ cup water and mix well. Set aside.

Cut chicken into 1 inch x 1 inch chunks. Dip the chicken pieces into the batter and drop pieces individually into hot oil in a pan. Fry chicken until golden brown and cooked through. Drain pieces on a paper towel.

Make the sauce by combining remaining pineapple juice in can, 1 cup water, vinegar, sugar, salt and ketchup in a pot. Bring to a boil. Add 3 TB cornstarch to ¼ cup water and add to sauce, stirring constantly.

Add vegetables and simmer until vegetables are ready. Add chicken pieces right before serving.

Serve over hot rice.