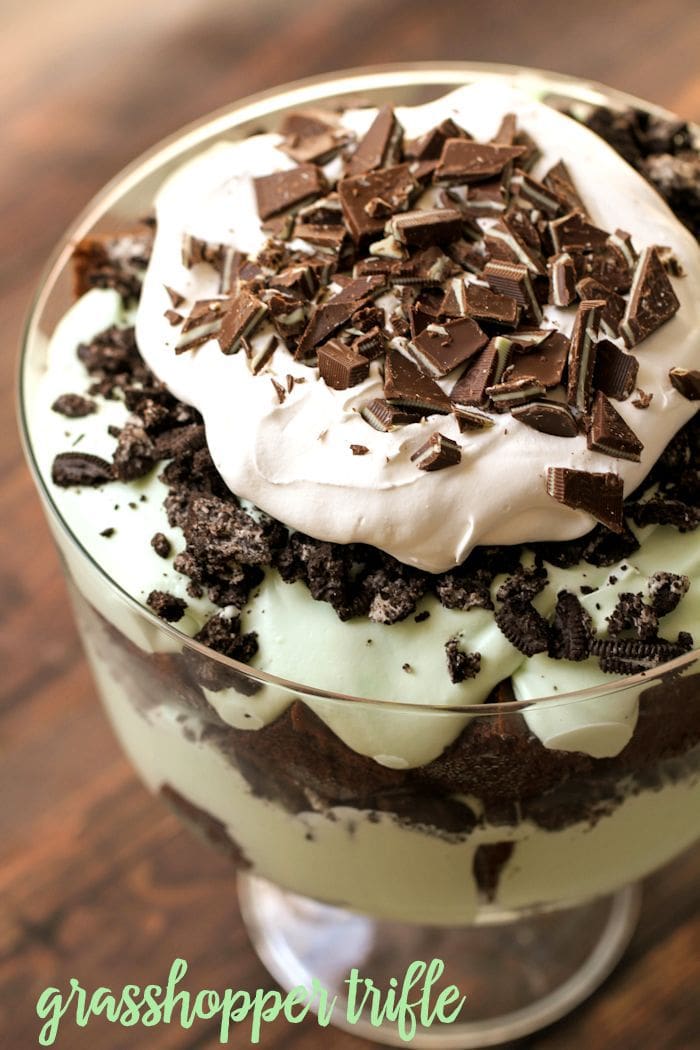 I LOOOOVE cool desserts in the summer time!! The're nothing better than eating something sweet and cold on a hot summer day! Wouldn't you agree?? I have a list of go-to cool desserts that I head to once it warms up for parties and barbecues, but I decided to try a new one that I knew would be a hit.
You see, along with cool treats I also LOVE trifles! They are so pretty and simple and usually look like a million bucks all layered together so when I saw this Grasshopper Trifle from Betty Crocker, I knew I had to do my own version of it. I saw that it had Oreos and Andes and knew it would be phenomenal. Their version seemed a little more time consuming, so I made my own version of the mint filling and I think it turned out fabulous!! I've always been a fan of mint and chocolate but had never thought to put it in trifle form so I was grateful for the inspiration from BC. This was another recipe that the kiddos got to help with too, which is always more fun. They loved layering everything together and even helped crush Oreos. If you're looking to change things up with a mint-y and chocolate-y cool dessert this summer, I'd definitely try this one.
It's a keeper in my books!

Grasshopper Trifle
Ingredients
Chocolate cake mix (with additional ingredients on back)
2 boxes of vanilla or white chocolate pudding (3.3 oz boxes)
3 cups milk
a few drops creme de menthe syrup or candy flavoring
food coloring
small container cool whip, divided
1 package of oreos
15 andes (chopped)
Instructions
Begin by making your chocolate cake according to instructions on back in a 9x13 pan.
Once done, let cool completely and then cut into 1 - 1½ inch squares. Set aside.
Make mint filling by whisking together pudding mix and milk in a large bowl. Once combined, add creme de menthe syrup/flavoring, food coloring and all but 1 cup of your cool whip. Mix well. Set aside.
Add Oreos to a gallon bag and crush. I use a rolling pin to break them up.
Begin layering your dessert by adding half your cake squares to the bottom. Then add half of your mint filling along with half of the crushed oreos.
Add the rest of your cake squares, mint filling then Oreos.
Top with the last of your cool whip and chopped Andes.
Cool for at least 1-2 hours before serving.
ENJOY!
Recipe adapted from Betty Crocker. 
MY OTHER RECIPES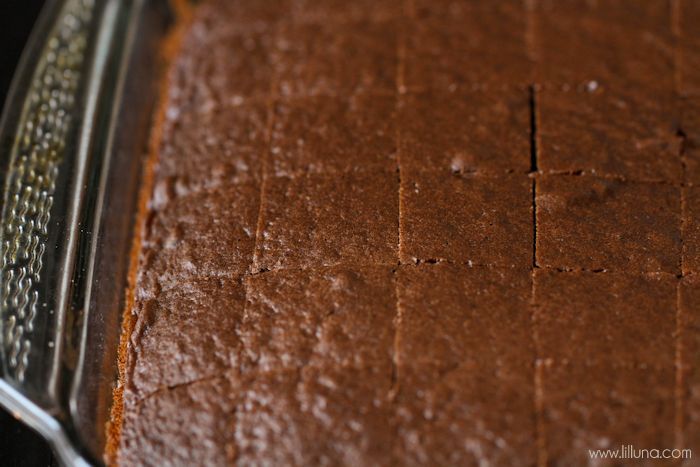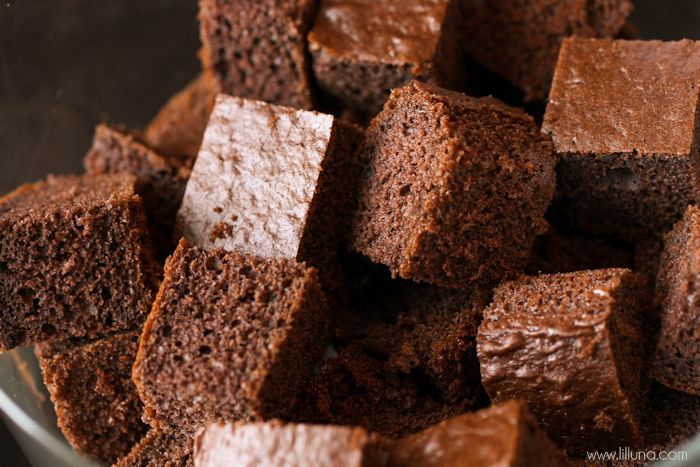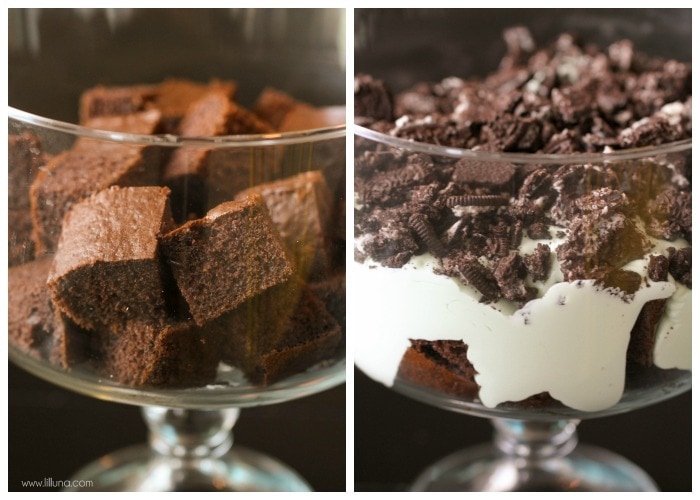 Look at all those delicious layers! YUMMY!!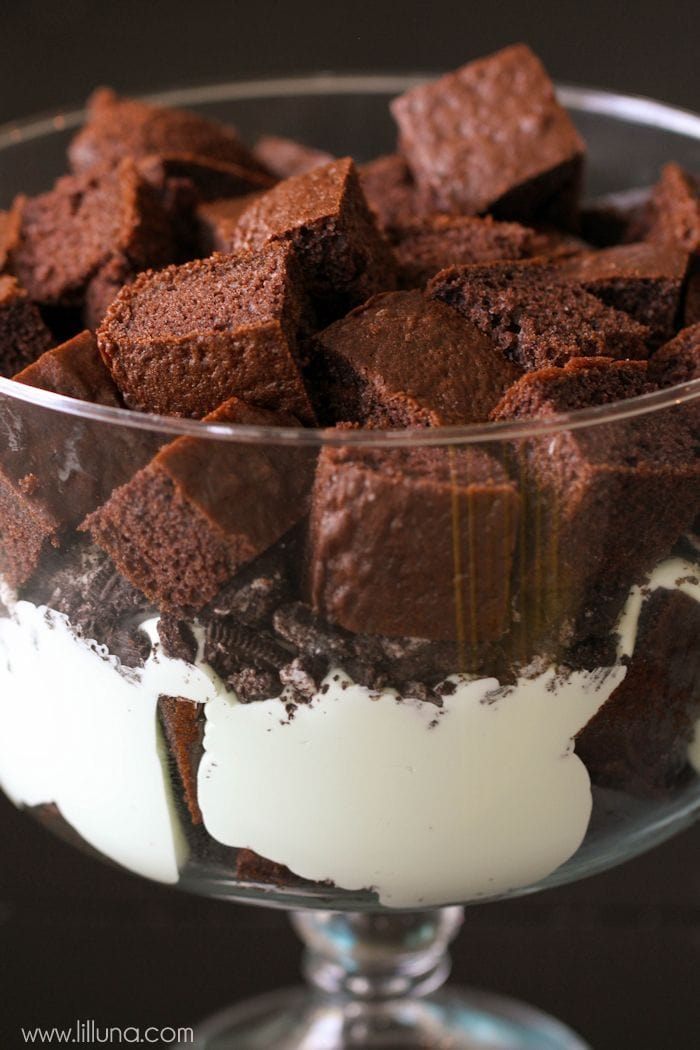 I'm not going to lie, I usually don't like cake plain but I couldn't helping grabbing a few of those cake squares to eat because they were so tiny and moist. 😉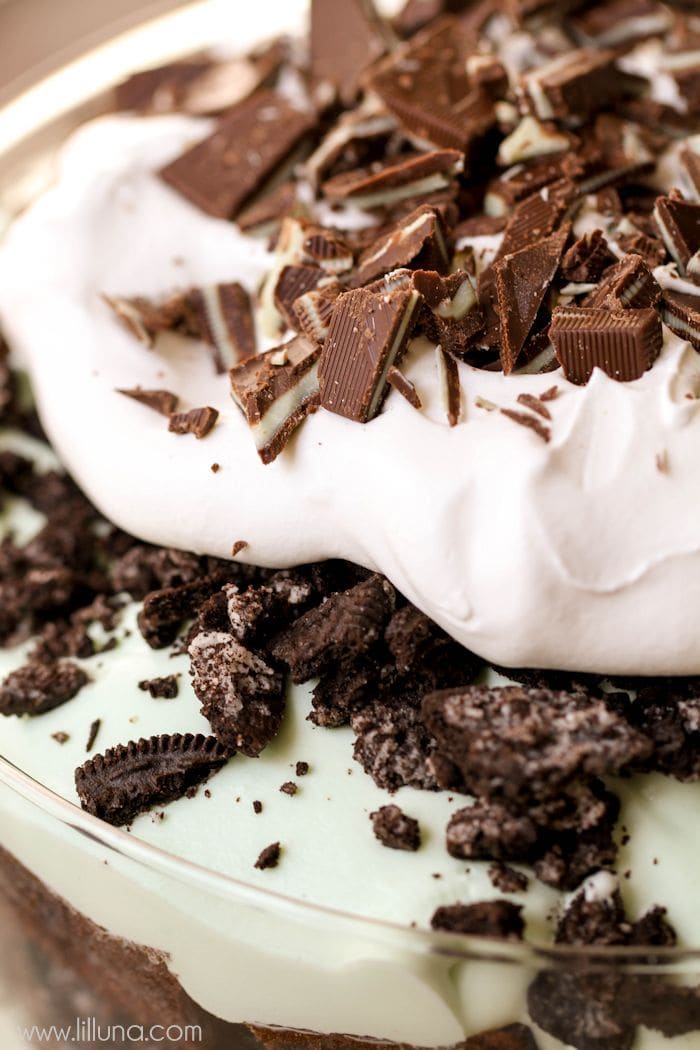 The cool whip and Andes were literally the icing on the cake. The perfect touch and so yummy. 😀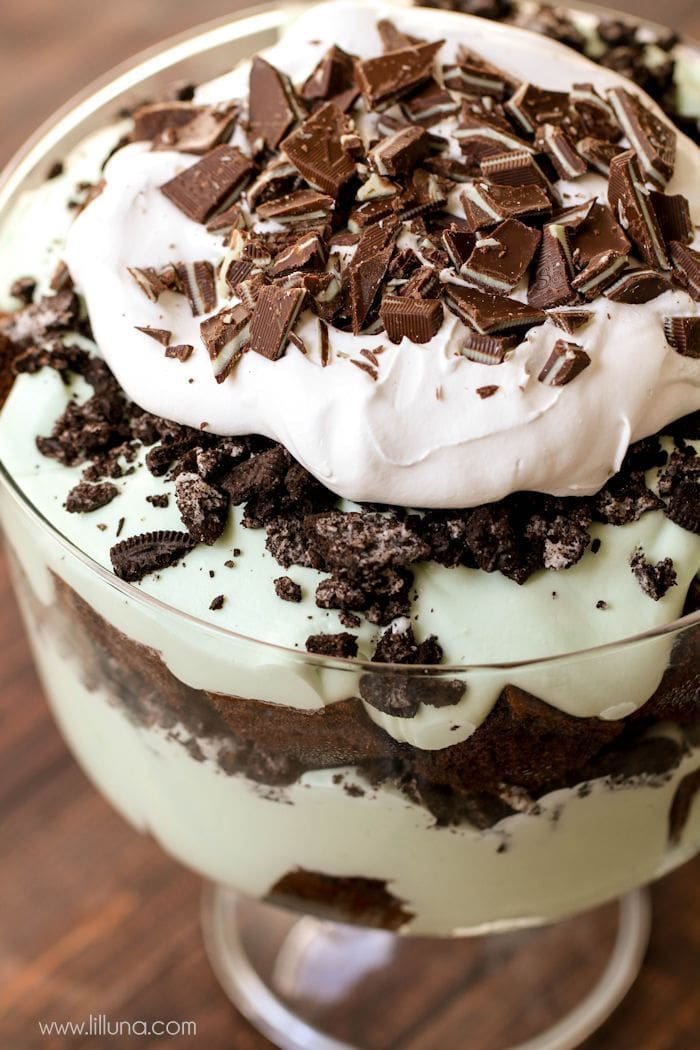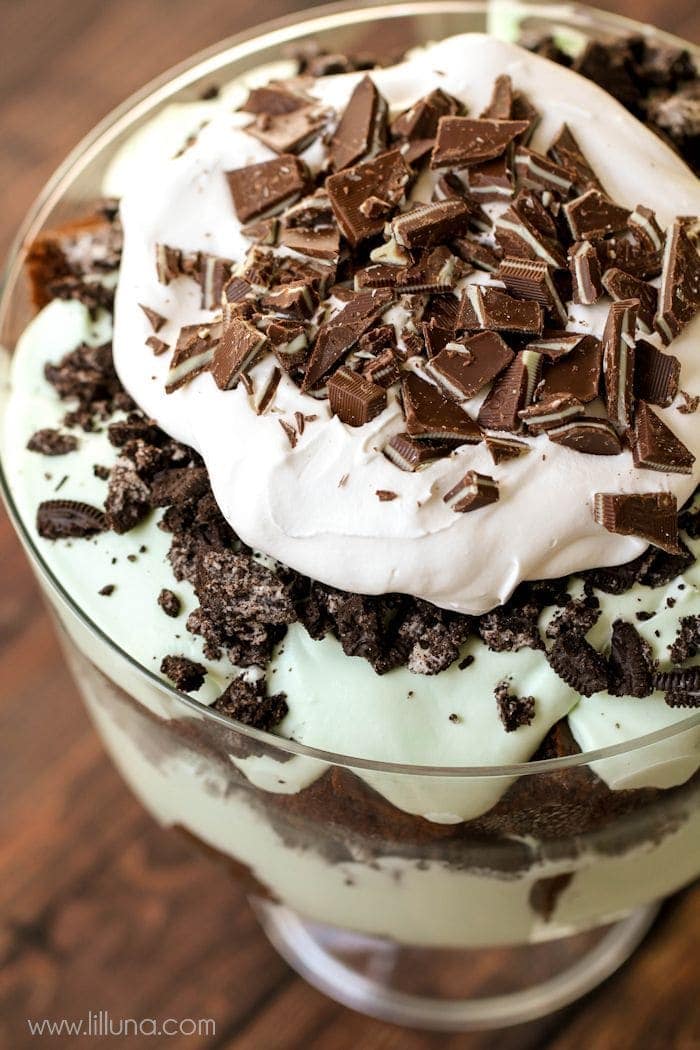 I had thought of using the Mint Oreos in this dessert, but felt like it already had the perfect amount of mint to it. BUT, if you looove mint, I'd definitely suggest adding the Mint Oreos. They'd be a great addition. 😉
For even more yummy and cool treats, check out these favorites: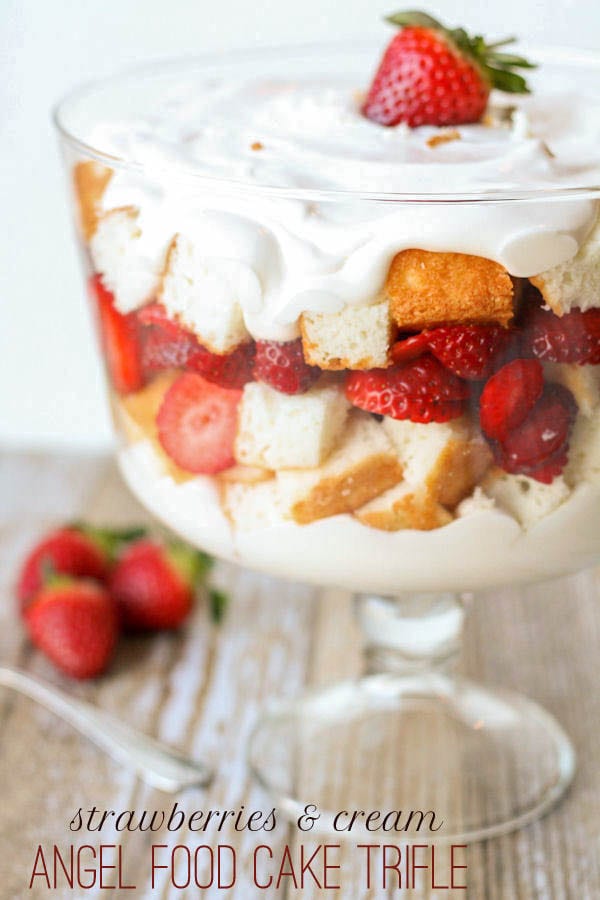 Strawberries and Cream Angel Food Cake Trifle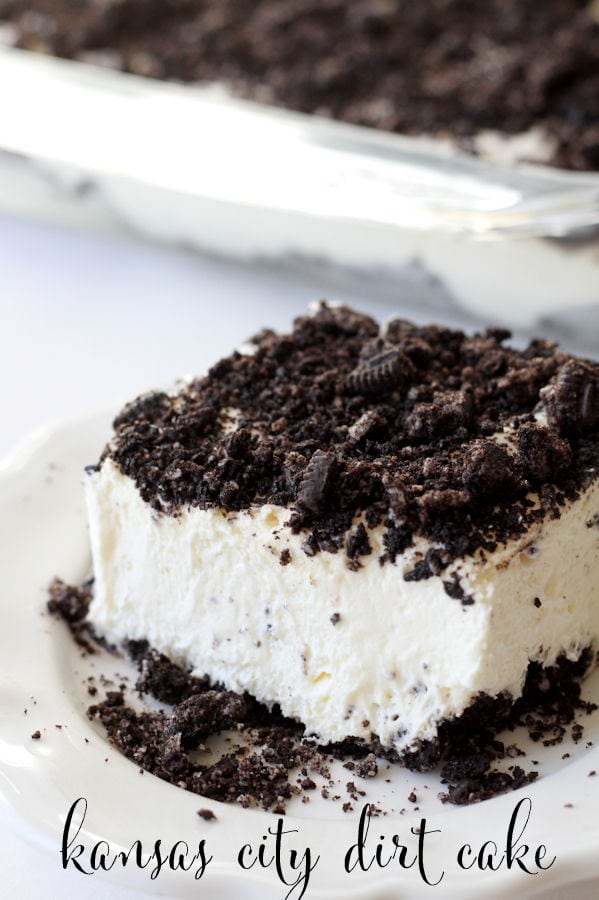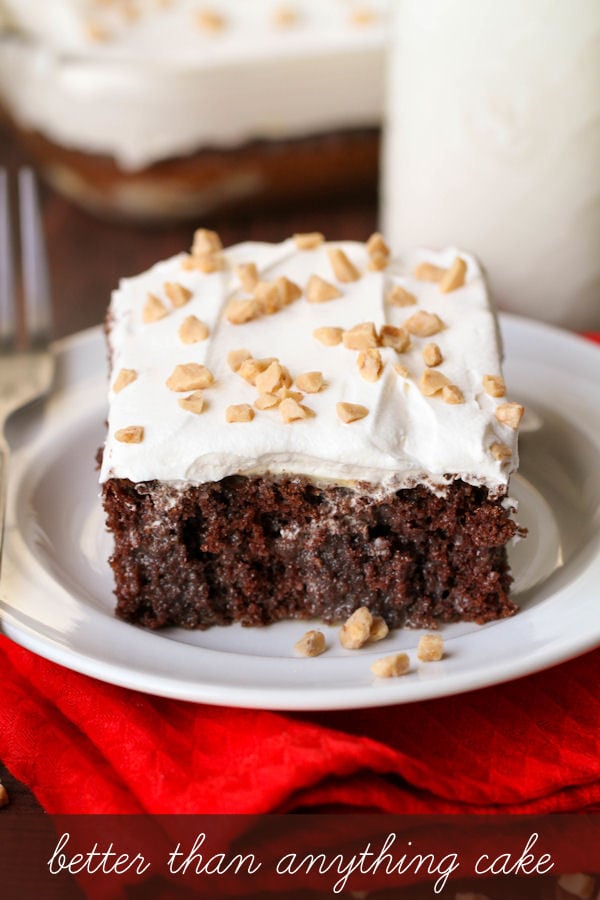 YUMMMMMY!
For all dessert recipes on the site go HERE.
For all recipes go HERE.
And get weekly emails with monthly freebies by signing up for the Lil' Luna newsletter. 🙂
For even more great ideas follow me on Facebook – Pinterest – Instagram – Twitter – Periscope – Snapchat.
Don't miss a thing – Sign up for the Lil' Luna Newsletter today!
ENJOY!