What's not to love about this easy Christmas Crack recipe? It's salty, sweet, crunchy, and filled with chocolate and caramel. Sometimes called saltine cracker toffee – it's highly addictive!
This irresistible sweet and salty candy recipe is a great filler for holiday cookie plates, along with Marble Bark, Turtles Candy, and Gingerbread Cookies!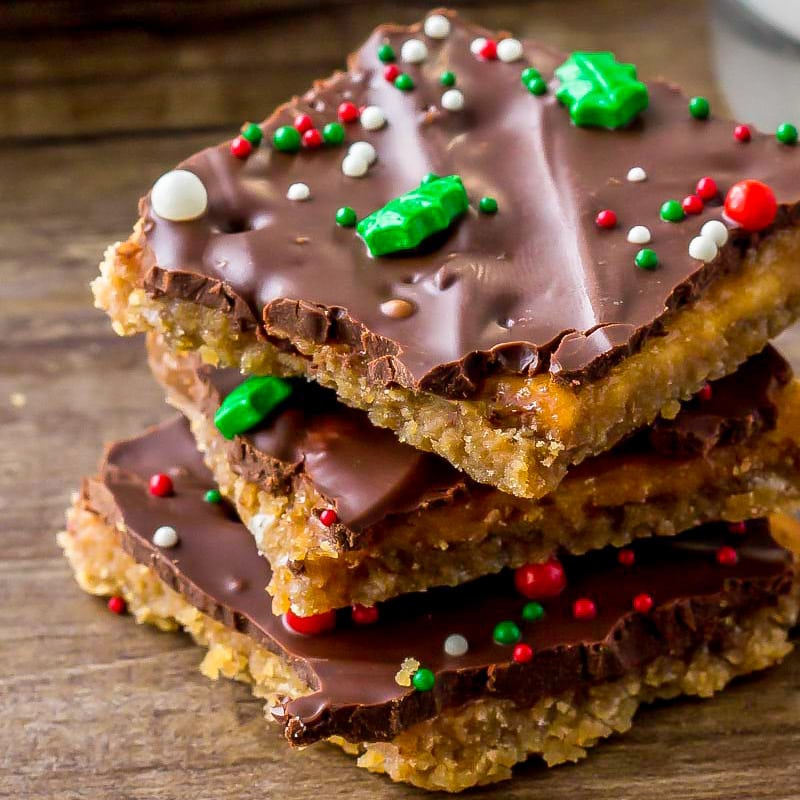 Saltine Cracker Toffee
Today I'm sharing this delicious Christmas crack recipe. If you've never tried it before, it's a homemade toffee made with saltine crackers, caramel sauce, and chocolate.
This candy recipe is deliciously crunchy and impossible to resist (just like our Classic Toffee recipe and Pretzel Toffee recipe).
The saltiness of the saltine crackers balances out the sweetness perfectly, and the combination salty, sweet & crunchy makes it the perfect homemade candy recipe.
We love to make it and break it up in pieces to add to some of our cookie plates. 😉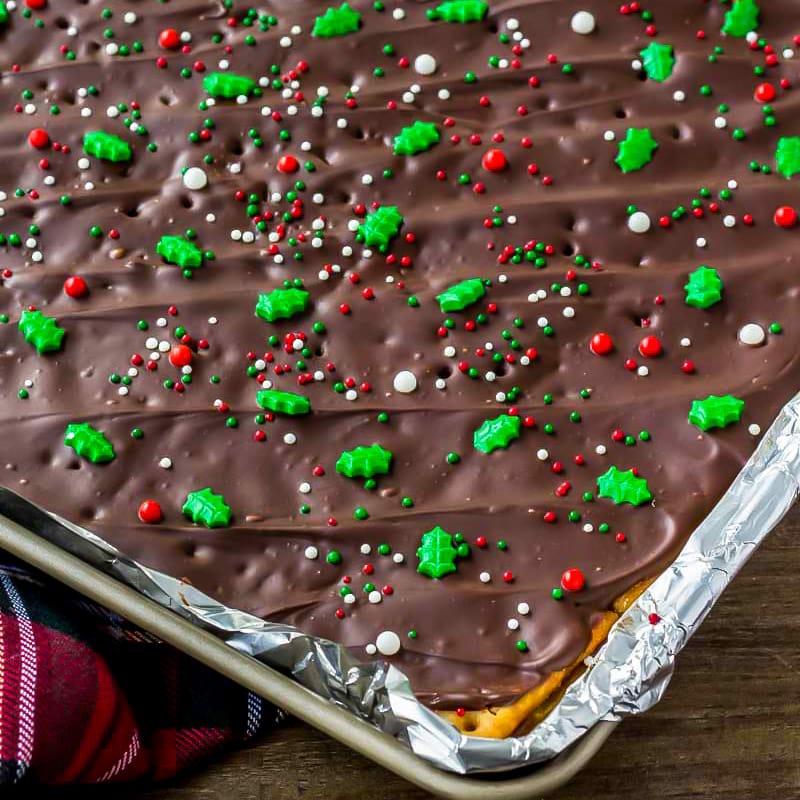 4 ingredients and a pan!
This saltine cracker toffee is super easy to make, and you don't need any fancy equipment or ingredients.
PREP THE PAN. First, we get started by lining a jelly roll pan (10×15 inches) with aluminum foil and giving it a light spray with non-stick cooking spray. This is super important, otherwise, the toffee will stick to the foil. Then arrange the saltine crackers to cover the pan in 1 layer.
CARAMEL SAUCE. Put 1 cup of butter and 1 cup of packed brown sugar into a medium saucepan. Melt it together, then boil for 3 minutes while stirring.
Note: Since we're not making homemade caramels – you don't need to worry about what temperature it reaches, just make sure it's boiling for 3 minutes and that you continuously stir it to prevent burning.
POUR & BAKE. Pour the bubbly mixture over top of the crackers, and spread it over so that they're all covered. Be careful here, because the mixture is very hot. Pop the tray in the oven, and bake for 5 minutes at 400F. This is where it gets that perfect "crack" and deliciously crunchy texture.
CHOCOLATE. Once it's done baking, let it cool for about 5 minutes. Then melted chocolate gets spread over top.
Toppings
I like to decorate my Christmas crack with holiday sprinkles. Chopped nuts, holiday M&Ms, Heath toffee bits or a drizzle of white chocolate works perfectly too.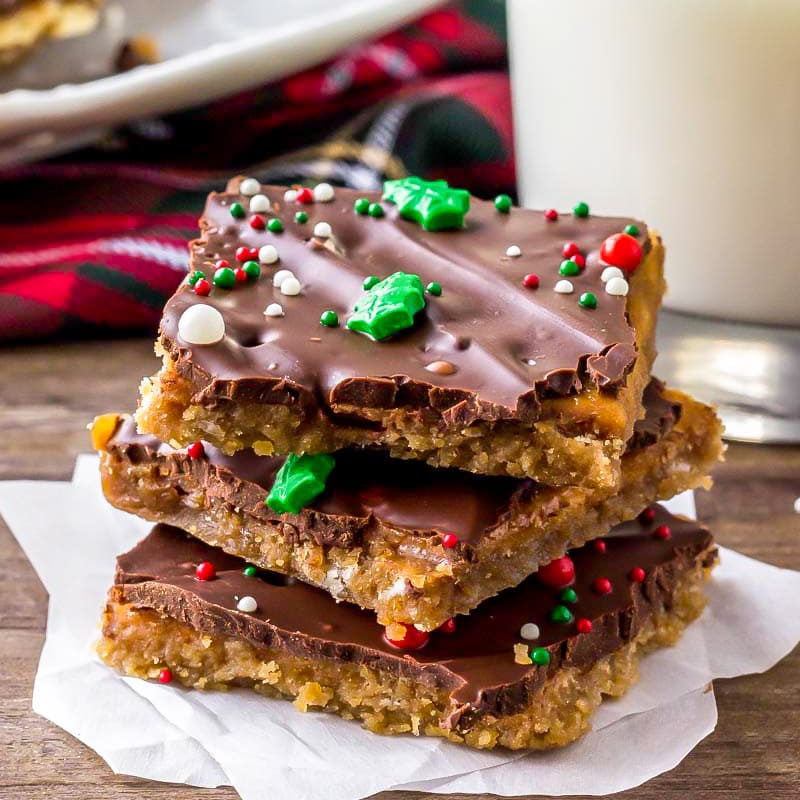 How to store christmas crack + Gifting
It also makes a great homemade gift too – you can wrap it in holiday cellophane bags or tins, and everyone will be excited to receive a batch. Gift it to friends, family or neighbors – or make a big batch for yourself!
You can easily make it in advance and have it on hand for cookie plates or neighbor gifts because it will last stored in an airtight container at room temperature for 5 days, or in the fridge for 10 days!
But trust us – it most likely won't last that long. 😉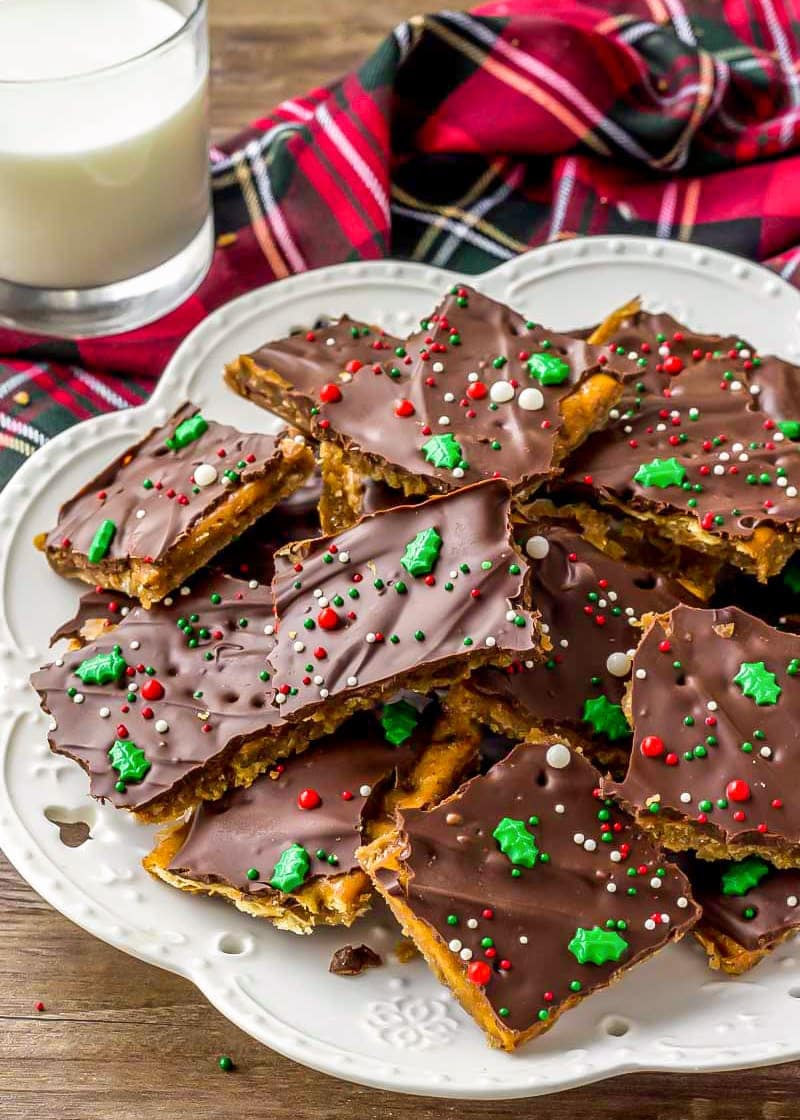 This Christmas crack is so delicious, and the perfect easy homemade toffee recipe.
For more easy homemade candy recipes, try:
Christmas Crack Candy Recipe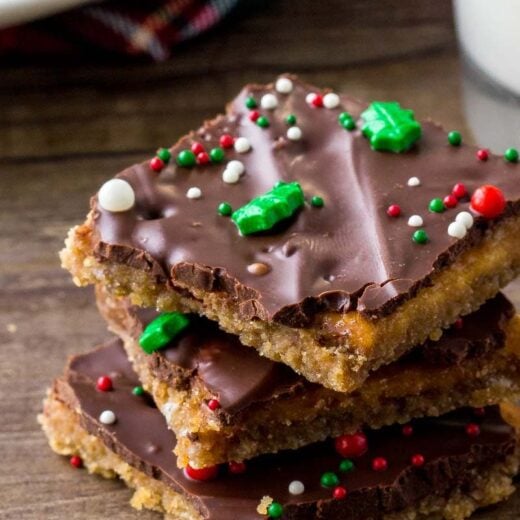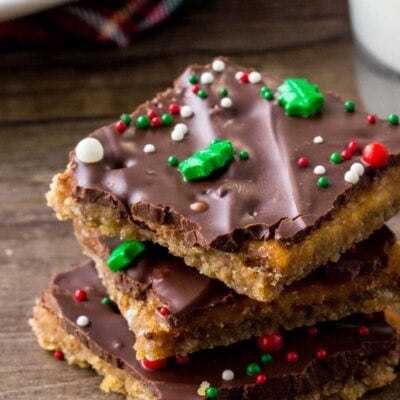 Christmas crack - also known as saltine cracker toffee - is a delicious homemade candy that's impossible to resist. Made with saltine crackers, caramel sauce & chocolate.
Ingredients
1

sleeve

saltine cracker

about 35-40 crackers

1

cup

unsalted butter

2 sticks

1

cup

brown sugar

2

cups

semi-sweet chocolate chips

sprinkles
Instructions
Preheat the oven to 400F degrees.

Line a 10x15 inch pan with aluminum foil and lightly grease.

Place the saltine crackers on the cookie sheet to cover the entire pan in 1 layer of crackers.

Melt together the butter and sugar in a medium saucepan over medium heat.

Once the butter is melted, bring to a boil for 3 minutes while stirring constantly.

Carefully pour the mixture over the crackers. Spread it overtop so that all of the crackers are covered.

Bake in the oven for 5 minutes. Remove from the oven and cool for 5 minutes.

Add the chocolate to a medium heatproof bowl. Microwave on medium power for 1-minute bursts, stirring between each. When the chocolate is almost melted, stir until smooth.

Spoon the chocolate over the crackers, and spread it smooth to completely cover the pan. Decorate with sprinkles.

Let the toffee harden until the chocolate is set. Either at room temperature or in the fridge.

Once completely hardened, remove from the pan peel the aluminum foil off. Break/"crack" it into pieces.

Store in an airtight container at room temperature for up to 5 days, or in the fridge for 10 days.