Our all-time FAVORITE Chocolate Chip Cookies recipe! These soft, chewy and delicious chocolate chip cookies are perfect for any occasion and truly knock the socks off of anyone who tries them.
This is the recipe we get asked for more than any other! This classic chocolate chip cookie is soft, chewy and made with pantry staples. Be sure to check out some of our other classic cookie recipes, like snickerdoodles and sugar cookies.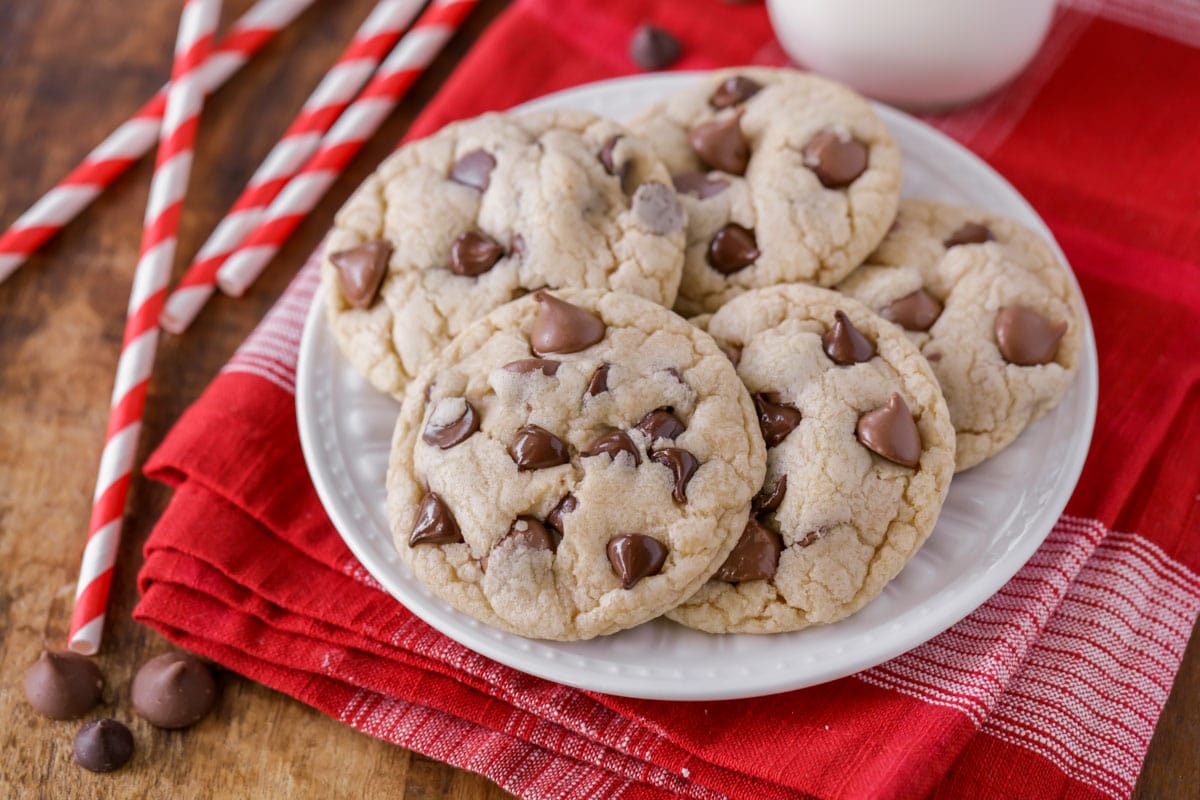 all-time family favorite
Let's begin by making a true statement: I have yet to meet someone who does love COOKIES!
And more specifically, I have yet to meet someone who hasn't fallen in love with today's recipe for our CLASSIC chocolate chip cookies.
We got this recipe decades ago from a family friend, and it's been loved and adored ever since. Any time I make these cookies, I am asked for the recipe right away.
It's simple – it's quick – and the taste is AMAZING!!
I use this recipe as the base to almost every cookie recipe I make. It's just good and soft! I know it works, and I have a feeling you'll love this recipe because I've had hundreds (if not thousands) tell me the same thing. 😉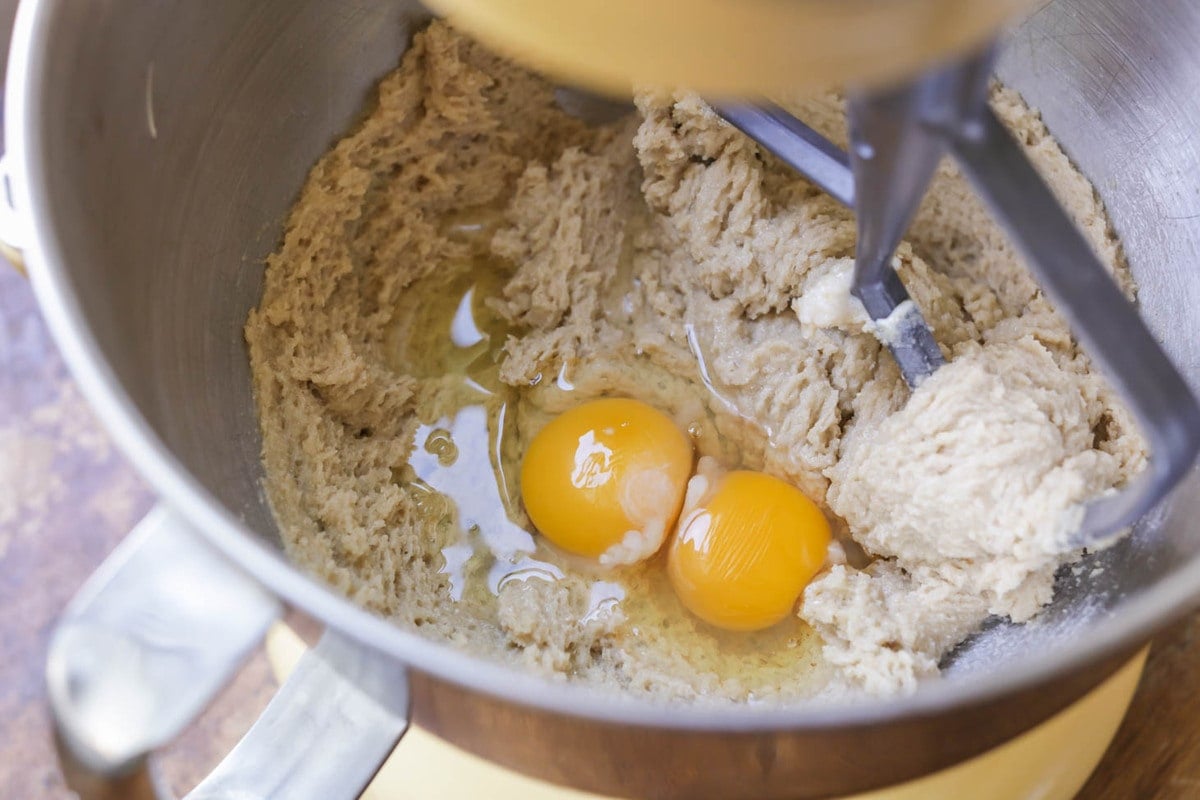 How to make
Like all the recipes on this site, these cookies are simple. They take about 10 minutes to make!
Ingredients include: white sugar, brown sugar, butter (at room temperature), oil, large eggs, baking soda, baking powder, salt, vanilla, flour and the most important ingredient of all – chocolate chips! Just gather your ingredients and these cookies will made in no time.
PREHEAT. Preheat oven to 350.
CREAM. Begin by creaming butter, oil and sugars (brown and granulated sugar) in a stand mixer. Add eggs and mix on low speed until fluffy.
DRY INGREDIENTS. Add the remaining ingredients – baking soda, baking powder, salt, vanilla extract and flour and. Mix until combined and then add chocolate chips (we like to do a mix of milk chocolate and semisweet chocolate chips). Scoop cookie dough balls onto a greased cookie sheet.
NOTE: The key to making the cookies look pretty is to add a few chocolate chips on top of the scooped or rolled cookie dough. 😉
Bake for 7-9 minutes and let cool on cookie racks or wire racks. Voila – the best chocolate chip cookies!!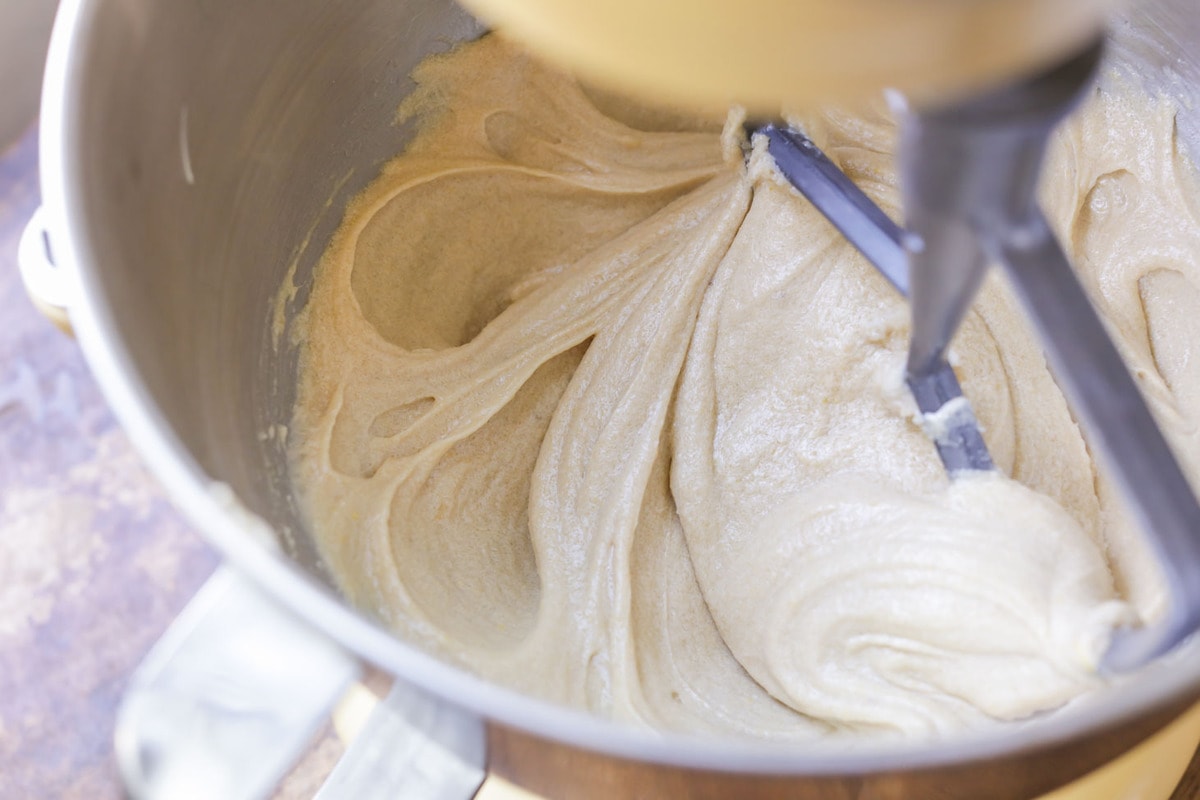 Cookie Factors
We all know everyone likes their cookies a certain way – whether it's soft, crunchy, large, small, chewy, crunchy, etc. Here are some tips to change up some things to get them just how you like them.
FLAVOR – change it up by adding different chocolate chips. We love the white chocolate chip + butterscotch chip combo!!
CHEWINESS – Instead of 1 cup sugar + 1 cup brown sugar, try using ½ cup sugar + 1 ½ cups brown sugar. Makes them a bit more chewy!
DRY-NESS – DO NOT pack your flour. Fluff flour and then spoon into measuring cup making sure to level off before adding to your cookie dough. Any more than 3 cups is too much flour and will make the dough too dry.
CRISPY-NESS – If you prefer a crispier cookie you'll need to reduce the moisture content. Try using one of these tips:

Bake the cookies for longer at a lower temperature. The cookies will have time to spread out more before they firm up. A thinner cookie will be drier and crispier.
Replace the shortening or oil with butter. Butter melts faster causing the cookies to spread more quickly before they firm up. It also contains water which will steam as it bakes causing a drier cookie.
Replace the brown sugar with white sugar or corn syrup. Without the moisture contained in brown sugar they will become more dry and crispy.

SIZE – Use a mini cookie scoop and bake for less or a larger cookie scoop and bake for longer to change up the size of these delicious cookies.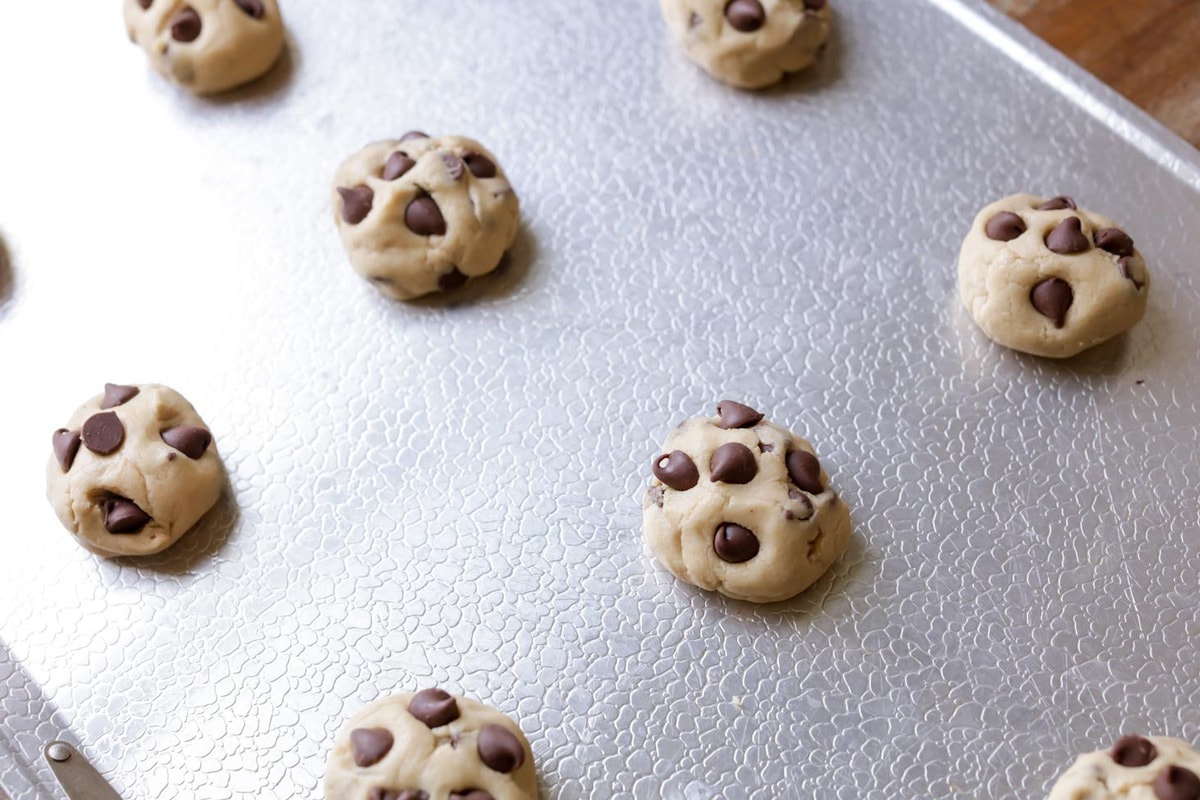 What makes cookies soft + chewy?
High moisture content makes a soft chewy cookie. If you're looking for ways to make your favorite recipe a little softer try some of these ideas to retain that moisture:
Bake the cookies for a shorter period of time at a higher temperature.

Replace with a 1-1 ratio the butter with shortening or vegetable oil. This will increase the fat content and cause a softer chewier cookie.

Add 1 Tablespoon of molasses (which is 10% water) or honey to the recipe. Do not add more than 1 TBSP as you do not want to compromise the dough mixture.

Replace with a 1-1 ratio the white sugar with brown sugar. Brown sugar contains molasses.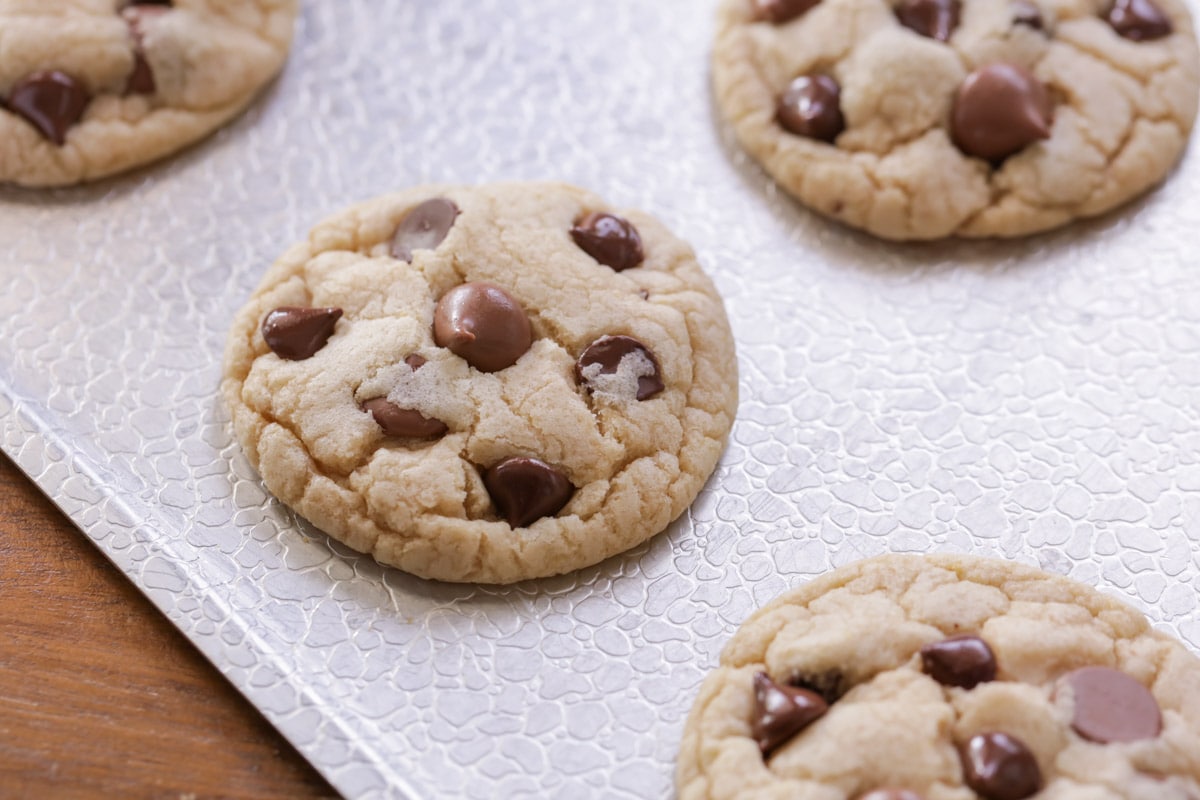 More Tips + Tricks
How to store? If you've whipped up a batch of dough but aren't quite ready to make them all you can STORE the dough in an airtight container in REFRIGERATE for 3-4 days.
How to freeze? Chocolate chip cookies are also FREEZER FRIENDLY. Even if your recipe makes more than you eat at a time still make the entire batch. Roll the extra chocolate chip cookie dough into balls and freeze them in an airtight container. When you want to use them simply pull out the desired amount, let thaw, and bake according to the recipe directions.
How to keep cookies soft? If you want your cookies to stay soft longer, try adding a piece of bread in your container or Ziploc bag. It helps absorb the air and will help keep the cookies nice and moist.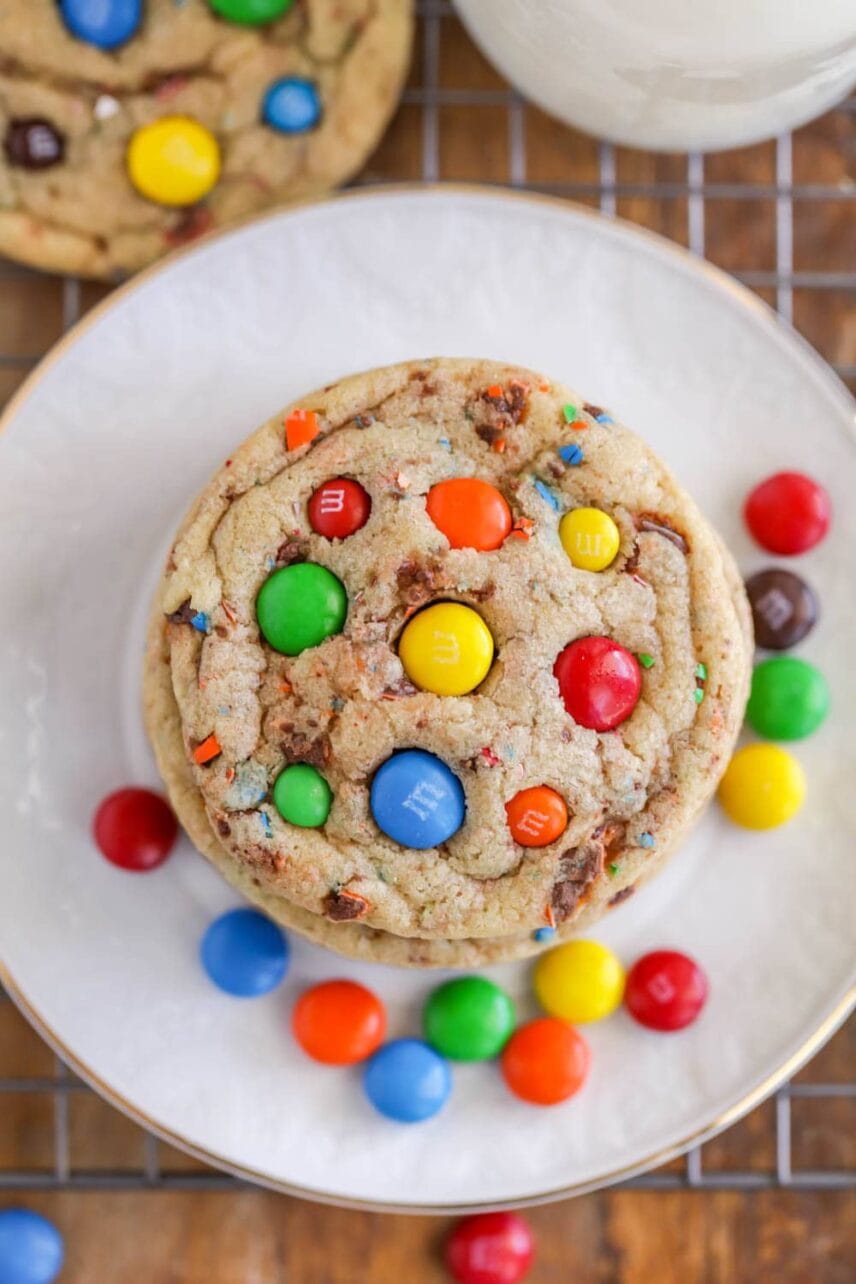 So Easy to Change Up!
Can you tell how much we love this recipe?! It's the best! We love to change it up, so be sure to check out these other variations of cookies using this recipe as the base. 😉
M&M COOKIES – add crushed M&Ms in the dough and whole M&Ms on top! Kids go nuts over these.
ROLO COOKIES – add chopped Rolos & Toffee Bits to this dough to add crunch and caramel to these cookies.
REESE'S PIECES COOKIES – crushed Reese's Pieces through out with chocolate chips and more Reese's Pieces on top.
COOKIES N CREAM COOKIES – filled with white chocolate chips + Herhsey's Cookies N Cream pieces through out!
MINT M&M and OREO COOKIES – crushed OREOS and mint M&Ms fill this delicious cookie.
You can also easily change up this cookie recipe with the kinds of chocolate chips or chocolate chunks – milk chocolate chips, semi-sweet chips, dark chocolate chips, caramel chips, white chocolate chips.
You can also add sprinkles or even sprinkle the cookies with sea salt when they're fresh out of the oven for more flavor.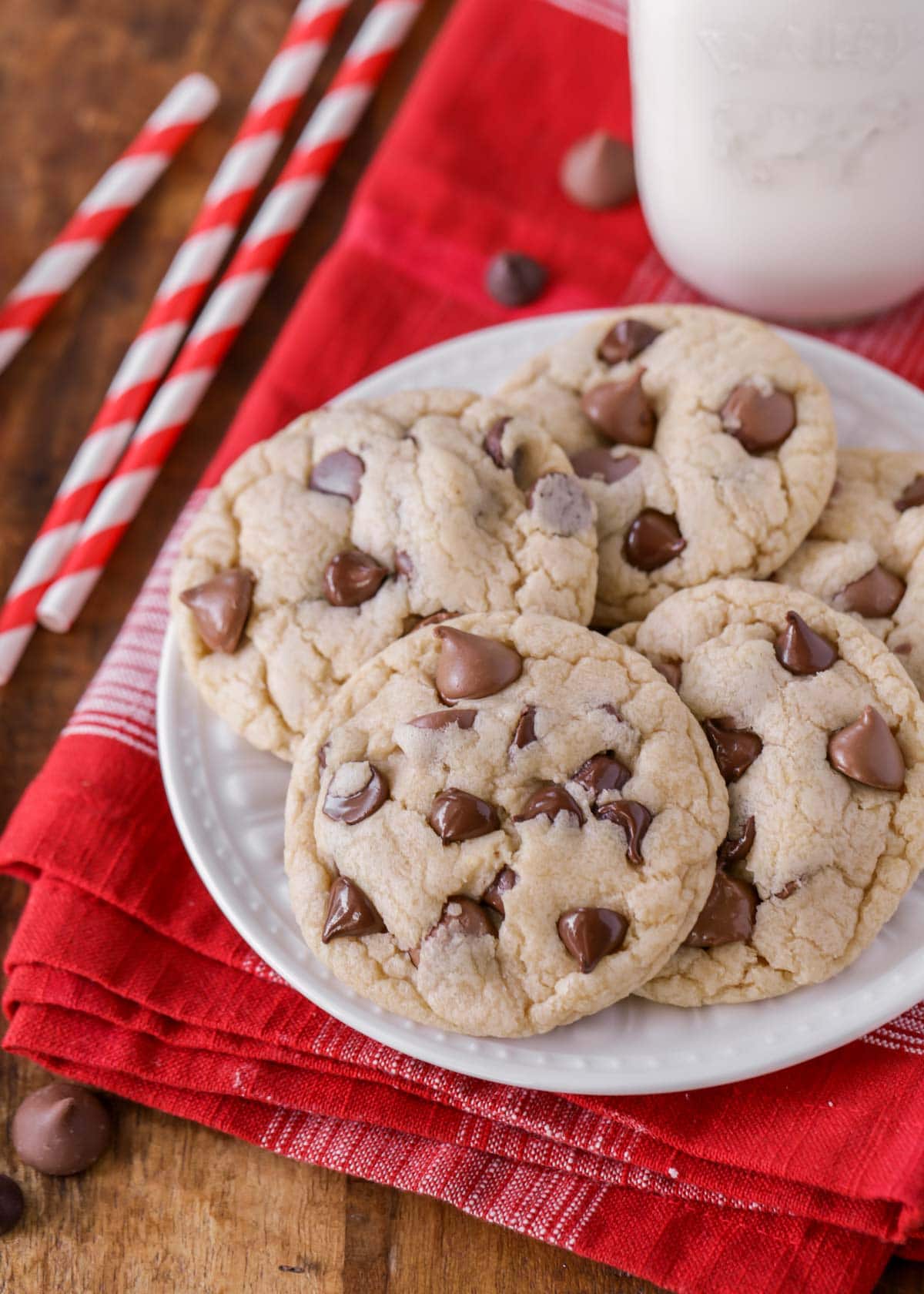 For more cookie recipes, check out:
Best Chocolate Chip Cookie Recipe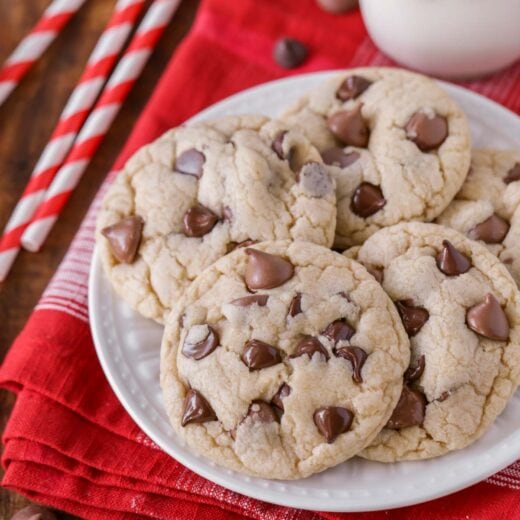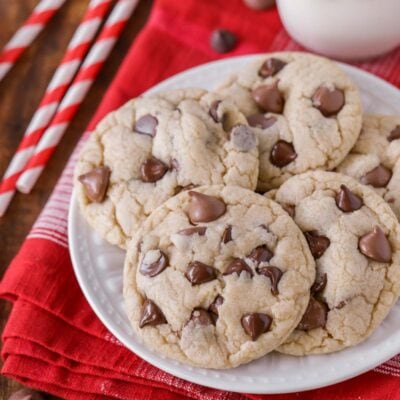 Our all-time FAVORITE Chocolate Chip Cookies recipe! These soft, chewy and delicious chocolate chip cookies are perfect for any occasion and truly knock the socks off of anyone who tries them.
Instructions
Cream butter, oil and sugars in stand mixer (or with hand mixer in a bowl). Add eggs and beat until fluffy.

Add baking soda, salt, baking powder, vanilla and flour and mix until incorporated.

Fold in chocolate chips, and scoop onto lightly greased baking sheet.

Bake at 350 for 8-10 minutes.