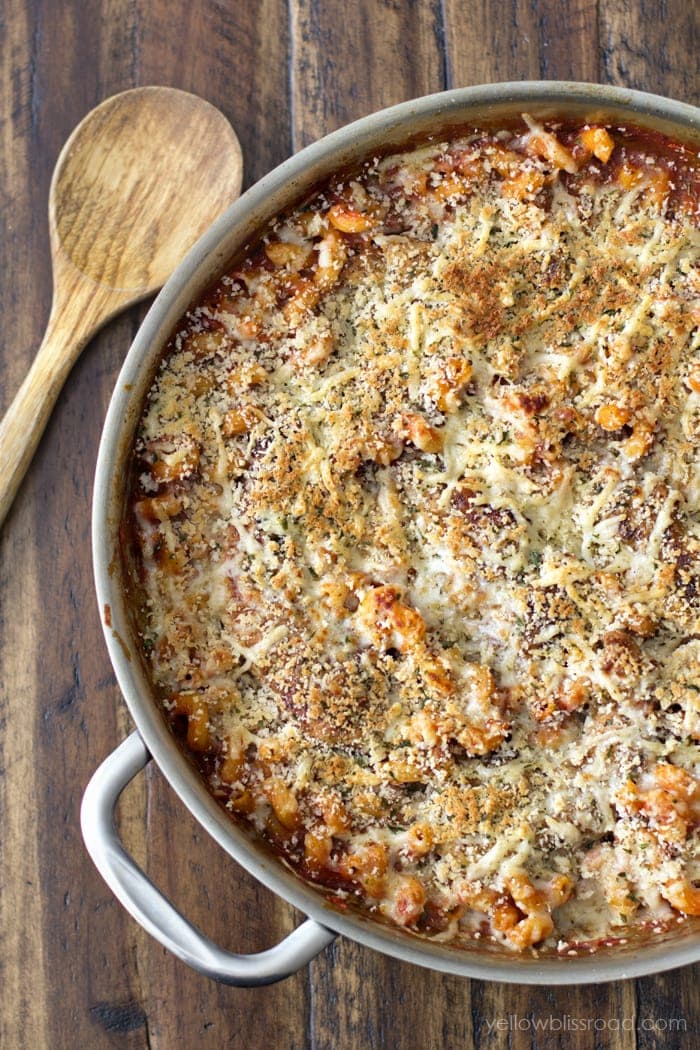 Hello Lil' Luna readers! Kristin here from Yellow Bliss Road, thrilled to be back for another fabulous year on the creative team here at Lil' Luna. Today I've got an amazing, cheesy One Pan Chicken Parmesan to share with you!
One Pan meals are my absolute favorite thing in the world. Ok, maybe my kids are my absolute favorite, but one pans meals run a close second. I've got over 25 one pan meals on my site, so you can see that I really do love them. They are easy to prepare, most often take less than 30 minutes, and the best part – just one pan means less dishes! Anything that allows me to spend less time hunched over the sink scrubbing dishes is a plus in my book. Once you check out this recipe I bet you'll be a forever fan too.
For this particular dish, I chose to crisp up my chicken by pan frying it first, then cooking the pasta with the sauce separately. You could also opt to cook the chicken with the pasta and I'll give you directions for both methods in the recipe below.
I've read other One Pan Chicken Parmesan recipes and they all called for cutting the chicken into chunks, searing it and then cooking with the pasta and sauce. But for me, the best part of Chicken Parmesan is the crispy texture of the chicken itself, and I wanted to keep that for this recipe.
So let's get started, shall we?
First up you want to heat a some oil in a nice big 12″ skillet. Then coat the chicken in a mixture of flour and lots of yummy spices. Fry those bad boys up until they are cooked through and nice and golden brown. Set them aside on a paper towel lined plate.
Wipe out the skillet with a paper towel and add a little more oil. Saute some onions until translucent, then add pasta, chicken stock, pasta sauce and some seasoning.
Bring it all to a lovely boil, cover and simmer for just about 15 minutes, or until the pasta is al dente. There will still be a little liquid in the pan but don't fret – you're going to stir in some cheese and it's going to create a lovely, creamy sauce!
Place the crispy chicken back in the pan, nestling it into the pasta and top with a mixture or freshly shredded Parmesan, breadcrumbs and Italian seasoning before placing the pan under the broiler for about five minutes or until all those yummy cheeses are nice and melted and the breadcrumbs are lightly browned.
Enjoy!

One Pan Chicken Parmesan
Ingredients
¼ cup Canola oil, plus 2 tablespoons, divided
1 cup all purpose flour
1 teaspoon kosher salt
½ teaspoon black pepper
2 teaspoons Italian Seasoning
1 teaspoon garlic powder
6 chicken tenders
½ cup diced onion (about ½ of a medium onion)
2 teaspoons minced garlic
1-16 oz. jar marinara sauce
2½ cups small, dried pasta
2 cups low sodium chicken broth or water
2 cups shredded Mozzarella cheese
½ cup shredded Parmesan cheese
¼ cup Panko breadcrumbs
1 teaspoon Italian seasoning
Instructions
In a shallow pan (such as a pie plate or baking dish), mix flour, salt, pepper, Italian seasoning and garlic powder. Rinse chicken and pat it dry. Dredge the chicken through the flour mixture to coat it completely.
Mix together Parmesan cheese, Panko breadcrumbs and 1 teaspoon Italian Seasoning and set aside.
Heat a 12" heavy bottomed skillet over medium heat. Add ¼ cup of canola oil. When the oil is hot, add the chicken tenders and fry until golden brown and crispy; about 3 minutes per side. Transfer chicken to a paper towel lined plate. (see notes below if you prefer not to fry the chicken).
Wipe out the skillet with a paper towel and add 2 tablespoons of oil. Saute diced onions until translucent, then add minced garlic, pasta, chicken stock, pasta sauce and salt and pepper to taste. Bring to a boil, cover and simmer for just about 15 minutes, or until the pasta is al dente (there will still be a little liquid in the pan). Stir in 1 cup of Mozzarella cheese until melted.
Nestle the chicken tenders into the pasta and top with remaining Mozzarella and the Parmesan/breadcrumb mixture. Place the skillet under the broiler for about 5 minutes, or until cheeses are melted and breadcrumbs are golden brown.
Serve immediately.
Notes
If you prefer to not fry the chicken, do this in place of step 3.
Dice 2 chicken breasts into equal sized, one-inch pieces. Season with salt and pepper. Heat 2 tablespoons canola oil in a 12" inch skillet over medium heat. Add onions and cook until translucent; add chicken pieces and cook sear (cook just until browned but not cooked through). Continue with step 4.
For more delicious one pan meals, you should try:
Check Out My Other Recipes
One Pan Cheesy Smoked Sausage Pasta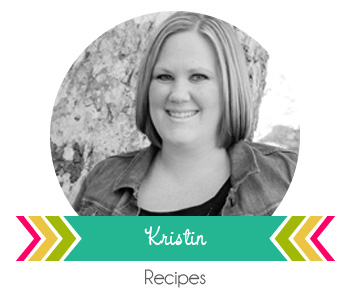 ———————————-
This looks amazing, Kristin!! Thanks for the delicious recipe.
For more great recipes and prints be sure to head to Yellow Bliss Road.
For more great pasta dishes, check out these favorites: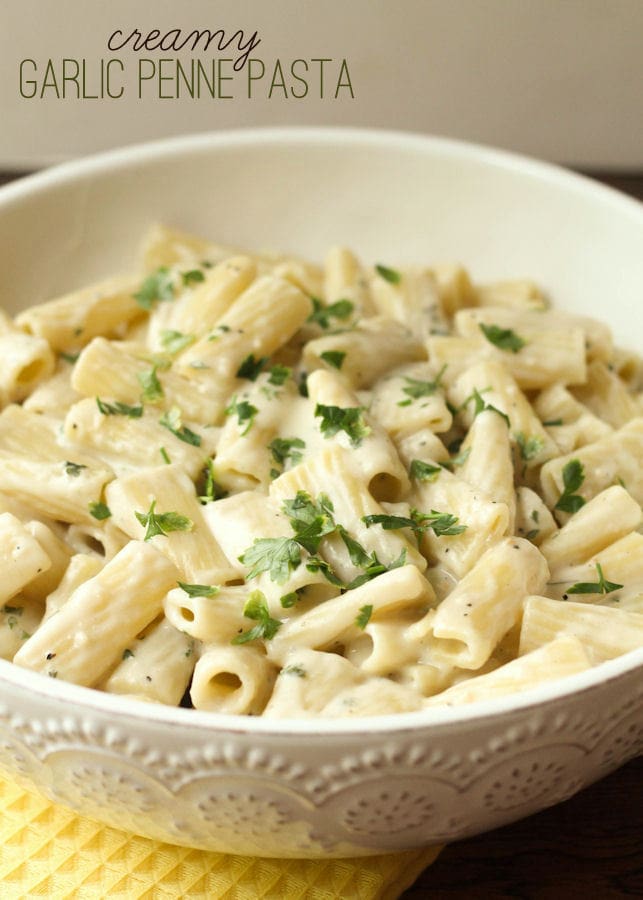 Yay for yummy pasta dishes – our favorite!!
For all main dish recipes be sure to go HERE.
For all recipes go HERE.
And get weekly emails with monthly freebies by signing up for the Lil' Luna newsletter. 🙂
For even more great ideas follow me on Facebook – Pinterest – Instagram – Twitter – Periscope – Snapchat.
Don't miss a thing – Sign up for the Lil' Luna Newsletter today!
ENJOY!
Need more recipes and creative ideas? Sign up and get a FREE copy of my latest ebook!