Copycat Cafe Rio Shredded Chicken – a simple and delicious chicken recipe that is perfect for salads, burritos, quesadillas and tacos!
If you've ever been to Cafe Rio, you know how good their Mexican food is! That's why we've made so many copycat recipes—this chicken, cilantro lime rice, sweet pork barbacoa, and even their cilantro ranch salad dressing!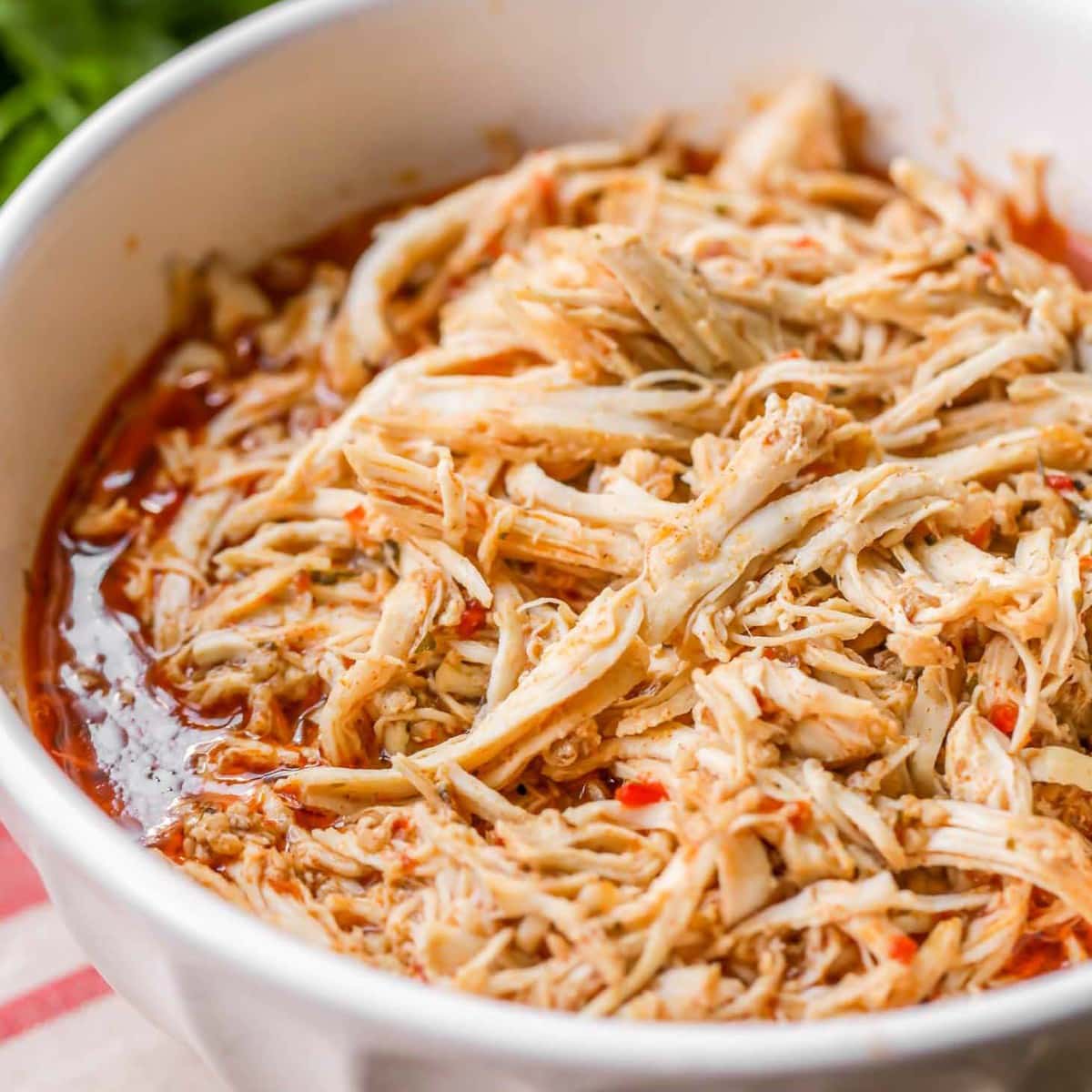 Have you ever been to Cafe Rio??
It's one of our family's all-time favorite Mexican grill restaurants and one that we frequent often. It's mostly located on the West Coast, with a few exceptions. But if you've never been, have no fear because today, I'm bringing you a copycat recipe for Cafe Rio's Shredded Chicken.
Basically, it's a delicious chicken recipe with some Mexican flavors that is perfect for salads, tacos or burritos. It's flavorful and is something I can double and freeze if there are leftovers for future meals!!
It tastes very similar to Cafe Rio's recipe and is just so good that it's now my go-to chicken recipe, especially when we have a Mexican burrito/salad bar set up. We also serve it with our copycat Cilantro Lime Rice and Cilantro Ranch Dressing from Cafe Rio too.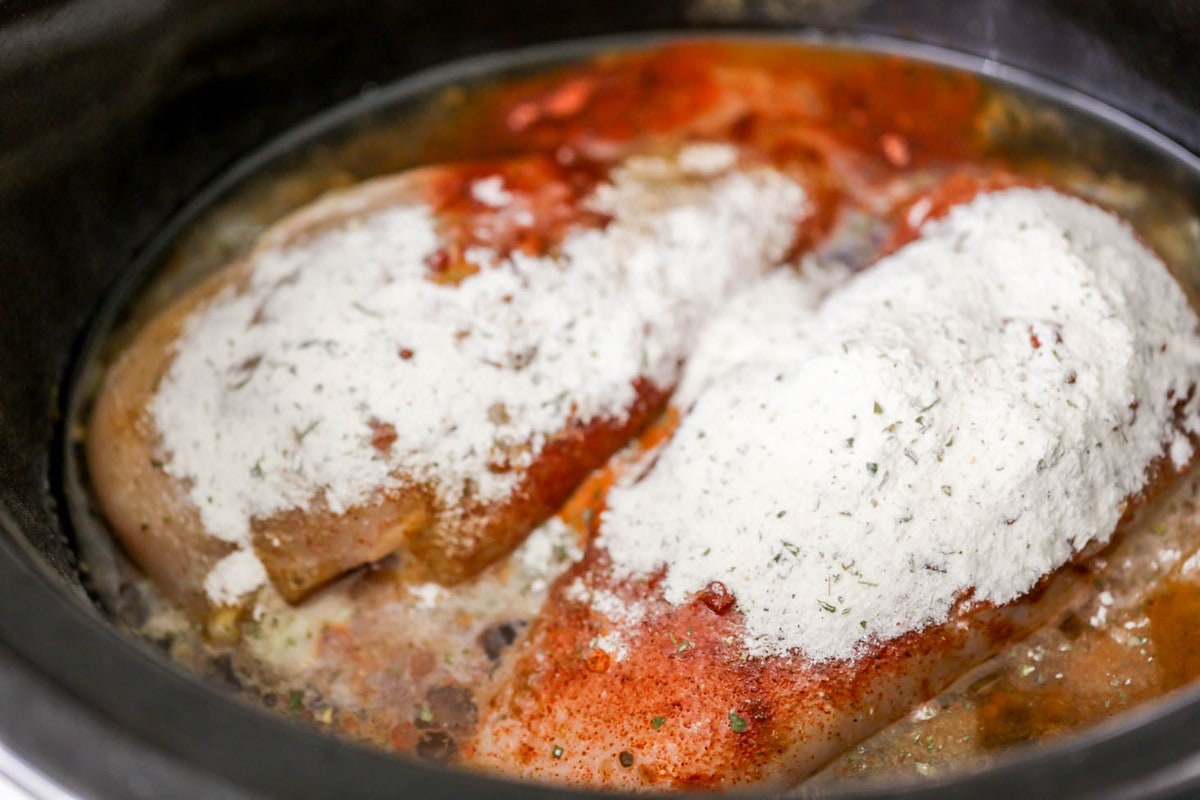 The simple recipe
Aside from the chicken, there's only five other ingredients you put in the crockpot (minus the water—that hardly counts as an ingredient):
italian dressing
garlic
chili powder
cumin
ranch dressing mix
COOK. Simply place the chicken in the crockpot and pour all the other ingredients on top. Cook on HIGH for 3-4 hours, or LOW for 5-6.
SHRED. Shred the chicken (for tips and different methods for shredding chicken, go here), and put back in the juices. Serve however you like!
Can I cook cafe rio chicken in an instapot? Yes! Just place all the ingredients in the pot, set it to poultry and cook for 6 minutes, 10 minutes if the chicken is frozen. Allow the pressure to release, shred the chicken, and serve.
Serve it Cafe rio style
There are several different entrees you can use this chicken in! Here are some ways you can do it Cafe Rio style. 😉
Burrito: Wrap the chicken, rice, your choice of beans, and some shredded cheese in a large flour tortilla. If you want it "smothered", cover in enchilada sauce (red or green), add more shredded cheese on top, and broil in the oven until cheese is melted.
Enchiladas: Wrap chicken and shredded cheese in a flour tortillas, then cover in enchilada sauce and more shredded cheese. Bake or broil in the oven until cheese is melted.
Quesadillas: Just sandwich some cheese and chicken in a tortilla and cook on a skillet or in the microwave until the cheese is nice and melty. Similar to this quesadilla recipe!
Salad: Start with a tortilla in the bottom of your dish. Then add (in this order) rice, beans, chicken, fresh lettuce, and all your favorite toppings (listed below). Serve with cilantro ranch dressing.
Any of these entrees can be served with Mexican rice, cilantro lime rice, beans, tomatoes, lettuce, avocados, cheese, salsa, pico de gallo, guacamole, cotija cheese, cilantro, and any of your other favorite taco toppings.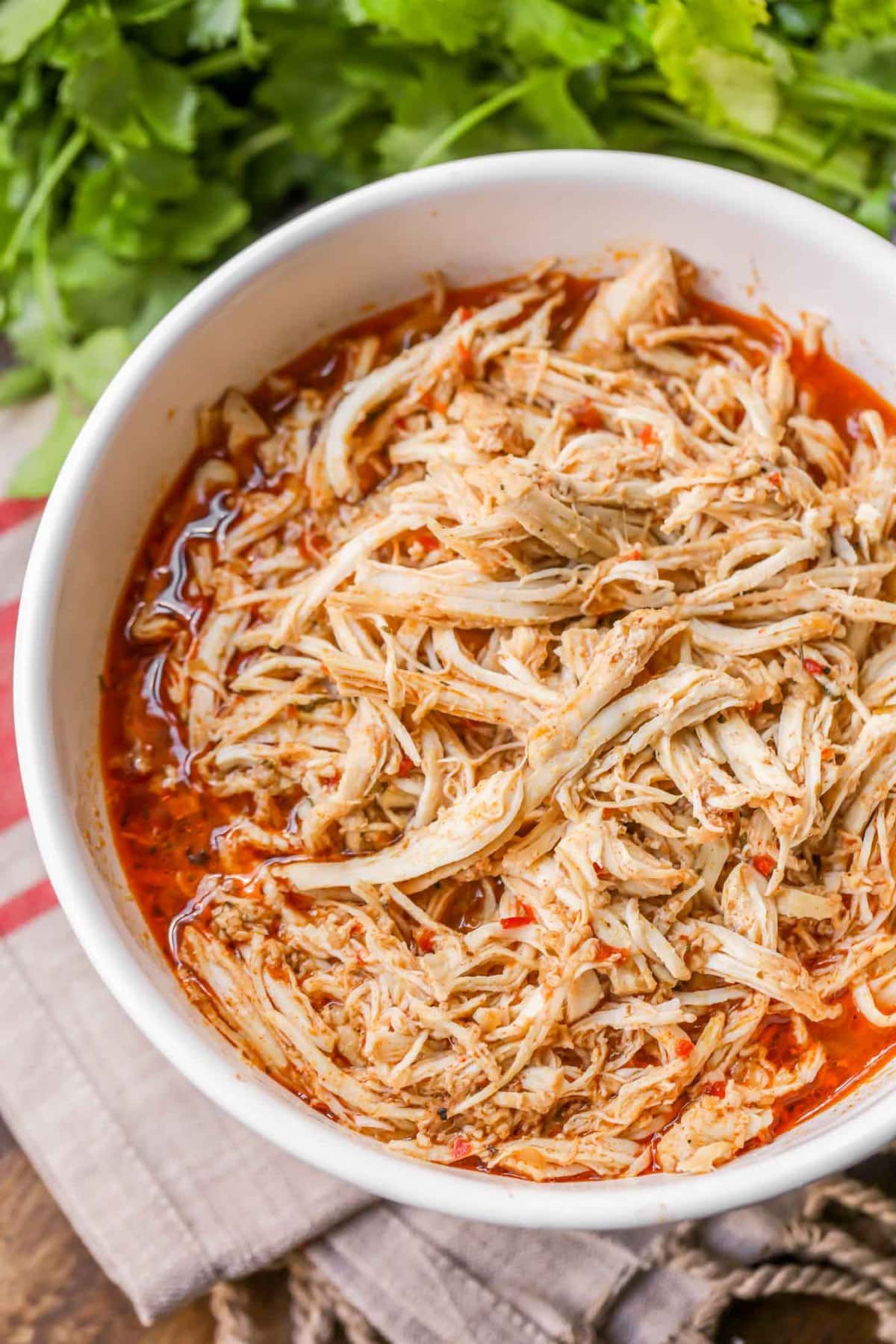 Double it and freeze
Can I double the recipe and freeze some for later? Absolutely you can! Double all the ingredients and cook for the same amount of time in a slow cooker. Once the chicken has been shredded, place half of it into a freezer safe ziploc, along with half of the juice. Freeze for up to 4 months. Reheat in a slow cooker or thaw and reheat, covered, in the oven.
Not only is this chicken delicious, but it's simple and can be used in so many ways. Whether it's burritos, tacos, quesadillas, chimichangas, taco salad or tacos, I think you'll love it!!
For more mexican recipes, check out:
Cafe Rio Chicken Recipe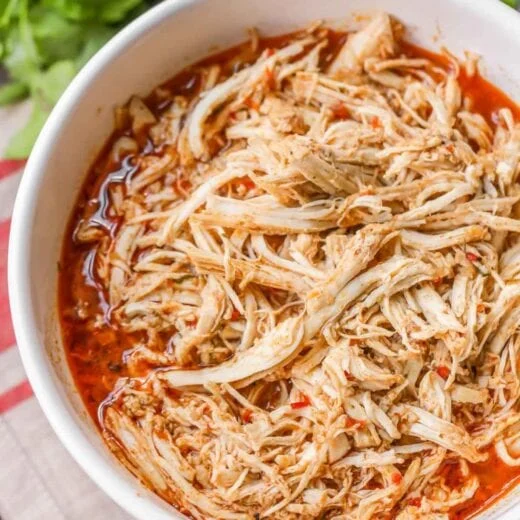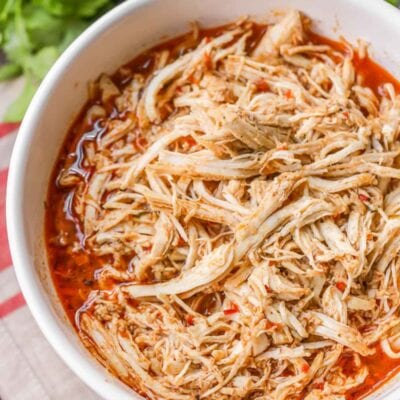 Copycat Cafe Rio Shredded Chicken - a simple and delicious chicken recipe that is perfect for salads, burritos, quesadillas and tacos!
Ingredients
2

lbs

boneless skinless chicken breasts

1

cup

Zesty Italian Dressing

2

tsp

minced garlic

1/2

tbsp

chili powder

1/2

tbsp

ground cumin

3

tbsp

dry ranch dressing mix

1/2

cup

water
Instructions
Spray inside of crockpot with cooking spray. Add chicken to slow cooker.

In a small bowl combine Italian dressing, minced garlic, chili powder, cumin, ranch dressing and water. Pour over chicken and cook on HIGH for 3-4 hours, or LOW for 5-6.

Remove chicken from crockpot and shred. Add chicken back to juices and serve with salad/burritos/tacos. ENJOY!
Recipe adapted from Simply Happenstance.