Save yourself some time, money and stress by using this FREE Meal Plan that is full of amazing recipes. Each plan includes 5 dinner ideas, 2 side dishes, 1 dessert and a shopping list making meal planning easier than ever!!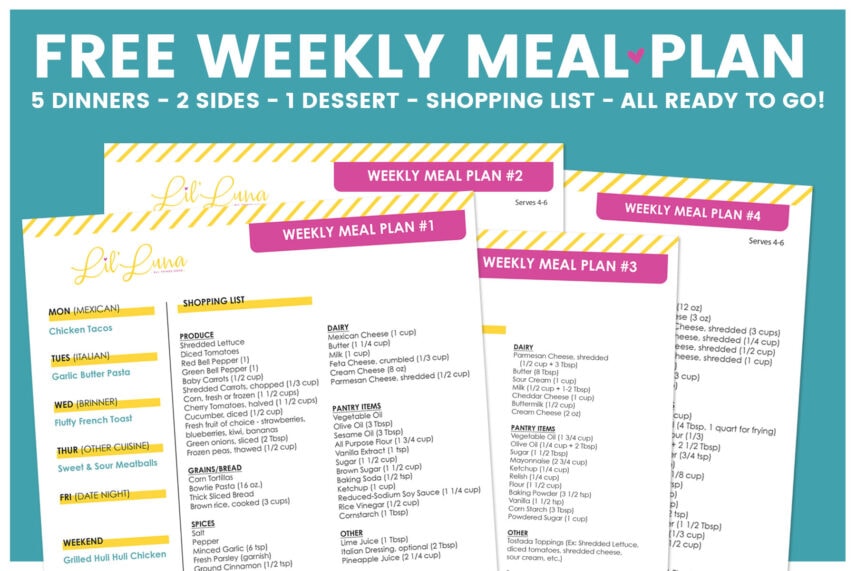 WEEKLY MEAL PLAN #15
Each week, I share with you a FREE meal plan that consists of 5 dinner ideas (Monday-Thursday plus one Weekend meal), 2 side dishes, and 1 dessert!
Included is a grocery list with EVERY ingredient you need for all the items on the meal plan.
This is meant to help simplify menu planning, shopping, and cooking so you can more easily enjoy meals with your family throughout the week!
TIP OF THE WEEK
There's nothing as cozy on a chilly night as warm soup in a bread bowl! And it's easier to make than you think! A few tricks to keep in mind:
Remember to "score" the dough to ensure even rising.
Use an egg wash before baking to create that crisp shiny finish.
Don't throw away the inside of the bread bowl. After scooping out the middle, use that bread to make crumbs or croutons for other recipes!
BENEFITS OF MEAL PLANNING
There's nothing worse than the dread every time a family members asks, "What's for dinner??" And your answer is "I have no clue." Having a meal plan for the week eliminates that completely, which is the number one benefit in my book!
Besides having a game plan in place, there are several other benefits of meal planning, including:
Cost: When you have a plan set in place, and a specific list of groceries, you eliminate cost wasted on impulse items or produce that never gets used.
Decrease Waste: No wasted money, and no wasted food! Having a set grocery list will help to avoid both of those issues.
Variety: Our meal plans specifically include a lot of variety, with Mexican, Italian, Breakfast for Dinner, and so much more! You can expose your family's palates to all kinds of meals.
No Indecision: Did you know there's such thing as "indecision fatigue"? The idea is that when you can't make a decision on something (like what to make for dinner) it actually makes you mentally fatigued. When dinners are already planned out, though, you avoid indecision completely!
Health: When you plan for/anticipate making well-rounded meals, you're much more likely to actually make them rather than defaulting to convenient boxed meals, or unhealthy fast food!
As you can see, there are so many benefits to meal planning!
And if you want to create your own menu, be sure to check out all our recipes and visit our recipe pages, including: Main Dish, Side Dishes, Desserts, Appetizers and Breakfast!
You know those sizzling fajitas you see at restaurants? You can make them at home! It may seem intimidating, but this steak fajita recipe couldn't get any easier!
Put your fajita filling on some homemade flour tortillas! Chances are you already have the ingredients on hand.
If you are a fan of Italian and are up for trying new recipes then I suggest this Parmesan Chicken Manicotti. These manicotti shells are stuffed with a cheesy chicken mixture, and topped with tasty marinara!
If you have the time, our Homemade Marinara Sauce goes amazing with this recipe! It's so much better than store bought sauce.
These Healthy Egg Muffins are super simple and delicious! Add cheese, meat and veggies to make these tasty breakfast muffins, or customize them with your favorite ingredients. They're not only great for breakfast but also for snacks and lunch!
They're already delicious, but they're even better with spoonfuls of homemade salsa!
You won't find an easier Cheesy Potato Soup Recipe anywhere else! Just throw a small handful of ingredients in the crockpot, and a few hours later, you'll have a creamy, delicious, CHEESY soup.
This soup was made for Homemade Bread Bowls (on the menu plan this week!). And since this potato soup is made easily in the crock pot, you'll have plenty of time to make the bread!
This creamy Lemon & Thyme Smothered Pork Chops recipe always gets rave reviews. It's flavorful and ready in 35 minutes or less.
These pork chops pair great with Kale Salad (also on the meal plan this week), as well as lemon rice, or any vegetable sides!
Our Top Two Choices
Homemade Bread Bowls are surprisingly easy to make. Crusty on the outside, soft on the inside, they make a perfect vessel for your favorite soup!
We're serving them this week with Cheesy Potato Soup, but they pair perfectly with any creamy soups like Chicken Pot Pie Soup, Chicken Corn Chowder, or Broccoli Cheese Soup.
---
Sweet Kale Salad is topped with chunks of apple, candied pecans, dried cranberries, and bacon, served with a homemade sweet dijon vinaigrette!
Tip: You can swap out the candied pecans for Candied Walnuts or Candied Almonds instead!
Pumpkin crunch cake is a must-make during the fall season. It entails all of the smooth pumpkin flavors, topped with crunchy pecans and a dollop of whipped cream.
For more pumpkin cakes, be sure to also check out:
---
Click the link below to download this week's FREE Meal Plan!
And remember – if you want to create your own menu, be sure to check out all our recipes and visit our recipe pages, including: Main Dish, Side Dishes, Desserts, Appetizers and Breakfast!
CLICK HERE TO DOWNLOAD THE PDF!