This Strawberry Banana Smoothie recipe is delicious, and made with ingredients you probably have on hand – bananas, strawberries, yogurt, and milk!
Smoothies are hands down the quickest and easiest breakfast! Strawberry banana is one of our favorite flavors, but we also love a good green smoothie, or for something less fruity we like peanut butter banana smoothies!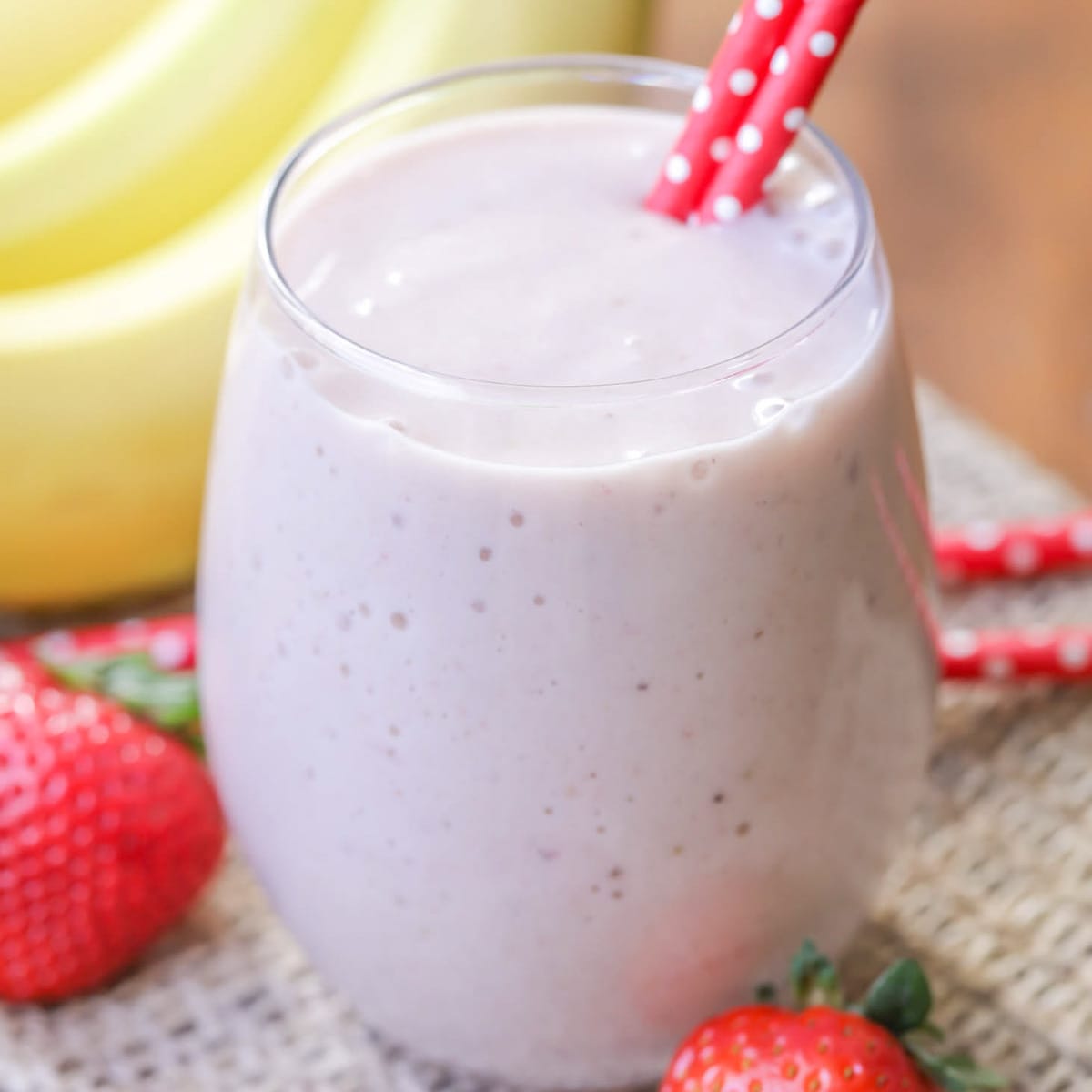 Favorite Strawberry Banana Smoothie
I think we can all agree that you can never go wrong in making a smoothie! Whether it's for a snack, breakfast, lunch, or dinner – they are easy, quick and always delicious.
For the longest time, we've always enjoyed the strawberry and banana combo and wanted to share with you today our favorite strawberry banana smoothie recipe. Not only is it beyond simple – but it has just 4 ingredients (most of which you already have on hand).
Easy, quick, delicious… We are quite certain you'll love it just as much as we do!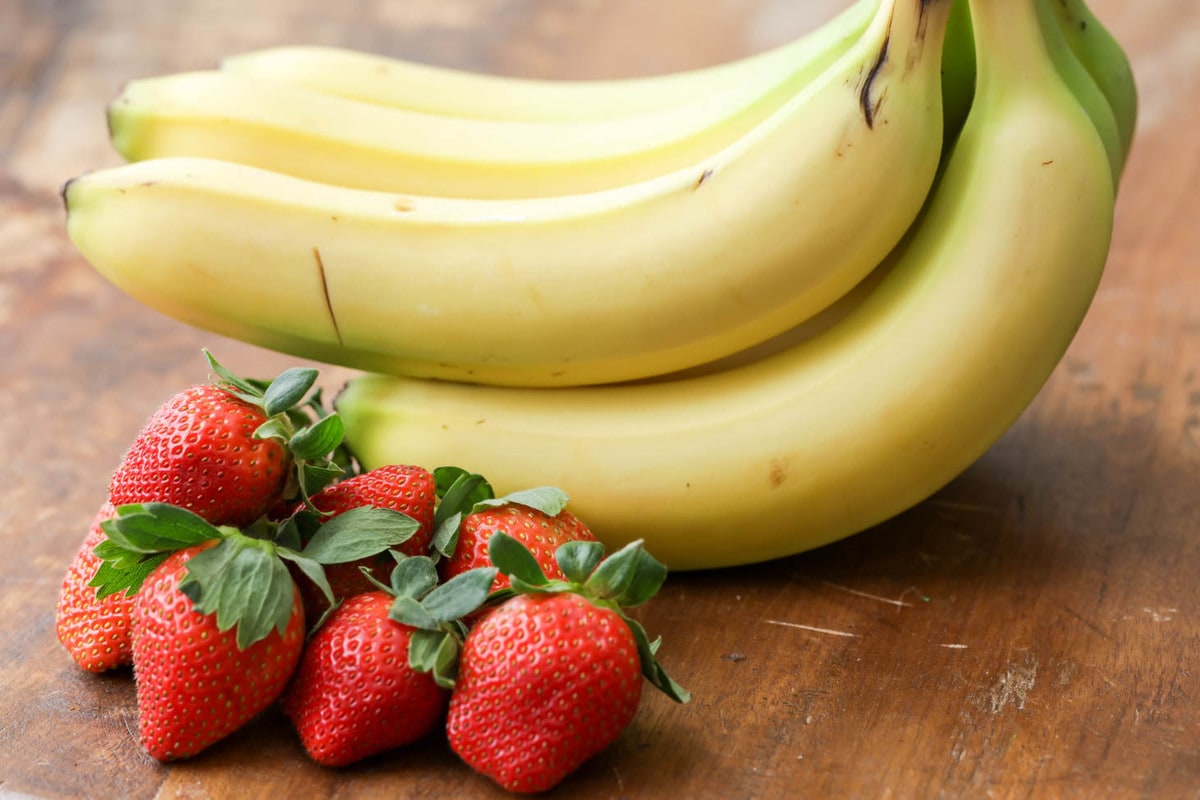 How to make a Strawberry Banana Smoothie:
As with all smoothies, this recipe is simple and is made in no time.
This particular smoothie recipe is SO great because it contains simple ingredients that you most likely already have: strawberries, bananas, yogurt and milk.
To make, just pour all the ingredients into the blender and blend until smooth. Serve it up right away.
Leftovers. Any leftover smoothie can be kept in the refrigerator for about a day. Store the smoothie in an airtight container. Make sure to fill the container to the top. The less air in the container the better. Adding a little lemon or lime will also help prevent oxidation.
smoothie Alternatives and additives
What are dairy alternatives for smoothies? Swap the yogurt for some almond or cashew based yogurt. Swap the milk for soy, almond, or coconut milk. These ingredients will give the same consistency but take out the lactose.
What are some healthy additives for smoothies? Add ½-1 tsp of any of the following: chia seeds, flax seed, wheat germ, nutritional yeast, fiber. You can also add a scoop of protein powder. To sweeten it up, use ½ -1 Tablespoon honey or a sweetener such as stevia.
what to serve with smoothies?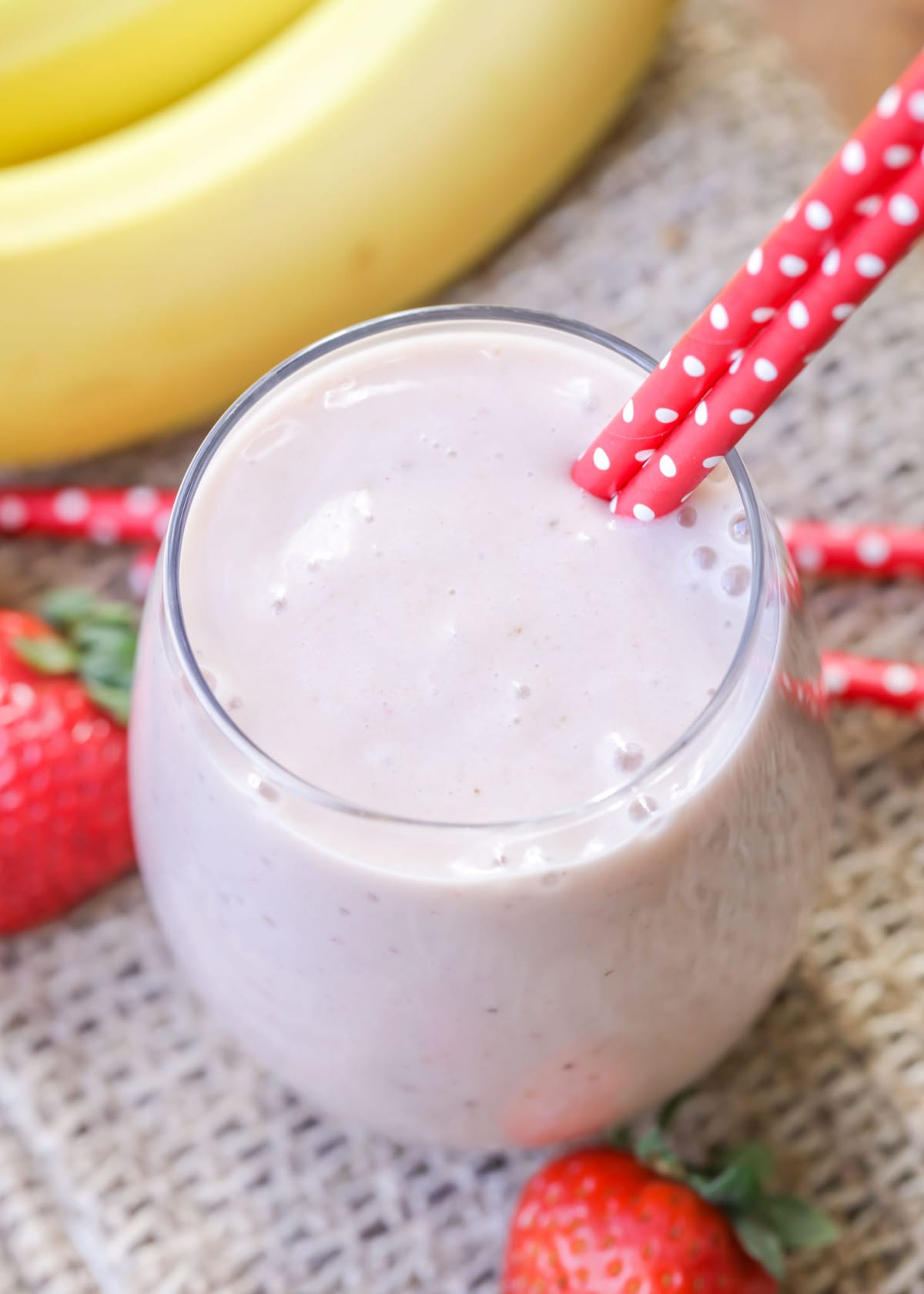 This smoothie tasted so delicious and refreshing. The kids loved it!! I'm hoping to sneak in some spinach next time to see if the kids notice. I doubt they'll even know! 😉 Drink up friends!
For more smoothie recipes, check out:
Strawberry Banana Smoothie Recipe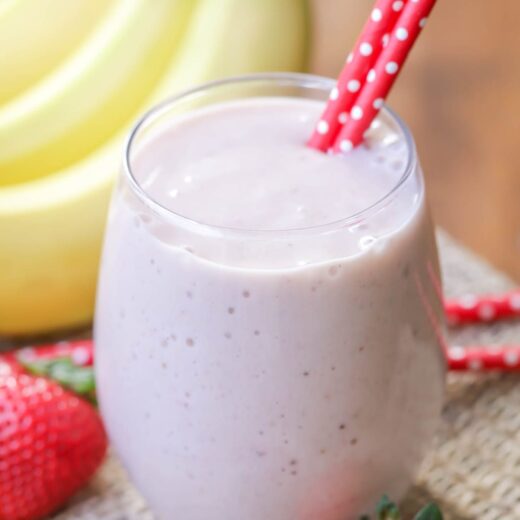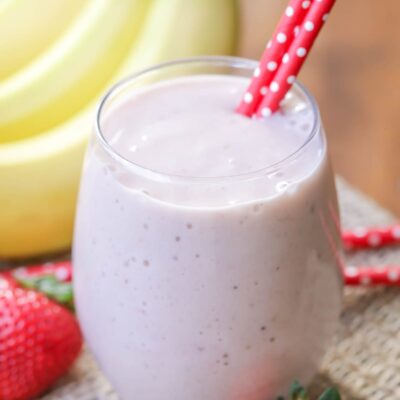 This Strawberry Banana Smoothie is delicious and made with ingredients you probably have on hand - bananas, strawberries, yogurt and milk!

Ingredients
2

Small Bananas

broken into chunks

1

cup

Unsweetened Frozen Strawberries

8

oz

Low-Fat Vanilla Yogurt

3/4

cups

Milk
Instructions
Blend all ingredients until smooth. Pour into glasses and serve cold.