My family LOVES smoothies!!
It was about two years ago that the hubby and I started making them on a more regular basis. The kids had to get in on the fun and now love to make them with us. They have loved making new versions and enjoy throwing in different ingredients to change up the flavors. What I love most about smoothies is that I can usually stick in things (like spinach) that they wouldn't normally eat, and they don't even realize they're eating it in these smoothies (SCORE!!)
The recipe I'm sharing today is for a Strawberry Colada Smoothie. I must say it's a new favorite because it includes some of our favorite ingredients like strawberries, pineapple and yogurt. We also added sweetened coconut milk. I had never used coconut milk in a recipe before but it was the perfect touch giving it that delicious colada taste that is so yummy! We also used a new kind of yogurt, called Yulu. It is the creamiest and tastiest yogurt, and also gave it a creamy, delicious taste. We didn't add sugar but the coconut milk was sweetened. If you'd like a version that is even more healthy, be sure to use unsweetened coconut milk. 😉
If you like to try new smoothie recipes like we do, then you'll definitely want to try this recipe! Here it is: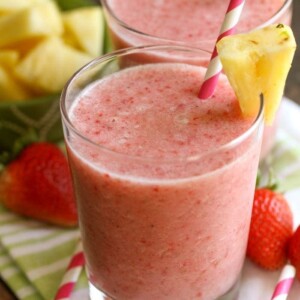 Strawberry Colada Recipe
Strawberry Colada Smoothie - our new favorite smoothie filled with strawberries, pineapple, coconut milk, yogurt and more.
Ingredients
1/2

cup

Silk coconut milk

1

Yulu Vanilla Bean Yogurt Cup

1 1/2

cup

strawberries

frozen

1

cup

pineapple

frozen

1

tsp

vanilla

1

cup

pineapple juice
Instructions
Place all items in blender.

Blend until smooth. Add more coconut milk if you want a thinner consistency.

ENJOY!
This is the new yogurt – YULU! We only tried Vanilla Bean, but my hubby has declared it his new favorite yogurt. In fact, he has been eating it every morning for breakfast with a little granola. 😀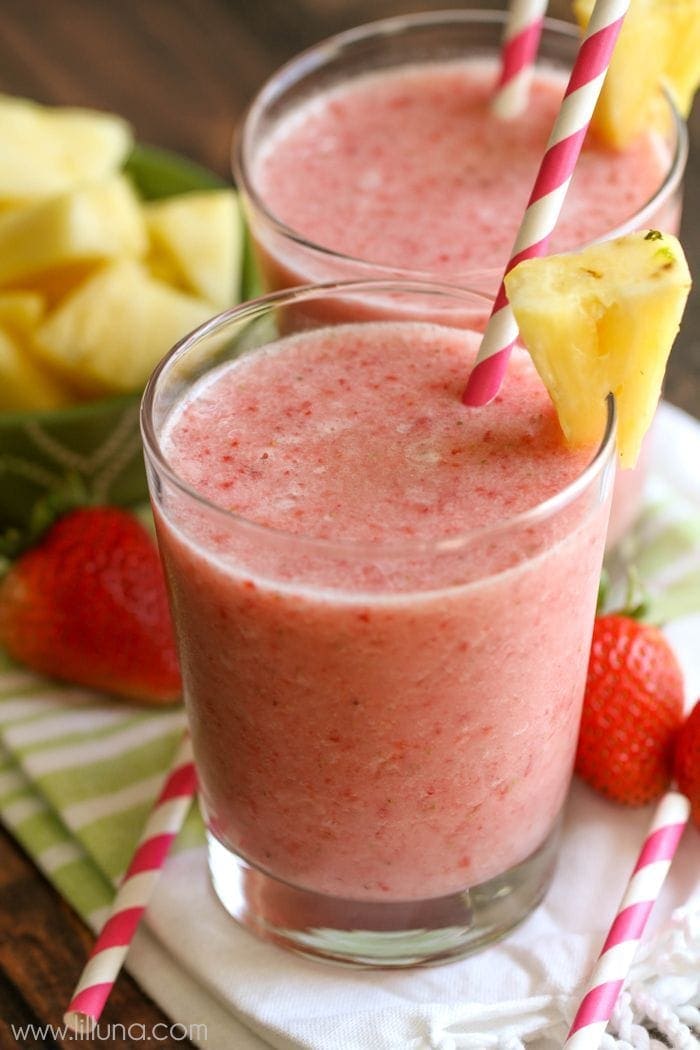 I honestly think you'll love this new smoothie recipe. It is SO yummy!! Of course, these are also some of our favorite ingredients to use in any smoothie. I think next time I'll even add some fresh spinach for more nutrients. 😉
We're not traveling anywhere this summer but have planned some family fun to beat the heat here in Houston. We recently took Yulu with us on our latest summer adventure at the Splash Pad. The Splash pad is our best friend here in Texas and that's because the kids love it, and I love that we can cool down without going to the pool (I stress out a bit going to the pool with 5 little kids). 😉 We packed the yogurt with our sack lunches this past week, and we enjoyed a few hours running in the water, playing on the playground and enjoying our lunch. The only problem was I packed only 3 Yulu Yogurts and I have 4 kids who wanted them!! LOL!
I love this yogurt myself and I think it's because of how tasty and cream it is. Yulu is a whole new taste in yogurt inspired by an authentic Australian recipe. It's also double-smoothed to be double delicious, with 9 grams of protein. I'm always looking for ways to get more protein in these kids and this yogurt does the trick!!
(Other Flavors include – Strawberry – Blueberry – Raspberry – Honey)
For more information about Yulu be sure to sign up for their Newsletter. You can also find coupons and giveaways there too!
And be sure to find them on social media here – Facebook – Twitter – Pinterest – Instagram.
ENJOY!
This is a sponsored conversation written by me on behalf of Yulu. The opinions and text are all mine.