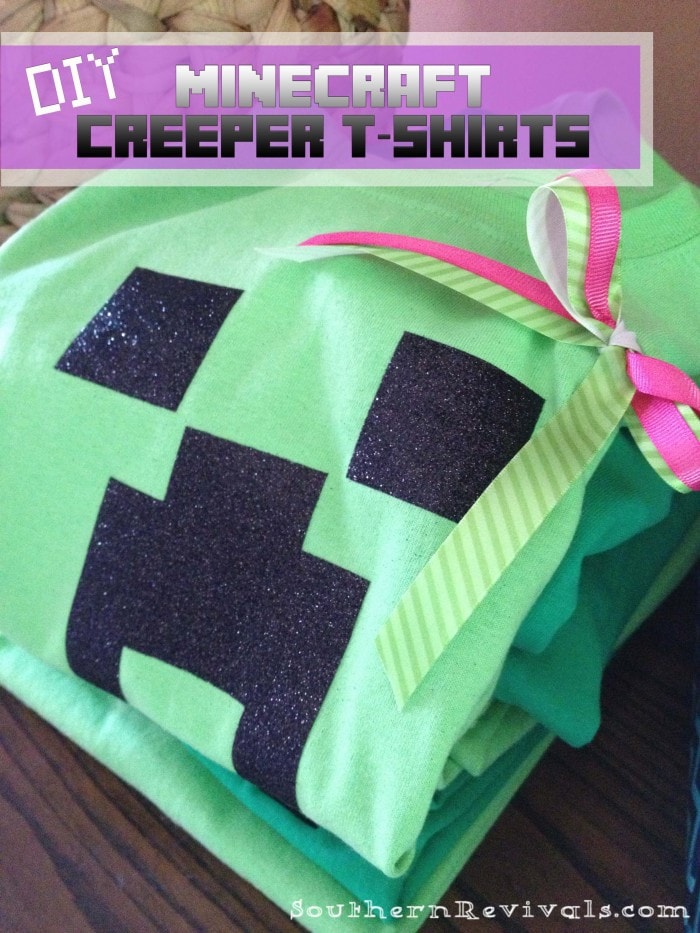 Hey there! It's Jamie from Southern Revivals! Welcome to my
DIY Minecraft Party!
Last month my oldest turned 10 and it was only fitting he should have a Minecraft birthday party. Especially since we're addicts. His mom included – I'm a little embarrassed to say.
MY OTHER RECIPES
But who knew finding party supplies would be impossible and finding Minecraft, anything, ridiculously expensive. Minecraft party supplies simply do not exist.
So I set out to create my own and today I'm sharing with you the DIY Creeper T-shirts that were our party favors. Naturally, I claimed artistic license and added a very non-Minecraft bow to my niece's shirt. Because that is how I roll!
Both my boys, and niece, had sparkly creeper face T's while our party favors were made from smooth vinyl. Each and everyone of those kids acted like it was Christmas when they received their shirts. I knew they'd be a hit but I wasn't prepared for how big. Here's how you can make your own!
– I got my green t-shirts, in two different shades of green, from Hobby Lobby on 30% off t-shirts week – making them less than $3 each

– I already had some heat transfer vinyl on hand and some glitter transfer sheets. If you have a vinyl cutter it will make easy work of cutting these faces for your T's but don't worry if you don't, you don't need one.

– I got the above image online and altered it to a PNG. Just right click to download it. Because it's a PNG you can easily make the size larger without distorting the image.
(Your computer should come with a pre-installed software that will open a .png file)

– Once you've downloaded your image you can either turn it into a cuttable image in your vinyl cutter's software (consult your owner's manual for instructions) or simply print it in black and white.
Because I used two different types of heat transfer material, I cut some of them with my vinyl cutting machine and some by hand. All of the shirts pictured here were cut by hand from glitter transfer paper – sheets of which can be purchased at your local craft store. To cut by hand I simply printed out the black and white image in the size I desired then cut the image out and placed it over my glitter transfer paper. Then I simply cut the glitter transfer paper around the printed shapes. Apply the transfer material per package directions. And you have yourself some pretty awesome t-shirts! At least the little Minecraft lovers in your life will think so.
And if you find you have some extra time (and some extra sticky vinyl on hand) you may as well go ahead and make some awesome creeper balloons, too! For more from my, including more ideas, DIY party supplies and free printables, please visit my blog, Southern Revivals.
Thanks! And I hope you've had a blast with this post….no creeper pun intended.
XO Jamie
————————————-
LOVE it, Jamie!
Be sure to go to Southern Revivals for more fun projects from Jamie, and
for more information about her please go HERE.
For more great projects from her, be sure to check out:
For all Party ideas go HERE.
For all DIY projects go HERE.
And get weekly emails with monthly freebies by signing up for the Lil' Luna newsletter. 🙂
For even more great ideas follow me on Facebook – Pinterest – Instagram – Twitter – Periscope.
ENJOY!