I've rounded up Mother's Day dinner ideas to help make spoiling mom as easy as possible. Whether you go all out or keep it simple, I've got you covered! Show her you love her with some delicious dishes.
More Collections: Mother's Day Dessert Ideas, Mother's Day Brunch Ideas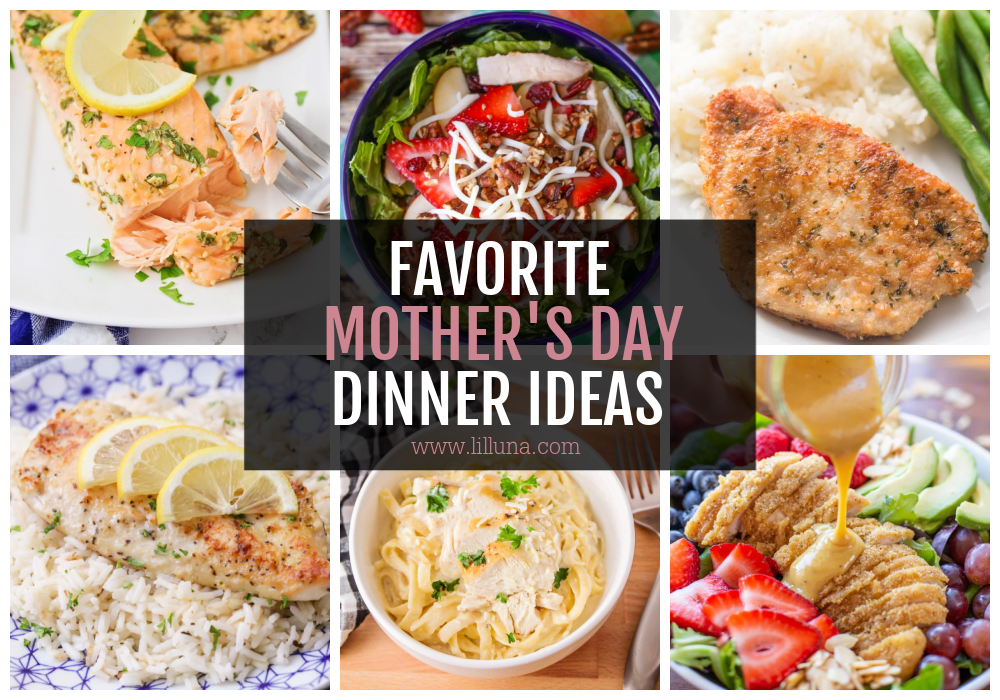 Make Dinner Special for Mom!
The best Mother's Day Dinner is one she doesn't have to make herself. My family never believes me, but really all I want is a clean house, happy kids, and to not have to cook!!! My husband and kids can make the simplest menu and serve it on a paper plate. It's really the gesture that means the most to me. As long as I don't have to cook, then I appreciate it. 😉
If you want to turn your Mother's Day meal into one she not only appreciates, but loves, it only takes a few easy tweaks.
Use her special china, silverware and glasses.
Add a tablecloth and folded napkin.
Preset the table and add a place card. It's an easy addition that adds elegance.
Add a floral centerpiece. It can be flowers picked from your garden, or a more elegant arrangement from a florist.
Do the dishes and tidy the kitchen.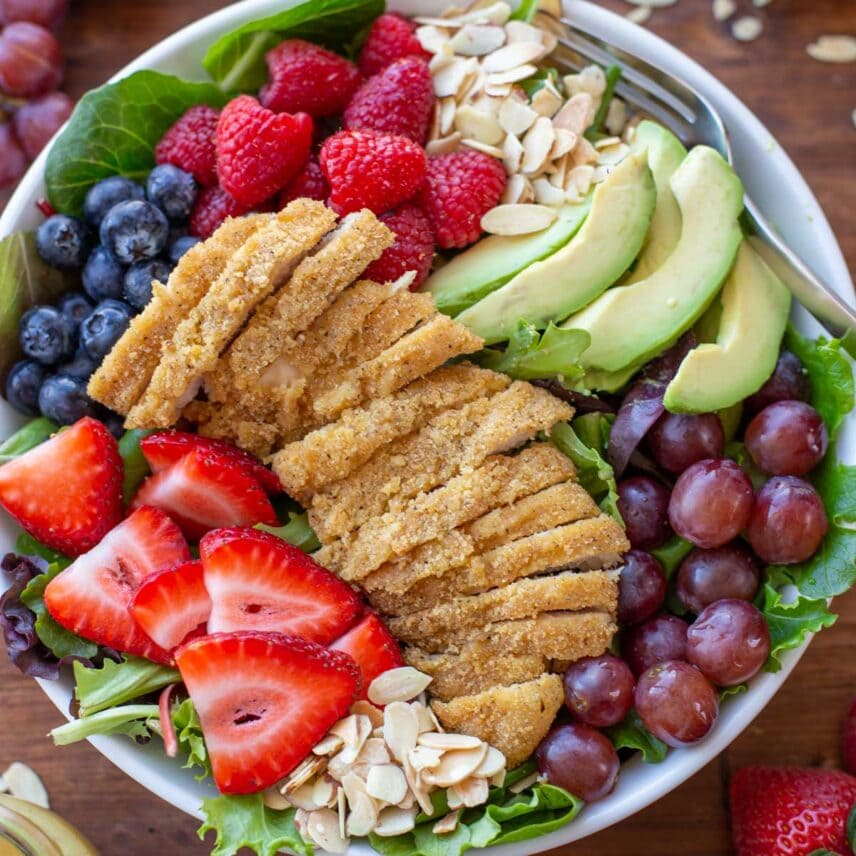 Planning the Menu
If you will be hosting a larger dinner, it is helpful to plan your Mother's Day menu a couple weeks ahead of time. The following information will help you decide what to serve and how much you will need.
There is usually more time on Sundays to spend on more involved recipes, but you can also choose to make a quick & easy dish that is just as delicious.
A guest who offers to bring a dish is worth their weight in gold.
Incorporate dishes that can be prepped and or fully made ahead of time.
Make sure you have room to heat up the different dishes. Utilize the crock pot to free up oven space.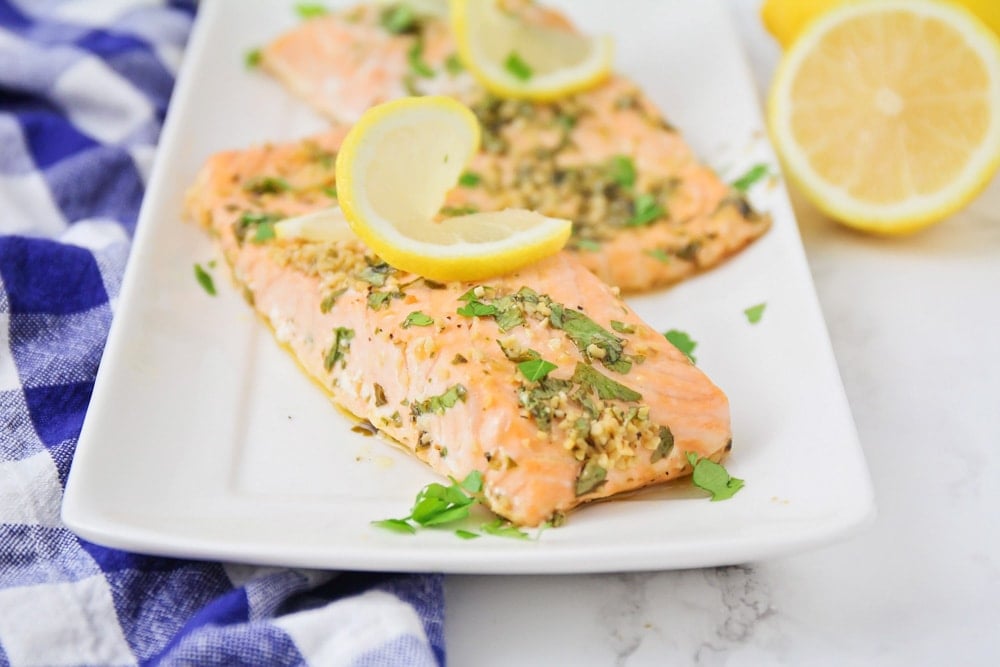 How much to serve
Pasta: Plan to serve 2-3 oz of dry pasta per person. If your recipe calls for 16 oz of pasta then the dish can serve about 6-8 guests. If it also includes veggies or protein then you will be able to serve about 8-10 guests.
Meats: When you are serving beef, chicken or pork as the main dish, plan to serve 8-12 oz per person.
Casserole- I typically cut my 9×13" casserole dishes into 20 squares. I'll usually calculate about 1 ½-2 squares per person.
Appetizers act to wet guest appetite as they wait for dinner to be served so you only need to have a total of 3-5 starters per person. If you only have 5-10 people coming, plan to have 1-2 different appetizer dishes. Add another appetizer dish for every 5-8 people in attendance.
Side dishes: In general plan about 6 oz of potatoes, 4 oz of vegetables and 1.5 rolls per person. For every 5-8 people attending add another dish to the menu.
Dessert: Plan to have enough dessert for people to have 1 ½ servings.
Drink/Punch: The average person will drink 2 glasses.
---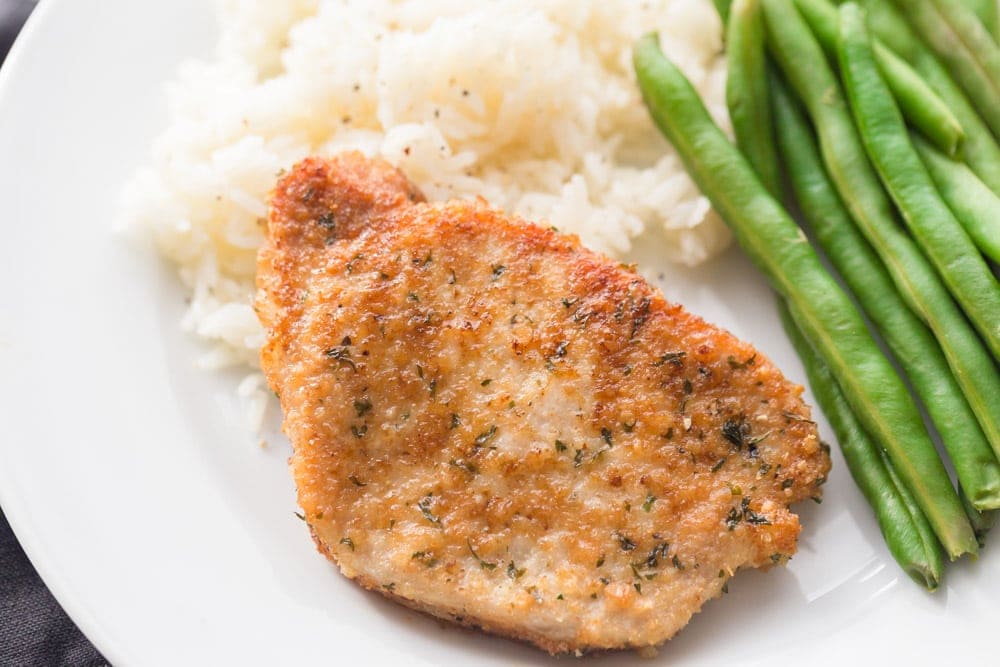 Best Mother's Day Dinner Recipes
These delicious recipes are tasty and simple. They are best-loved in our home and will be sure to please that special woman in your life, and the entire family!
Parmesan Crusted Pork Chops – These Parmesan Pork Chops are so flavorful and easy to make. With less than 10 minutes of prep work, you can make the most delicious baked pork chops that everyone will love.
Creamy Swiss Chicken Bake – Delicious Creamy Swiss Chicken Bake – a simple and delicious dinner recipe that includes Swiss and Parmesan cheese.
Lemon Chicken Pasta – Flavorful Lemon Chicken Pasta is covered in a delicious sauce made from lemons, whipping cream, cheeses, and fresh basil.
Crock Pot Ribs – Juicy BBQ Crock Pot Ribs is the best and easiest dinner idea! Great for a small family, big family, or cooking for a crowd!
Buttery Baked Chicken – Creamy Buttery Baked Chicken is simple and full of flavor. It is another great dinner idea for any occasion!!
Easy Baked Salmon – Bake a delicious and healthy pan of salmon for the whole family! Flavored with lemon, garlic, and parsley for a tasty dinner everyone will enjoy.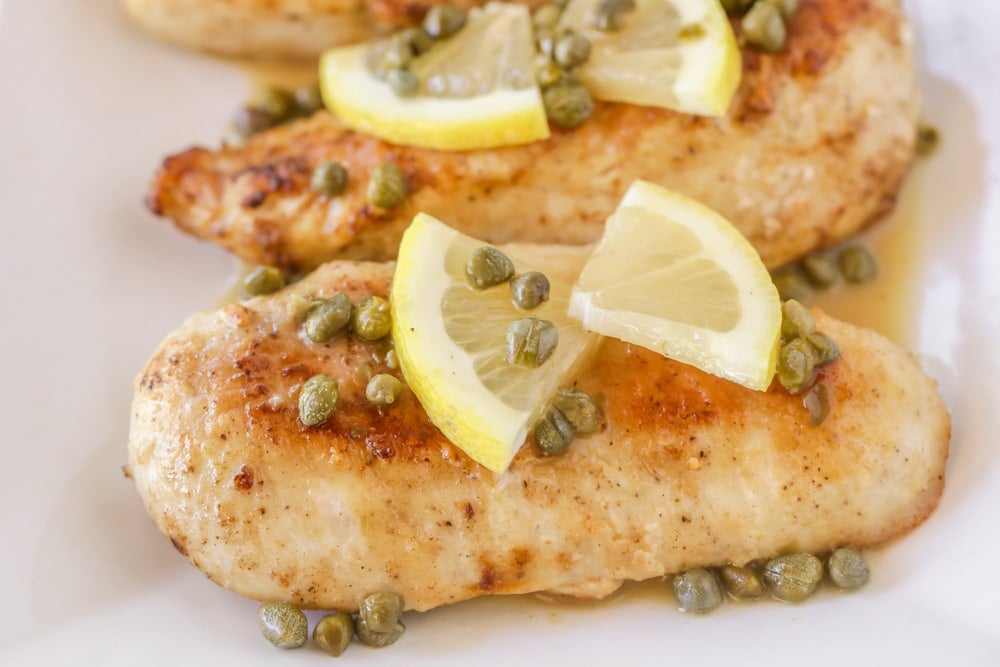 Chicken Piccata – Chicken piccata is flavorful and beyond easy to make! This tasty dish requires surprisingly few ingredients and is cooked in a lemon butter sauce topped with capers.
Chicken Cacciatore – Enjoy a lean version of your favorite 'hunter-style' chicken in this Chicken Cacciatore with mushrooms, onions, and red bell pepper.
Smothered Pork Chops -This creamy Lemon & Thyme Smothered Pork Chops recipe always gets rave reviews. It's flavorful and ready in 35 minutes or less.
Carnitas Recipe – Tender pulled pork makes up these delicious carnitas tacos! These tacos are super flavorful and really easy to make for dinner with the help of a crock pot.
Garlic Prime Rib – Perfect prime rib, seasoned with garlic and cooked in the oven. A secret trick will give you the most tender and juicy meat you've ever made!
Parmesan Chicken Manicotti – These manicotti shells are stuffed with a cheesy chicken mixture, and topped with tasty marinara!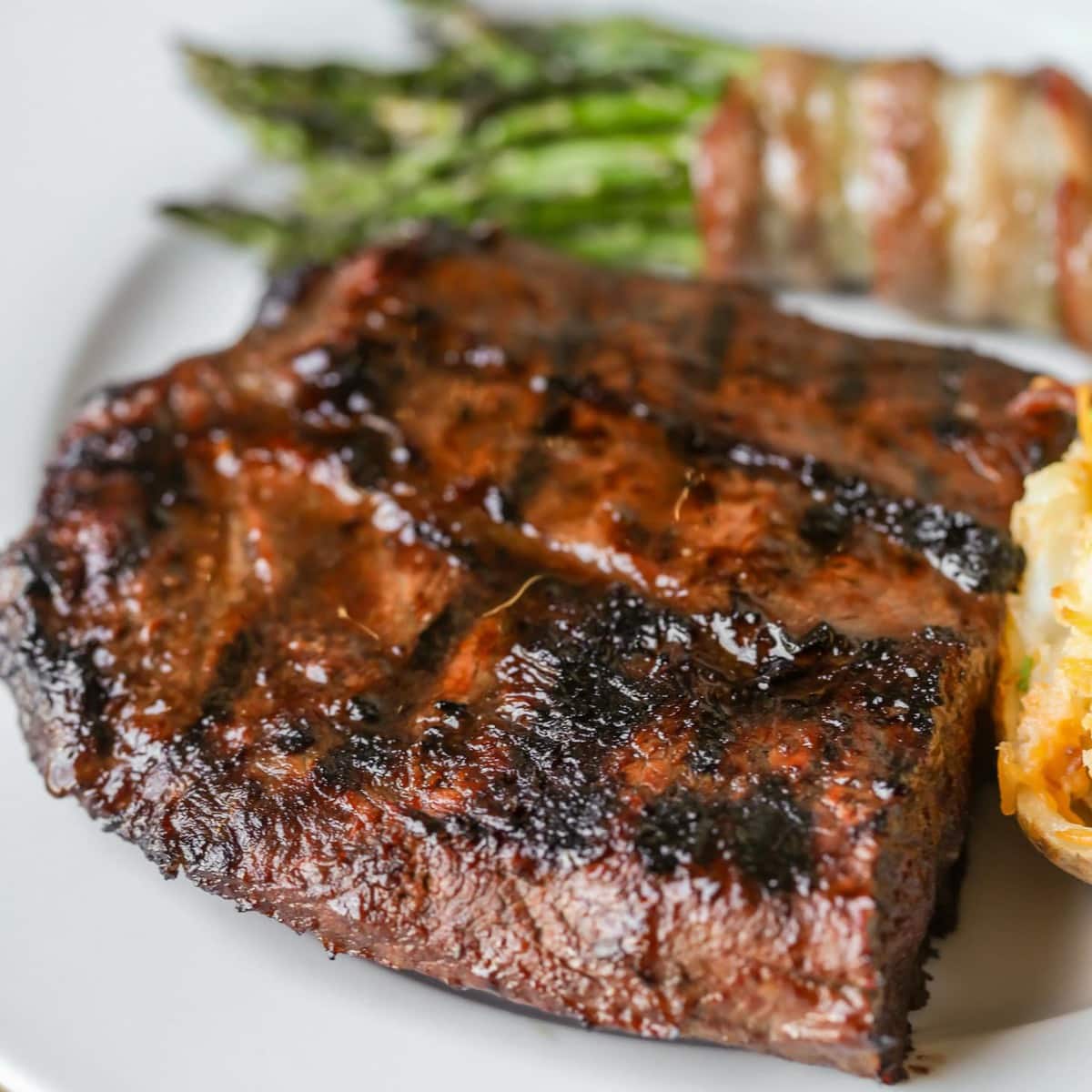 EASY MOTHER'S DAY DINNER Ideas
Making mom dinner may seem a bit daunting, so I've rounded up some simple meals for those novice chefs! These are classic, easy, and still taste delicious.
Best Steak Marinade – This is Our All-Time Favorite Steak marinade! It requires only four ingredients, and makes our steak taste SO amazing! Everyone always asks for this Easy Steak Marinade recipe because it's just that good!!
Strawberry Harvest Salad – Strawberry Harvest Salad – tastes just like the salad at Zupa's! It's topped with apples, strawberries, chicken, candied pecans, cheese and a homemade Strawberry Vinaigrette dressing.
Italian Pork Chops – These Italian Pork Chops require just a few ingredients and are baked in the oven with loads of veggies. Have it ready and on the table in just 30 minutes!
Chicken Pesto Pasta – This Chicken Pesto Pasta is very flavorful and simple dinner idea that is sure to please. It's filled with bow-tie pasta, chunks of chicken, cheese, sun-dried tomatoes, garlic and pesto making it a new go-to meal recipe.
Lemon Garlic Chicken – This Lemon Garlic Chicken is ready in 15 minutes or less! It's a great weeknight chicken dinner that is full of flavor and tastes great over rice!
Lemon Pepper Chicken – Flavorful and tender Lemon Pepper Chicken is simple and requires just a few ingredients. Served on its own or over rice, this buttery chicken dish is perfect any night of the week for a simple, quick dinner idea.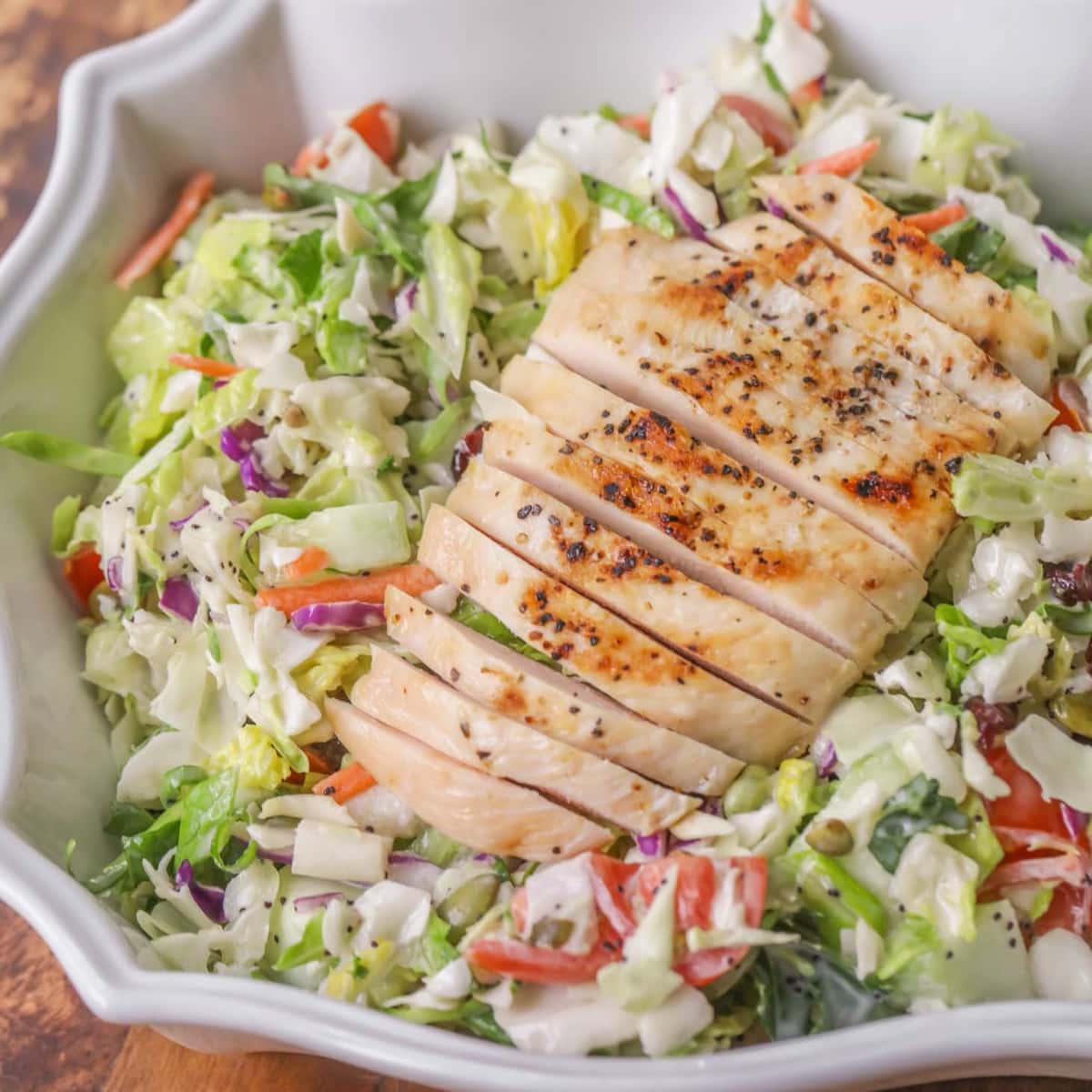 Lemon Poppy Seed Dressing – A delicious salad with tomatoes, chicken, craisins, sunflower seeds and a delicious homemade lemon poppy seed dressing. The dressing only requires 4 ingredients and takes minutes to make!
Skillet Lasagna – Skillet Lasagna is a comforting and cheesy one pot meal. It takes just 30 minutes and is perfect for dinner any night of the week!
Crock Pot Chicken Alfredo – Creamy and delicious crock pot chicken alfredo is an easy make ahead meal. It is filling and flavorful, perfect for busy weeknights!
Easy Chicken Cordon Bleu – EASY Chicken Cordon Bleu recipe – delicious, breaded chicken filled with ham and cheese. Serve over pasta, rice, or veggies, for a delicious dinner idea.
Steak And Tortellini Salad – Delish Steak and Tortellini Salad is hearty and refreshing. Tortellini, sirloin & romaine in a creamy pesto dressing is a must-have!
Honey Mustard Chicken Salad – Honey Mustard Chicken Salad is one of the heartiest, most delicious salad recipes you'll try! With greens, fruits, nuts, and a tangy dressing, it's a real winner.
---
The complete list
Here are the picture cards for all of the fantastic Mother's Day Dinner Recipes listed above.
Serving a meal that looks fancy, tastes fabulous, and comes together in a few easy steps is a piece of cake with these recipes. Let us know which ones you make to celebrate the Mothers in your life this year!
---
More Collections: Spring Dinner Ideas, Spring Salad Recipes, Cheesecake Recipes