Decadent Chocolate Chunk Cookies are studded with chocolate bits for the perfect bite every time. They whip up in minutes!
Chocolate Chip Cookies are a family fav, and these Chocolate Chunk Cookies take the taste to the next level! Try Chocolate Chip M&M Cookies, or a Giant Chocolate Chip Cookie for another tasty twist!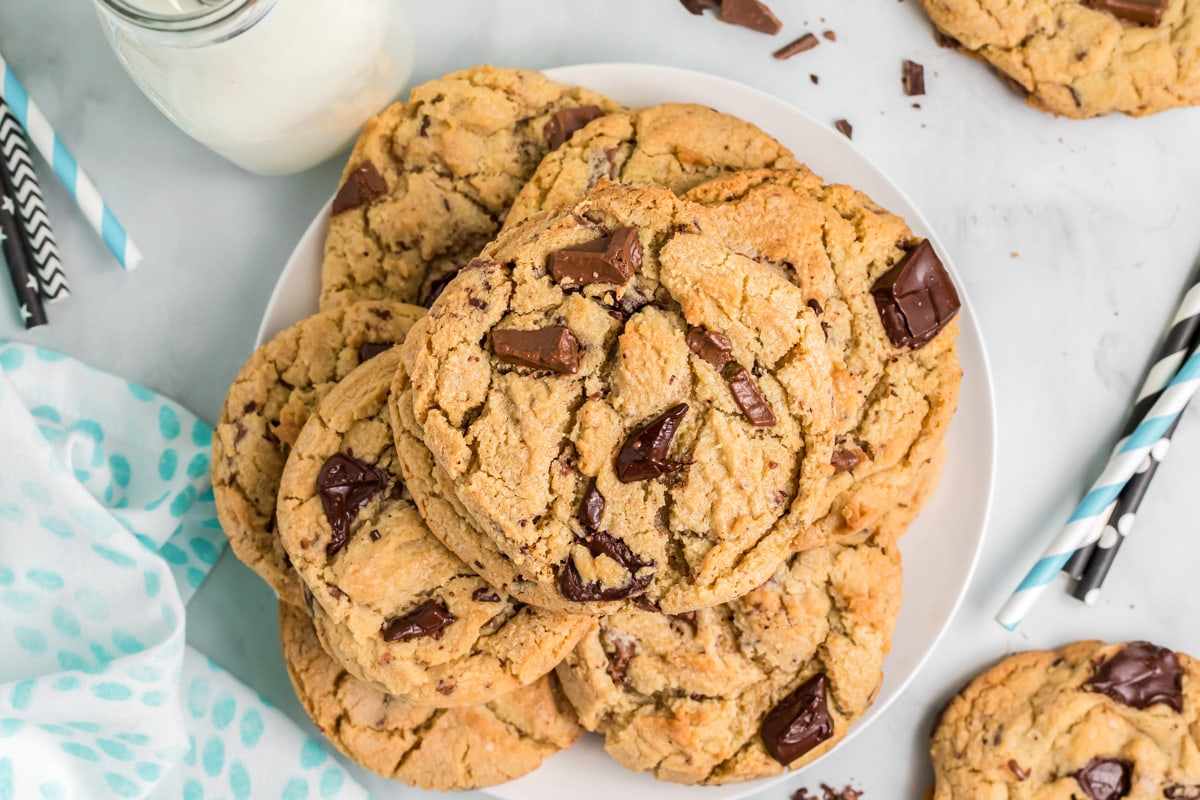 calling all chocolate lovers
A good chocolate chip cookie recipe is a delicious dessert and all, but if you are a chocolate lover, you want CHUNKS of chocolate in every bite. Look no further for the perfect cookie, these Chocolate Chunk Cookies are sure to please your chocolate-loving palette!
Use your favorite type of chocolate, or live it up and mix it up! I love to use some dark, milk and semi-sweet to give it that extra depth of flavor.
These are perfect for sharing, and hard to eat just one. These cookies are so easy to make, you'll be dipping them in a glass of milk in no time!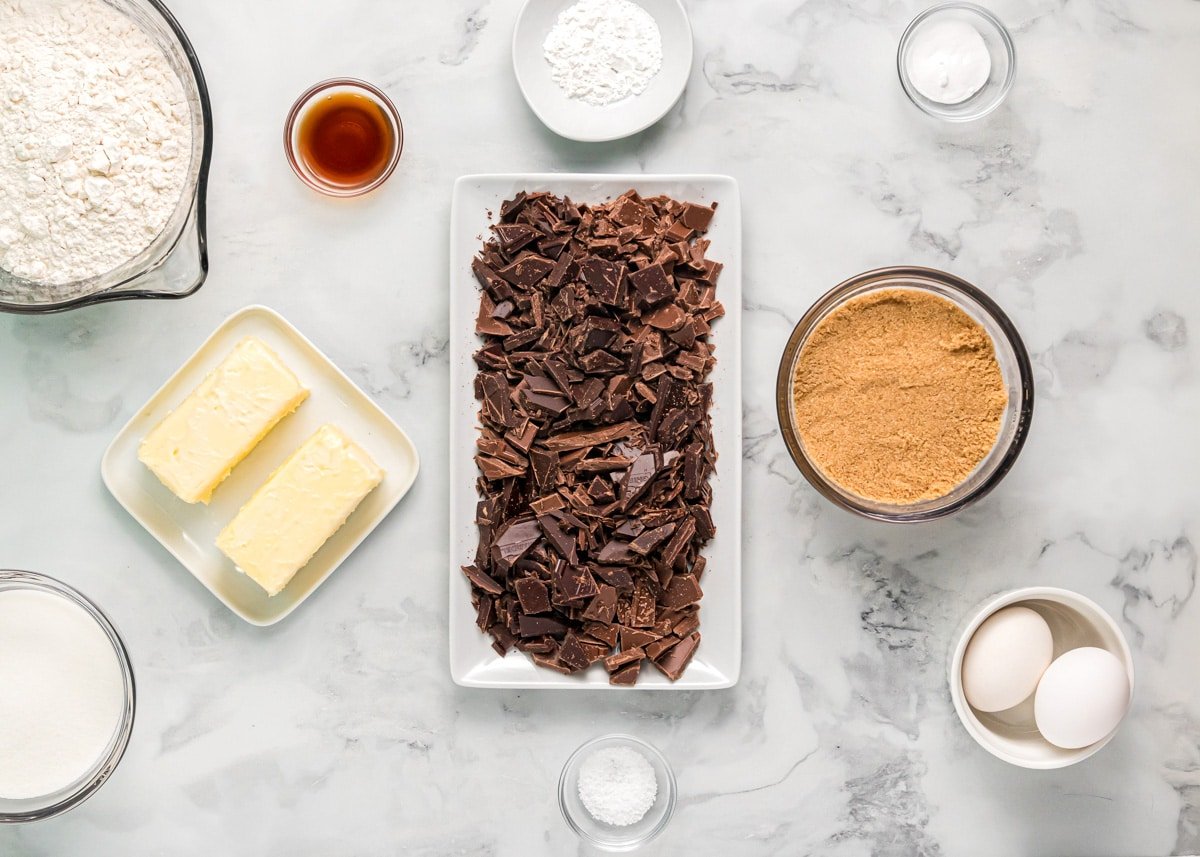 Making the best chocolate chunk cookies
WET INGREDIENTS. Cream butter, oil and sugars in the bowl of an electric mixer fitted with the paddle attachment on medium speed (or with a hand mixer in a large bowl). Add large eggs and beat until fluffy.
DRY INGREDIENTS. Add baking soda, salt, baking powder, vanilla and flour and mix until incorporated. Fold in chocolate chips.
BAKE. Scoop onto lightly greased baking sheet. Bake at 350 for 8-10 minutes.
Recipe tips
Don't over mix: Over mixing can cause the gluten in the flour to over activate, which can then cause the cookies to toughen.
Scoop the flour with a spoon and then level the flour instead of using the measuring cup to scoop it. Adding too much flour can make the cookie more dense and dry.
Don't over bake: I usually take my cookies out of the oven right at the 8 minutes mark and then let them finish cooking internally as they cool on the hot pan for a few minutes. Finish cooking on a wire rack.
Chilling the dough in the fridge for 30 minutes before scooping and baking can help keep them from spreading as much. It will also cause the outside to lightly brown and keep the center soft.
Line the cookie sheet with parchment paper or use a silpat.
Be sure to use Softened Butter and room temperature eggs. They incorporate easier with the other ingredients.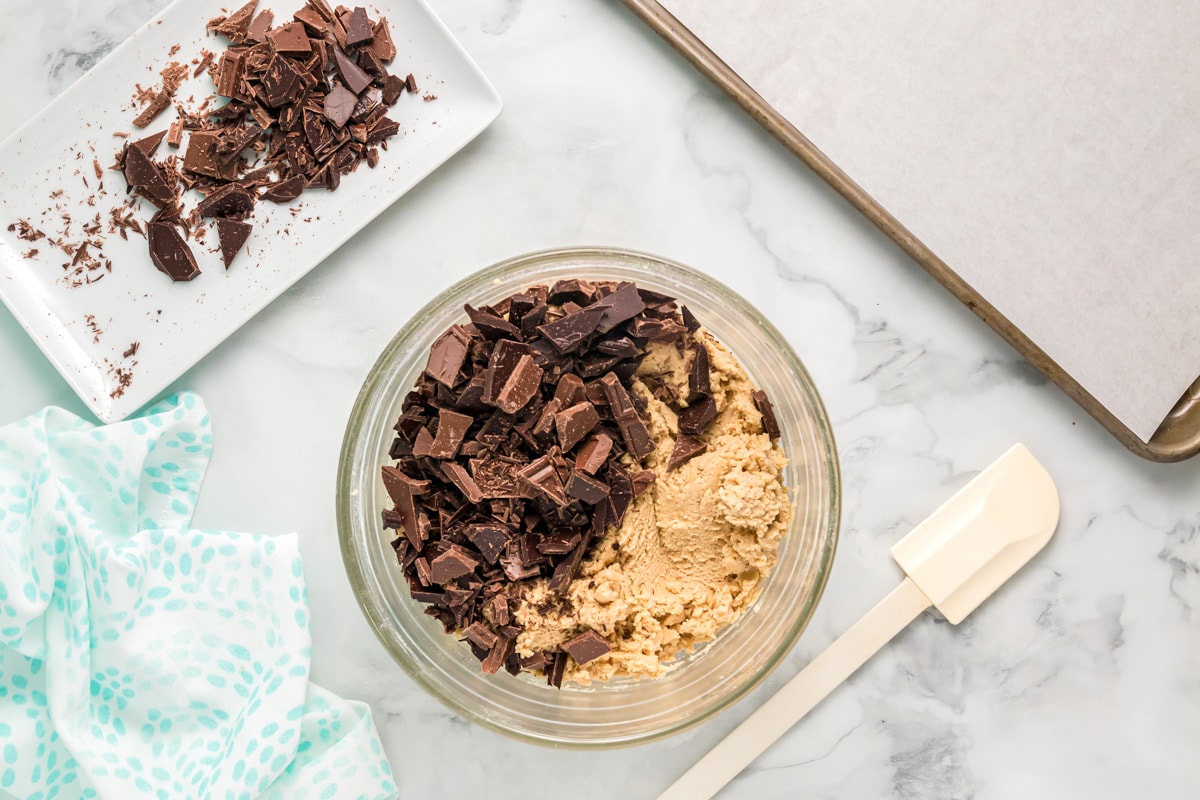 Variations
Whether you love milk chocolate, dark chocolate or semi-sweet chocolate you'll love these cookies because you can choose any type of chocolate bar to chop up and mix into the though.
The irregular chocolate chunks are a fun twist from classic chocolate chips.
You can add even more flavor by chopping up other types of chocolate bars like Cookies n Cream, Kit Kats, Reeses and more. Some other easy variations for these cookies include:
Size: Use a mini cookie scoop, or tablespoon, and bake for 5-6 minutes. Use an ice cream scoop for a larger cookie and bake for 10-12 minutes.
Chewier: Using dark brown sugar instead of light brown sugar can help create a chewier cookie. Another easy way to make this cookie chewier is to replace the white sugar with an equal amount of brown sugar. The molasses in the extra brown sugar helps make the texture more chewy.
Crispy: My dad loves crispy cookies and one way to accomplish this is to use melted butter. This will cause the dough to spread more in the oven creating a thinner crisper cookie.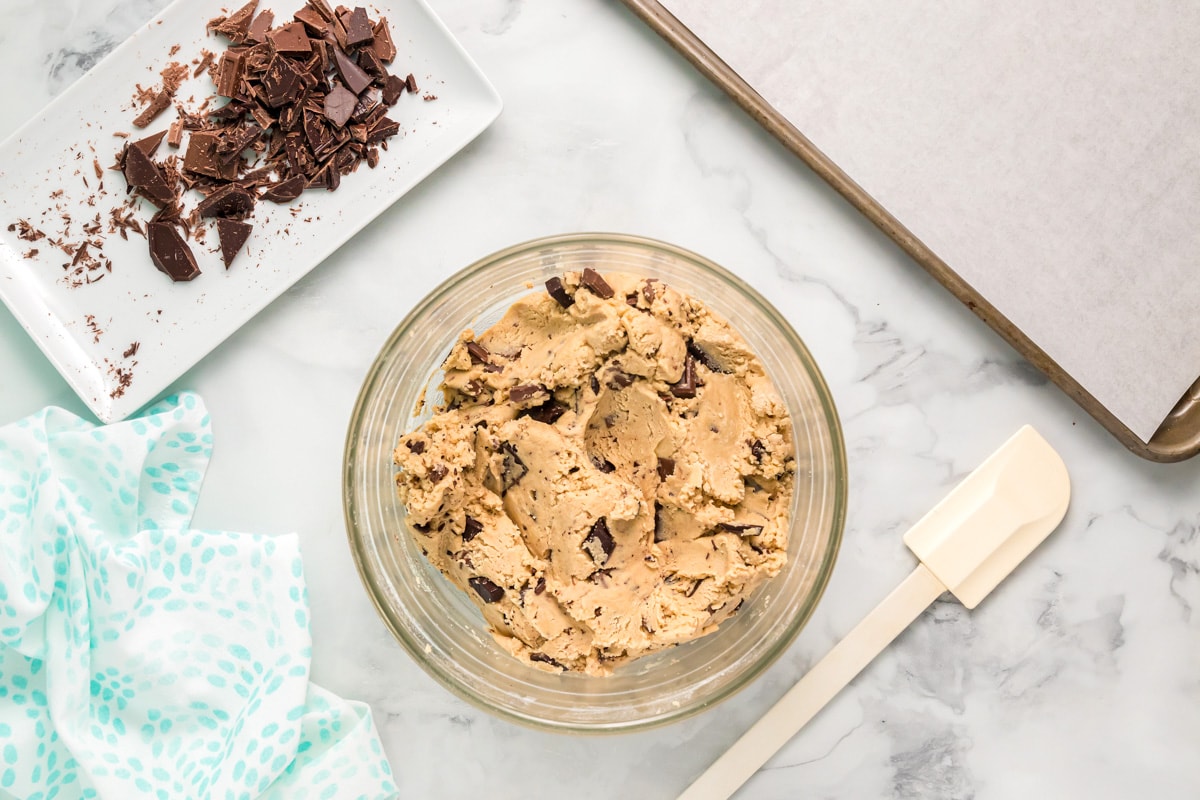 Ways to Cut Chocolate Bar into Chunks
You can find prepackaged chocolate chunks or you can easily cut a chocolate bar yourself. Here are 3 ways that work:
Cutting board. Place the chocolate bar on a cutting board. Use a Large kitchen knife-use a serrated edge for finely chopped chocolate or a chef's knife (straight edge) for larger chunks. Use one hand to hold the handle and the other hand to help press the blade down through the chocolate. Start at one corner of the chocolate bar and begin cutting.
Chocolate chipper. Purchase a chocolate chipper which is designed to chop chocolate bars. Place the chocolate on a cutting board. Starting in one corner of the bar press the chipper down to break off the pieces. Repeat moving systematically across the chocolate.
Freeze the chocolate bar. Do not remove it from the package and place it on a cutting board. Starting in the center of the bar whack the chocolate with a kitchen mallet or hammer. Slowly move outward in a circular motion with every hit. Unwrap and, if needed, use a large kitchen knife to chop any larger pieces.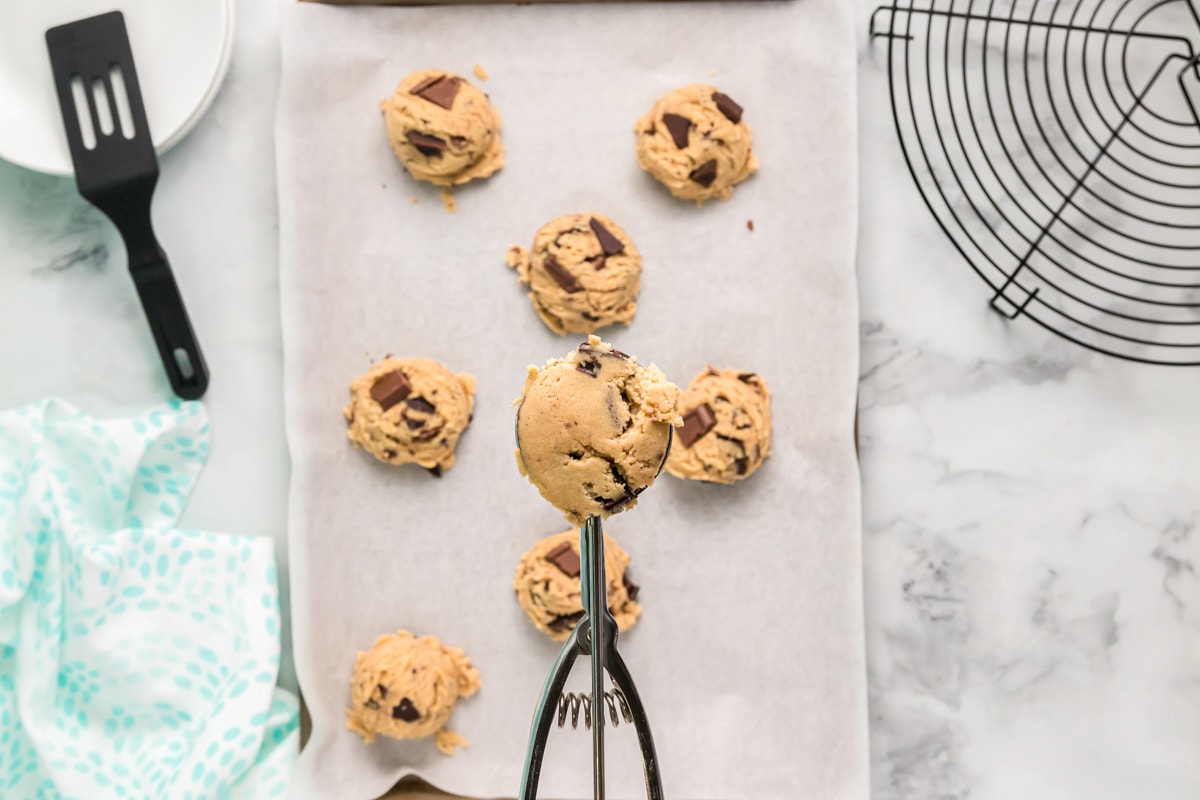 Storing info
One of the reasons I love cookies, Aside from their being absolutely delicious, is that they can be STORED in so many ways. Whether you want to make the dough ahead of time or store baked cookies for later, they can all be done.
Dough in the fridge: If you've whipped up a batch of dough but aren't quite ready to make them, cover the dough with plastic wrap and store in an airtight container in the fridge for 3-4 days.
Dough in the Freezer: Even if your recipe makes more than you want to eat at a time, still make the entire batch. Roll the extra chocolate chip cookie dough into balls and freeze them in an airtight container. When you want to use them simply pull out the desired amount, let the cookie dough balls thaw for 15-20 minutes, and bake according to the recipe directions. Dough can be frozen for 3 months.
Store Baked Cookies: Once the cookies have cooled, transfer them to an airtight container and store at room temperature for about 5 days. To help the cookies stay soft longer, try adding a piece of white bread in your container or Ziploc bag. It helps absorb the air and will help keep the cookies nice and moist.
Store Baked in the Freezer: Keep cookies in an airtight freezer safe container and they'll last for up to 3 months. I like to place 1-2 cookies in a fold top sandwich bag and store them together. This makes it really easy to grab a baggie and toss them into lunch boxes or pass out as a quick and easy treat.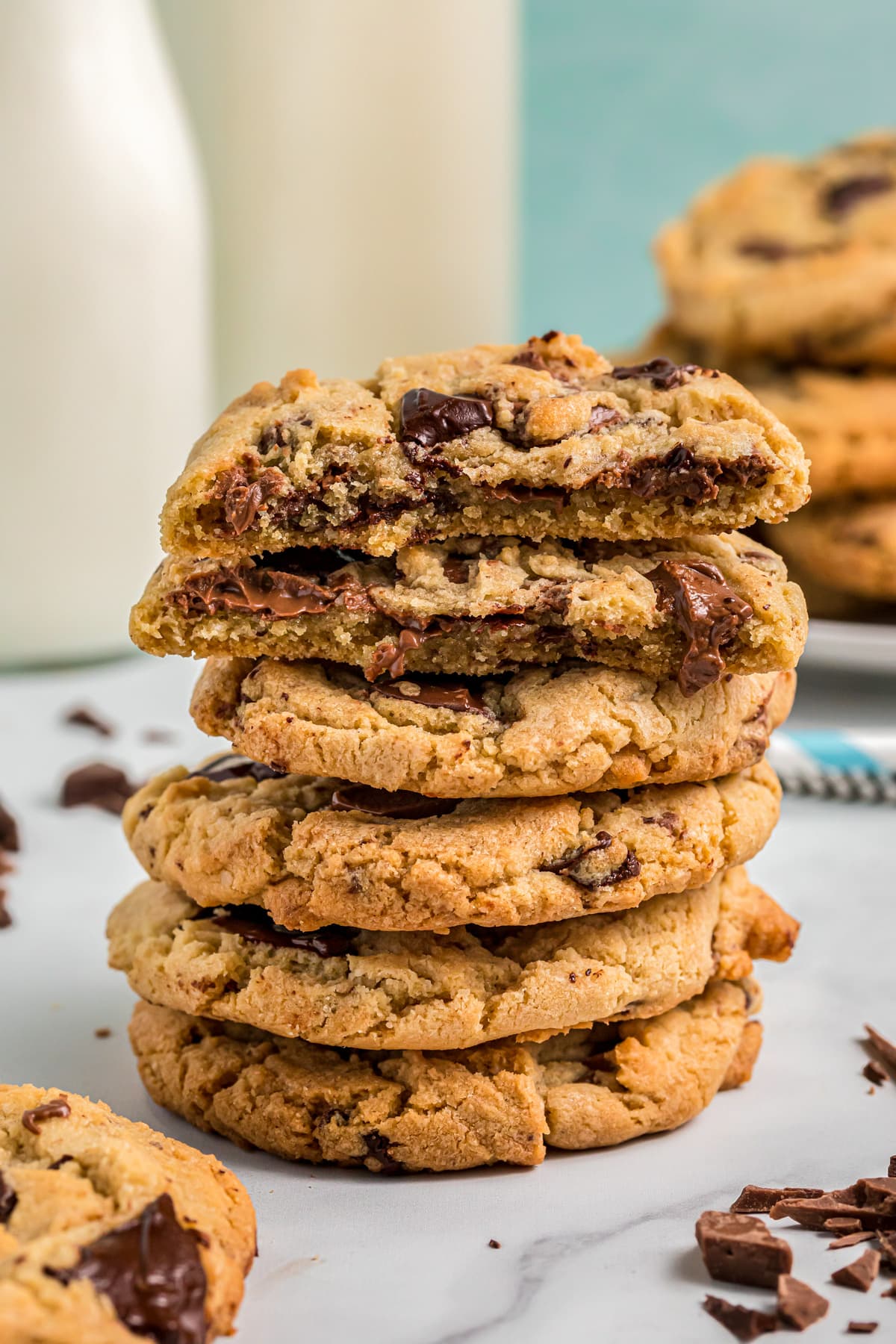 for even more chocolate chip cookies, try: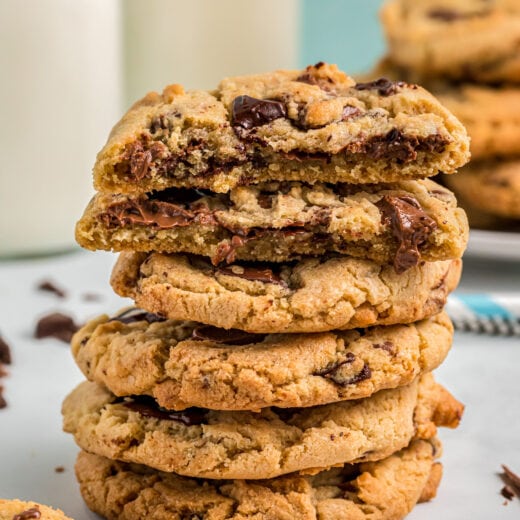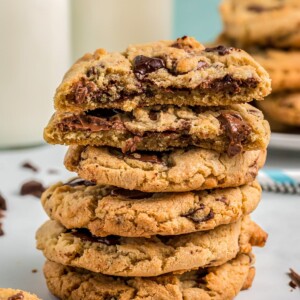 Chocolate Chunk Cookie Recipe
Decadent Chocolate Chunk Cookies are studded with chocolate bits for the perfect bite every time. They whip up in minutes!
Instructions
Cream butter, oil and sugars in stand mixer (or with hand mixer in a bowl). Add eggs and beat until fluffy.

Add baking soda, salt, baking powder, vanilla and flour and mix until incorporated.

Fold in chocolate chips, and scoop onto lightly greased baking sheet.

Bake at 350 for 8-10 minutes.
Nutrition
Calories:
141
kcal
,
Carbohydrates:
23
g
,
Protein:
2
g
,
Fat:
5
g
,
Saturated Fat:
3
g
,
Polyunsaturated Fat:
1
g
,
Monounsaturated Fat:
1
g
,
Trans Fat:
1
g
,
Cholesterol:
16
mg
,
Sodium:
124
mg
,
Potassium:
53
mg
,
Fiber:
1
g
,
Sugar:
15
g
,
Vitamin A:
92
IU
,
Calcium:
15
mg
,
Iron:
1
mg
Nutrition information is automatically calculated, so should only be used as an approximation.
Making this recipe? Tag us!
Share it with us on Instagram using the hashtag #lilluna, so we can see what you're creating in the kitchen!