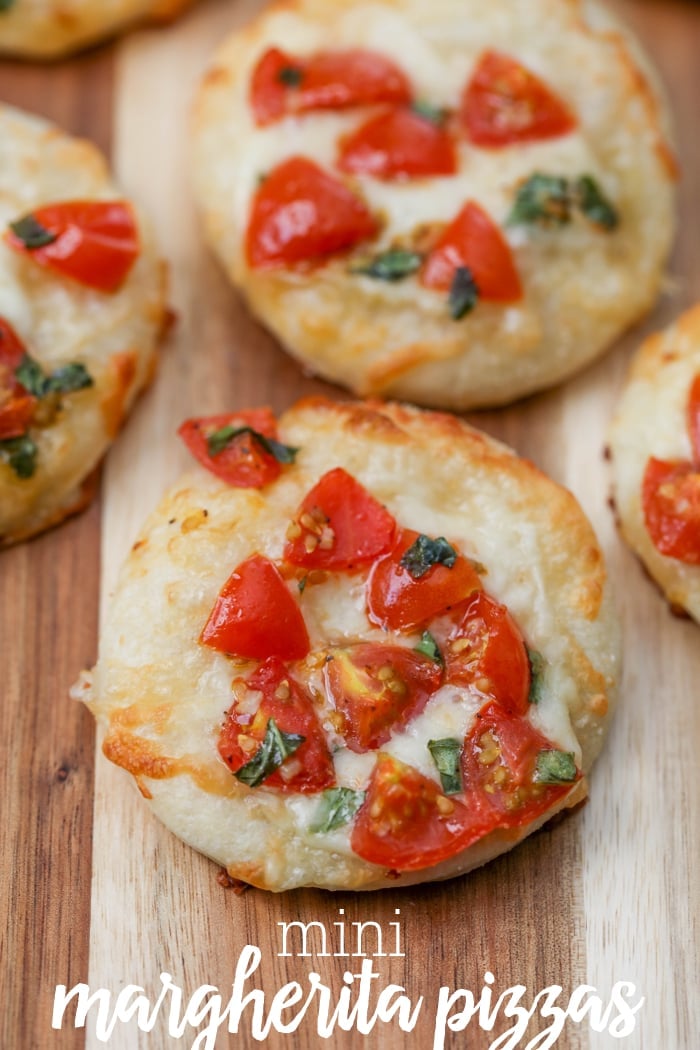 Who here loves PIZZA?!
Now that I think about it, I don't think I've ever met someone that didn't like pizza. It's just SO good!! Since it's one of those foods that everyone loves, we have it once a week in our family. Usually, we will go and pick up a $5 Hot N Ready from Little Caesars, but often times we will make homemade pizza or something similar. I wanted to try a new "pizza" recipe and spotted this recipe for Mini Margherita Pizzas from Kraft Foods. I love tomatoes and small, bite-sized foods so we gave it a try and it was a hit with the whole family. Not all the kids like tomatoes, so we were sure to give them the mini pizzas that only had a few on them. What I loved most is that the kids loved making them too. They had a blast using the circle cookie cutter to cut circle dough pieces. Now, I admit that you can just keep the pizza whole and not make them mini, but we liked the change of pace and I was happy to try something new. Sometimes things just get boring and the kids seem to like to change things up once in a while.
For a simple lunch or dinner idea (or even as an appetizer at a party), I think you'll enjoy these Mini Margherita Pizzas. Here's the recipe:

Mini Margherita Pizzas
Ingredients
1 cup cherry tomatoes, chopped
4 fresh basil leaves, chopped
1 teaspoon minced garlic
1 Tbsp. olive oil
garlic salt & pepper (to taste)
1 can (13.8 oz.) refrigerated pizza crust
1 cup shredded Mozzarella cheese
2 TB Grated Parmesan Cheese
Instructions
Preheat oven to 425.
Combine first 5 ingredients in a small bowl.
Unroll pizza dough on a lightly floured surface and roll into a rectangle. Use a small circle cookie cutter or a glass to cut out 20 round pizza doughs. Re-roll scraps and cut out dough and place on a greased cookie sheet.
Sprinkle with cheeses and top with tomato mixture.
Bake for 8 to 10 min. or until edges of crusts are golden brown. ENJOY!
Recipe from Kraft Foods.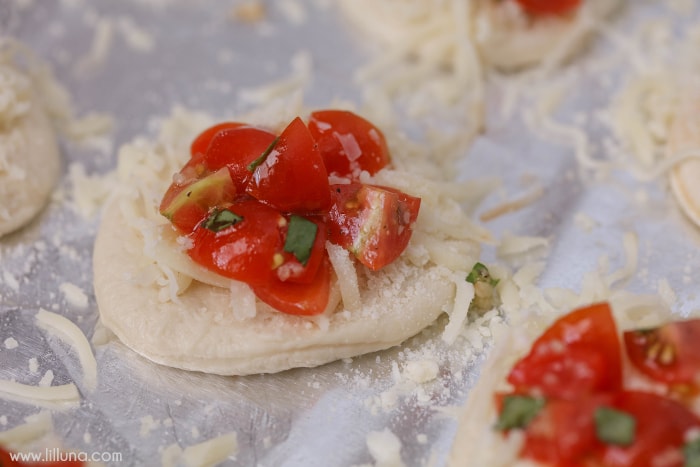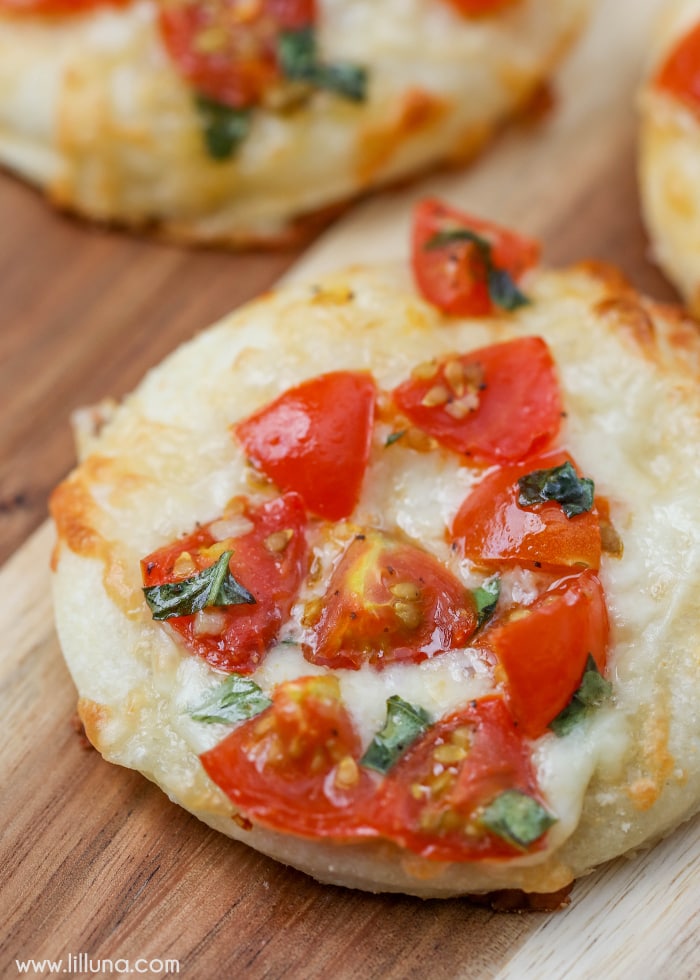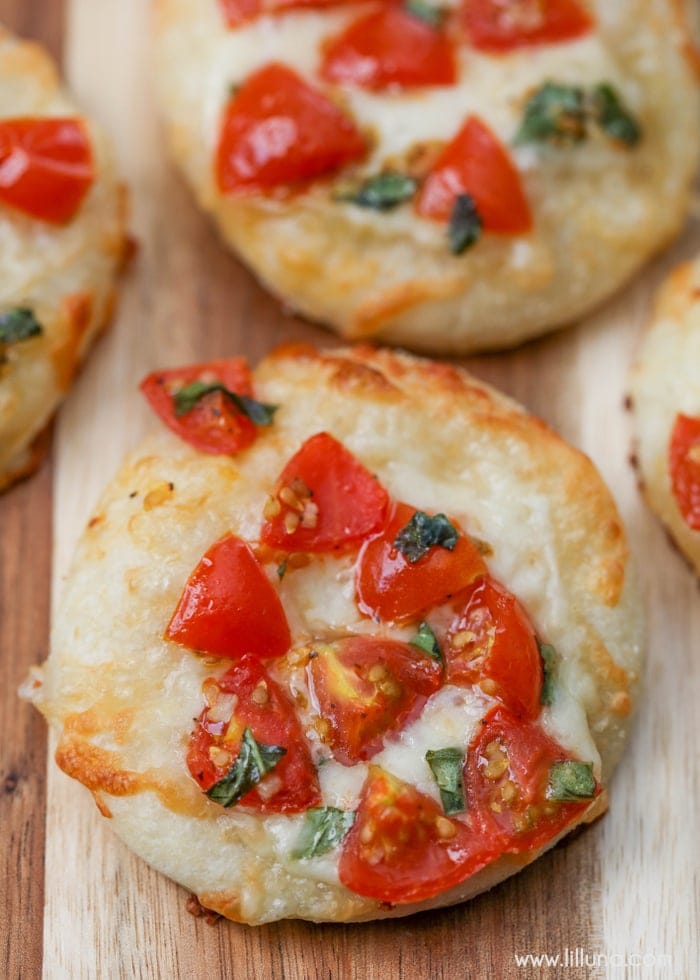 I think I'll add some fresh Mozzarella to these next time I make them and even some Balsamic Vinaigrette for a Caprese version!
For more bite-sized recipes, check out:
Check Out My Other Recipes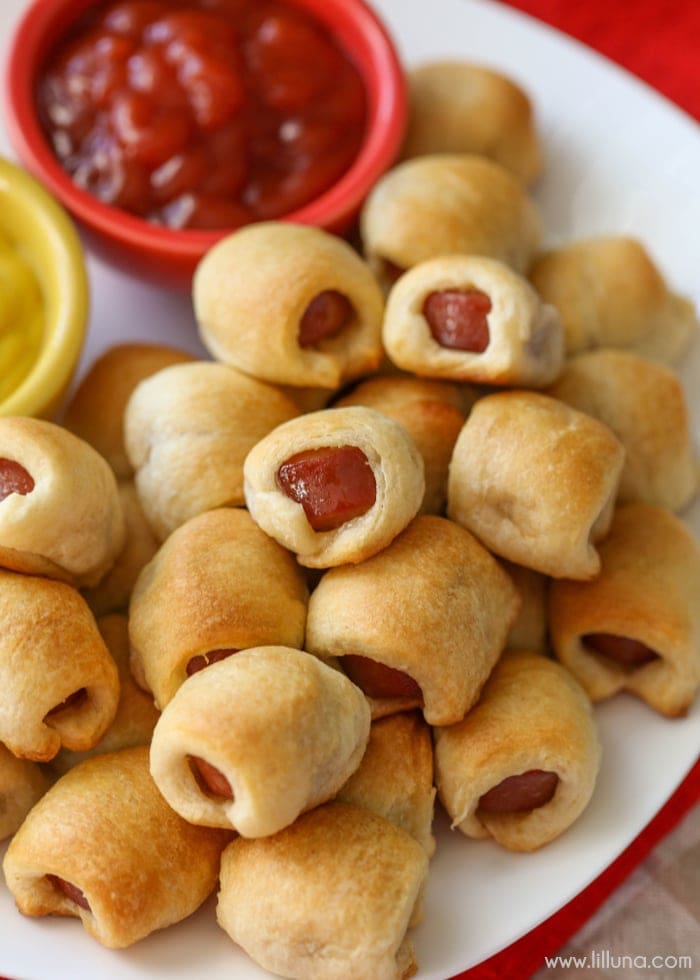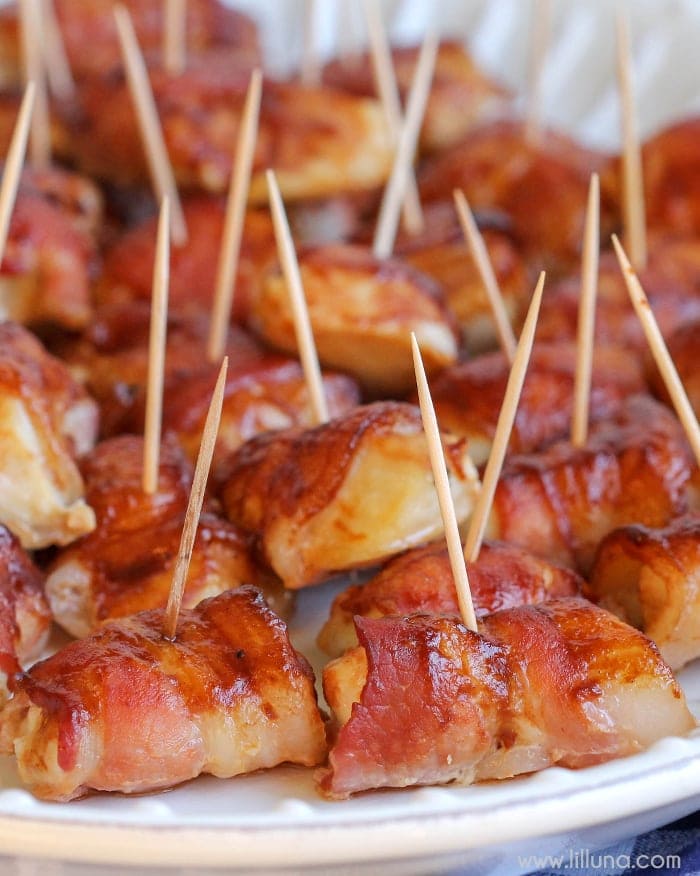 Barbecue Bacon & Chicken Bites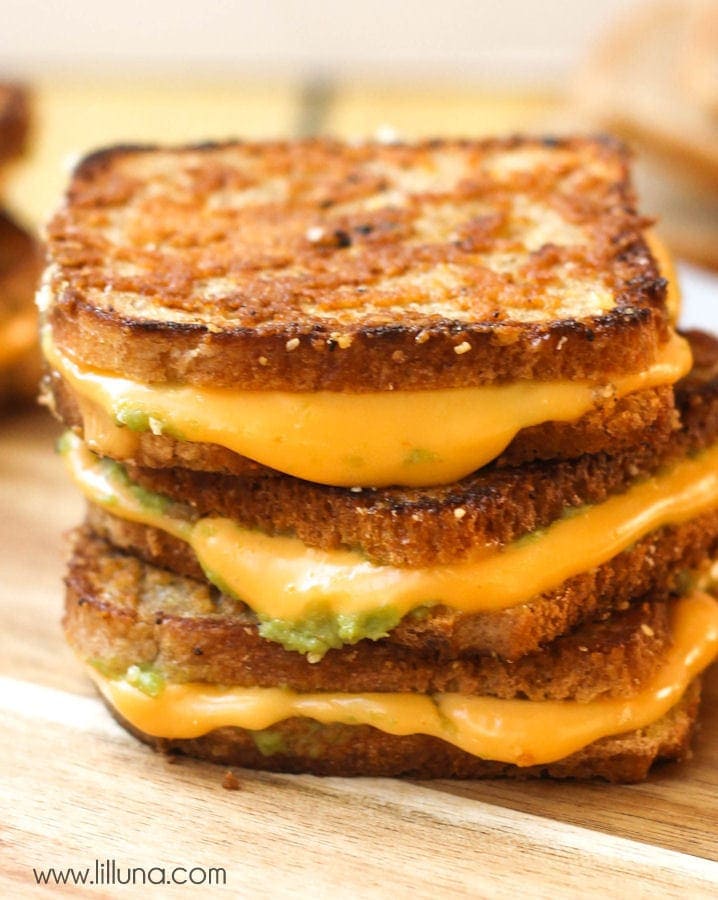 Mini Avocado Grilled Cheese Sandwiches
For all Dinner ideas go HERE.
For all Recipes go HERE.
And get weekly emails with monthly freebies by signing up for the Lil' Luna newsletter. 🙂
For even more great ideas follow me on Facebook – Pinterest – Instagram – Twitter – Periscope – Snapchat & YouTube.
ENJOY!