This is Our All-Time Favorite Steak Marinade. It requires only four ingredients, and makes our steak taste SO amazing!
Grilling season is upon us, which means you can find us regularly cooking steaks, chicken, and burgers for dinner. We are always whipping up a batch of this easy Steak Marinade to add ALL the flavor!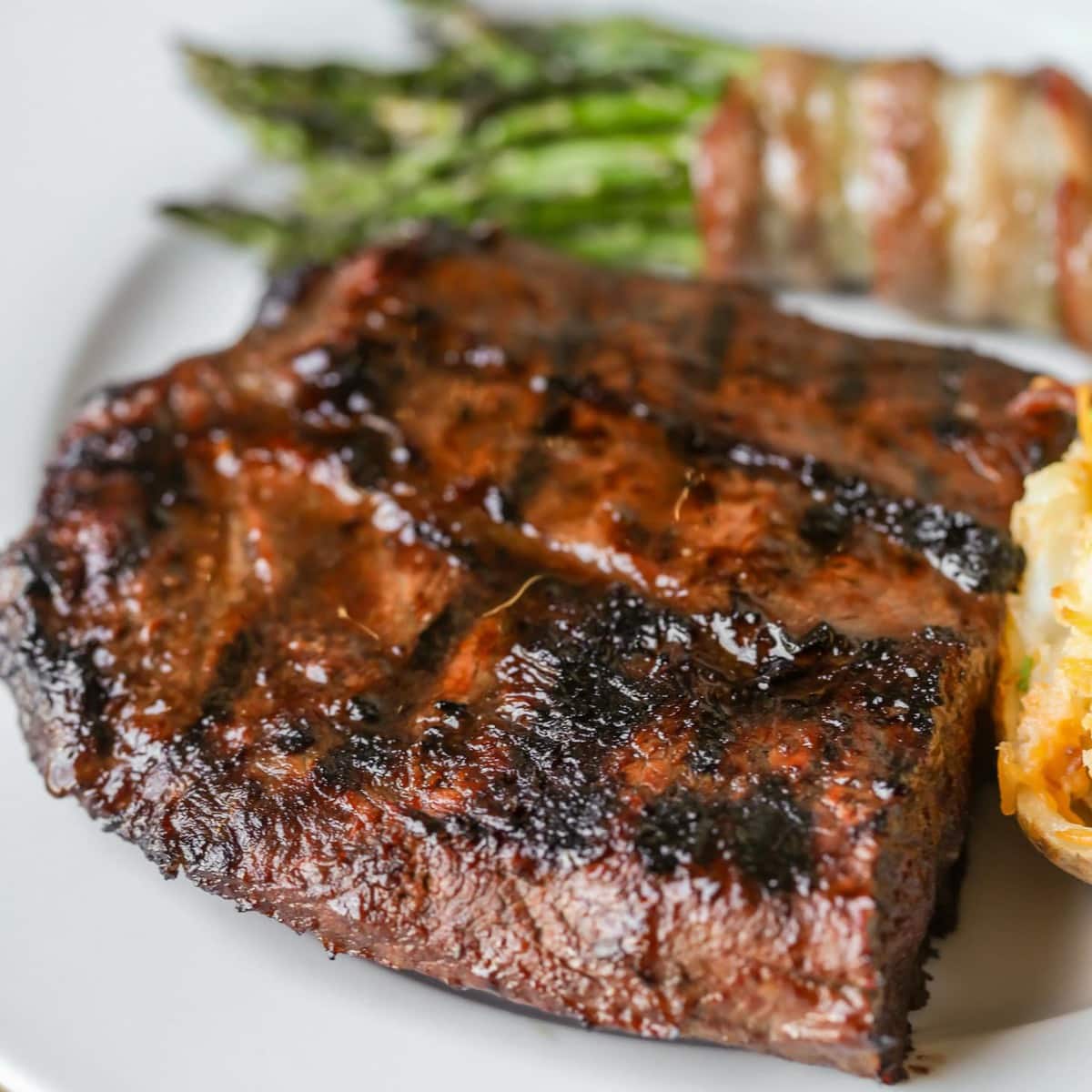 our fav marinade – only 4 ingredients!
One of the best and nostalgic things about the summer are BBQ dinners!! Who's with me?! Have you ever gone out for a walk or drive and caught a "whiff" of the heavenly smell of someone grilling? Delicious, right?!
Usually the smell is meat – someone grilling delicious steak, chicken or ribs on the grill. Today we are sharing our all-time favorite Steak Marinade that is simple and makes your steak taste so delicious.
The hubby and I LOVE to grill steak for special occasions and this marinade is always our go-to. And best part? It only requires 4 ingredients. We got it from a neighbor years ago, and I'm not sure that we'll ever find another Steak Marinade Recipe that beats it!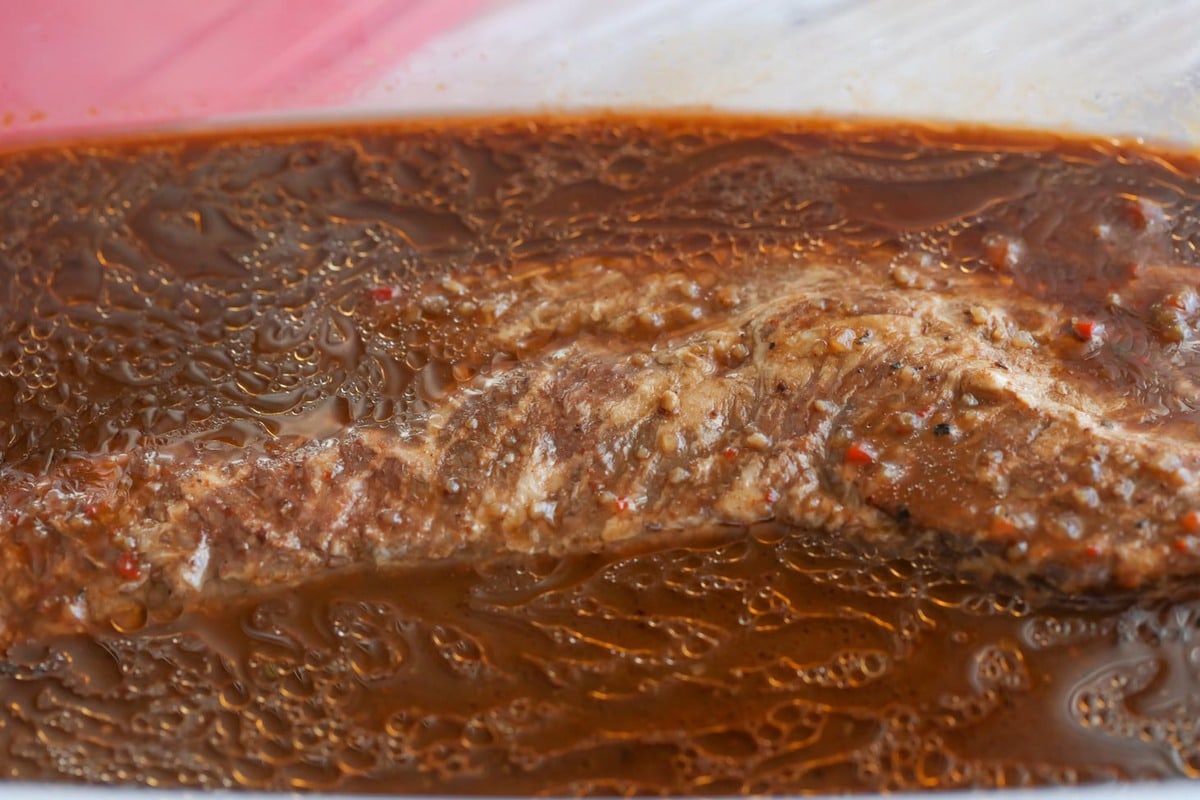 How to make steak marinade
This marinade is perfect for 2 whole steaks. If you are grilling more, then double the recipe for every two steaks you're adding.
As I mentioned, this marinade only requires 4 ingredients (and the 4th ingredient is even optional!).
Italian Dressing
A1 Sauce – the original flavor
Worcestershire Sauce
Lemon juice (totally optional, just adds a little zest!)
MIX. All you have to do is throw each of these steak marinade ingredients into a gallon sized ziploc bag or small bowl and mix them. Once they're mixed, add your steak.
MARINATE. We love flat iron steaks – they don't have too much fat, are fairly inexpensive, and really delicious!
GRILL. Once they have marinated long enough, throw them on the grill, cook them to your liking.
How long should I marinate?
Marinade a cut of meat for as little as 4 hours. I like to marinade my steak overnight, about 8-12 hours. You can marinate steak for up to 24 hours. 
The longer you marinate a steak the more the marinade can break down the tissues in the meat which causes the meat to become mushy, tough and dry. 
Marinate at room temperature for up to 1 hour. Any longer and you'll need to use the refrigerator.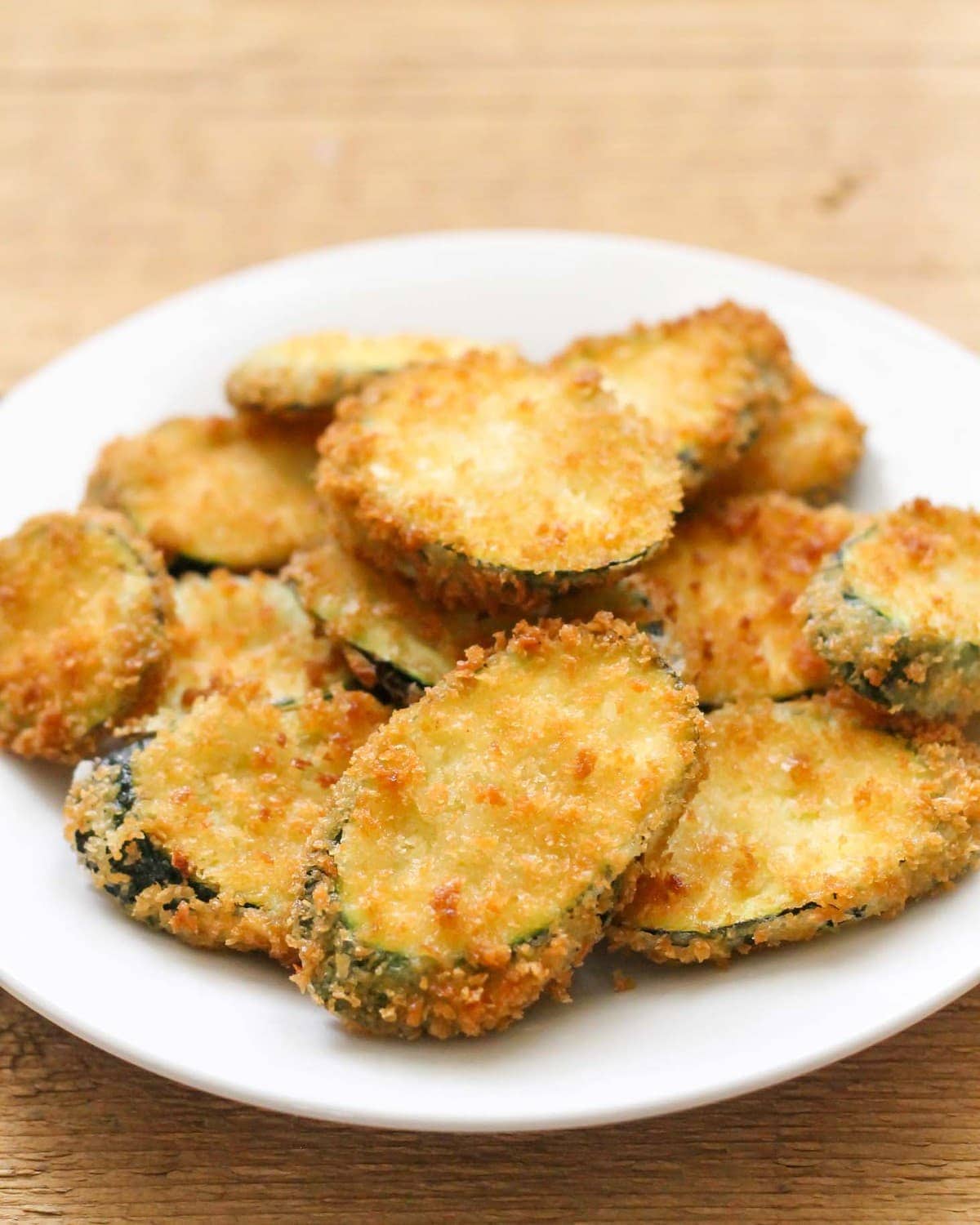 Key Marinating components
A great steak marinade has 3 key components. The components can be mixed and matched to create so many flavor combinations. The components should be balanced and given ample time to marinate the beef.
Fats enhance flavors and moisturizes: coconut oil, olive oil, sesame oil, duck fat, or an oil based salad dressing
Acid to tenderize and flavor: viegar, wine, citrus, buttermilk
Flavor not only enhances the taste but helps with caramelization: herbs, spices, sauces, sugar, honey, garlic, onions, chilis, pepper, salt, onion powder
what to serve with steak: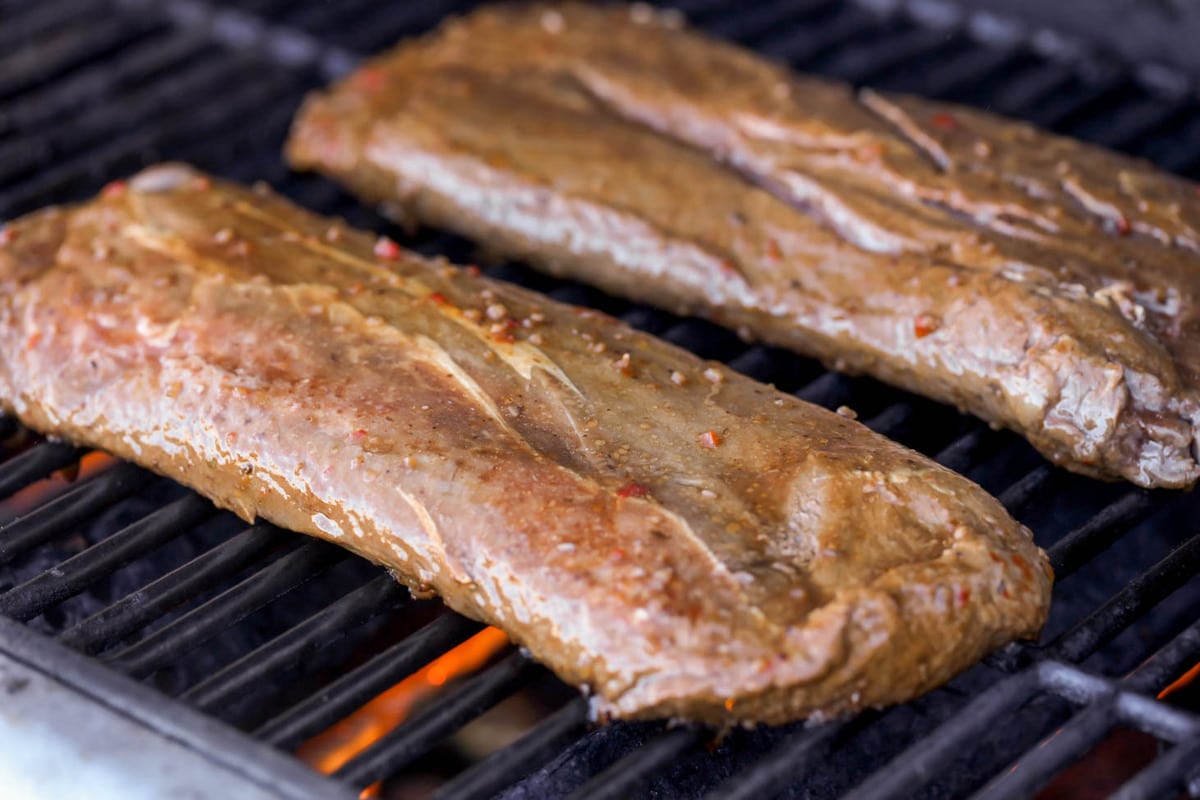 BEST CUTS FOR THE GRILL
Flat Irons/Skirt Steak
Top Sirloin
T-bone
Porterhouse
Round Steak
New York Strip Steak
Flank Steak
Prime cuts like filet mignon, ribeye, or other premium aged beef is already flavorful and tender so you'll want to pass on marinating those. There are still several other cuts of meat perfect for marinating.
Remember to sear the steak over direct heat. Thinner steaks will cook sufficiently with searing. For a thinker cut: once seared, move to indirect heat to finish cooking.
Tips for the Grill
Start with a clean grill and add a little vegetable or olive oil to the grate before heating.

Allow the steaks to come to room temperature before putting them on the grill.

Only flip the steak once.

Let the meat rest after taking it off the grill. The steak will continue to cook a bit and the juices will distribute.

Never reuse steak marinade once it has come in contact with raw meat. If you wish to use the marinade to baste the meat or to make a sauce, then you'll need to set some aside BEFORE adding raw meat.
Other cooking methods: Grilled steak is my absolute favorite. Thankfully that's not the only way you can cook a marinated steak. You can also use a cast-iron skillet or a grill pan to cook the steak on the stove top.
How to tell when your steak is done
For steaks that are 1.5" or thicker, use a meat thermometer. Start by charring them over High heat then moving them to a section set to low heat to finish cooking.
Rare: 120°F
Medium Rare: 130°F
Medium: 140°F
For thinner steaks, use a timer and cook over high heat.
Rare: 3 minutes each side
Medium Rare: 4 minutes each side
Medium: 5 minutes each side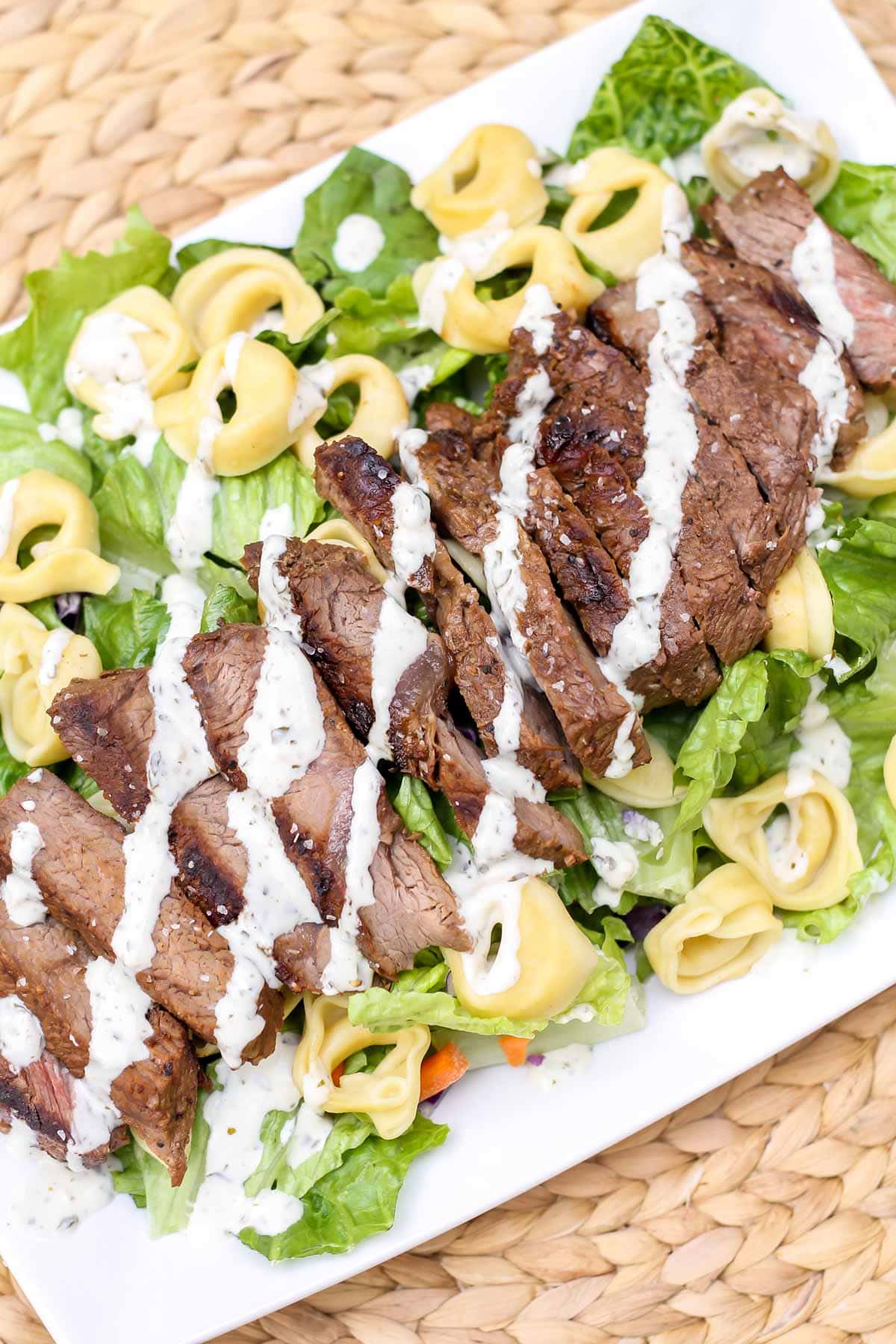 Storing info
FREEZE marinating meat. Freezing stops the marinating process so it is safe to add your meat to a marinade and then keep it in the freezer until you wish to thaw and cook it.
Meat must be frozen before the freeze by date
For best results do not freeze in a marinade for longer than 3 months.
Thaw in the fridge
STORE. After being cooked, store it in a Ziploc bag and place in the fridge for 3-4 days.
FREEZE. Wrap it tightly and place in a freezer bag, freezing for up to 3 months.
Using leftover steak
If we have leftover steak, we also like to use it in these recipes: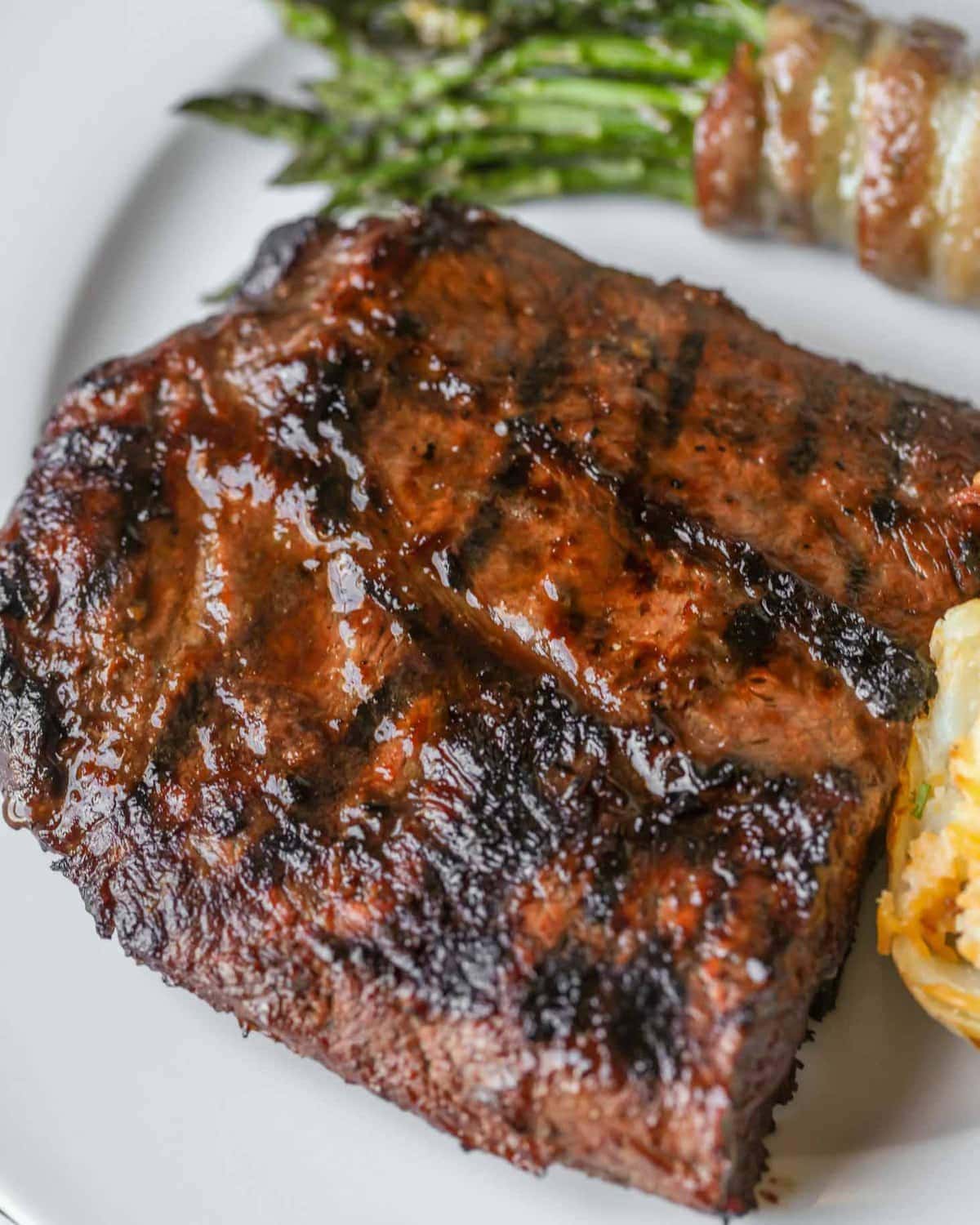 For more grilling recipes, check out:
Steak Marinade Recipe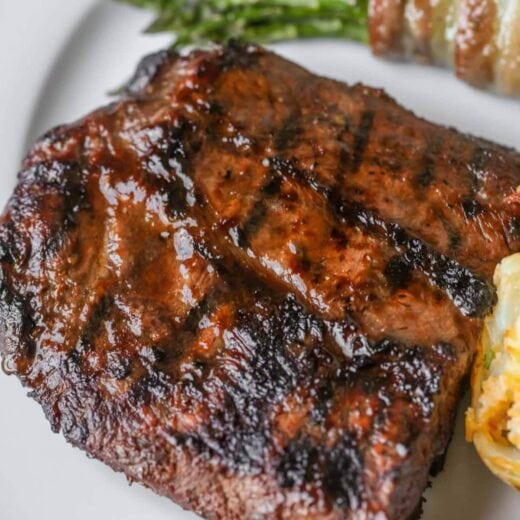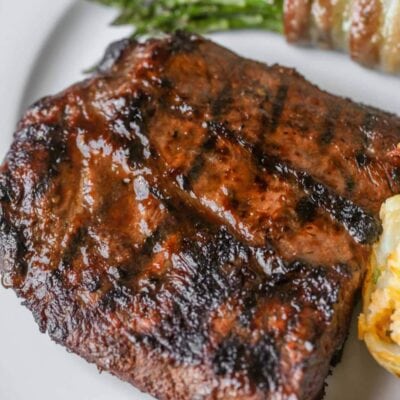 This is our all-time favorite Steak Marinade. It requires only four ingredients, and makes steak taste SO amazing!
Ingredients
1

cup

Italian dressing

½

cup

A.1. Original sauce

½

cup

Worcestershire sauce

1

teaspoon

lemon juice

optional

1

pound

steak of choice

(flat-iron, skirt, top sirloin or flank steak)
Instructions
Combine dressing, A.1. sauce, Worcestershire sauce, and lemon juice in a large resealable plastic bag or airtight container. Mix well.

Add steak to the marinade, making sure it is coated on all sides.

Place in the refrigerator to marinate for at least 4 hours or up to –36 hours.

When ready to cook, preheat the grill to 450–500°F. Allow steaks to come to room temperature.

Place steaks on the grill and cook until golden brown and slightly charred (4–5 minutes). Flip steaks over and continue to grill to the desired doneness (see below; 5–7 minutes for medium).

Let meat rest for 5 minutes before serving. The steak will continue to cook a bit and the juices will distribute.
Notes
Grill Prep: Start with a clean grill and add a little vegetable or olive oil to the grate before heating. 
Doneness Guide: For steaks that are 1 ½ inches or thicker, use a meat thermometer. Start by charring them on both sides over high heat, then move them to low heat to finish cooking to the desired temperature:
o Rare: 120 degrees F
o Medium-Rare: 130 degrees F
o Medium: 140 degrees F
o Medium-Well: 150–160 degrees F
o Well Done: over 160 degrees F