Delicious, crunchy chicken flautas filled with shredded chicken, salsa, cheese, and more! They can be fried, air fried or even baked into a delicious and easy dinner or appetizer.
Flautas are a family favorite! If you love Mexican food, you'll love this recipe, along with our beef version.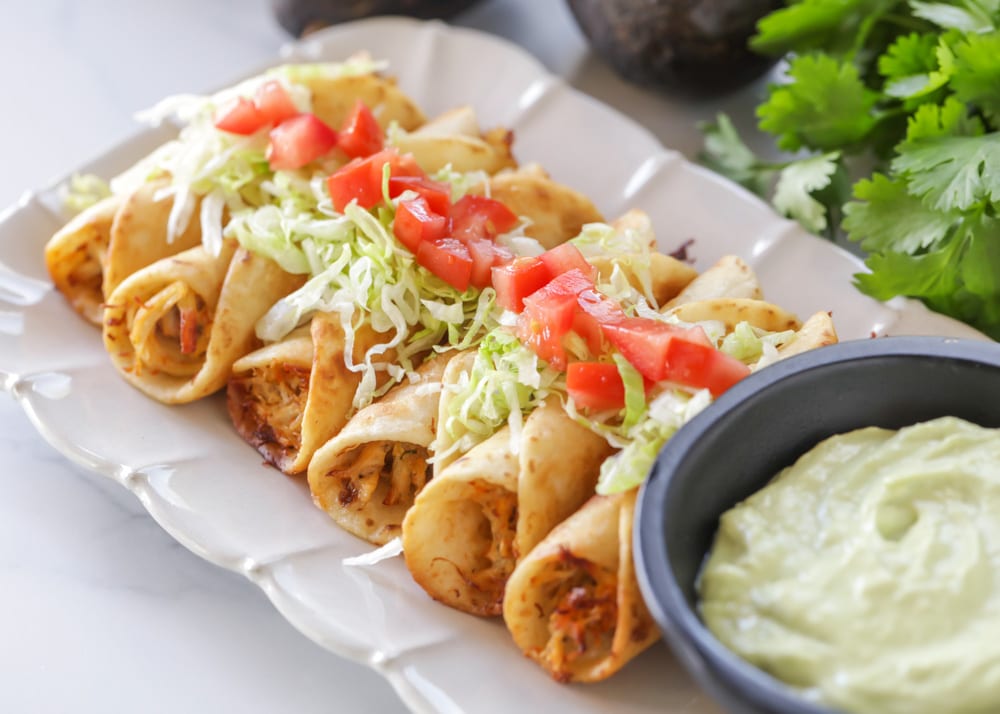 Flautas vs. Taquitos
What's the difference? I had to admit that even I wasn't 100% sure.
Come to find out, it means different things based on where you live. Usually, taquitos are rolled tacos (filled with meat, cheese and more) using corn tortillas.
Flautas can be the same thing, but many use flour tortillas instead. We have always made flautas with corn tortillas but decided to try them with flour tortillas and we still can't decide which we love more.
Today's chicken flautas were SO delicious (we also tried some using shredded beef)! The filling, the crunchy, fluffy exterior of the fried tortilla – SO SO good!
They will for sure be a regular on the dinner rotation, and make an appearance on our appetizer spreads as well.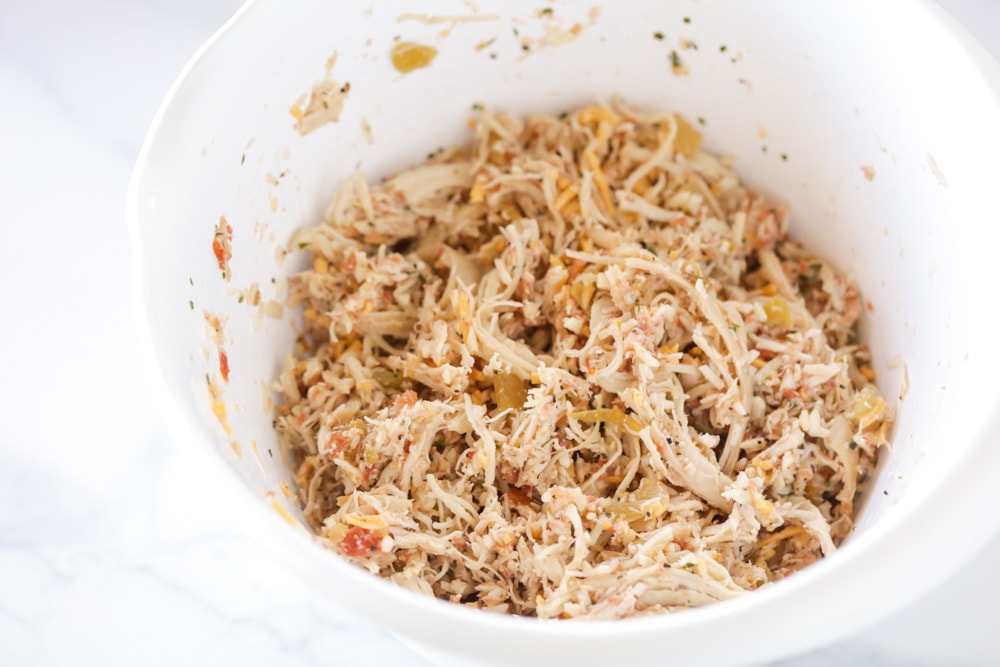 How to Make Chicken Flautas
FILLING. Stir together shredded chicken (or beef or even pork) with salsa, diced chiles, cheese (monterey jack, pepper jack, mexican blend, or cheddar), garlic salt and pepper.
OIL. Make sure you have vegetable oil heating up in a large pan or skillet on LOW-MEDIUM heat. You want it hot, but not so hot that it burns the tortillas the second it gets in the oil.
ASSEMBLE. Fill the flour tortillas with the chicken mixture along the middle of the tortilla and roll up, securing tightly with a toothpick.
FRY. Use tongs to add flautas to the oil and cook for a few minutes on each side (or until golden brown). Serve immediately with any of the toppings listed below.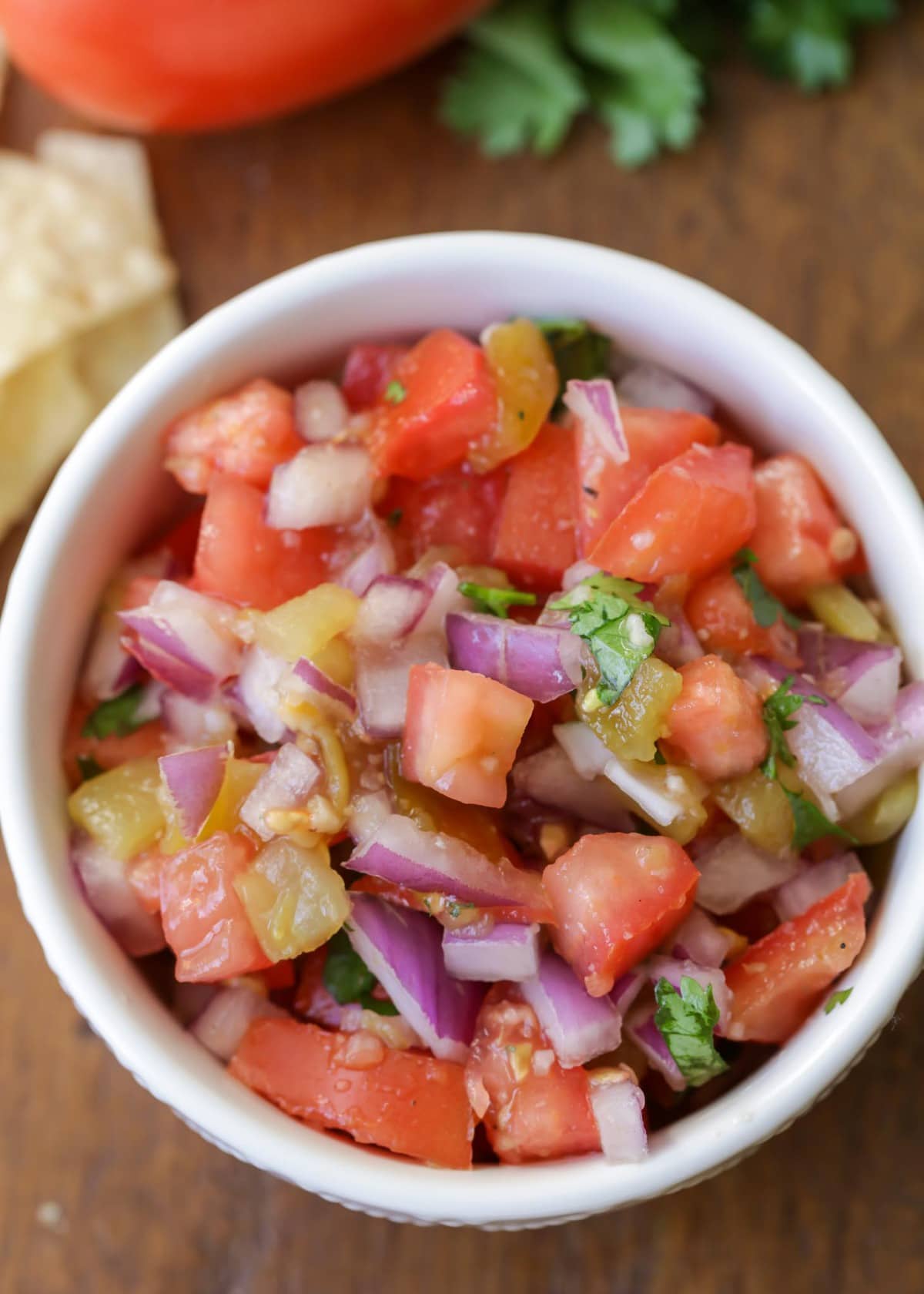 Toppings
Flautas are delicious all on their own, but if you want to dress them up I suggest using:
Mexican crema
Fresh lime juice

Shredded Lettuce, tomatoes, cilantro, green onion, sour cream

Shredded cheese – cheddar, Mexican blend, Colby Jack, etc.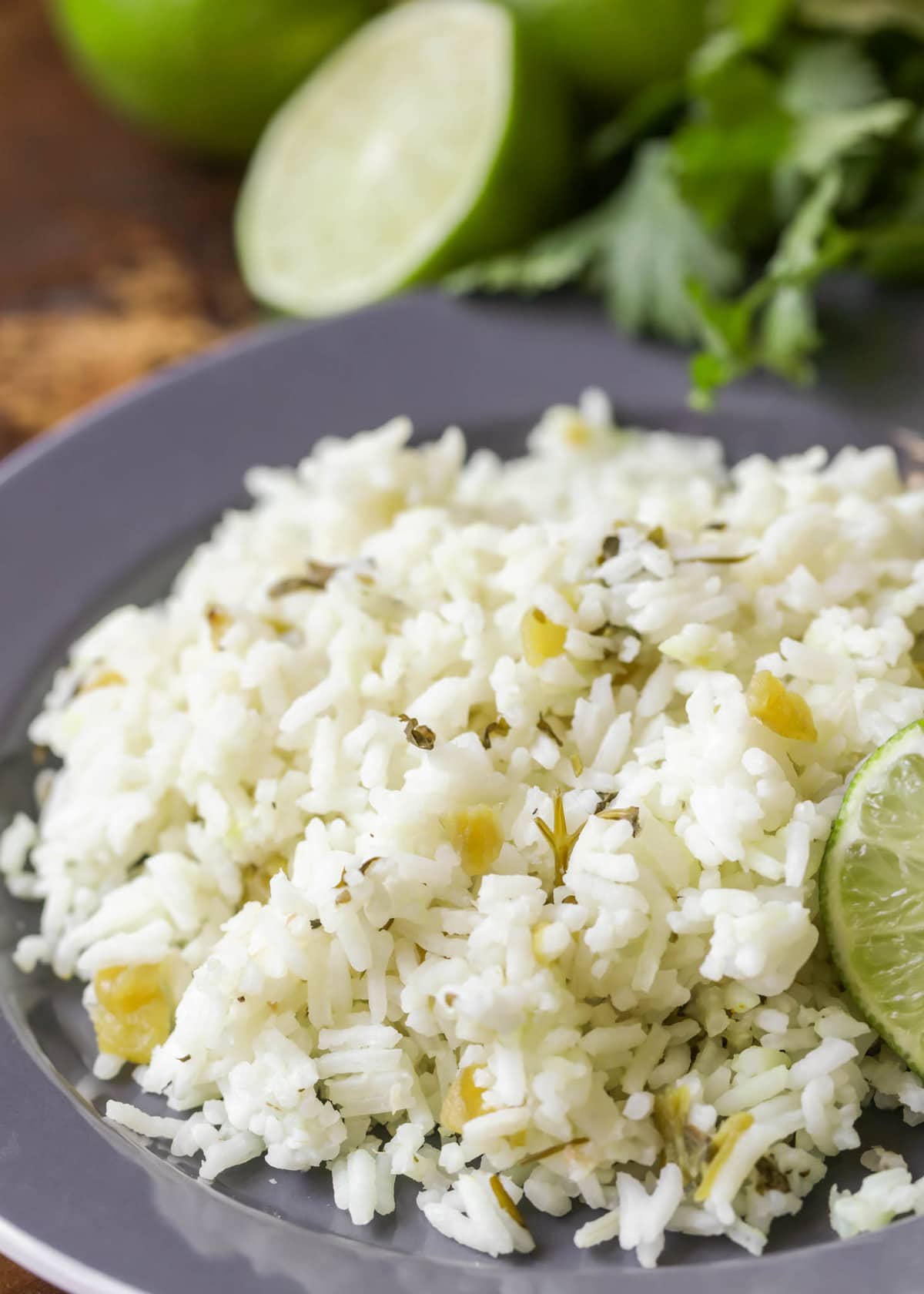 What to serve with CHICKEN flautas?
The options are endless, but here are a few ideas…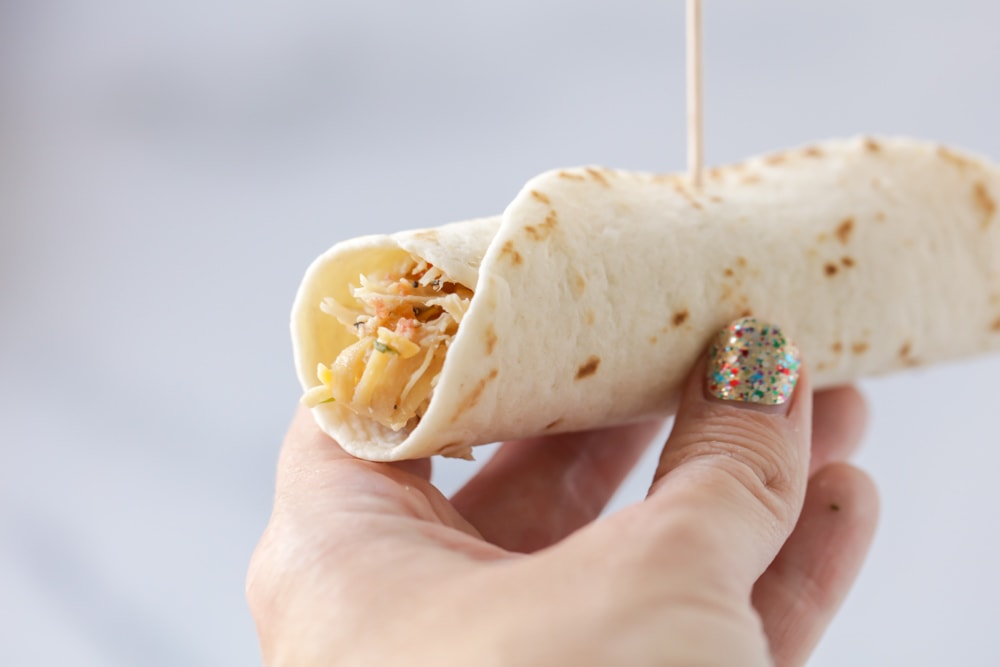 Alternative COOKING MethodS + TIPS
I love the crispness that pan frying brings, but if you want to save some calories you can bake to air fry.
BAKED:  Place the rolled flautas, seamed side down, in a lightly greased 9×13 baking dish or metal baking sheet. Bake at 350 for 20 minutes.
AIRFRYER: Spray the airfryer basket with cooking spray. Place seam side down, in the basket. Be sure they are not touching. Cook at 400°F for 6-7 minutes. Flip them halfway through. 
Mexican flautas are a pretty easy recipe to make. Even so, here are a couple tricks of the trade:
Keep shredded chicken in the freezer to make this an easy, quick meal (just defrost overnight in the fridge or on the counter for a few hours before making).

We also like using rotisserie chicken whenever we're in a pinch.
You can use either flour or corn tortillas. Just make sure they are fresh so they don't tear.

To keep corn tortillas from tearing while rolling, heat them up in the microwave for 20 seconds. Be sure to cover the tortillas with a damp paper towel before heating.

When frying the flautas place the tortilla with the seam side down. This will hold them closed and keep the filling inside.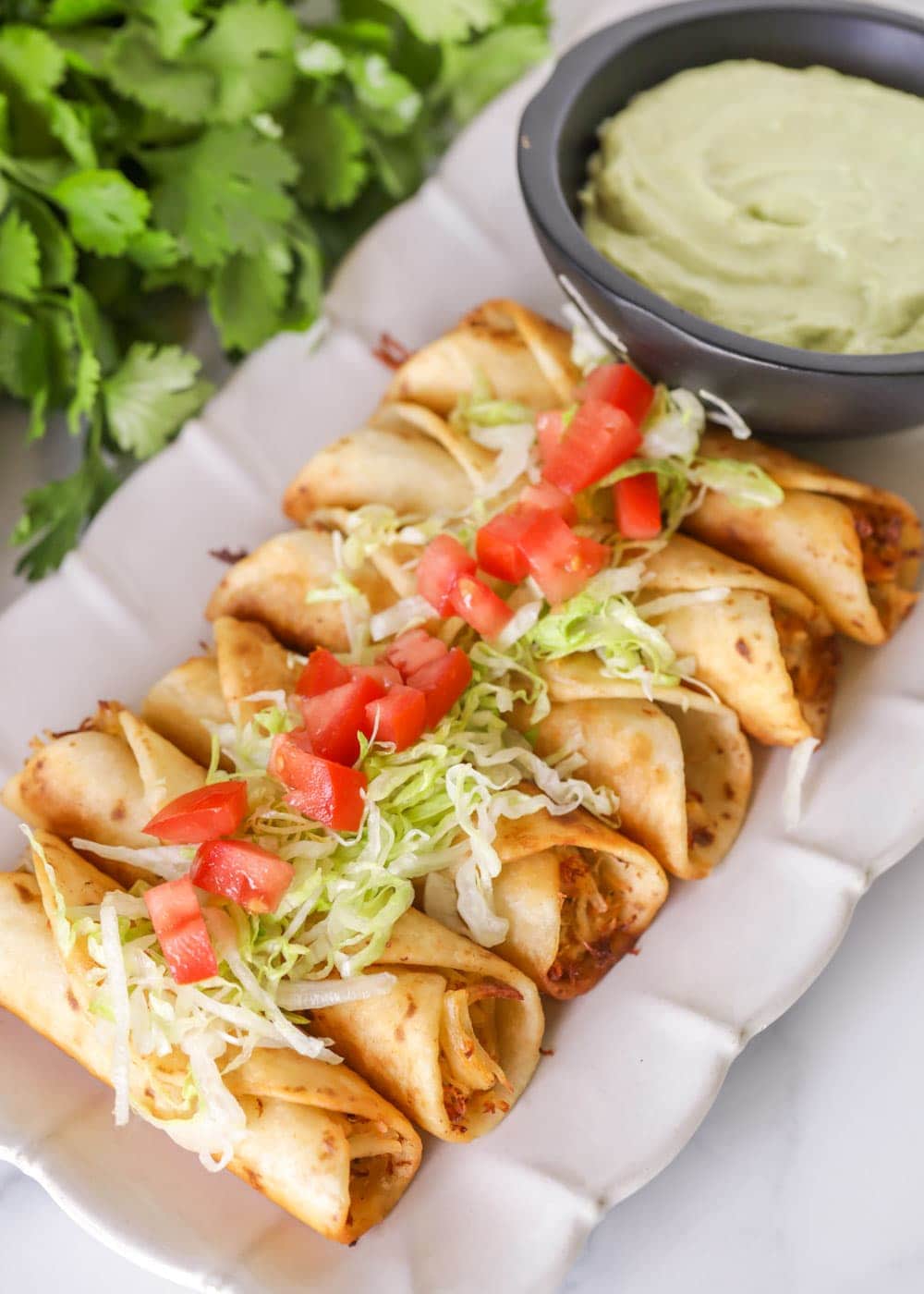 For even more Mexican dishes, check out:
Chicken Flautas Recipe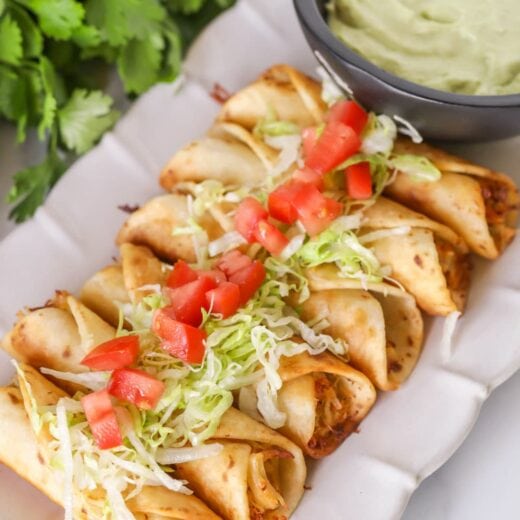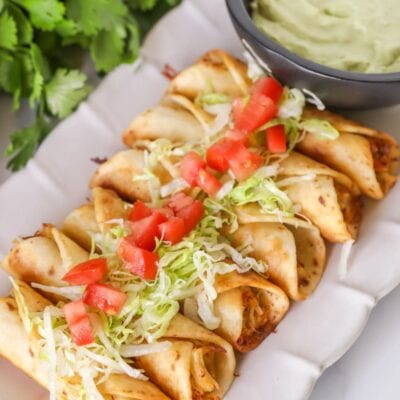 Delicious, crunchy chicken flautas filled with shredded chicken, salsa, cheese, and more! They can be fried, air fried or even baked into a delicious and easy dinner or appetizer.
Ingredients
vegetable or canola oil

for frying

3

cups

shredded cooked chicken

or shredded beef

1

cup

shredded Mexican blend cheese

½

cup

salsa

store-bought or homemade, page XXX

1

(4-ounce) can

diced chiles

garlic salt with parsley flakes

to taste

pepper

to taste

12

(6-inch)

flour tortillas (or corn tortillas)

salt

to taste
Toppings
shredded lettuce, chopped tomatoes, green salsa, guacamole, Cilantro Ranch dressing
Instructions
Preheat the oven to the warm setting or about 200 degrees F.

Fill a large saucepan with about ¾ inch oil. Heat over medium heat to 375 degrees F.

In a medium bowl, combine chicken, cheese, salsa, diced chiles, garlic salt and pepper.

Working with 4 tortillas at a time, spread a heaping spoonful of chicken filling along the middle of each tortilla. Roll the tortillas tightly around the filling and secure each one with a toothpick.

Using tongs, hold each flauta in hot oil until firm, then release to continue cooking. Cook until golden brown, about 2 minutes, then remove to a paper towel–lined plate and immediately season with salt.

Transfer flautas to a foil-lined baking sheet and keep warm in the oven while assembling and cooking the remaining tortillas. Serve warm with toppings.
Notes
Make Ahead: We do not suggest making any fried foods ahead of time, but you can make the filling in advance. Store in an airtight container in the refrigerator for up to 48 hours. Baking Directions: Place the rolled flautas seam side down in a lightly greased 9-x-13-inch baking dish or on a metal baking sheet. Spray with olive oil cooking spray and bake at 350 degrees F for 20 minutes.