This creamy Turkey Tetrazzini is a simple and flavorful pasta casserole dish. It's perfect for using leftover holiday turkey, but makes for a crowd favorite year round!
I don't think I'll ever get sick of baked pasta dishes! The whole family loves this turkey tetrazzini, as well as our classic version with chicken. But if you're looking for more casserole-style pastas, definitely try baked spaghetti, or our three cheese pasta bake!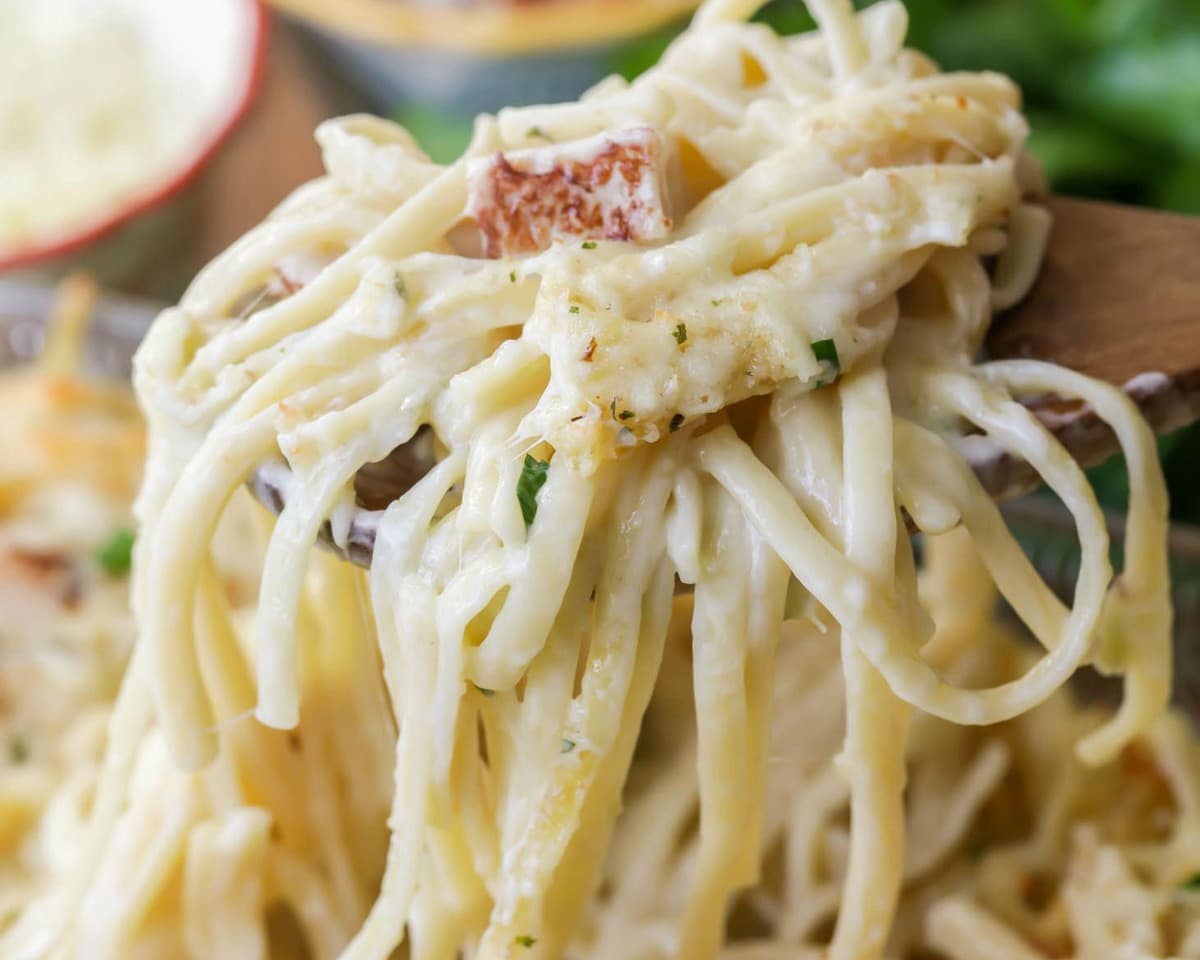 best way to use leftover turkey!
Thanksgiving is almost here and if you're anything like me, you're BEYOND excited to gather with friends and family and eat delicious food. We gather with the entire Luna gang for hanging out and feeding our faces, but there's always one problem. We make WAY too much food!!
One item we always have leftovers of is the turkey, so today I wanted to share a delicious and simple recipe for all that leftover meat—because let's be honest, you can only eat so many turkey sandwiches.
We have been long-time fans of Tetrazzini (mostly because it's SO easy), but we've always made it with chicken. I wanted to modify this classic recipe to use turkey, and I'm so glad I did. The result was amazing and the hubby declared it tasted better than our classic version.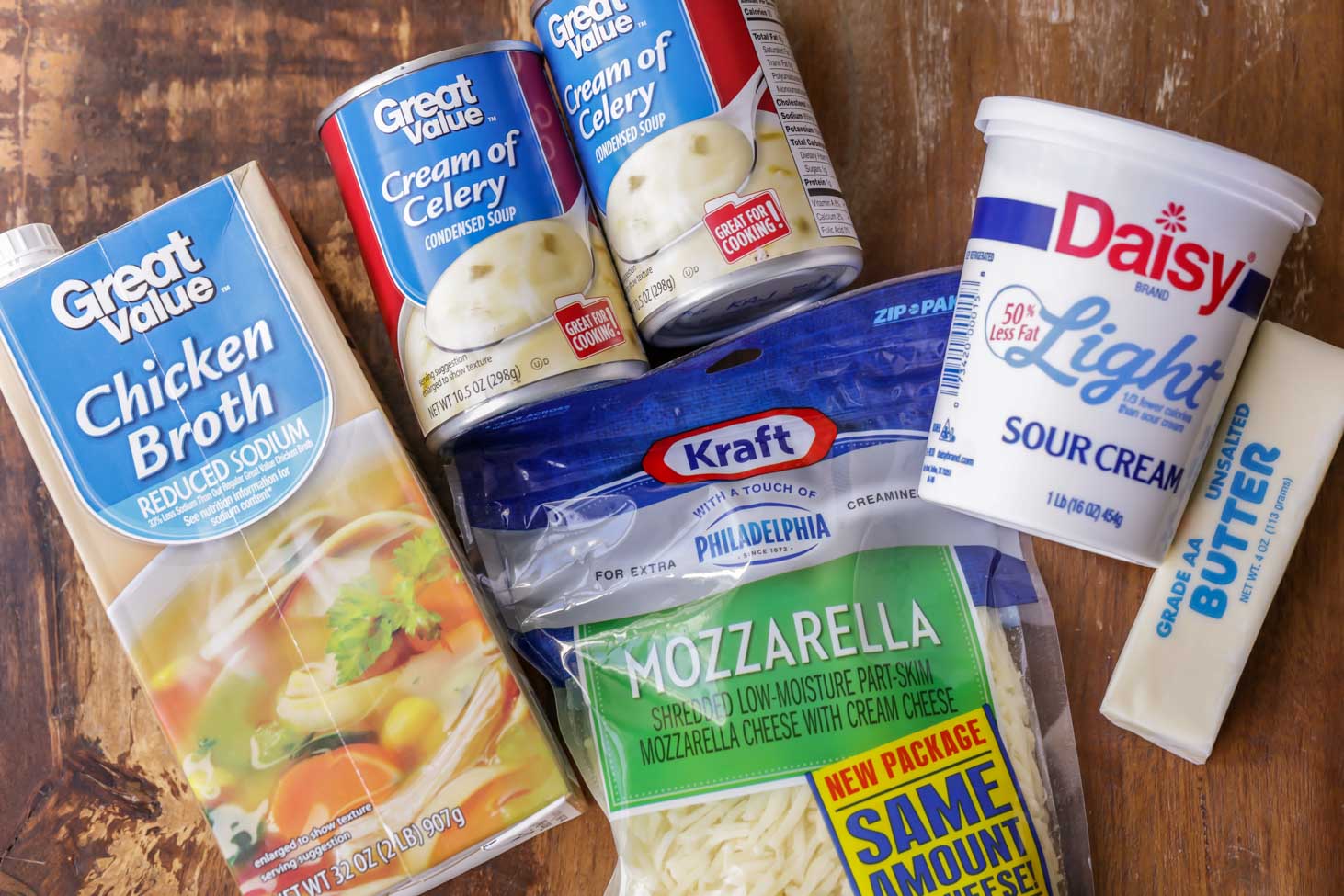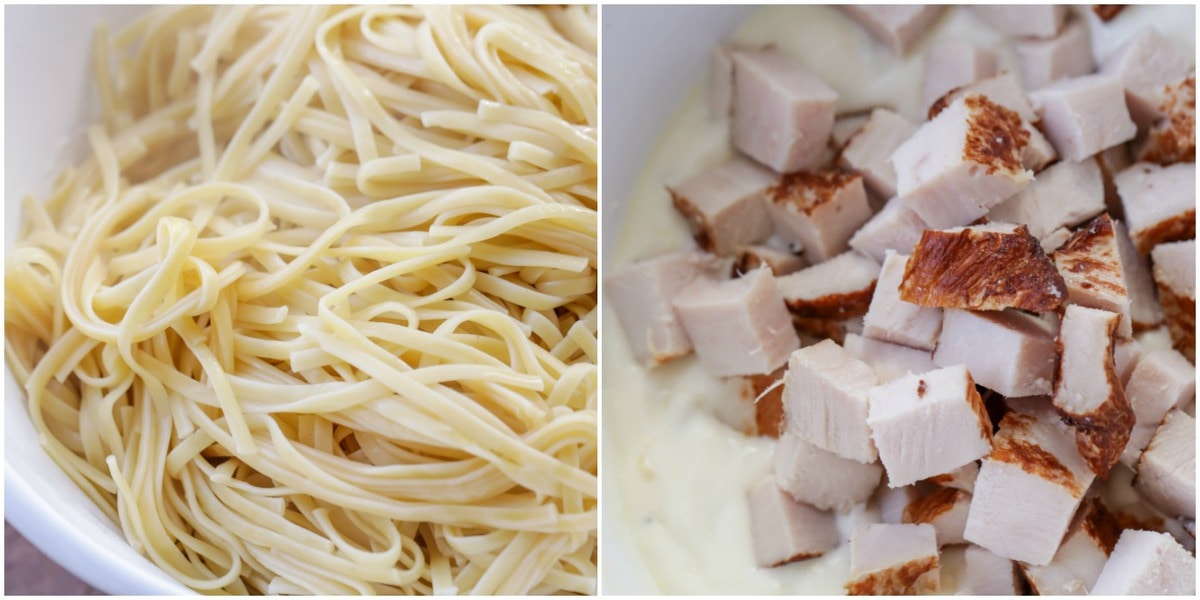 How to make Turkey Tetrazzini
This recipe really is so simple and doesn't take long to prep and make.
Cream mixture. I began by combining the butter, sour cream, cream of celery, chicken broth, salt and pepper in a medium bowl to create my cream mixture.
Combine. From there I added the turkey chunks and cooked linguine. Once this is all combined, I poured it into a greased casserole dish.
Top it off. From there, I topped the dish off with some grated Parmesan cheese, Mozzarella cheese as well as some bread crumbs. The cheeses and crumbs added so much flavor and create the perfect tetrazzini along with the creamy turkey linguine base.
Bake. Then I just baked it in the oven for 35-40 minutes until the cheese was nice and bubbly, and voila! The end product: a casserole dish full of creamy, wonderful comfort food.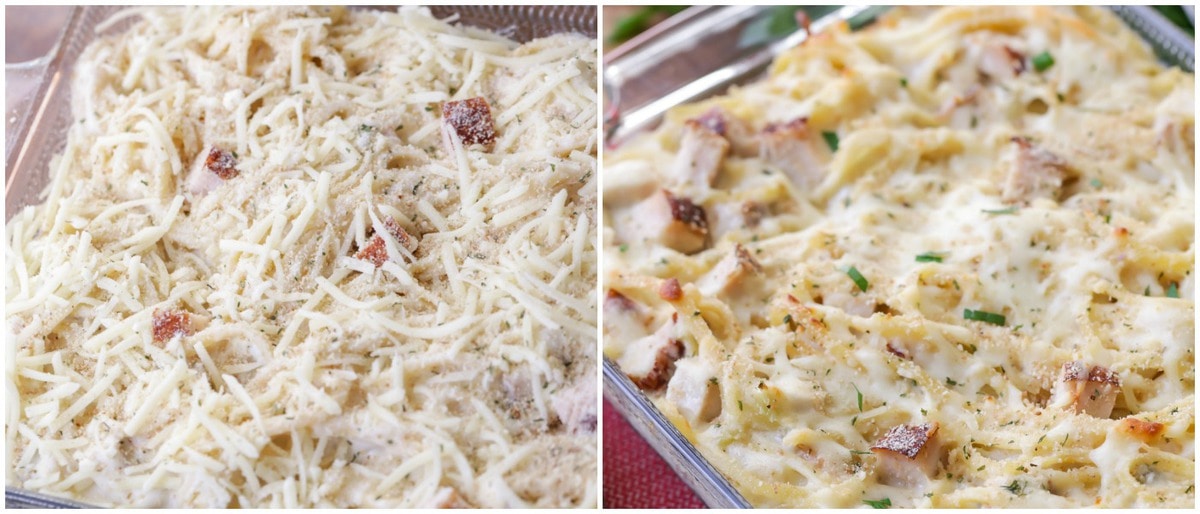 Easy Turkey Tetrazzini Tips + Tricks
I already mentioned how much my hubby loved this recipe, but even my picky-eating kids enjoyed it. It's impossible to go wrong with all the 'kid-friendly' ingredients. If you do want to add a few extra veggies, or switch out the type of noodles, here are some options to make it your own way:
Switch the linguine noodles for spaghetti or egg noodles. Still use 16 ounces of noodles, and follow the normal cooking instructions.
Add sautéed mushrooms before stirring in the noodles.
Add frozen peas when you combine the noodles and sauce mixture.
Use cream of mushroom soup instead of cream of celery.
Can turkey tetrazzini be frozen? Like most other cream-based casseroles, you can freeze tetrazzini after baking. Make sure it is completely cooled before covering it with heavy duty foil and putting it in the freezer. It will last in the freezer for up to 4 months. If you are planning to freeze the dish, cook noodles al dente.
Reheat. To reheat, take it out of the freezer and let it thaw in the fridge for 24 hours before you plan to bake it. Bake, uncovered, at 350° for 35 minutes or so, until there are bubbling edges and you can tell it is heated through.
If you didn't have time to thaw your tetrazzini casserole in the fridge, you can still bake it frozen. Make sure you leave it covered with tinfoil, and add an extra 45 minutes or so to the time. Uncover for the last 15 minutes of baking.
HOLIDAY TIP: Use leftover turkey in recipes by chopping it up, bagging it and freezing to use in this recipe for later!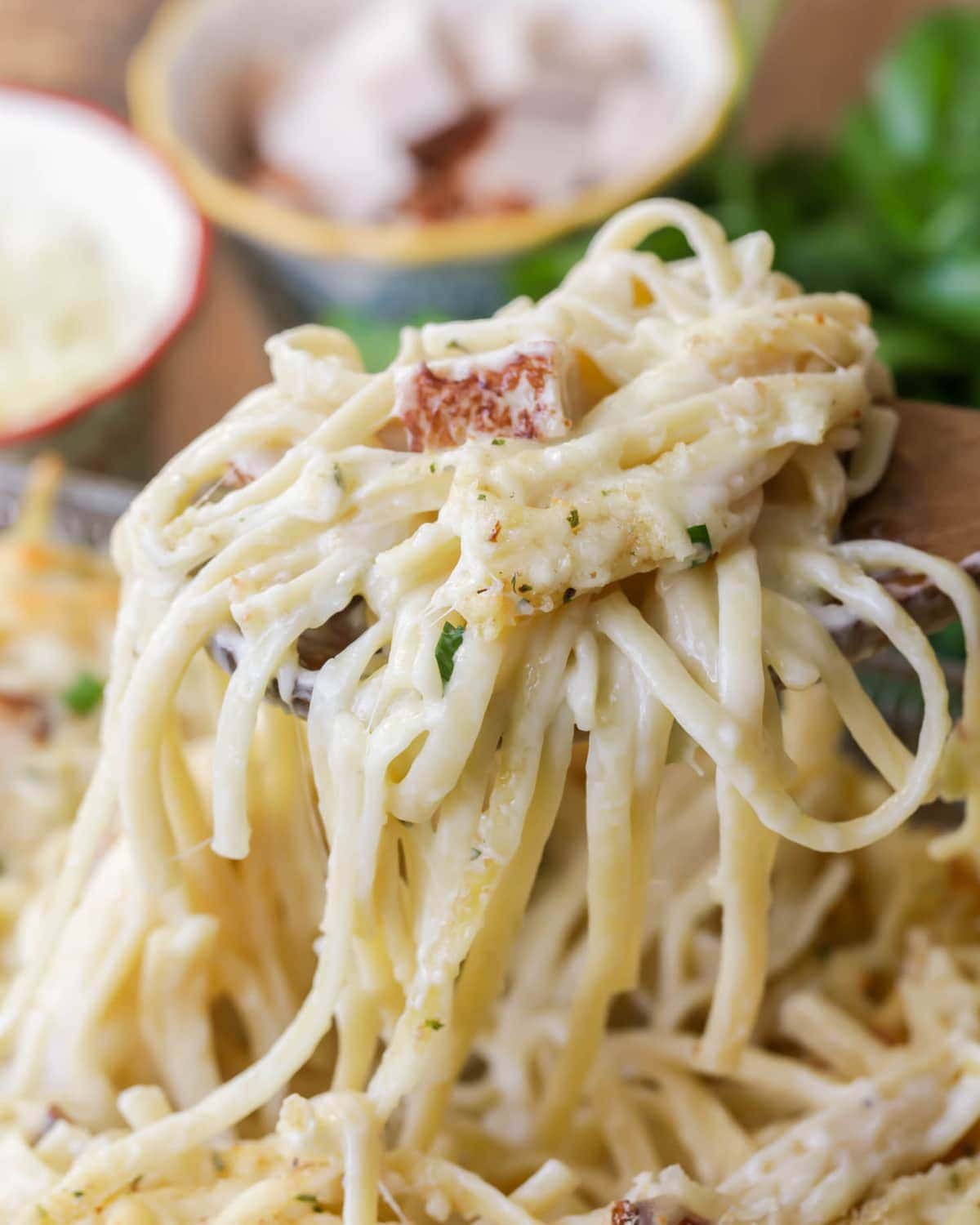 We have turkey for several holidays, so I'm excited to chop up leftover turkey, bag it and freeze it for future meals. It doesn't get better (or easier) than that! I hope you guys enjoy this recipe as much as we did. It really is so simple and so tasty. 🙂
what to serve with turkey tetrazzinI?
Here are some of our favorites…
For more leftover turkey recipes, check out:
Turkey Tetrazzini Recipe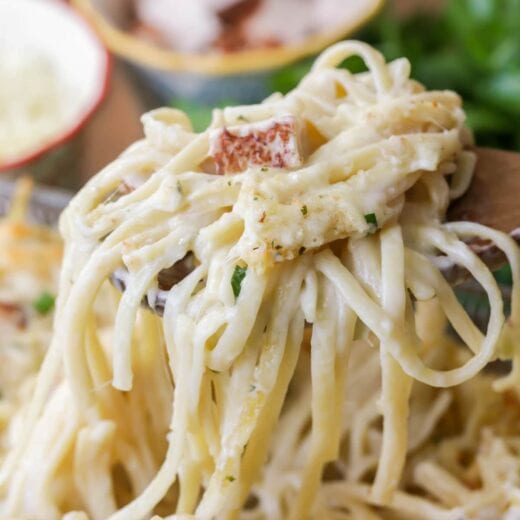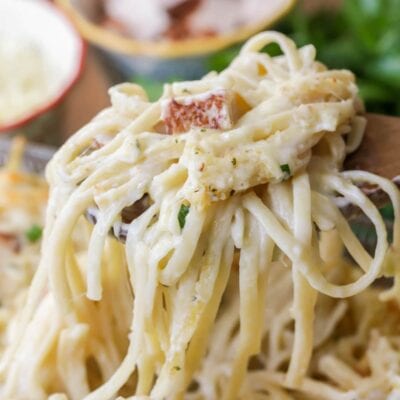 This creamy Turkey Tetrazzini is a simple and flavorful pasta casserole dish. It's perfect for using leftover holiday turkey, but makes for a crowd favorite year round!
Ingredients
16

oz

linguine, cooked

½

cup

butter, softened

2

10.5 oz. cans

cream of celery

1

cup

sour cream

1

tsp

garlic salt (with parsley flakes)

1/2

tsp

pepper

3/4

cup

chicken broth

3

cups

chopped cooked turkey

2

TB

grated Parmesan cheese

1 1/2

cups

shredded Mozzarella cheese

1/4

cup

bread crumbs
Instructions
Cook noodles according to box instructions. Set aside.

While noodles are cooking, combine butter, soup, sour cream, salt, pepper and chicken broth in a medium bowl. Mix well and add turkey chunks. Stir in noodles until well combined.

Spray a 9x13 pan and pour in noodle mixture. Sprinkle cheeses on top along with bread crumbs.

Bake for 35-40 minutes. ENJOY!