Hello, it's me, Lily – again!
Are you having an AWESOME summer so far?!
We are! Friday, we went to the beach and I made a shell necklace. I'll show you a picture of it next time. We only live 45 minutes from the beach so we like to go there. I also have a birthday party this Wednesday so I'm very excited!
Do you have fun things planned this week? I hope so!
Last week we went to my friends house and decided to make an awesome treat for them. That treat is the one we are talking about today. It's called Patriotic Cookie Cake. We made a Cookie Cake like we did for Halloween last year but made a red, white and blue version. Me and my brother went a little crazy adding all the candy so there's a lot on there, but it was really good!! My mom said we could only have a small piece because it was a lot of sugar. 😉
Here is what you need to make it too: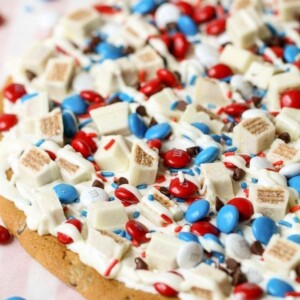 Patriotic Cookie Cake Recipe
Simple and Candy-Filled Patriotic Cookie Cake - a great treat for the Fourth! Refrigerated chocolate chip cookie dough, topped with vanilla frosting, m&m's, white chocolate kit kats, and melted vanilla candy coating!
Ingredients
16.5

oz

chocolate chip cookie dough

refrigerated roll

1

can

vanilla frosting

1

cup

Red, White and Blue M&Ms

(we found ours at Target)

1

cup

White Kit-Kats

chopped

sprinkles

vanilla candy coating
Instructions
Begin by preheating oven to temperature on cookie roll.

Line a large jelly roll pan with parchment paper.

Take out cookie dough from package and press together. Roll out until it's a circle that is about ¼ inch thick. Cook 14-16 minutes or until golden brown.

Let cookie cool.

Frost cookie with frosting.

Top with cut up Kit-Kats, M&Ms, and Sprinkles. Drizzle with vanilla candy coating if desired.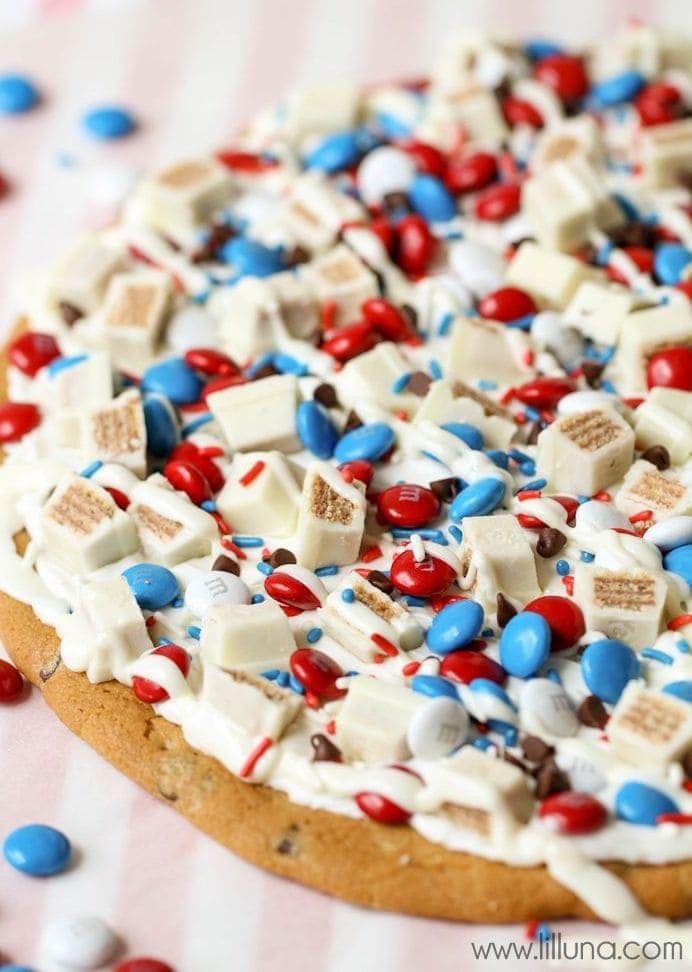 Cookie Cakes are SOO yummy!!
I hope you can come back again soon for more yummy treats from me.
Love, Lily
———————————————–
For more yummy Patriotic treats, check out:
ENJOY!!