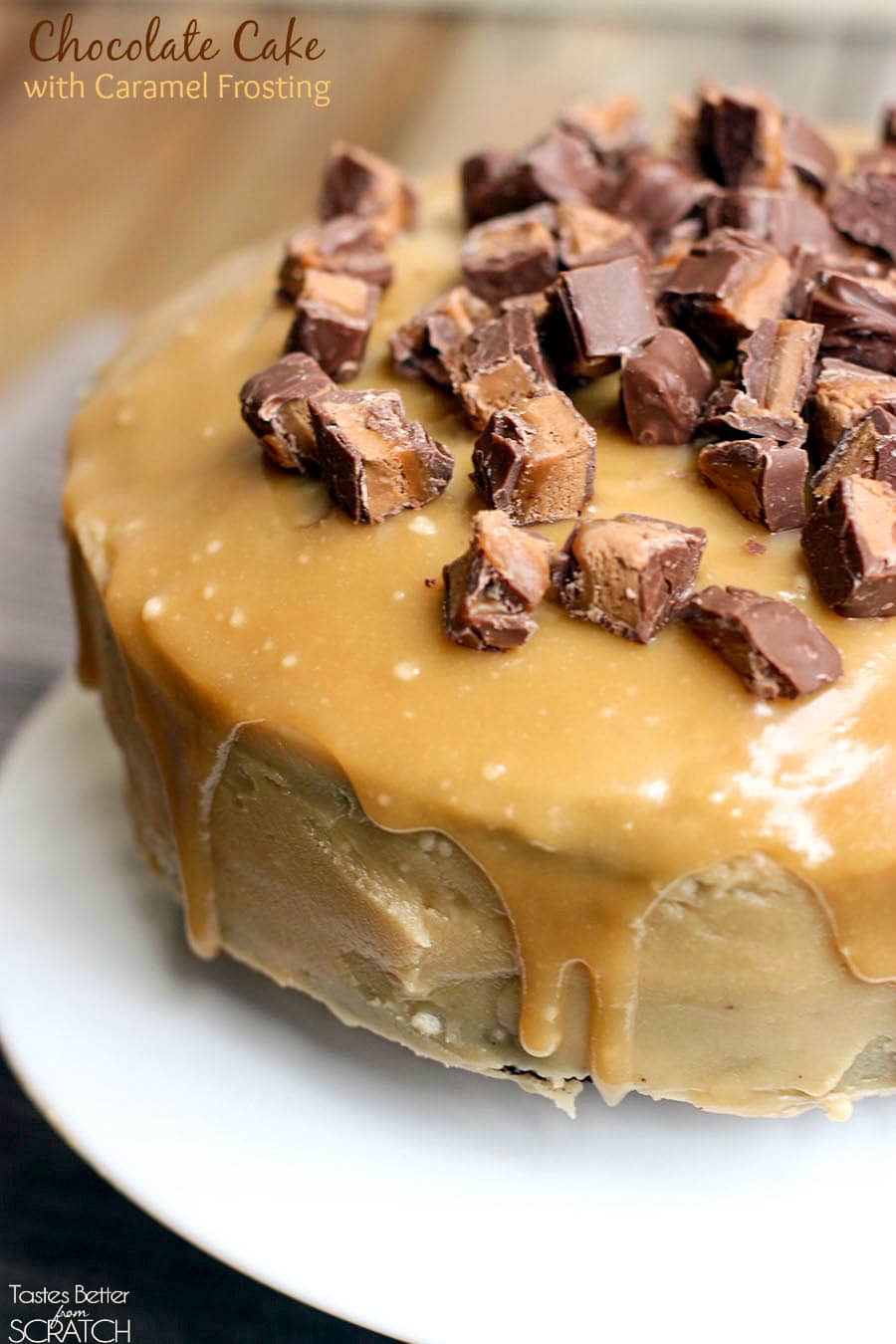 Hey readers! My name is Lauren and I'm so excited to be a new contributor here on Lil' Luna! I'm visiting from the food blog Tastes Better From Scratch, where I share all sorts of recipes–all homemade and delicious!
One thing I should share about myself is that I try to eat healthy meals during the day, because I'm a choco-holic at night! It's an addiction I've come to accept…and embrace, even. Because there's nothing wrong with having a tiny bit of chocolate in your life every day…right?! I tell my husband it's what makes me so sweet (cue his eye roll.)
MY OTHER RECIPES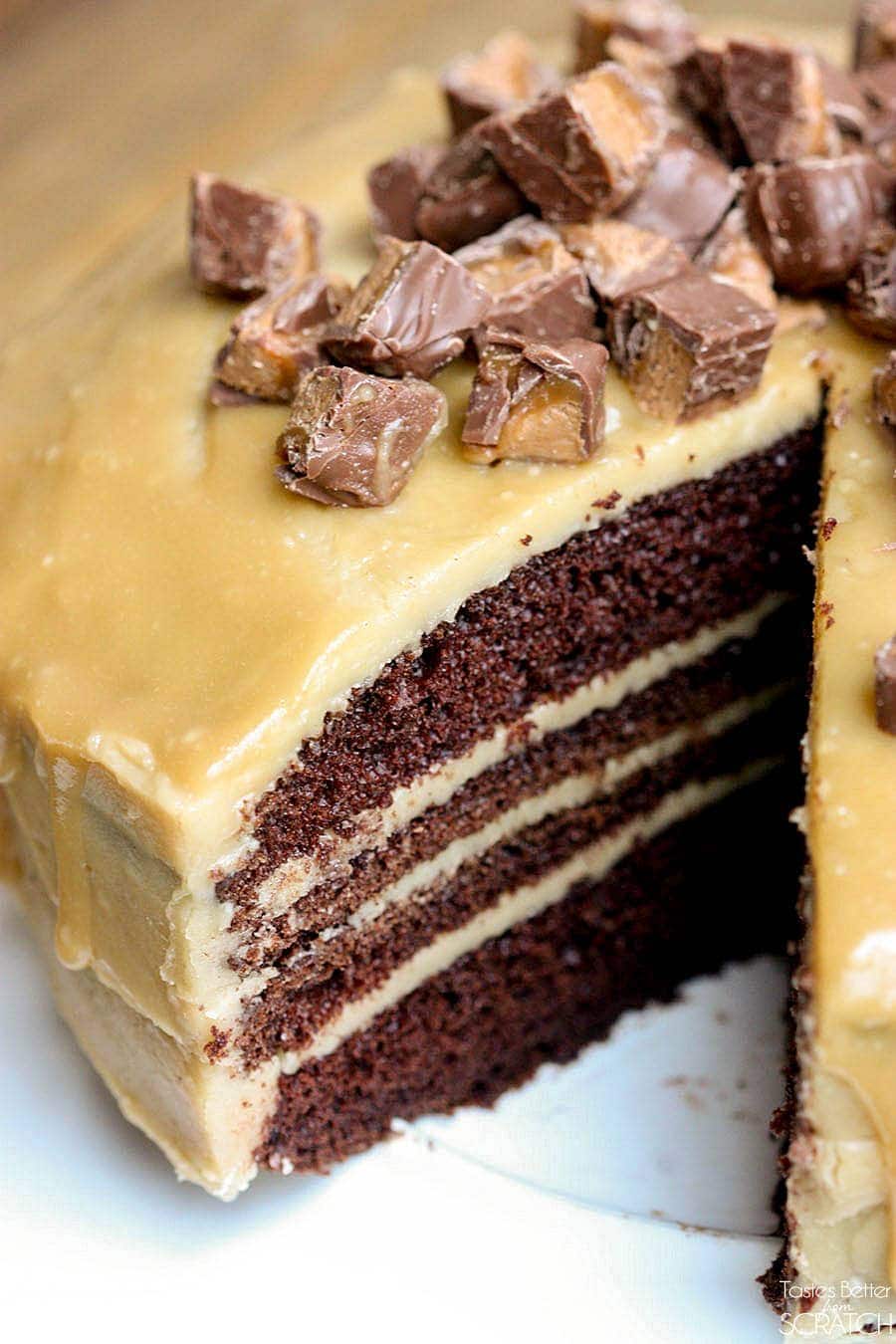 And when it comes to chocolate, what better recipe to share with you all than a crazy good homemade chocolate cake with an amazing caramel frosting?! And you can bet I even added some chopped Milky Ways on top, cuz that's just how I roll! 😉
Chocolate Cake with Caramel Frosting
Ingredients
2 cups sugar
1-3/4 cups all-purpose flour
¾ cup cocoa powder
1½ tsp baking powder
1½ tsp baking soda
1 teaspoon salt
2 eggs
1 cup milk
½ cup vegetable oil
2 tsp vanilla extract
1 cup boiling water
For the Caramel Frosting:
¾ cup butter (12 tablespoons)
1½ cups light brown sugar
⅓ cup milk
½ tsp vanilla
2½ - 3 cups powdered Sugar
1-2 Milky Way Candy Bars, chopped, for topping, if desired
Instructions
Heat oven to 350°F. Grease and flour two 9-inch round baking pans. (I also line the bottom of the pans with wax paper!)
Stir together sugar, flour, cocoa, baking powder, baking soda and salt in large bowl. Add eggs, milk, oil and vanilla and beat on medium speed for about 2 minutes. Stir in the boiling water (your batter will be very thin--that's OK!). Pour batter into cake pans.
Bake for about 30 to 35 minutes or until a toothpick inserted in the center comes out clean. Allow to cool in the pan for 10 minutes; remove cakes to wire racks. Cool completely.
Once cakes have cooled, use a sharp serrated knife to torte each 9'' cake--(cut each cake evenly in half, horizontally, so that you end up with four, thin, 9'' cake pieces!)
For the Caramel Frosting:
In a medium saucepan over medium heat add the butter and brown sugar. Stir well and heat to boiling. Boil stirring constantly, for 2 minutes.
Stir in the milk and bring back to a low boil. Immediately remove from heat. Stir in vanilla. Allow mixture to cool for several minutes. Add 1½ cups of powdered sugar and mix until smooth. At this point I like to set aside ½ cup of this runny frosting for drizzling on top of the cake after I've frosted it.
Then add about ½ cup additional powdered sugar and beat well with electric mixers until you've reached a good frosting consistency. Keep in mind that the frosting will harden even more once cooled, so don't add too much powdered sugar.
Place your first cake layer on your cake serving plate and spread a big spoonful of caramel frosting over it. Repeat with the remaining cake layers, adding a layer of caramel frosting between each layer of cake.
Gently pour remaining frosting on top of the cake and smooth it across the top and down the sides with a spatula until you've covered the cake completely. Drizzle reserved caramel frosting over the top. Top cake with chopped milky ways or other candy, if desired.
I hope you'll visit Tastes Better From Scratch, or follow me on PINTEREST, INSTAGRAM, or FACEBOOK to keep updated on more yummy homemade recipes!
And if this cake catches your fancy you won't want to miss some of my other favorite sweets like:
Chocolate Cake with Chocolate Mousse Filling
——————————–
Thanks, Lauren!! This Chocolate Cake with Caramel Frosting looks amazing, especially with all those Milky Ways on top!! YUM!!
For more great recipes from Lauren, head to Tastes Better from Scratch.
For more delicious recipes from her on Lil Luna check out:
No Bake Peanut Butter Pretzel Bars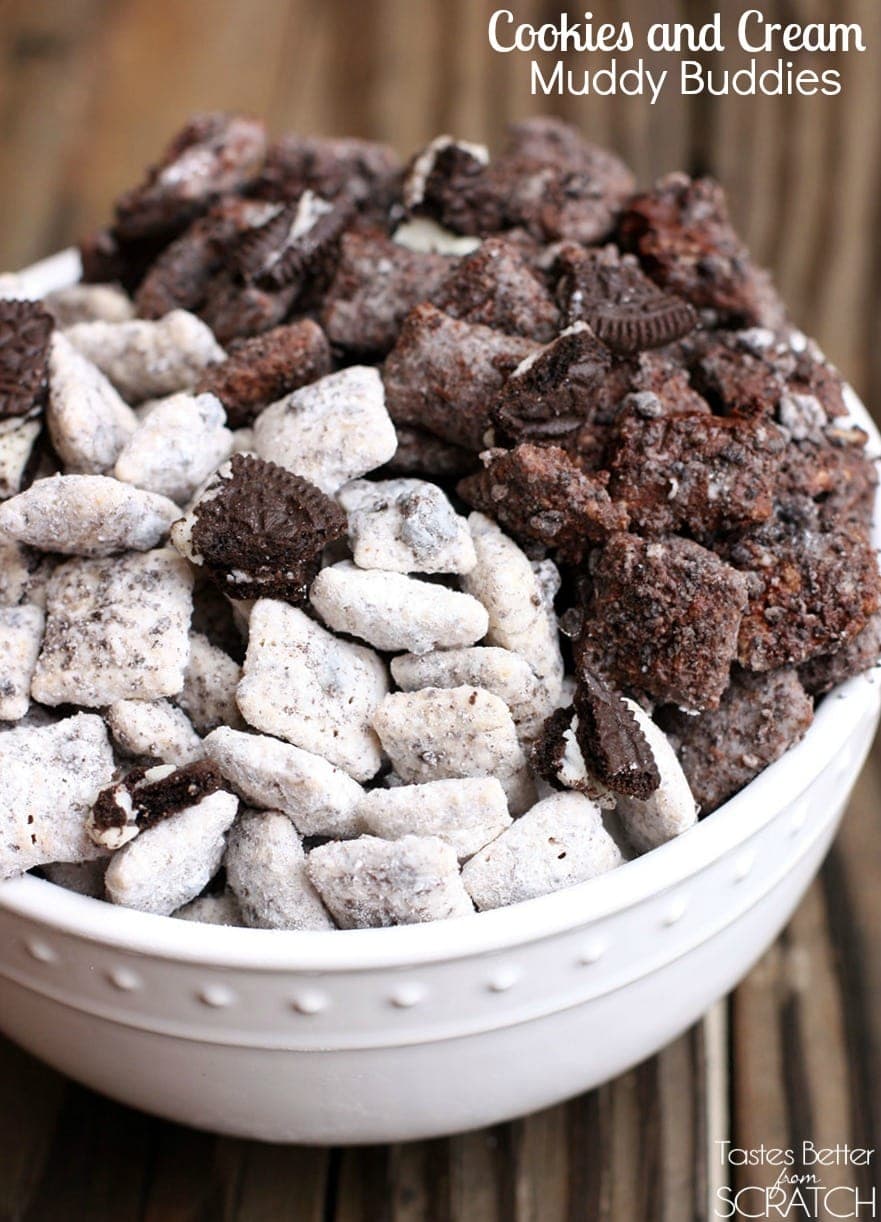 I think I need cake now!!
For more great dessert recipes go HERE.
For all recipes go HERE.
And get weekly emails with monthly freebies by signing up for the Lil' Luna newsletter. 🙂
For even more great ideas follow me on Facebook – Pinterest – Instagram – Twitter – Periscope.
ENJOY!