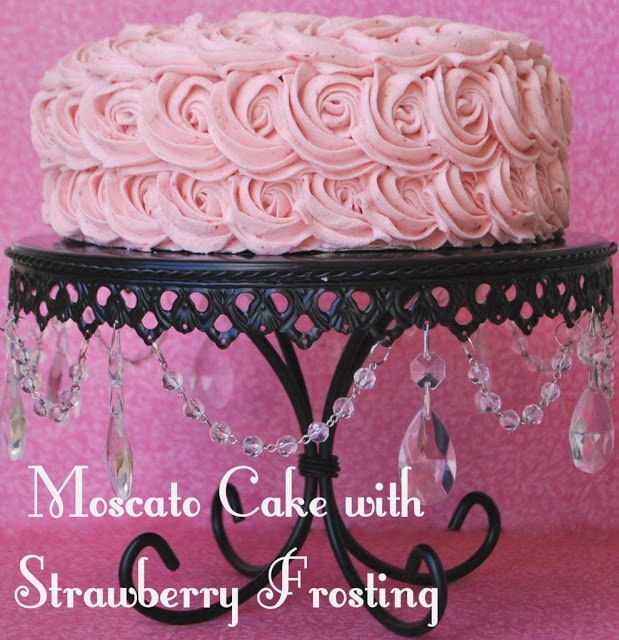 My name is Dina Crowell and I am the owner of Buttercream Bakehouse.  We are a custom dessert company that has taken the blogosphere by storm.  We are happy to share our recipes that we use in the bakehouse everyday and lend inspiration to you for all your party decorating and baking needs.   My blogroll is pretty fantastic and Lil Luna is definitely rolling with me.   I am happy to guest post today because I believe that sharing is caring and you just can't enough of a great recipe, craft and DIY blog.
Today I had my mind set on recreating the champagne cake I made for New Year's Eve from my previous blog post. It was moist, yummy and made from scratch.  I was in heaven and knew this recipe was a keeper.  But with Valentines Day right around the corner, I wanted to give this post a romantic flare.  I didn't want to add fondant hearts and red food coloring to just any cake and call it romantic.  I wanted something elegant, grownup and indulging.  I was onto something here but couldn't quite decide on just the right recipe. Then a few days before my post was due, my wonderful neighbor came over with a belated Christmas gift.  A glorious bottle of my favorite bubbly, Moscato.  The best stuff on the planet.  But this was not just any Moscato.  It was even better (if that's possible).  It was Pink Moscato.  The perfect romantic drink.  I never knew it existed but I was intrigued and just like any baker I immediately thought of what it would taste like in dessert form. Cake specifically.  The Champagne cake was to die for, so I thought adding the Pink Moscato in place of the Champagne would create a masterpiece.  Boy was I right!  The cake turned out moist with hint of Moscato and it wasn't overly sweet.  It was perfect.  I was ready to dig in but first I needed to top it with something spectacular.  My favorite way to drink any Moscato is to plop a big, juicy Strawberry at the bottom of my glass, then pour the bubbly right over it.  So, I knew pairing this cake with fresh Strawberry frosting was the perfect marriage.  To make this cake extra romantic, I decorated it with large rosettes.   The perfect dessert for Valentines Day and the perfect fit for Lil Luna too.  Sweet, to die for and a keeper,  just like the blog.  Pop on over and take a peak at Lil Luna.  But don't forget to try this recipe first.  It's that GOOD!!!
If you want to achieve the look of this cake, I Am Baker gives a great video tutorial on decorating a rose cake.  In my opinion it's the easiest and fastest way to decorate a cake that looks pretty too.
MY OTHER RECIPES

Before you begin, wash and dry about a cup and a half of strawberries.  If you can't find them in season in your area, you can use frozen strawberries.  Just bring them to room temp ( nuke them in the microwave for faster results, just make sure they are cooled before adding to frosting) and puree them into a smooth sauce using a food processor or blender.  This will go into your frosting that you will prepare while your cake is baking.  This is what turns it a pretty pink.  No yucky artificial dyes here…just pure indulgence.
Next, take your glorious Moscato and pour it in a glass measuring cup.  Let the bubbles settle while you prepare the baking pans and the rest of your cake batter.
Note: You can use any brand Moscato and it doesn't have to be pink.  It makes no difference in taste or appearance in my opinion.
Beat your butter and sugar in a kitchen Aid mixing bowl until light and fluffy.  About five minutes.  While that is mixing you can prepare the rest of your ingredients.
Sift your dry ingredients in a medium bowl and set aside.  In a separate small bowl, mix your egg whites and vanilla.  Now that all of your ingredients are prepared and measured out, you are ready to mix your batter following the directions below.
Following the method of baking exactly will result in a moist and delicious cake.
Leave a comment if you LOVE Moscato as much as I do.
Shout it out to the world if you LOVE Moscato Cake as much as I do!  Careful. It's hard to have just one slice.
Moscato Cake with Strawberry Frosting
Ingredients for cake:
2 cups cake flour
1 teaspoon baking powder
1/2 teaspoon baking soda
1/2 teaspoon salt
4 egg whites
1 teaspoon vanilla
1/2 cup (1 stick unsalted butter)
1/2 cup sugar
1 1/3 cup Pink Moscato (or regular Moscato)
Prepare two 8 inch round pans by spraying with Pam baking spray
and preheat oven to 350 F
Directions:
1. Sift the dry ingredients in a medium bowl. Set aside
2. In a small bowl mix the egg whites and vanilla
3. Cream the butter and sugar on medium speed until light and fluffy ( about 5 minutes).  Be sure to scrap down the bowl.
4. Add the egg whites and vanilla mixture gradually to the butter and sugar. Scrap down the bowl and mix just until combined.
5. Alternately add the dry ingredients and the Moscato to the butter/sugar/egg mixture, starting and ending with the flour mixture. scrap down bowl after each addition and only mix until combined. DO NOT OVER BEAT.  Beating too much after the flour is added will result in a dense and dry cake.  Your goal here is to handle the batter as little as possible.
6. Divide batter into each prepared baking pan and bake for 24 minutes or until cake is slightly golden and center is baked.
Test if your cake is fully baked by placing a toothpick in the center and pulling it out. If it comes out clean, your cake is done.
If the sides have already pulled away from the pan, your cake is over-baked.
Keep an eye on it the last few minutes of baking to test it.
You may have to rotate your pans midway through baking if your oven heats unevenly.
Strawberry Frosting:
4 sticks of unsalted butter
1 bag of 10 X Confectioners Sugar ( you will not use the entire bag)
2 teaspoons vanilla
a pinch of salt
1 1/2 cups of strawberry puree
2-4 tablespoons of milk
Directions:
Beat butter until light and fluffy (about 10 minutes)
Add sugar 1 cup at time starting off on low speed and working your way up to high speed.  Scrape down bowl after each addition of sugar.  Aerate the sugar by leaving it on high speed to whip for about a minute after each addition of sugar.  You will need to leave about a cup or so left in the bag of sugar.  Using the entire bag will make your frosting too sweet.
Add Vanilla and a pinch of salt.  Scrape down bowl and beat until combined.  Stir in strawberry puree and mix with paddle attachment until thoroughly combined.  Add milk and stir.  If desired consistency has not been reached, add more milk or sugar depending on the results your desire.  If you are decorating your cake with the rosettes you will need a medium to stiff consistency.
And for some more yummy recipes, here are some recent blog posts on Buttercream Bakehouse Blog
Come on over and say hi!!
—————————————————-
Thanks Dina!
Alright, my friends, this recipe looks delish!!
How perfect would it be for Valentines?! Just need to master those awesome Frosting Roses.
Be sure to go on over to
Dina's site
and check it out for more yummy treats. 🙂
For more delicious cakes check out: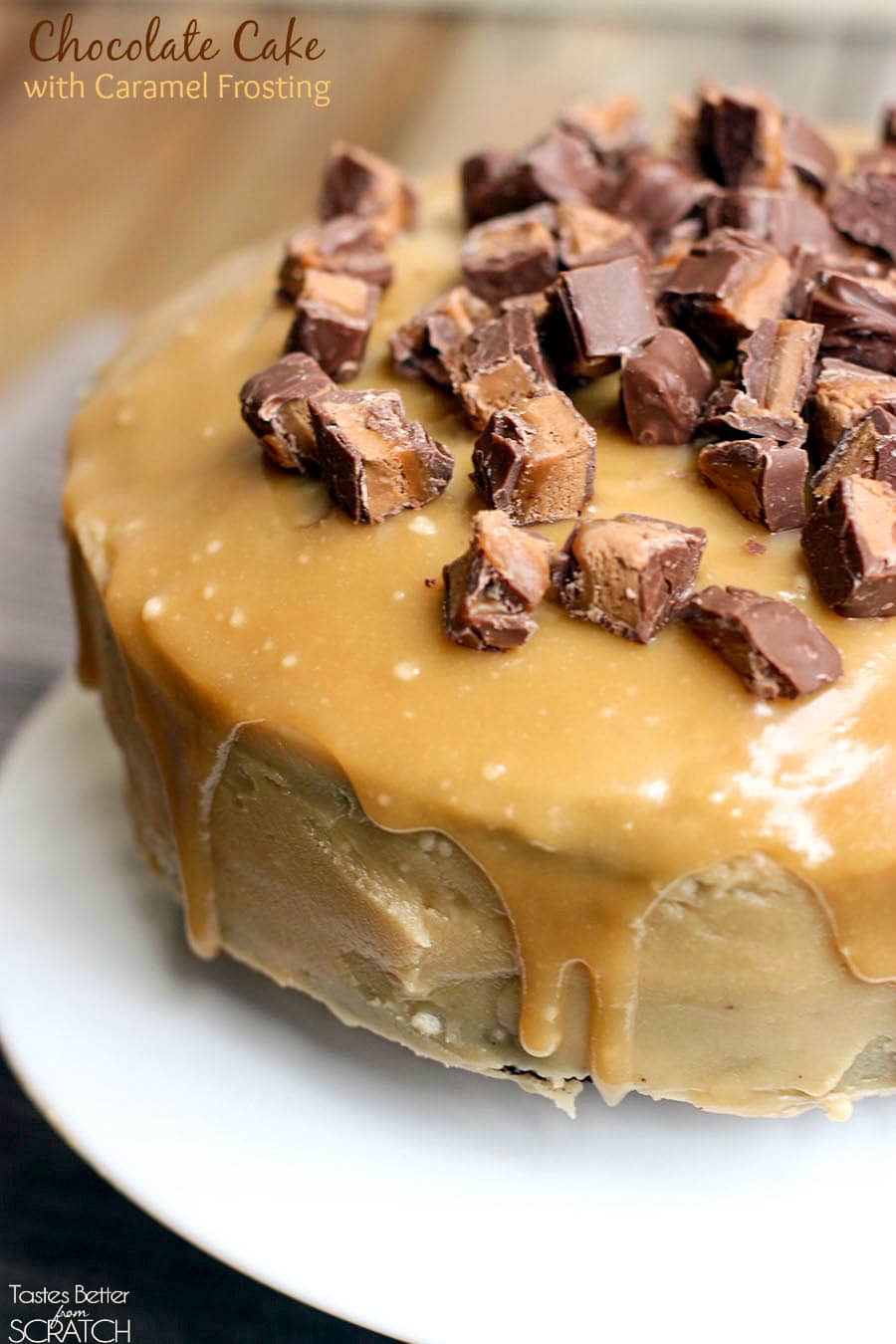 ENJOY!