Save yourself some time, money and stress by using this FREE Meal Plan that is full of amazing recipes. Each plan includes 5 dinner ideas, 2 side dishes, 1 dessert and a shopping list making meal planning easier than ever!!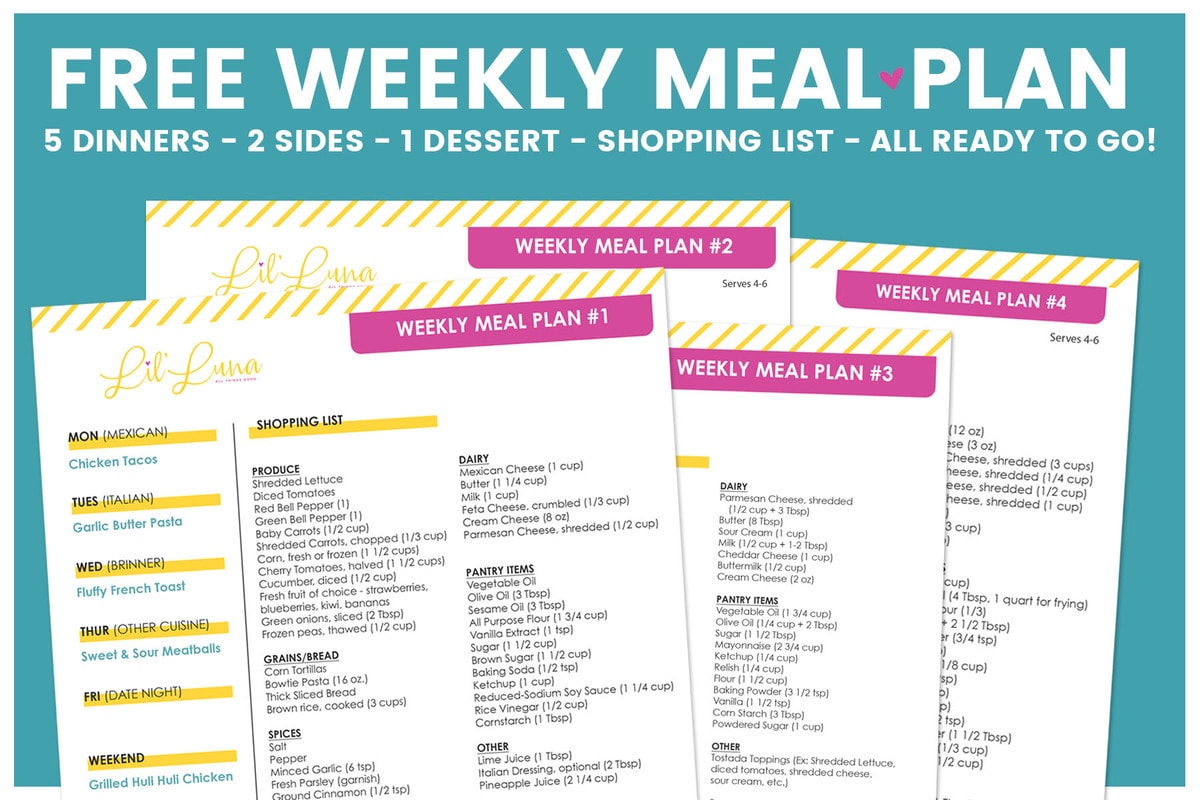 WEEKLY MEAL PLAN #101
Each week, I share with you a FREE meal plan that consists of 5 dinner ideas (Monday-Thursday plus one Weekend meal), 2 side dishes, and 1 dessert!
Included is a grocery list with EVERY ingredient you need for all the items on the meal plan.
This is meant to help simplify menu planning, shopping, and cooking so you can more easily enjoy meals with your family throughout the week!
TIP OF THE WEEK
We've got steak on this menu this week for Father's Day!
Here are some of our best grilling tips:
Start with a clean grill and add a little oil to the grate before heating.
Allow the steaks to come to room temperature before putting them on the grill.
Only flip the steak once.
Let the meat rest after taking it off the grill. The steak will continue to cook a bit and the juices will distribute.
Find more grilling tips and recipes HERE.
BENEFITS OF MEAL PLANNING
There's nothing worse than the dread every time a family members asks, "What's for dinner??" And your answer is "I have no clue." Having a meal plan for the week eliminates that completely, which is the number one benefit in my book!
Besides having a game plan in place, there are several other benefits of meal planning, including:
Cost: When you have a plan set in place, and a specific list of groceries, you eliminate cost wasted on impulse items or produce that never gets used.
Decrease Waste: No wasted money, and no wasted food! Having a set grocery list will help to avoid both of those issues.
Variety: Our meal plans specifically include a lot of variety, with Mexican, Italian, Breakfast for Dinner, and so much more! You can expose your family's palates to all kinds of meals.
No Indecision: Did you know there's such thing as "indecision fatigue"? The idea is that when you can't make a decision on something (like what to make for dinner) it actually makes you mentally fatigued. When dinners are already planned out, though, you avoid indecision completely!
Health: When you plan for/anticipate making well-rounded meals, you're much more likely to actually make them rather than defaulting to convenient boxed meals, or unhealthy fast food!
As you can see, there are so many benefits to meal planning!
And if you want to create your own menu, be sure to check out all our recipes and visit our recipe pages, including: Main Dish, Side Dishes, Desserts, Appetizers and Breakfast!
---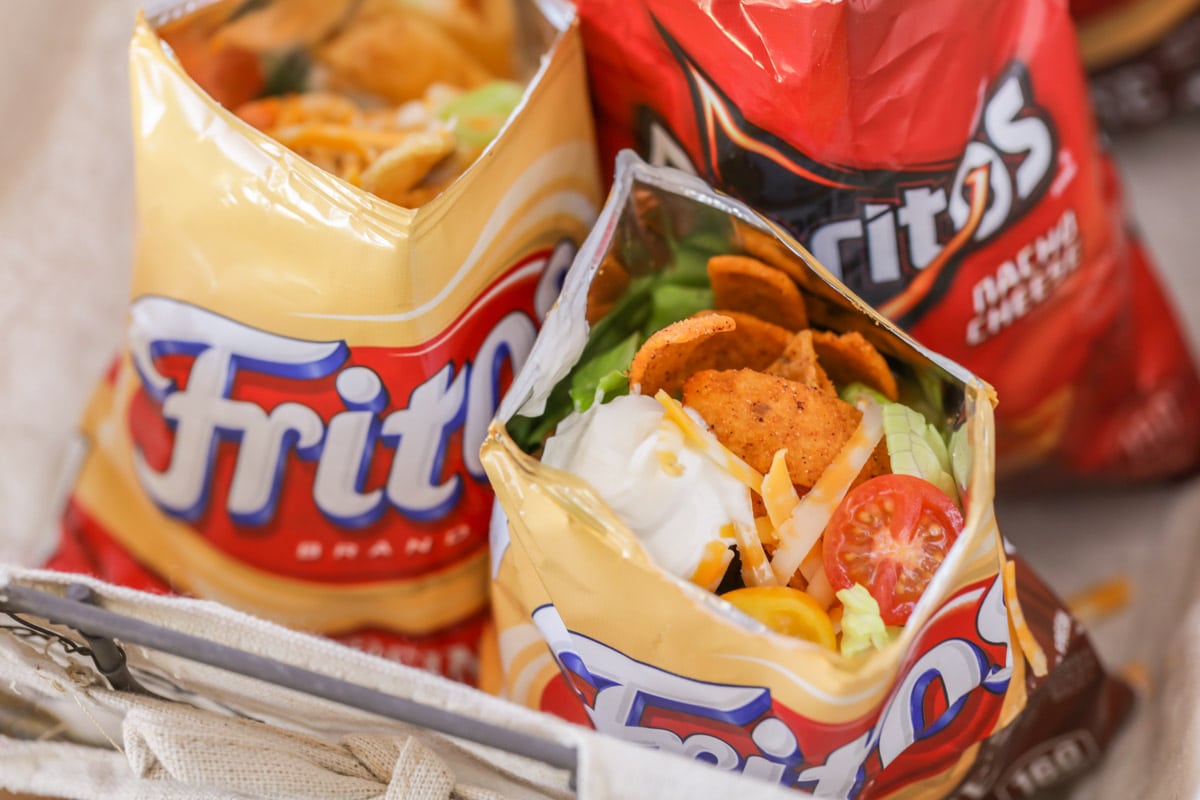 Walking tacos are an easy grab and go meal that is full of flavor! They are no mess, easy to make, and perfect for large gatherings!!
We always make sure we have Guacamole and Pico de Gallo when we have walking tacos. We usually cook up some Crock Pot Pinto Beans or Refried Beans to have with them too.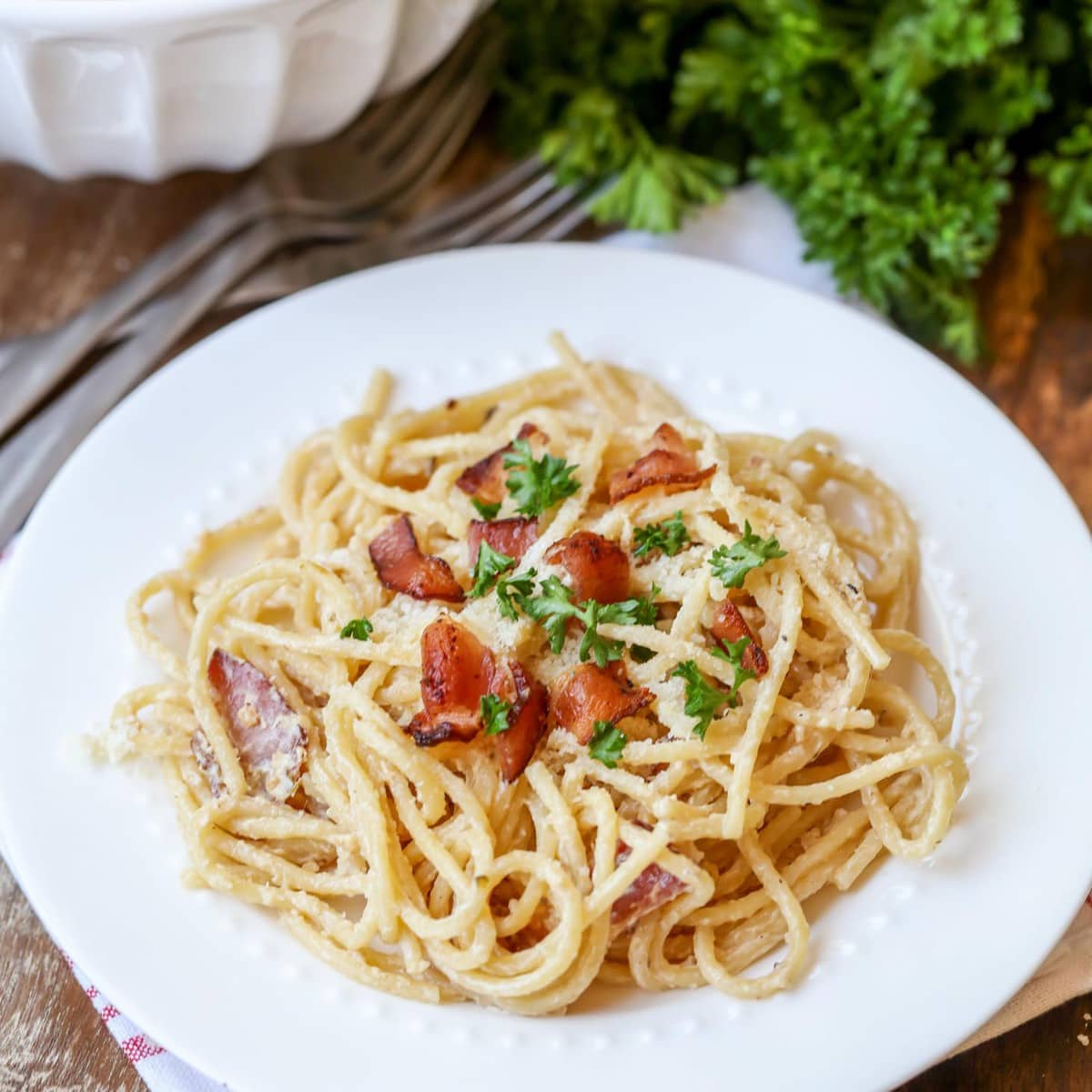 A creamy, delicious and flavorful pasta dish filled with cream cheese, parmesan, garlic and bacon. For only having a few ingredients, this pasta carbonara has big flavor!
This hearty pasta is even better when served with a green salad with Creamy Pesto Dressing and French Bread. Everyone's going to want seconds!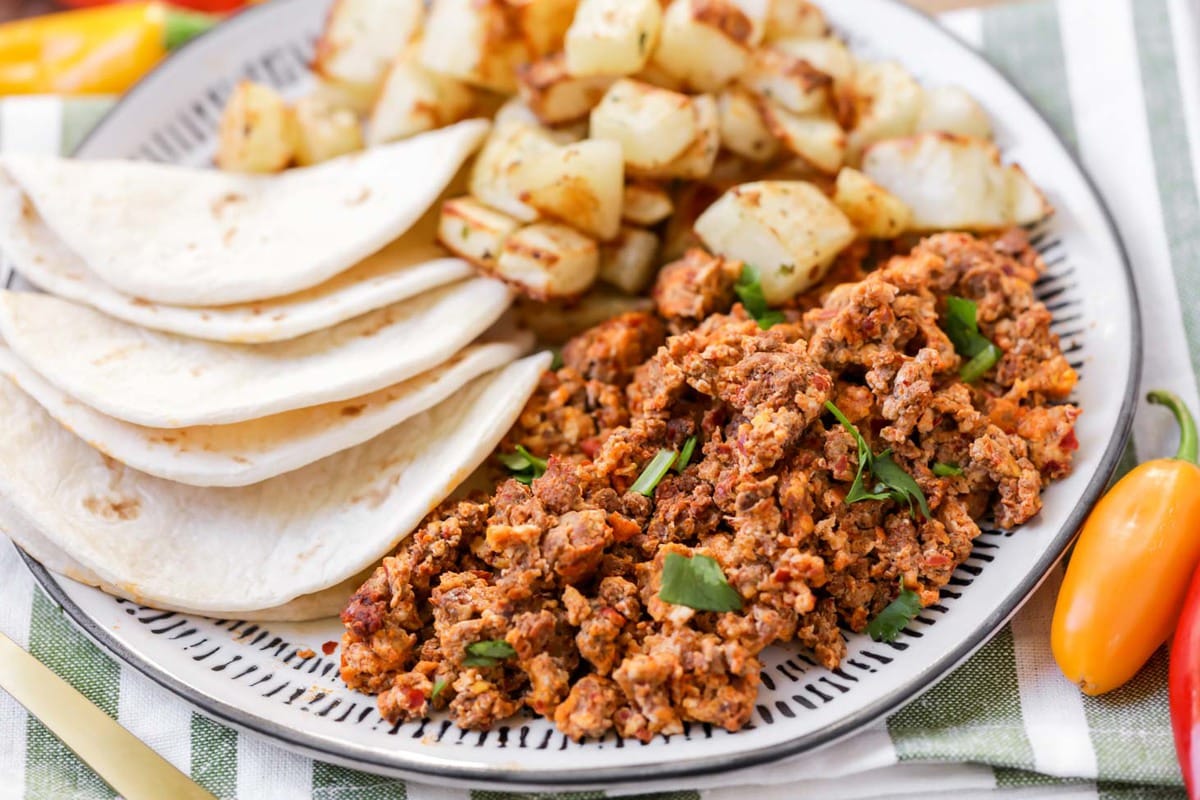 Spicy and rich chorizo and eggs makes the yummiest breakfast to start your day! Serve them with tortillas or use it in breakfast burritos and tacos.
One of our sides this week is Homemade Flour Tortillas and there's nothing like them to go along with this spicy chorizo. Cook up some Breakfast Potatoes to go with this meal and you'll have the dreamiest breakfast for dinner!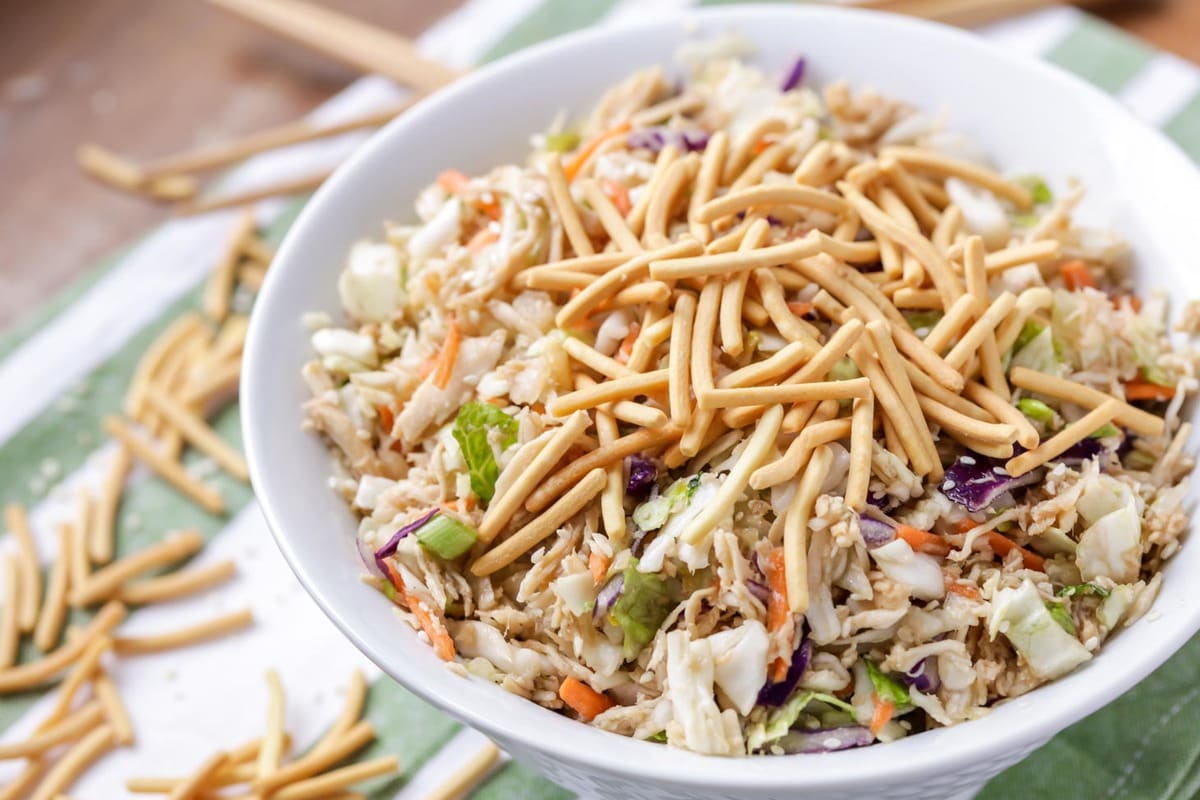 The best crunchy Chinese chicken salad with undeniably delicious flavors that will make you coming back for seconds and thirds! We love this recipe!!
If you're wanting something a little more filling, try serving Cheesecake Factory Avocado Egg Rolls or Cream Cheese Wontons with this yummy salad. What a yummy meal!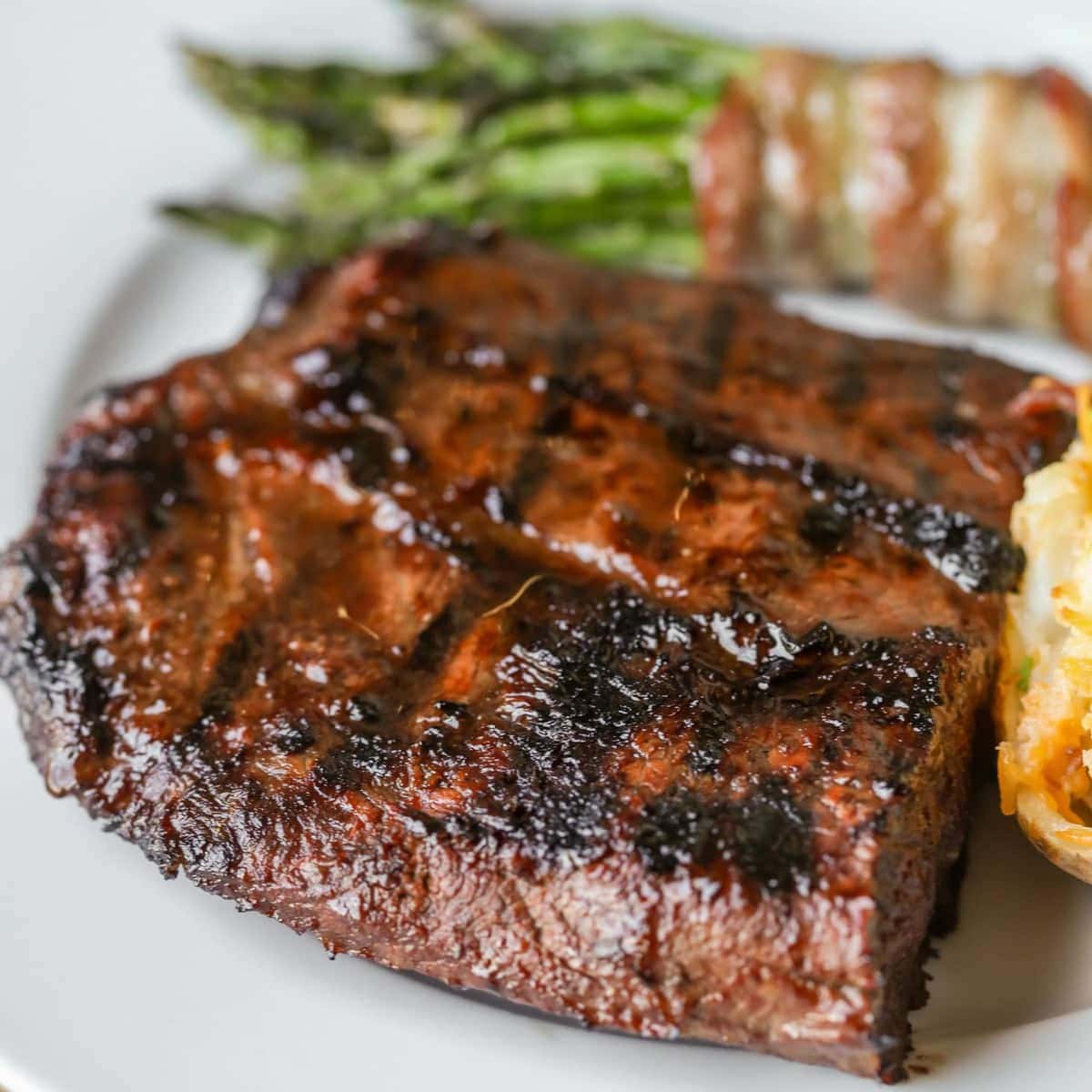 This is our all-time favorite steak marinade. It requires only four ingredients, and makes steak taste SO amazing!
Since it's Father's Day weekend, you'll have to ask Dad what his favorite sides are, but we also have some great suggestions. Covered in cheese and bacon, Dad may love Twice Baked Potatoes, one of our sides of the week, and some Oven Roasted Vegetables. He'll know he's loved with this delicious meal!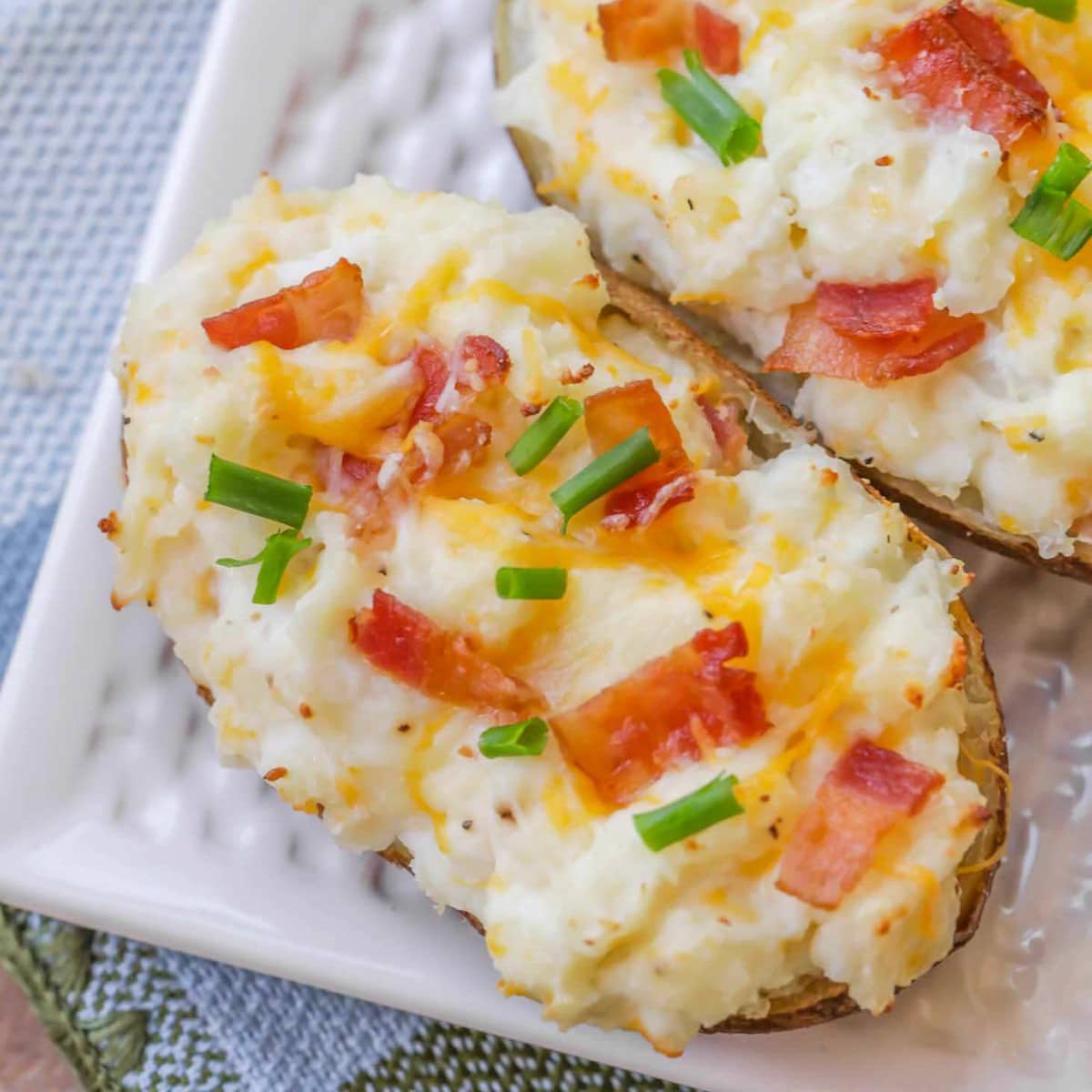 Our Top Two Choices
Homemade Flour Tortillas made from 5 Ingredients. They're so soft, easy to make, and can be used for burritos, tacos, quesadillas, however you like!!
Some of our favorite recipes to use homemade tortillas in are Bean Burritos, Chicken Quesadillas and Mexican Pinwheels. You'll taste the difference!
---
Twice Baked Potatoes are loaded with sour cream, cheese, bacon, and seasonings for the perfect savory side or main dish!
It's hard to choose our favorite cheesy potato side when we have so many. Some other recipes we love are Cheesy Mashed Potato Casserole, Scalloped Potatoes, Parmesan Crusted Potato Skins and Cheesy Hasselback Potatoes.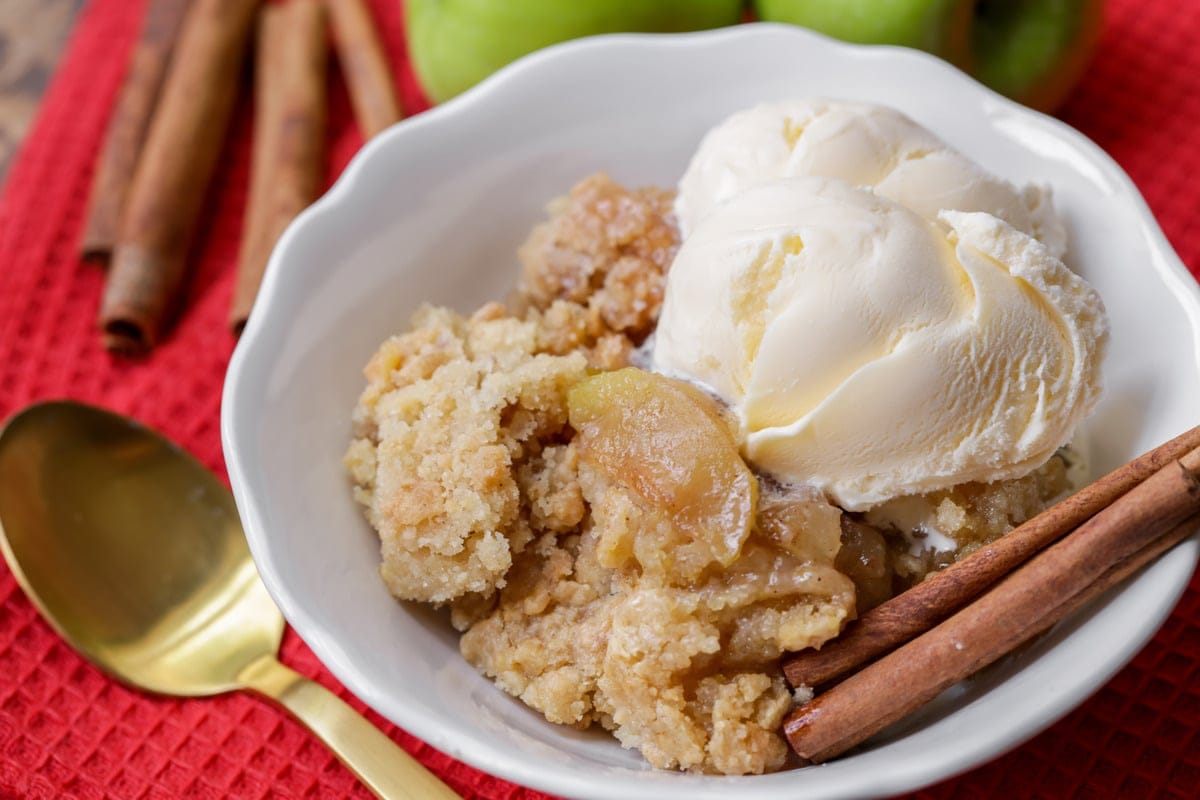 This apple cobbler recipe is the autumn season wrapped up into one heavenly dessert. Fresh tender apples, cinnamon spices, and a sweet crunch topping all in one bite making it the best apple cobbler you'll ever try!
For more Cobbler Deliciousness, try:
---
Download the Meal Plan!
Click the link below to download this week's FREE Meal Plan!
And remember – if you want to create your own menu, be sure to check out all our recipes and visit our recipe pages, including: Main Dish, Side Dishes, Desserts, Appetizers and Breakfast!