Save yourself some time, money and stress by using this FREE Meal Plan that is full of amazing recipes. Each plan includes 5 dinner ideas, 2 side dishes, 1 dessert and a shopping list making meal planning easier than ever!!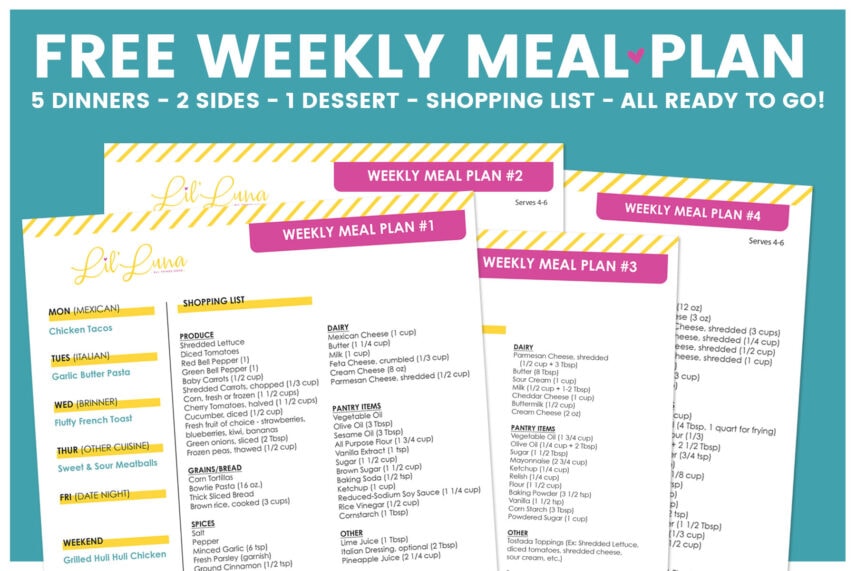 Weekly Meal Plan #11
Each week, I share with you a FREE meal plan that consists of 5 dinner ideas (Monday-Thursday plus one Weekend meal), 2 side dishes, and 1 dessert!
Included is a grocery list with EVERY ingredient you need for all the items on the meal plan.
This is meant to help simplify menu planning, shopping, and cooking so you can more easily enjoy meals with your family throughout the week!
Tip of the Week
So what is brisket? Briskey is a fatty, tough cut of meat found under the first 5 ribs. Brisket is typically sold in two different cuts: flat and point.
Go for the flat cut if they have it because the thick fat cup will aid in giving more flavor to your brisket.
Here are a few more tips to remember when cooking up brisket:
Don't trim the fat until after cooking.
Browning the brisket before cooking isn't necessary.
Allow meat to rest for 10-20 minutes before cutting across the grain.
Try not to eat the whole slab of meat… It's addicting!
Benefits of Meal Planning
There's nothing worse than the dread every time a family members asks, "What's for dinner??" And your answer is "I have no clue." Having a meal plan for the week eliminates that completely, which is the number one benefit in my book!
Besides having a game plan in place, there are several other benefits of meal planning, including:
Cost: When you have a plan set in place, and a specific list of groceries, you eliminate cost wasted on impulse items or produce that never gets used.
Decrease Waste: No wasted money, and no wasted food! Having a set grocery list will help to avoid both of those issues.
Variety: Our meal plans specifically include a lot of variety, with Mexican, Italian, Breakfast for Dinner, and so much more! You can expose your family's palates to all kinds of meals.
No Indecision: Did you know there's such thing as "indecision fatigue"? The idea is that when you can't make a decision on something (like what to make for dinner) it actually makes you mentally fatigued. When dinners are already planned out, though, you avoid indecision completely!
Health: When you plan for/anticipate making well-rounded meals, you're much more likely to actually make them rather than defaulting to convenient boxed meals, or unhealthy fast food!
As you can see, there are so many benefits to meal planning!
And if you want to create your own menu, be sure to check out all our recipes and visit our recipe pages, including: Main Dish, Side Dishes, Desserts, Appetizers and Breakfast!
Frito pie is packed with creamy and crunchy textures, and big taco style flavor. This easy dish comes together in just over 30 minutes!
You could layer in some Cilantro Lime Rice to the casserole, or scoop the casserole into a flour tortilla and wrap it up like a burrito!
This hearty Chicken Vegetable Soup is packed full of Italian flavor with chicken, tomatoes, carrots, zucchini and cheese! With so many healthy ingredients, this chicken and veggie soup is a great lightweight soup option perfect for any day of the year!
This is the kind of soup you need to soak up with some homemade bread. With this Italian style soup, I prefer Olive Garden Breadsticks!
Change up your typical breakfast routine with these Apple Cinnamon Pancakes! Light, fluffy pancakes filled with grated apple and the perfect hint of cinnamon. Serve with warm maple syrup or apple butter spread and your tastebuds will thank you!
If you like fruity pancakes, but apple isn't your style, you can always try strawberry, banana, or blueberry. Just make sure to swap the ingredient on your shopping list!
Hearty and delicious Beef Lo Mein is so simple and has so much flavor! It is filled with saucy chunks of beef, carrots and broccoli.
Fried Egg Rolls (on the plan this week) are the perfect partner for this Lo Mein. If you want to try other Asian appetizers too, I recommend Cream Cheese Rangoons!
Juicy and delicious meat, easily made in your slow cooker! This crock pot brisket is so tender it just falls apart.
The other side on the meal plan this week, BEST Mashed Potatoes, is meant to be a sidekick for this melt-in-your-mouth brisket. While you're at it, add some gravy!
Our Top Two Choices
Fried Egg Rolls are the perfect appetizer or side to any Asian meal! They're filled with chicken and veggies and fried to perfection.
While you're eating these with your Lo Mein this week, I highly recommend whipping up a batch of Sweet and Sour Sauce to dip your egg rolls in! You won't regret it.
---
These Mashed Potatoes are our Go-To potato side dish recipe for every dinner and holiday get together. They're everyone's favorite potatoes!
Although these are our favorite, we also have a slow cooker version for your convenience, and one made with red potatoes instead of russet. They're all great!
Chewy, peanut butter Rice Krispie bars topped with a rich, chocolate and butterscotch frosting. It's hard to say no to these delicious chocolate Scotcheroos!
For more peanut butter chocolate treats, check out:
---
Click the link below to download this week's FREE Meal Plan!
And remember – if you want to create your own menu, be sure to check out all our recipes and visit our recipe pages, including: Main Dish, Side Dishes, Desserts, Appetizers and Breakfast!
CLICK HERE TO DOWNLOAD THE PDF!