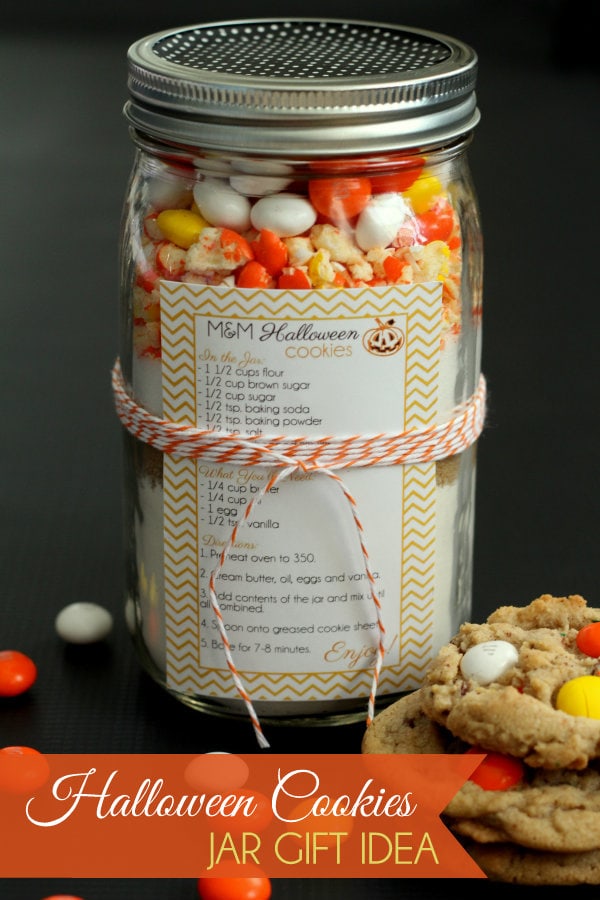 I'm completely obsessed with Jars right now. I've always loved them but now that you can find them at every store in every size, I find myself constantly buying them for projects and gift ideas. It's just so easy to throw stuff in there and make it a cute gift idea. Don't you agree?
Last week I shared with you a cut and easy Fall Gift Idea. Since Fall starts next week and Halloween is just around the corner, I knew it would probably be a good idea to make a Halloween Cookies Jar Gift similar to the fall one. You have probably seen most of the retail stores busting out their Halloween items and with them are the White Chocolate Candy Corn M&Ms. They are one of mine and my kiddos' favorites, so we decided to throw these in the jar and to make a Halloween Styled Print/Recipe to go with them.
Buying all the supplies for this (including the ingredients) would make it out to be around $2 – $3 which isn't bad at all. We are actually making a Christmas version (stayed tuned in a few months for that one) for a Church Activity because we know how popular inexpensive and cute gift ideas are. This one is just the same. Cute. Easy. and CHEAP!!
SUPPLIES:
– Quart Jar
– Cookie Ingredients (found below)
– Printable (found below)
– Scissors
– Twine/Ribbon
– Washi Tape
DIRECTIONS:
1. Clean your jars and let dry completely.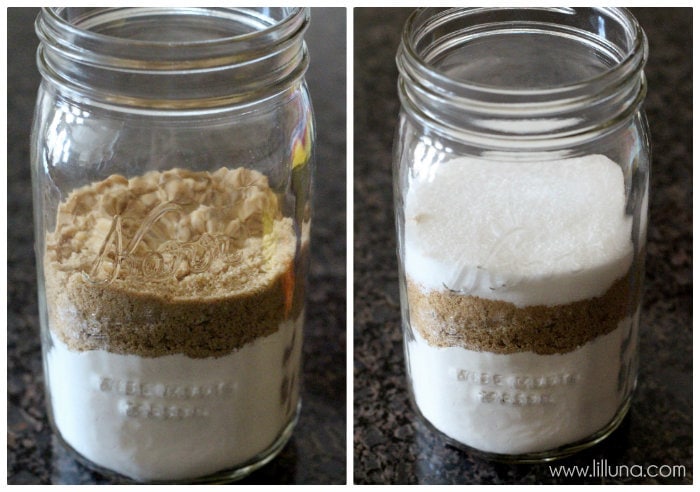 2. Fill your jars. Start with 1 1/2 cups flour, 1/2 tsp. baking soda, 1/s tsp. baking powder, 1/2 tsp. salt.
Then add 1/2 cup brown sugar followed by 1/2 cup sugar.
Then add 2/3 cup chopped White Chocolate Candy Corn M&Ms.
Top off with 2/3 cup whole White Chocolate Candy Corn M&Ms.
3. From there you will SAVE the print/recipe tag by CLICKING on the image above and then RIGHT-CLICKING and SAVING.
Then open it in a program like word and print. It should be about 2.25 inches x 4 inches which fits the jar perfectly. I suggest printing onto cardstock so the recipe can be more durable for later use.
Tape onto your jar and then tie some twine around.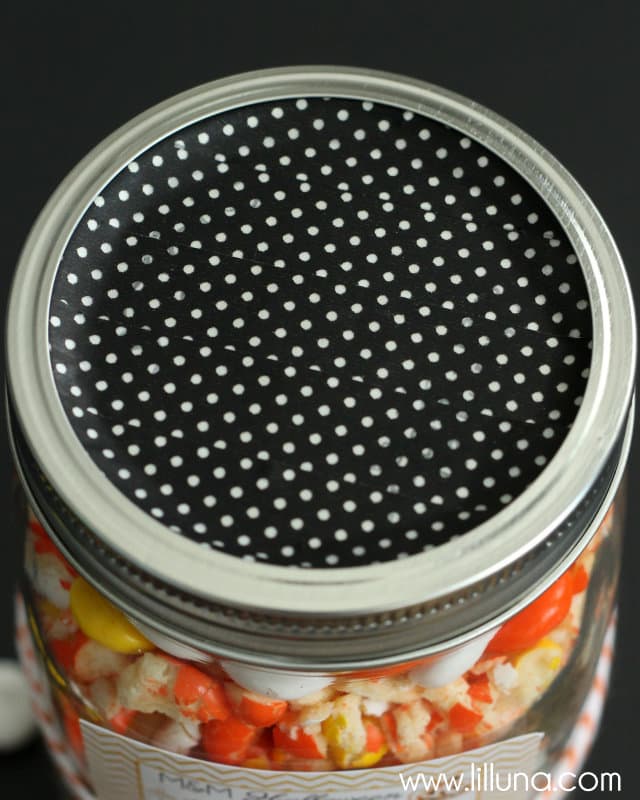 4. You can embellish the top by putting some washi tape on it. Just makes it look even cuter.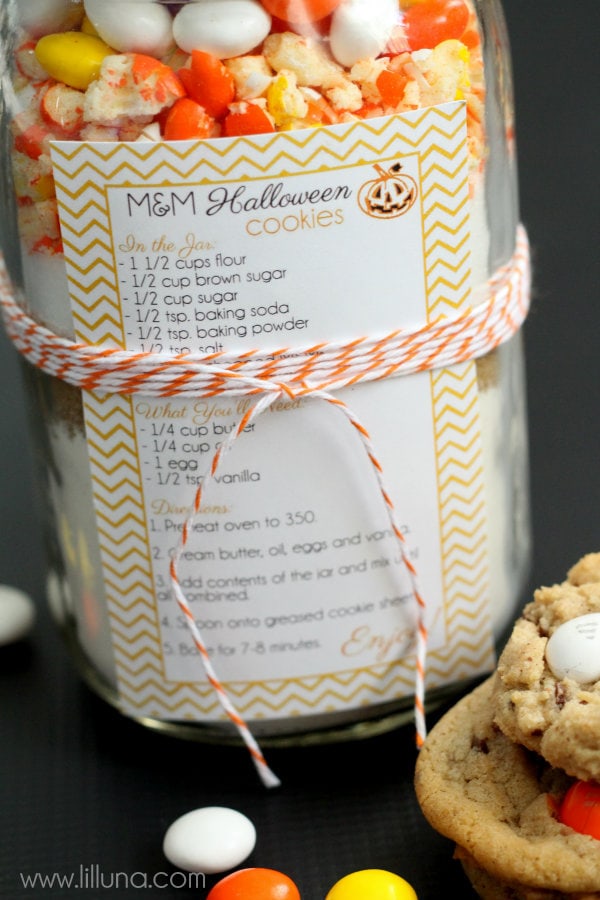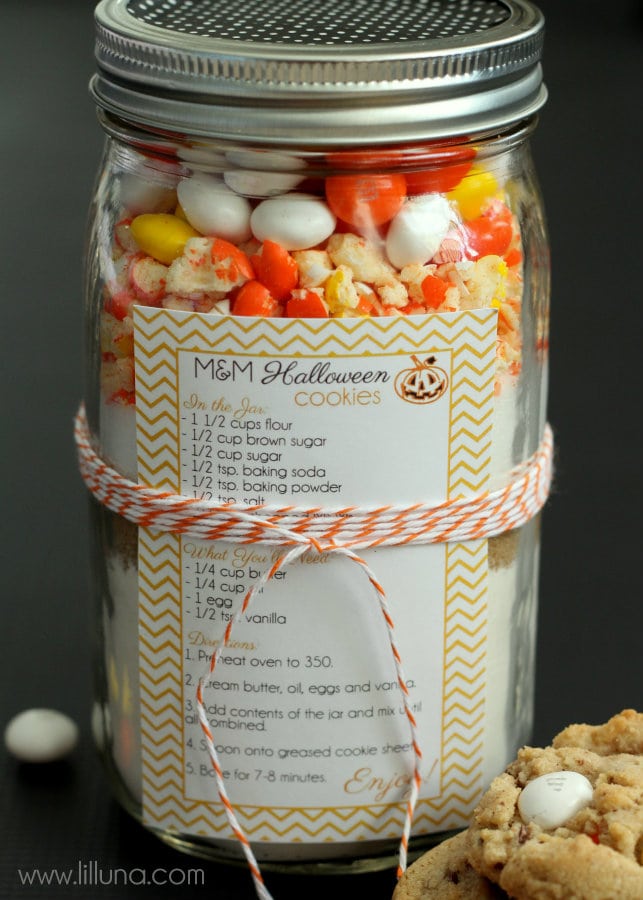 Jars are great.
Treats are great.
Treats in Jars are even GREATER!
Seriously… this is such an easy Halloween Gift Idea. And the result of the making the contents in the jar:
White Chocolate Candy Corn M&M Cookies!!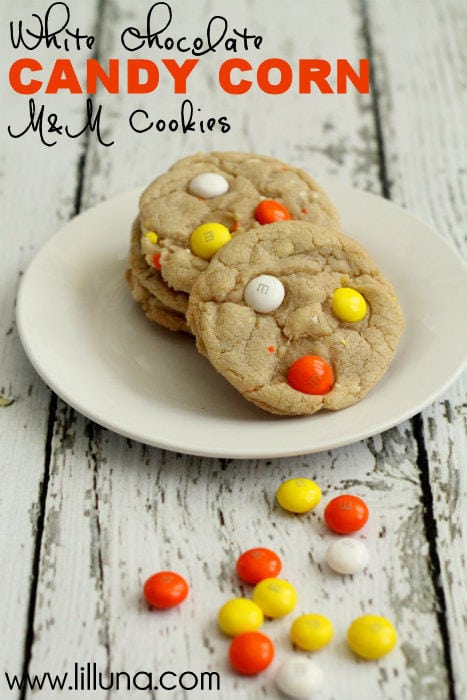 What's not to love about having some fresh, homemade cookies?!
Here are some more easy Halloween Gift Ideas: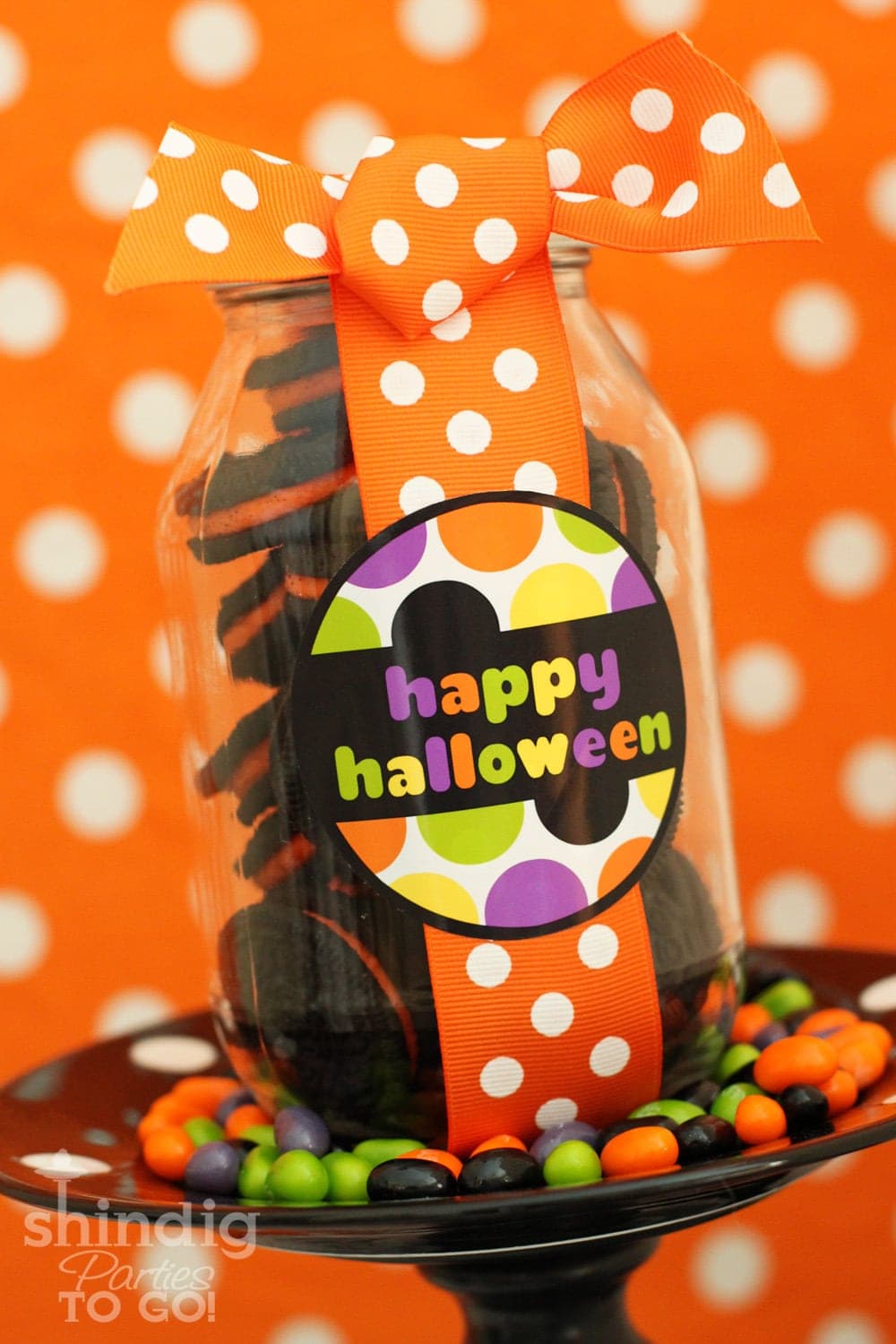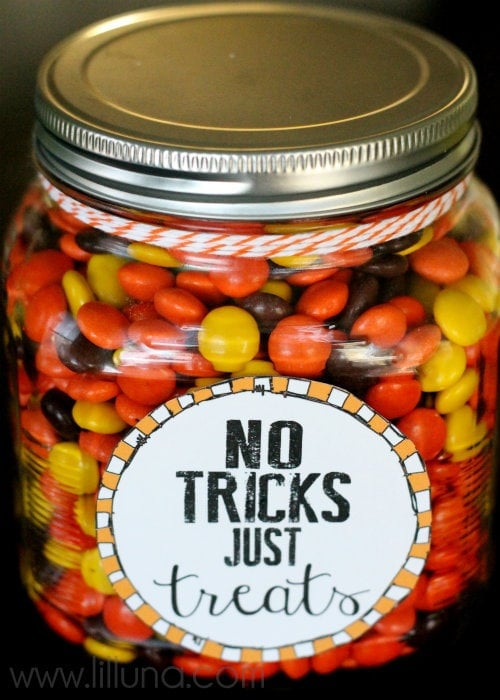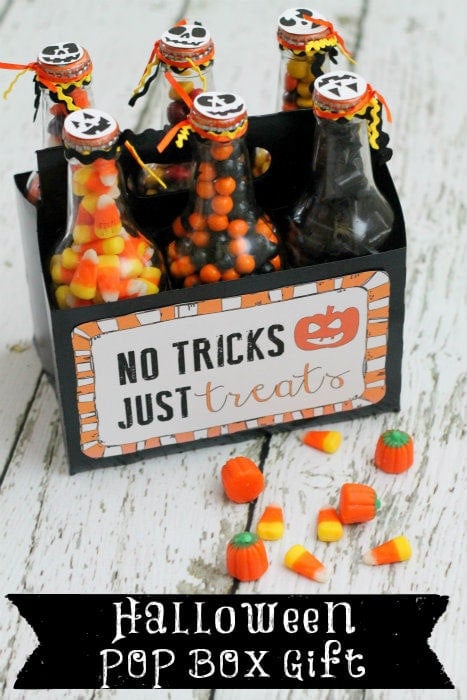 For all Gift ideas go HERE.
For ALL Holiday ideas go HERE.
And get weekly emails with monthly freebies by signing up for the Lil' Luna newsletter. 🙂
For even more great ideas follow me on Facebook – Pinterest – Instagram – Twitter – Periscope.
ENJOY!