Save yourself some time, money and stress by using this FREE Meal Plan that is full of amazing recipes. Each plan includes 5 dinner ideas, 2 side dishes, 1 dessert and a shopping list making meal planning easier than ever!!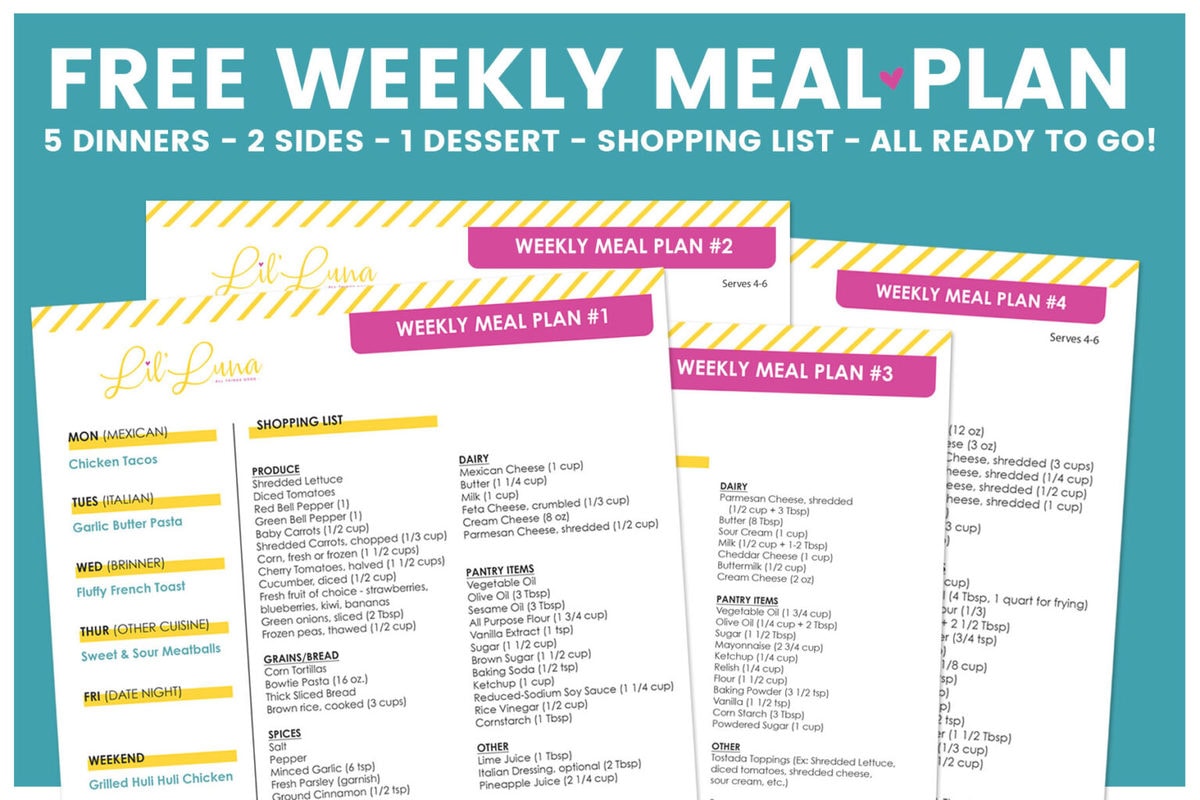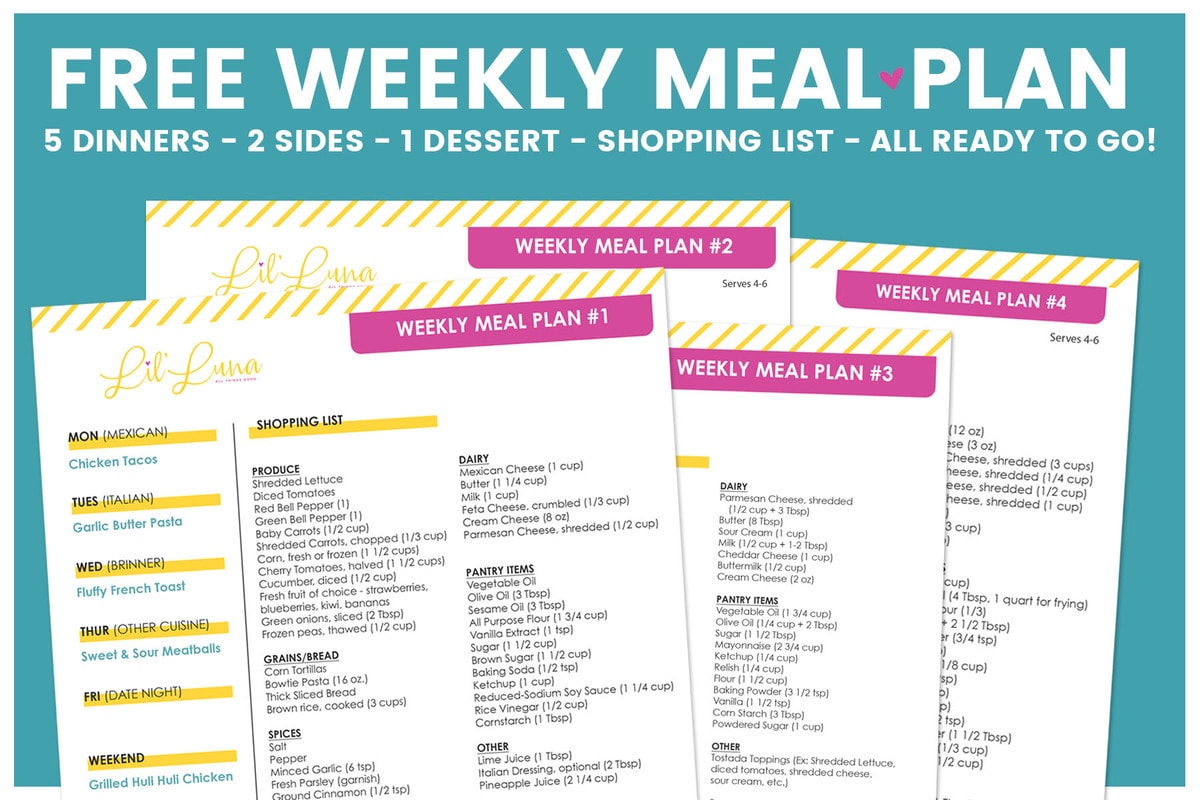 WEEKLY MEAL PLAN #65
Each week, I share with you a FREE meal plan that consists of 5 dinner ideas (Monday-Thursday plus one Weekend meal), 2 side dishes, and 1 dessert!
Included is a grocery list with EVERY ingredient you need for all the items on the meal plan.
This is meant to help simplify menu planning, shopping, and cooking so you can more easily enjoy meals with your family throughout the week!
TIP OF THE WEEK
Caramel Apples this time of year are just the best!
Along with our Caramel Apple Nachos in this week's plan, we have a few other variations including Caramel Apple Dip, Caramel Apple Fudge and Caramel Apple Cider. And, of course, you can't go wrong with the classic Caramel Apples either!
Whichever way you decide to go, you won't be disappointed!
BENEFITS OF MEAL PLANNING
There's nothing worse than the dread every time a family members asks, "What's for dinner??" And your answer is "I have no clue." Having a meal plan for the week eliminates that completely, which is the number one benefit in my book!
Besides having a game plan in place, there are several other benefits of meal planning, including:
Cost: When you have a plan set in place, and a specific list of groceries, you eliminate cost wasted on impulse items or produce that never gets used.
Decrease Waste: No wasted money, and no wasted food! Having a set grocery list will help to avoid both of those issues.
Variety: Our meal plans specifically include a lot of variety, with Mexican, Italian, Breakfast for Dinner, and so much more! You can expose your family's palates to all kinds of meals.
No Indecision: Did you know there's such thing as "indecision fatigue"? The idea is that when you can't make a decision on something (like what to make for dinner) it actually makes you mentally fatigued. When dinners are already planned out, though, you avoid indecision completely!
Health: When you plan for/anticipate making well-rounded meals, you're much more likely to actually make them rather than defaulting to convenient boxed meals, or unhealthy fast food!
As you can see, there are so many benefits to meal planning!
And if you want to create your own menu, be sure to check out all our recipes and visit our recipe pages, including: Main Dish, Side Dishes, Desserts, Appetizers and Breakfast!
---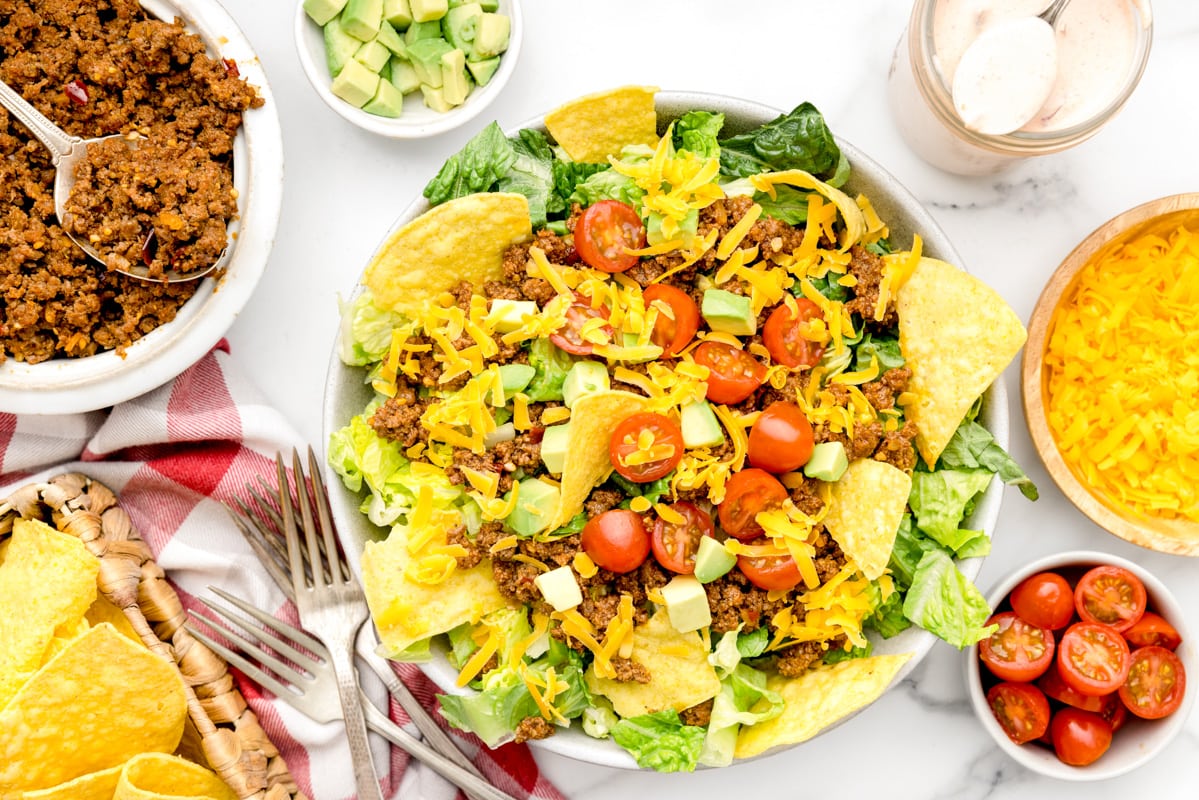 Quick + easy Taco Salad is packed with flavor and whips up in only 20 minutes! This is a perfectly delish dinner for any night of the week.
If you're more in the mood for chicken, try our Chicken Taco Salad. It's just as yummy! We love to top our taco salads with homemade Pico de Gallo, Taco Salad Dressing or Cilantro Ranch Dressing. You can't go wrong with any of them!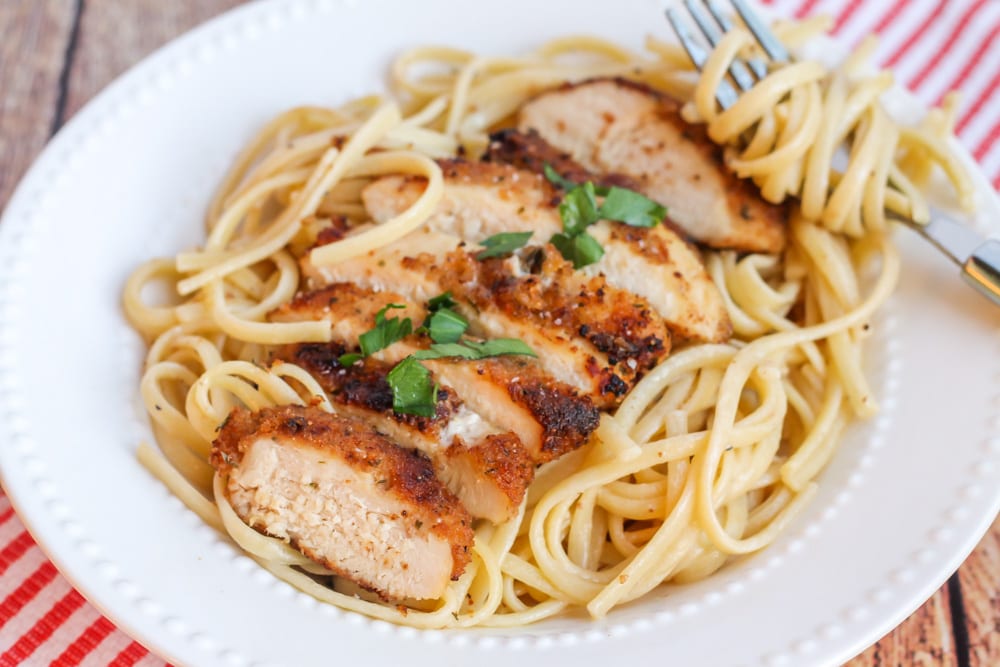 Chicken Scallopini is a delicious dish of crusted chicken over lemon butter pasta. The flavorful butter chicken and pasta combo is irresistible and perfect for dinner any night of the week.
We like having salad with this dish. Some of our favorites that go well with this pasta are Wedge Salad, Asparagus Salad and Strawberry Spinach Salad. Together, they'll make for a light but filling meal!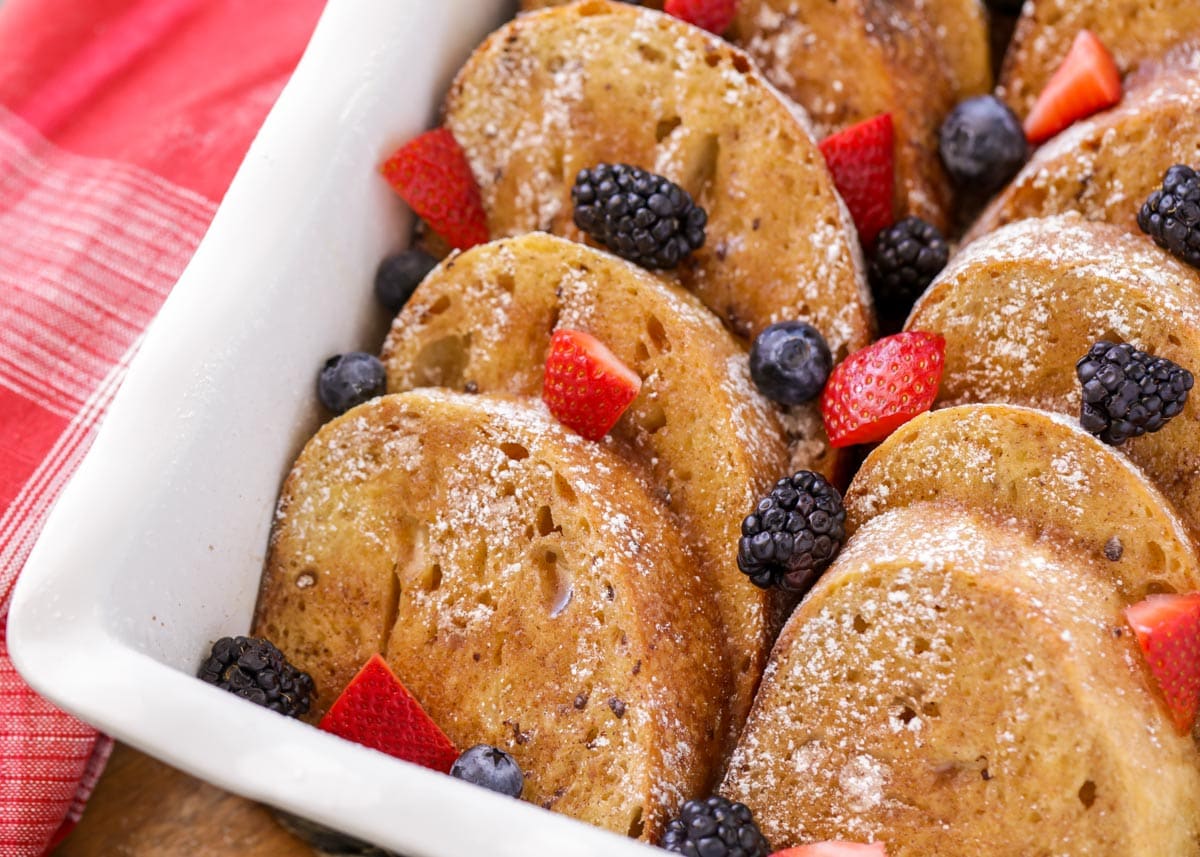 Sweet & filling oven French toast is perfectly spiced and can feed a crowd! This "eggy bread" is a family favorite.
This French toast is flavorful and sweet enough on its own, but it you want to top it with something, try our Buttermilk Syrup or Lemon Curd. We like to have an Orange Juice Smoothie on the side. Everyone will love this breakfast for dinner!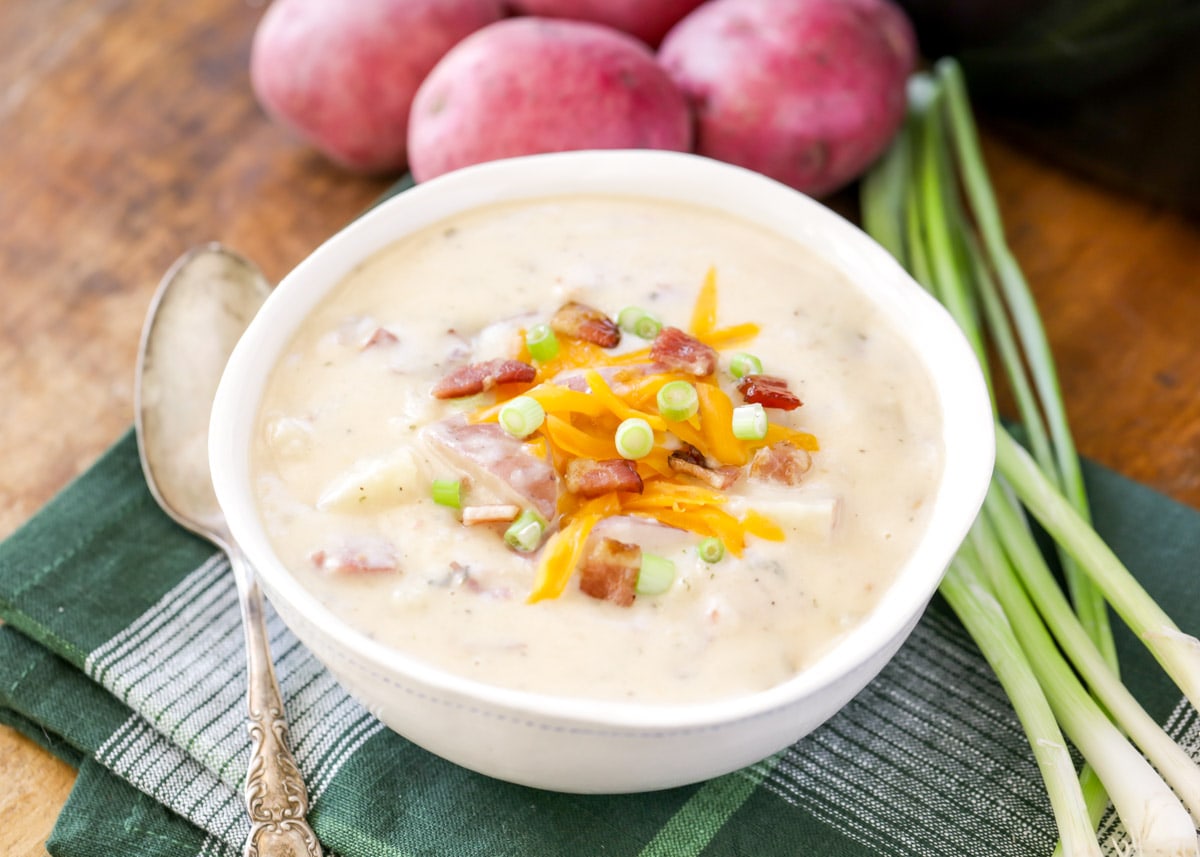 Creamy and delicious Crockpot Baked Potato Soup is so full of flavor and EASY too! This delicious potato soup recipe is a hearty family favorite.
What goes better with soup than homemade biscuits? These Easy Biscuits are one of our featured sides this week and they are SO GOOD! Grab one quick! They're going to go fast!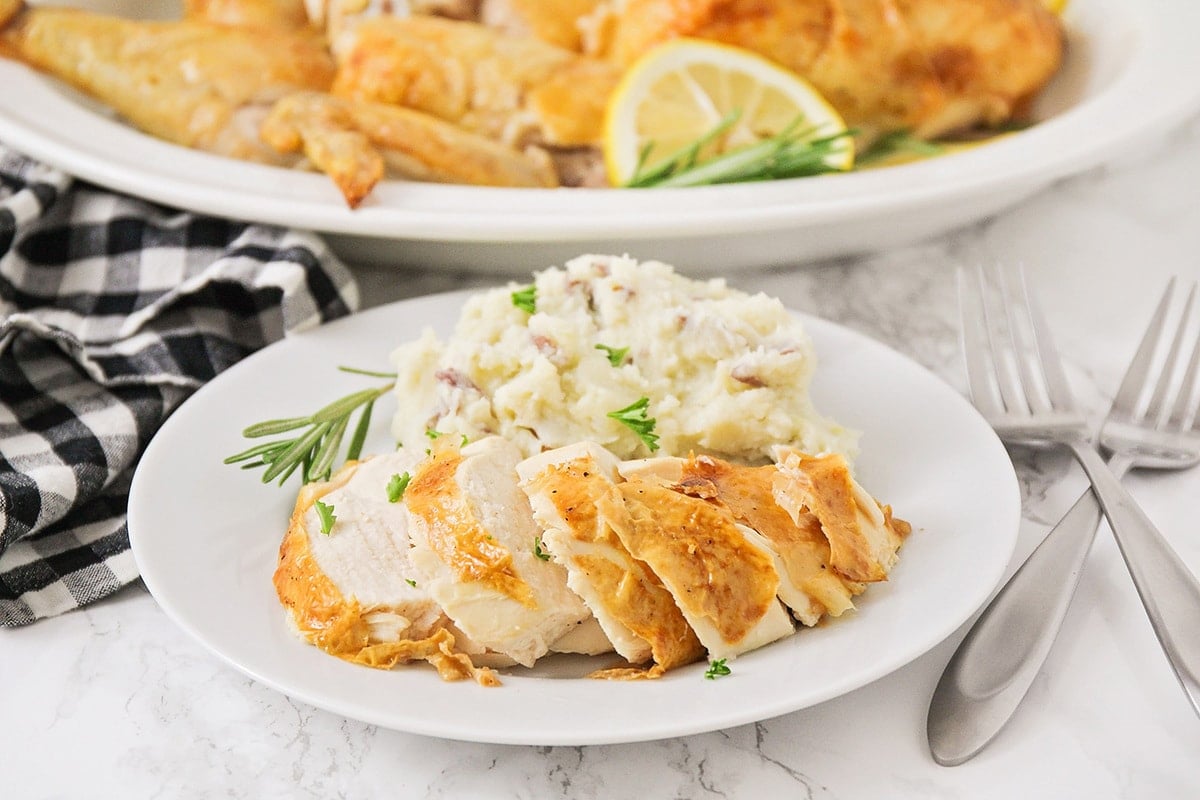 Simple and delicious roast chicken tastes like you spent all day cooking it! It is the the perfect go-to dinner recipe.
Sweet Potato Hash, our other Side of the Week, goes really well with this chicken. To round it off, we also love to serve some kind of veggies like Honey Glazed Carrots, Baked Parmesan Asparagus or Oven Roasted Vegetables with this meal.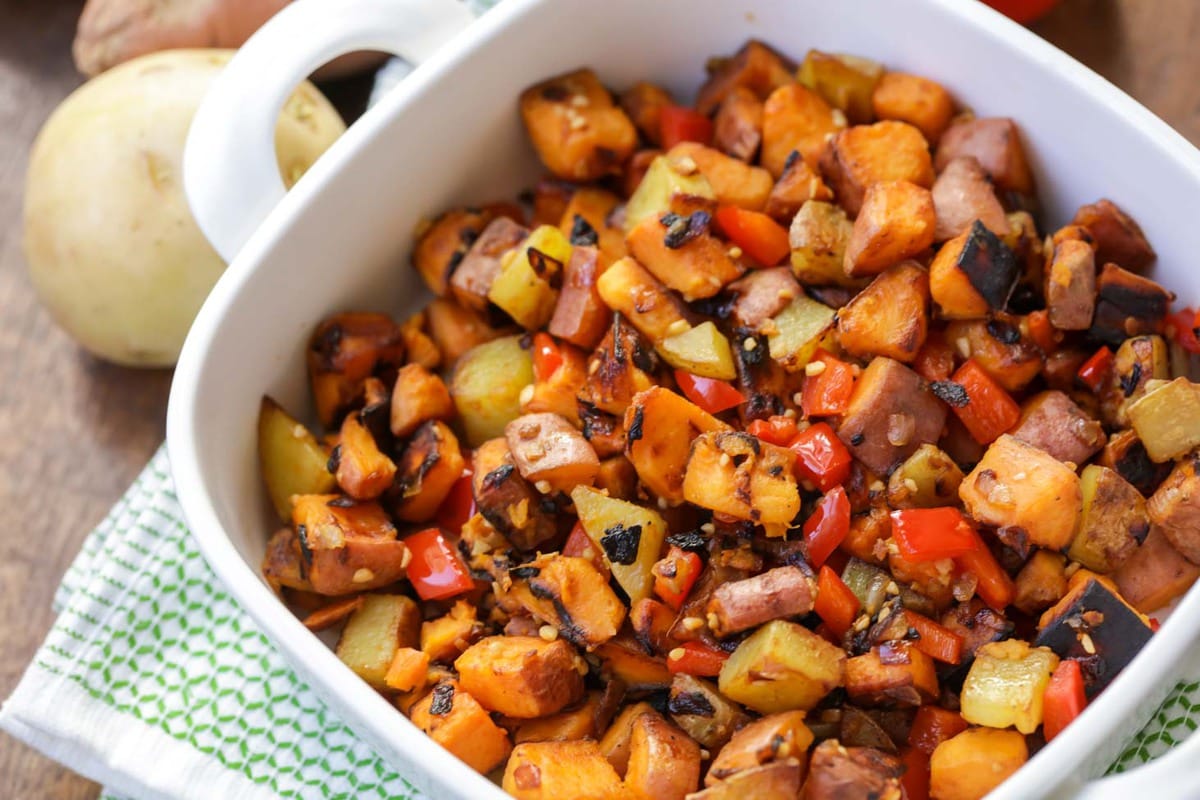 Our Top Two Choices
Serve our favorite Sweet Potato Hash as a healthy side dish, or add your favorite protein to make a filling dinner!
If you love sweet potatoes, we've got more recipes for you! Check out our Twice Baked Sweet Potatoes, Mashed Sweet Potatoes, Hasselback Sweet Potatoes and Baked Sweet Potato Fries. They're all mouth-watering good!
---
Flaky, buttery Homemade Biscuits that are to die for. These delicious biscuits are not only simple and soft, but make the perfect side dish for any meal.
For more soft, yummy biscuits, try our Buttermilk Biscuits or Cheddar Bay Biscuits. And for all of our best tips on making biscuits and rolls, check out our Dinner Rolls and Biscuits collection. It's got some great info and recipes!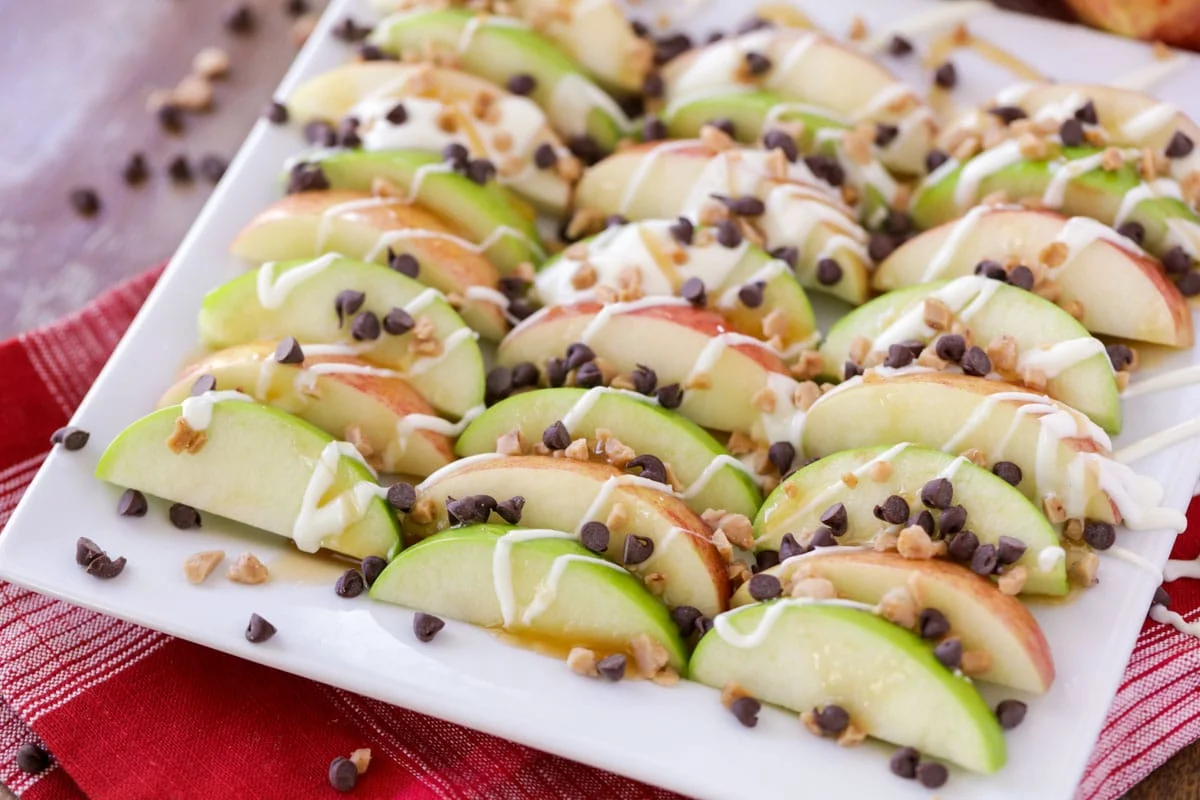 Caramel apple nachos taste just like a caramel apple, but simpler to make! They are an easy treat perfect for movie nights and get togethers.
For more CARAMEL APPLE DELICIOUSNESS, try:
---
Click the link below to download this week's FREE Meal Plan!
And remember – if you want to create your own menu, be sure to check out all our recipes and visit our recipe pages, including: Main Dish, Side Dishes, Desserts, Appetizers and Breakfast!
Click HEre to Download the pdf!