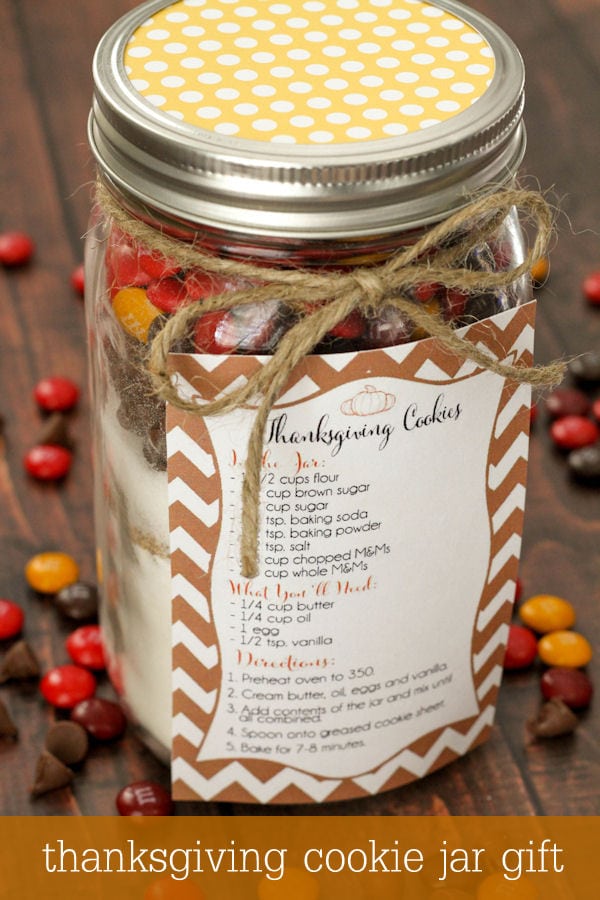 You guys know how much I LOVE simple and adorable gift ideas – especially to give around the holidays.
Last year, I shared a cute Fall Cookie Jar Gift as well as Halloween Cookie Jar Gift, so I figured I HAD to do one for Thanksgiving!! I mean, it is the holiday we are suppose to be focusing more on gratitude and what better way to share that gratitude than by giving your loved ones a cute gift?! RIGHT! These Thanksgiving Cookie Jar Gifts are not only simple but are quick AND inexpensive. Yes – you can't beat gifts like that. The holidays are a CRAZY time and these are great because they are so quick and can be mass produced as well. OH – and did I mention the jar provides a sweet treat for the recipient? All you have to do is add a few more ingredients and these make some delicious and soft M&M Cookies.
Who wouldn't love a gift like that?? 😉
I hope you can use these these next month as you are looking for simple gift ideas for friends, neighbors and gifts.
I know they'll love them!!
Here is what you'll need to make these Thanksgiving Cookie Jar Gifts:
SUPPLIES:
– Quart Jar
– Cookie Ingredients (found below)
– Printable (found below)
– Scissors
– Twine/Ribbon
– Washi Tape
DIRECTIONS:
1. Clean your jars and let dry completely.
2. Fill your jars. Start with 1 ½ cups flour, ½ tsp. baking soda, 1/s tsp. baking powder, ½ tsp. salt.
Then add ½ cup brown sugar followed by ½ cup sugar.
Then add 2/3 cup milk chocolate chips.
Top off with 2/3 cup M&Ms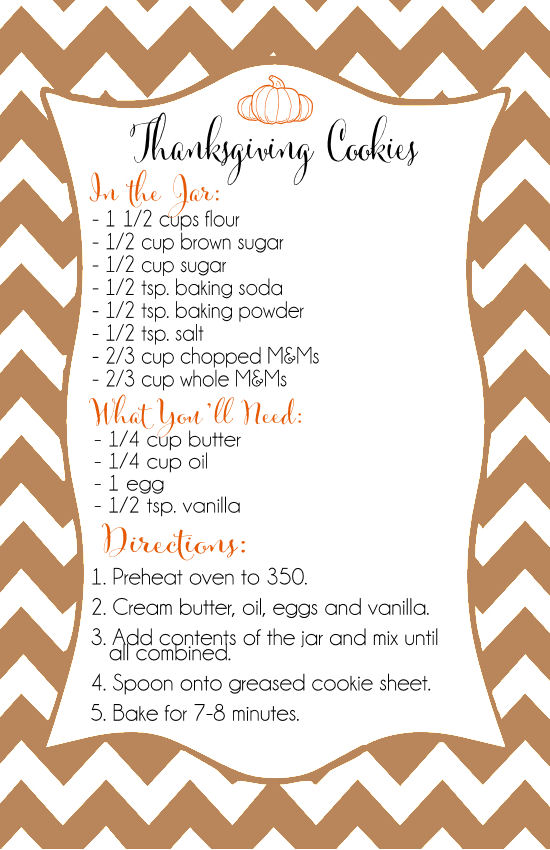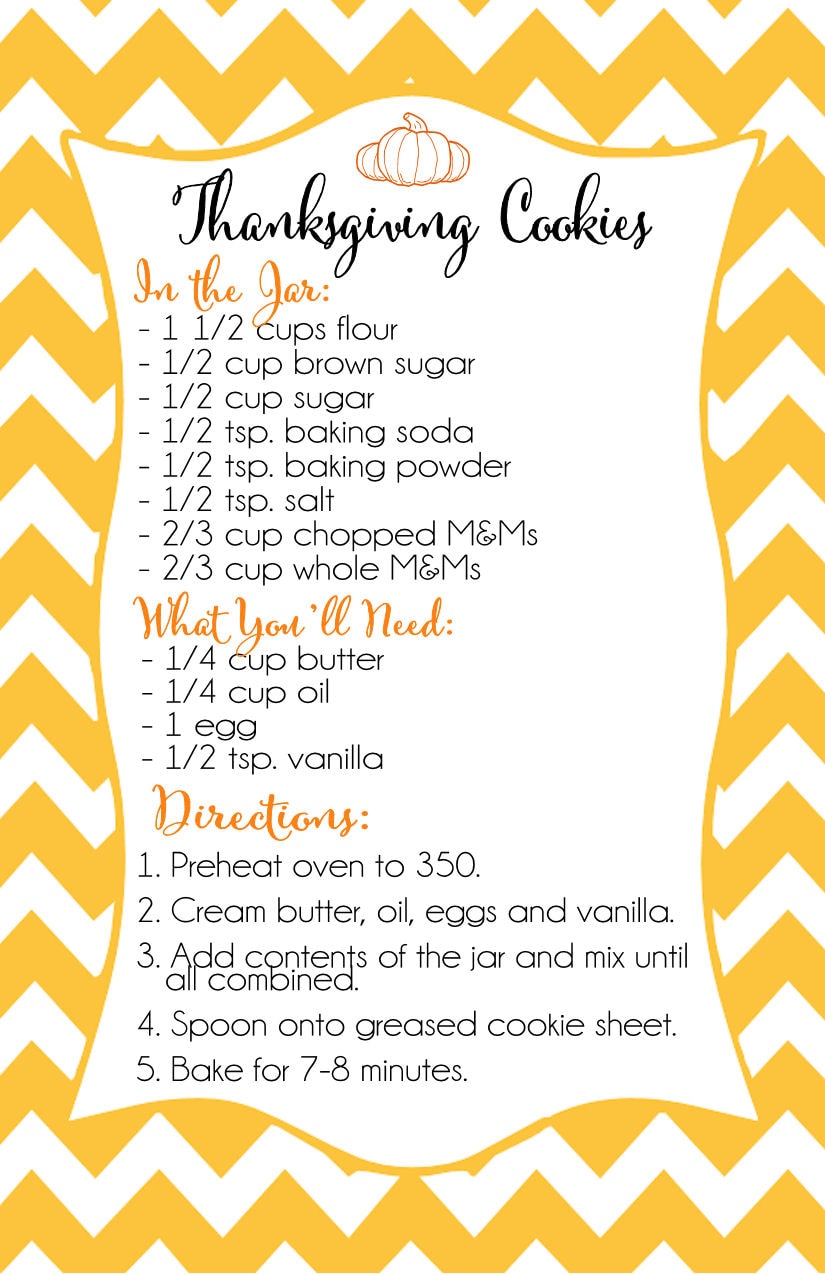 3. From there you will SAVE the print/recipe tag you want by CLICKING on the image above and then RIGHT-CLICKING and SAVING.
Then open it in a program like word and print. It should be about 2.25 inches x 4 inches which fits the jar perfectly. I suggest printing onto cardstock so the recipe can be more durable for later use.
Tape onto your jar (or use Glue Dots) and then tie some twine around.
I also added some scrapbook paper on top. Easy!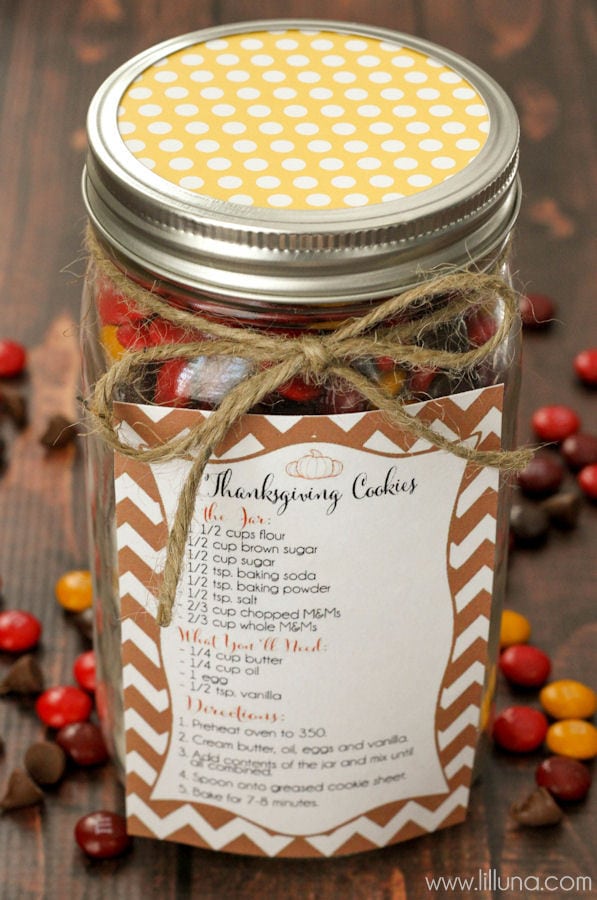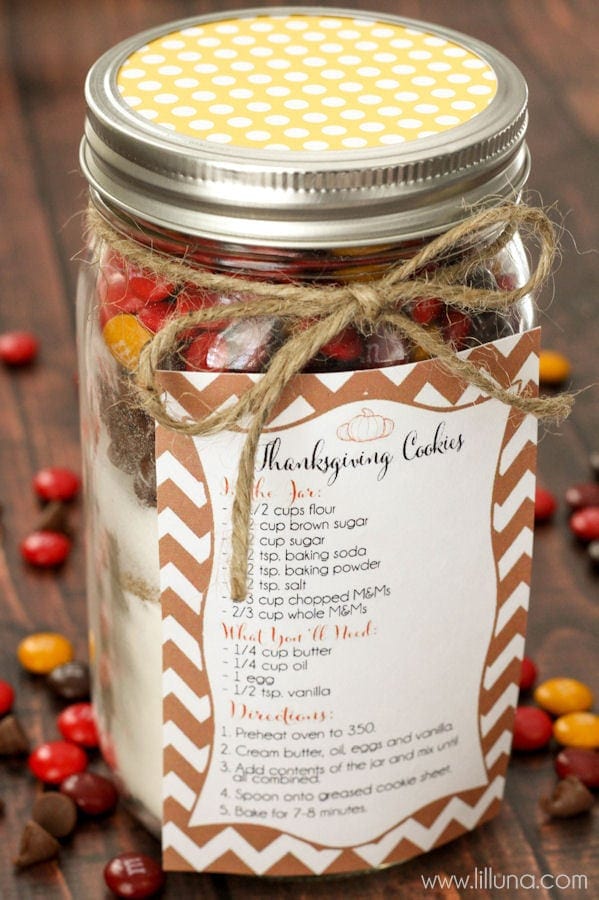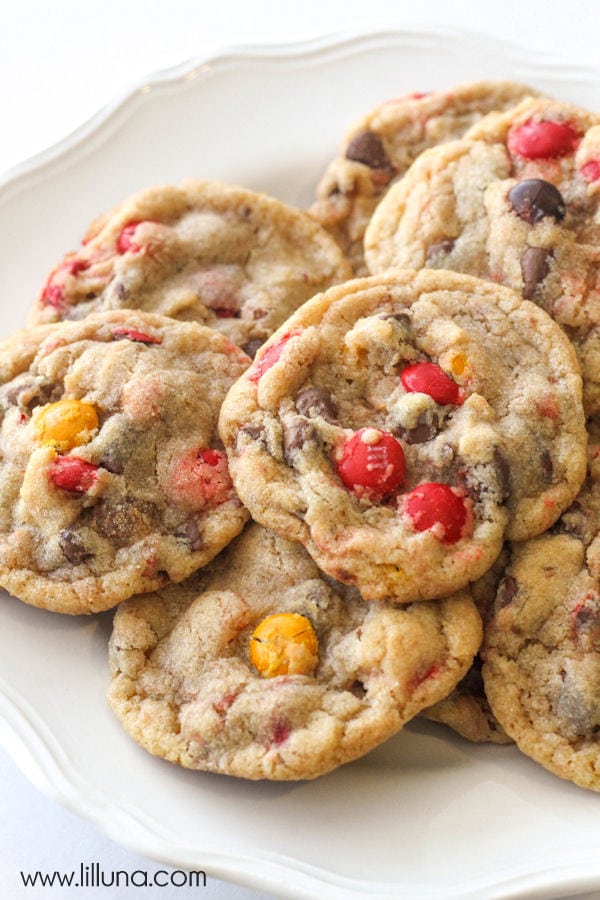 CUTE. SIMPLE. QUICK. CHEAP.
Told you it would make a great gift idea!!
🙂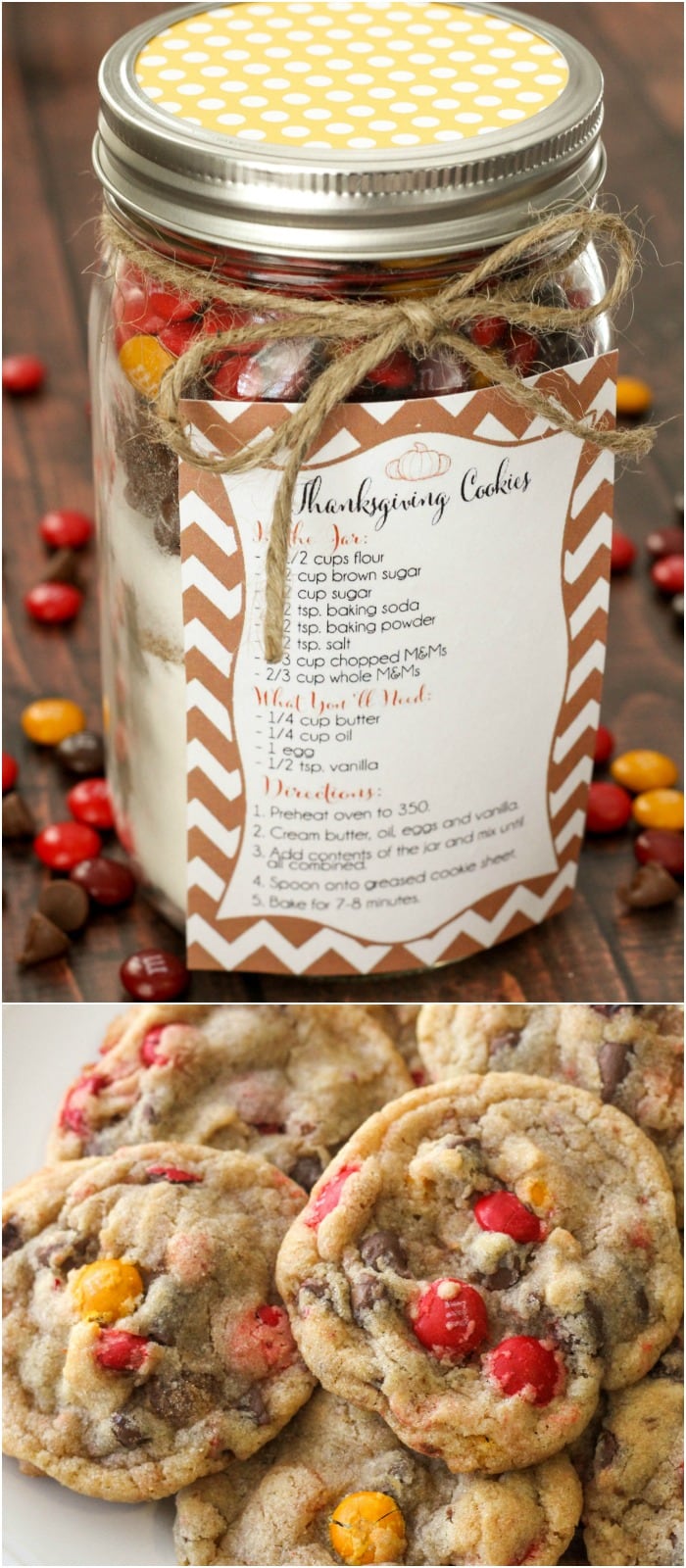 For more Cookie Jar Gift to use in the coming months, check out: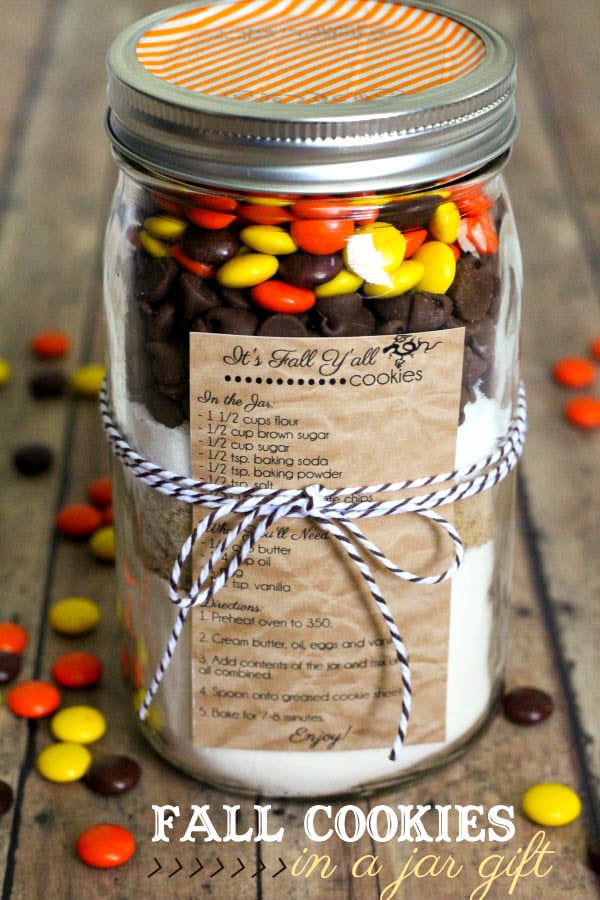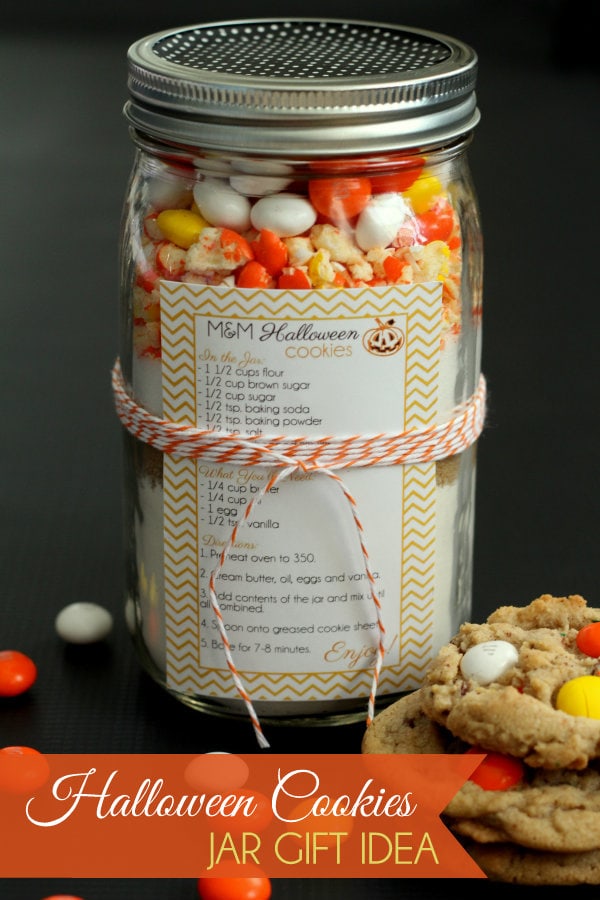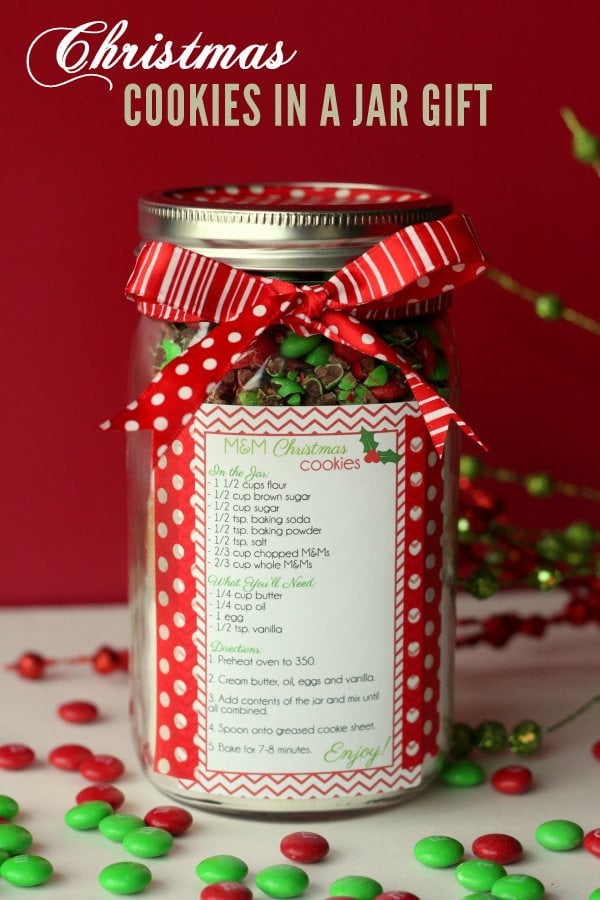 For all Gift ideas on the site go HERE.
For all Thanksgiving ideas go HERE.
And get weekly emails with monthly freebies by signing up for the Lil' Luna newsletter. 🙂
For even more great ideas follow me on Facebook – Pinterest – Instagram – Twitter – Periscope.
ENJOY!