Save yourself some time, money and stress by using this FREE Meal Plan that is full of amazing recipes. Each plan includes 5 dinner ideas, 2 side dishes, 1 dessert and a shopping list making meal planning easier than ever!!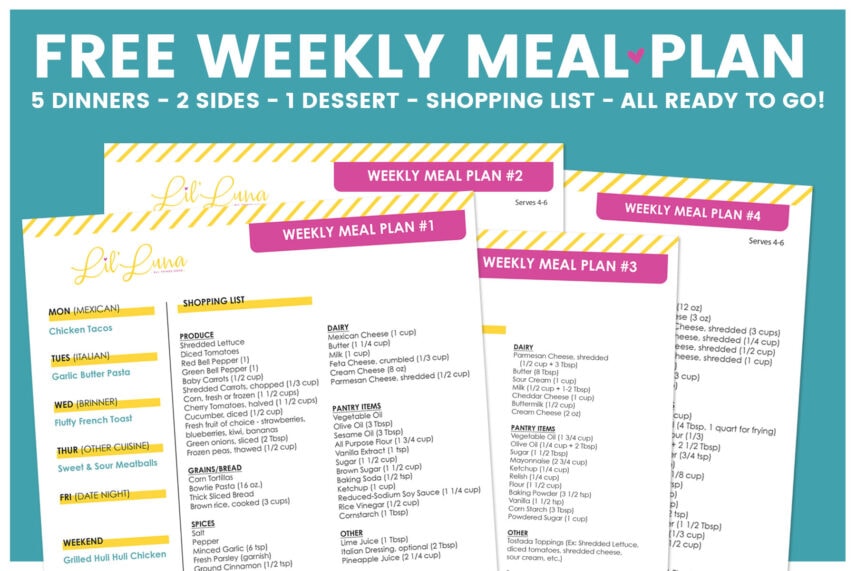 WEEKLY MEAL PLAN #13
Each week, I share with you a FREE meal plan that consists of 5 dinner ideas (Monday-Thursday plus one Weekend meal), 2 side dishes, and 1 dessert!
Included is a grocery list with EVERY ingredient you need for all the items on the meal plan.
This is meant to help simplify menu planning, shopping, and cooking so you can more easily enjoy meals with your family throughout the week!
TIP OF THE WEEK
Caramel Apples are on the menu this week! They are THE perfect fall treat. Enjoy the amazing caramel apple flavor in a variety of ways by trying these recipes too:
BENEFITS OF MEAL PLANNING
There's nothing worse than the dread every time a family members asks, "What's for dinner??" And your answer is "I have no clue." Having a meal plan for the week eliminates that completely, which is the number one benefit in my book!
Besides having a game plan in place, there are several other benefits of meal planning, including:
Cost: When you have a plan set in place, and a specific list of groceries, you eliminate cost wasted on impulse items or produce that never gets used.
Decrease Waste: No wasted money, and no wasted food! Having a set grocery list will help to avoid both of those issues.
Variety: Our meal plans specifically include a lot of variety, with Mexican, Italian, Breakfast for Dinner, and so much more! You can expose your family's palates to all kinds of meals.
No Indecision: Did you know there's such thing as "indecision fatigue"? The idea is that when you can't make a decision on something (like what to make for dinner) it actually makes you mentally fatigued. When dinners are already planned out, though, you avoid indecision completely!
Health: When you plan for/anticipate making well-rounded meals, you're much more likely to actually make them rather than defaulting to convenient boxed meals, or unhealthy fast food!
As you can see, there are so many benefits to meal planning!
And if you want to create your own menu, be sure to check out all our recipes and visit our recipe pages, including: Main Dish, Side Dishes, Desserts, Appetizers and Breakfast!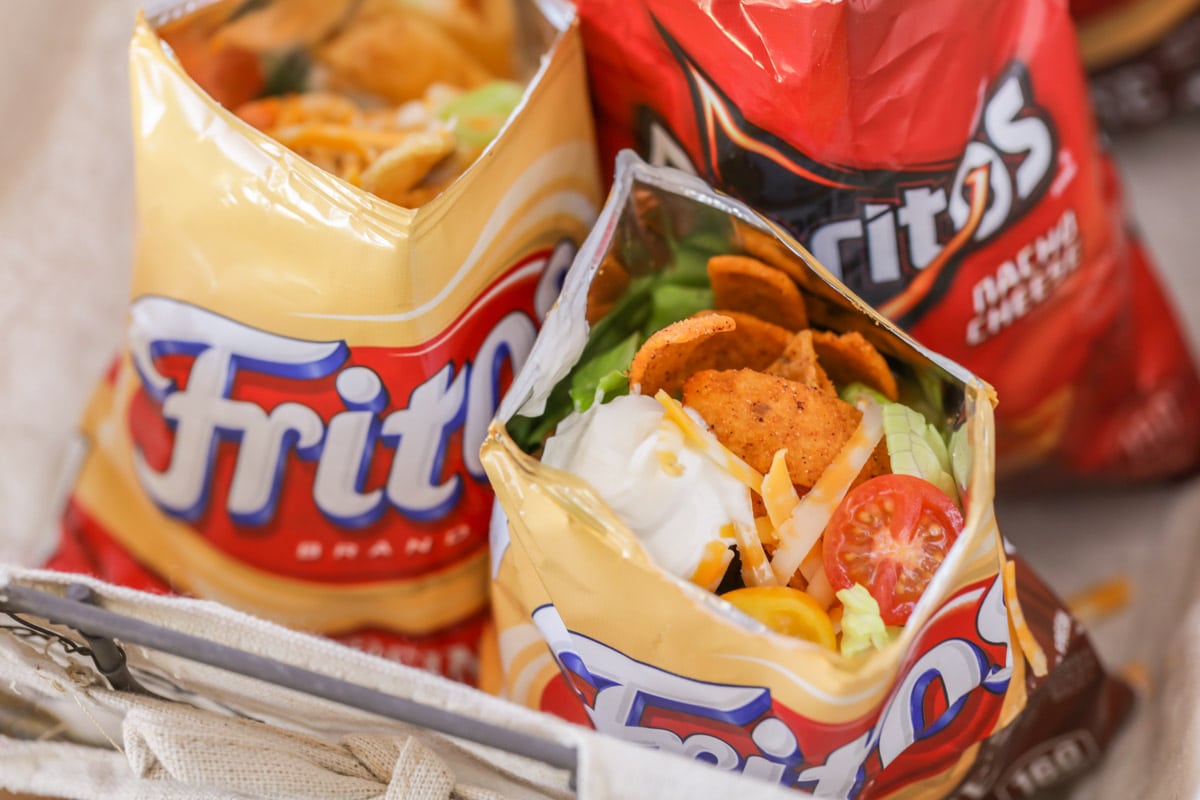 Walking tacos are an easy grab and go meal that is full of flavor! They are no mess, easy to make, and perfect for large gatherings!!
They're great because everyone can customize them with their favorite toppings. I personally like to add some homemade salsa or pico de gallo and some Cilantro Lime Dressing if I have any on hand!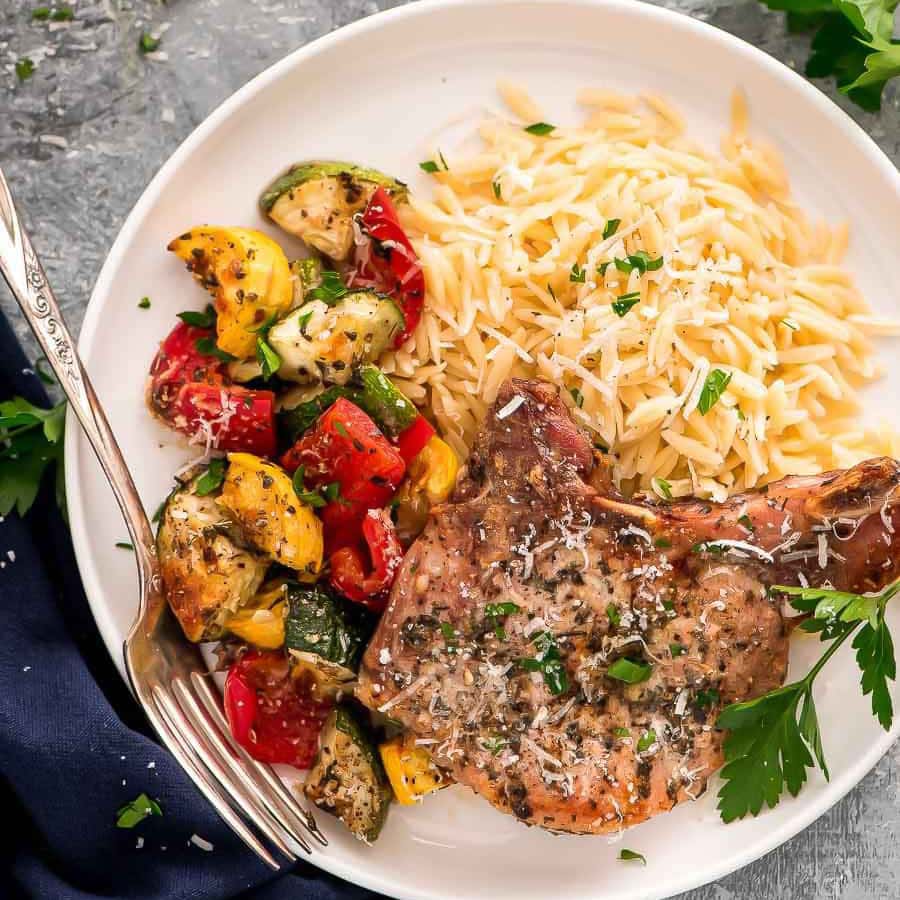 These Italian Pork Chops require just a few ingredients and are baked in the oven with loads of veggies. Have it ready and on the table in just 30 minutes!
Either of the two sides of the week would go great with this dish! The Tomato Mozzarella Salad pairs perfect with the Italian flavors in this dish.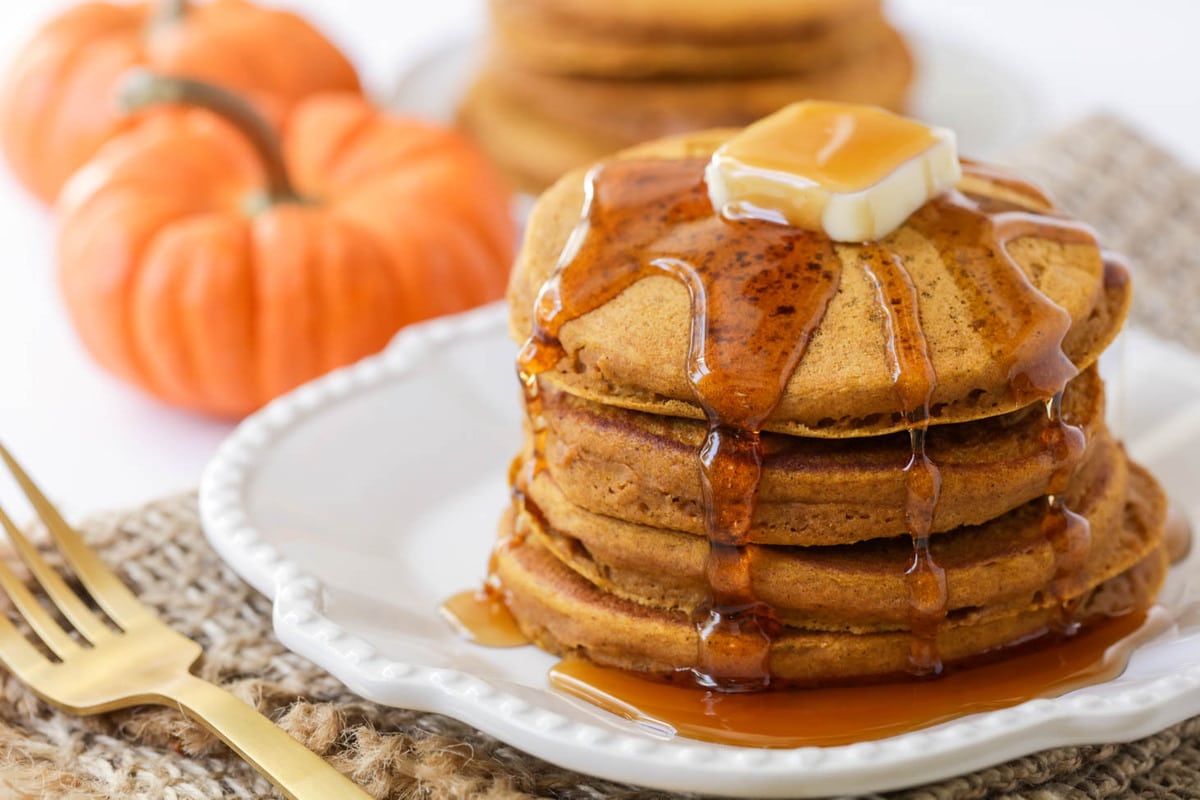 These pumpkin pancakes are the ultimate autumn breakfast!! They're soft, full of fall flavor, and completely irresistible when topped with homemade cinnamon buttermilk syrup. Luckily, this pumpkin pancake recipe is as easy as it is tasty!
If you like pumpkin breakfast foods, but pancakes aren't your style, you may like to try Pumpkin Waffles or Pumpkin Cinnamon Roll Bites instead! Don't forget to add the ingredients to your grocery list!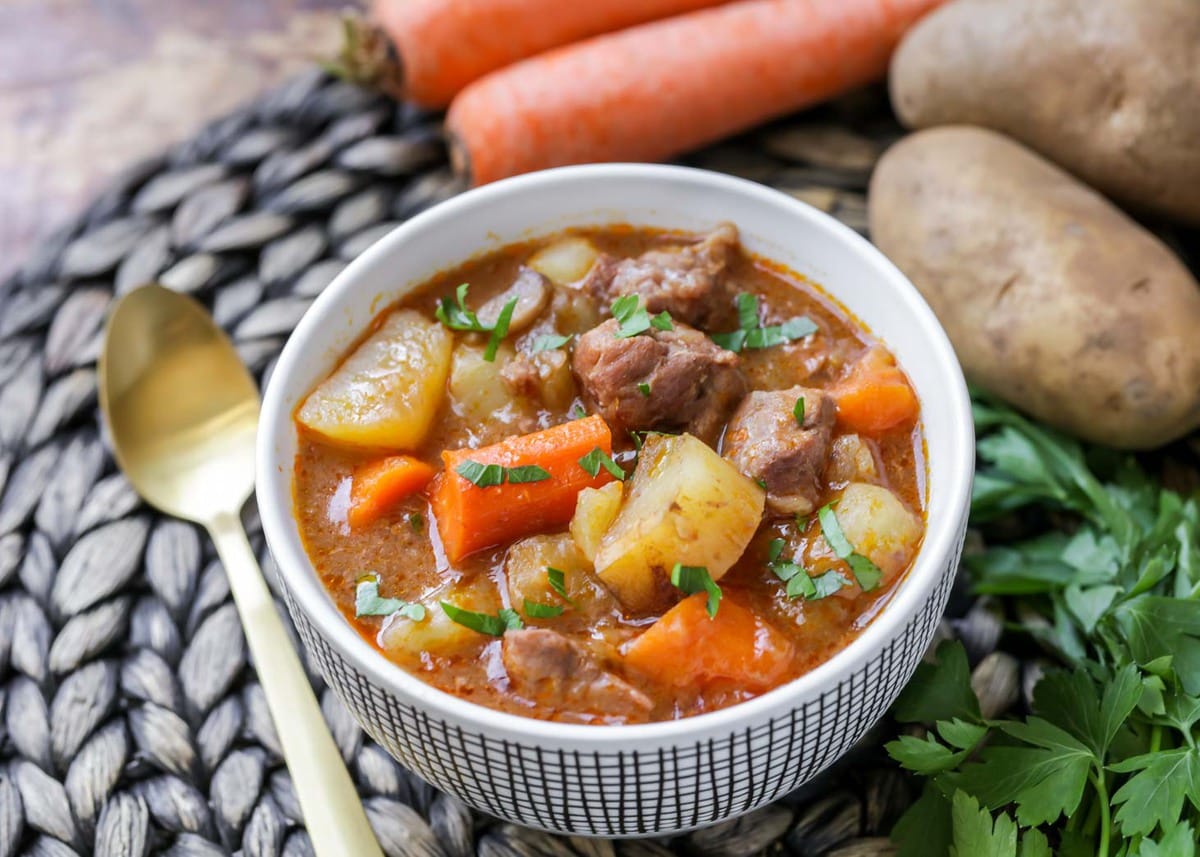 DELICIOUS Slow Cooker Beef Stew is a family favorite that we've enjoyed for years!! Your crock pot does all the work – just add your stew meat, carrots, potatoes, mushroom soup, water, and onion mix!
Nothing is better than a warms stew on a fall day, unless of course you're serving it with a warm loaf of No-Knead Bread.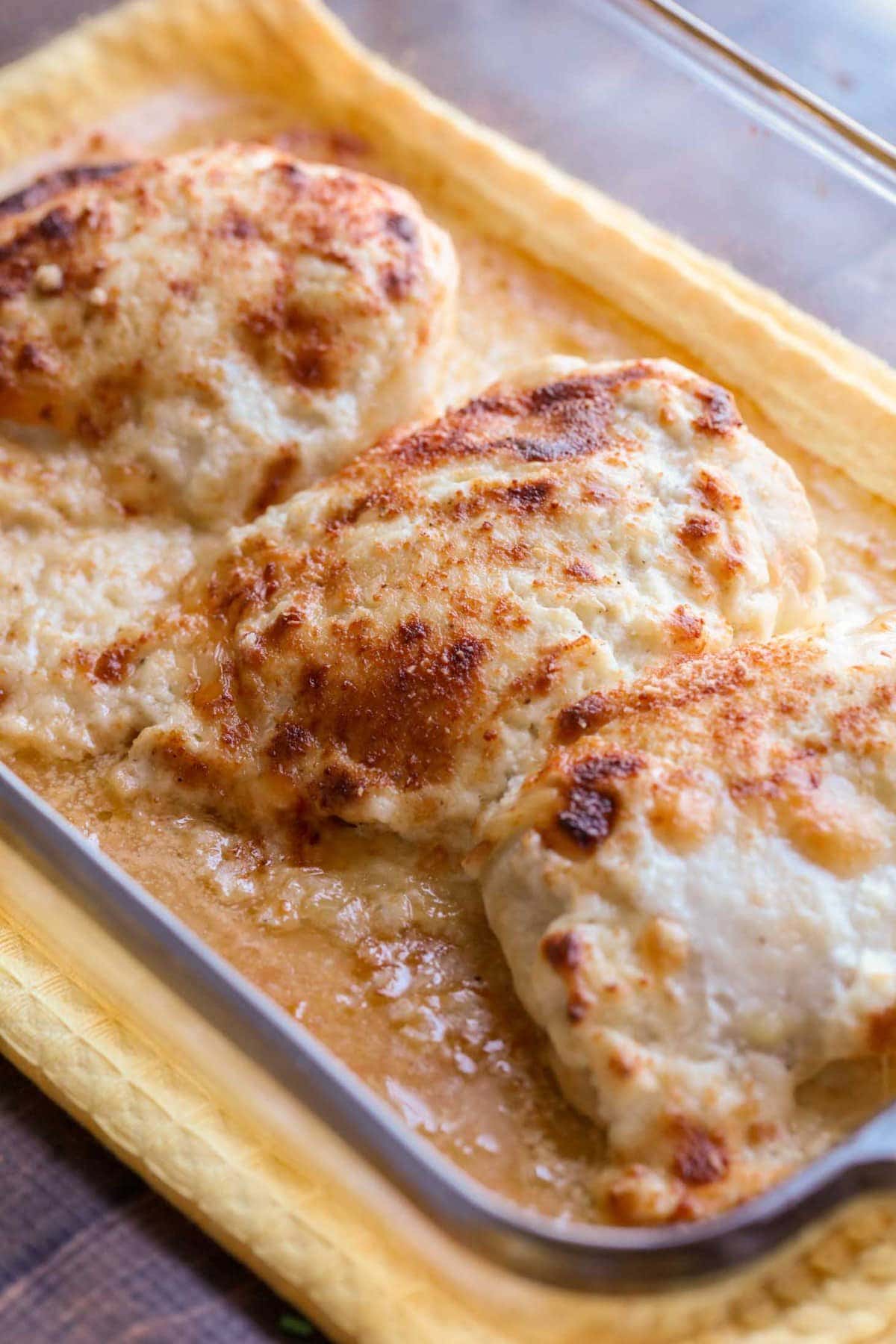 Delicious Creamy Swiss Chicken Bake – a simple and delicious dinner recipe that includes Swiss and Parmesan cheeses and baked to perfection.
Serve this creamy swiss chicken over a big scoop of Crock Pot Rice (another side on the meal plan this week).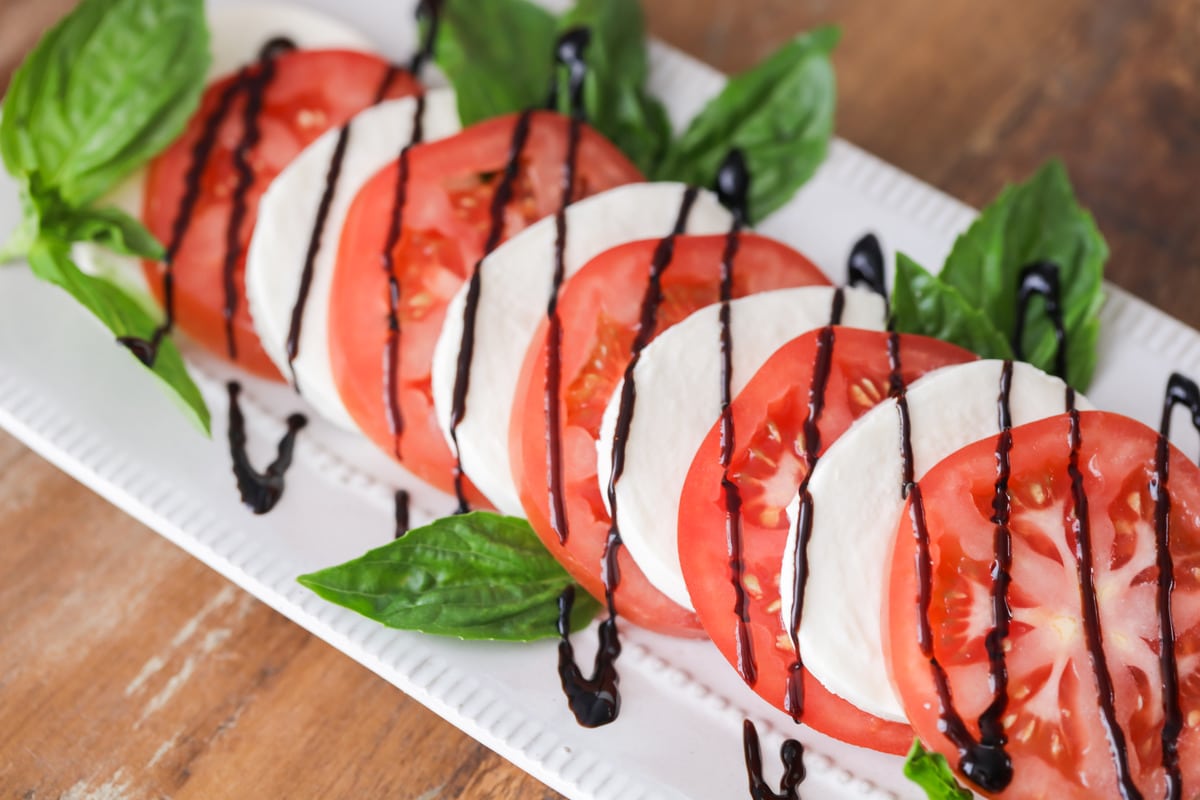 our top two choices
No need for a rice cooker when you have a crock pot in your cupboard! Follow our recipe for Crock Pot Rice—it's the easiest method!
Tip: If you have any leftover rice, you can use it to make some sweet Rice Pudding!
---
Fresh, light, and healthy Tomato Mozzarella Salad with basil and balsamic glaze is perfect for lunches with friends or a side salad to dinner! We are planning on serving it with the Italian Pork Chops on Tuesday.
You can also use those tomatoes, mozzarella, and fresh basil to make Bruschetta Caprese or Caprese Kabobs instead!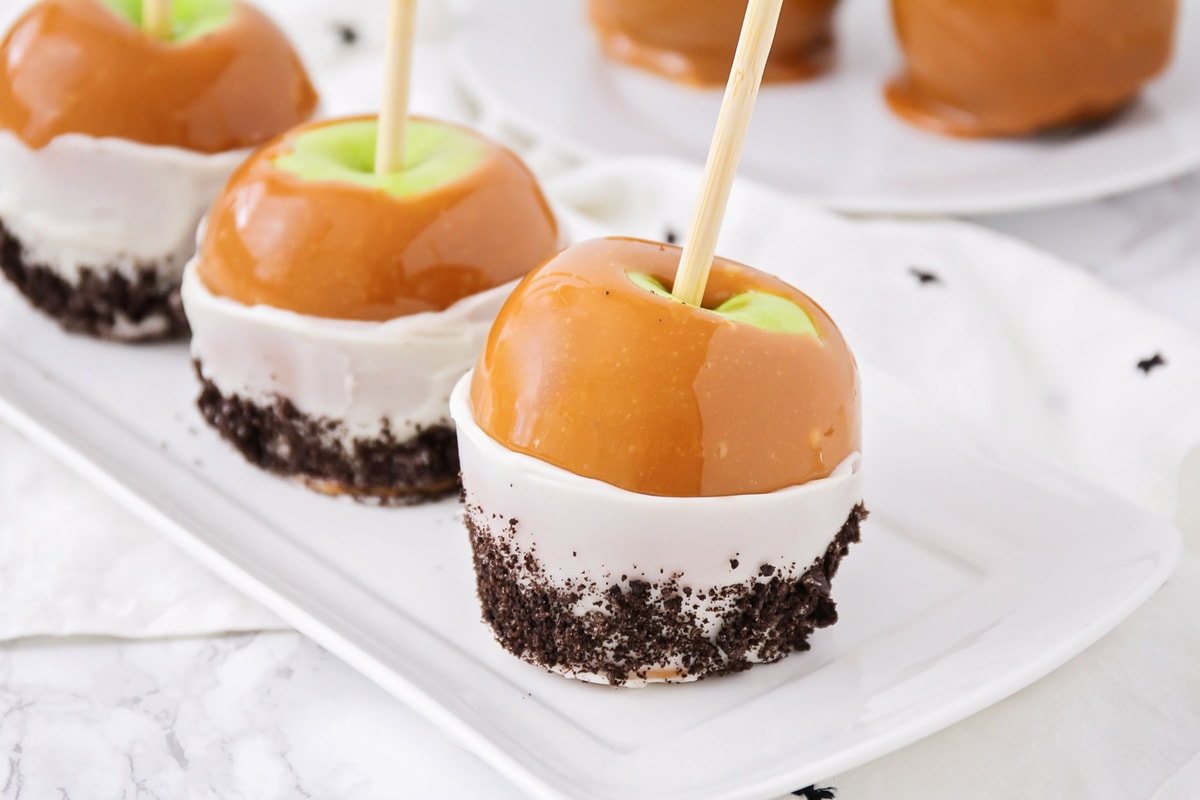 Making gorgeous gourmet caramel apples is easier than you think! With these tips and tricks, you will have beautiful (and DELICIOUS) homemade caramel apples in no time.
And for more fall apple treats, try:
---
Click the link below to download this week's FREE Meal Plan!
And remember – if you want to create your own menu, be sure to check out all our recipes and visit our recipe pages, including: Main Dish, Side Dishes, Desserts, Appetizers and Breakfast!
CLICK HERE TO DOWNLOAD THE PDF!