Save yourself some time, money and stress by using this FREE Meal Plan that is full of amazing recipes. Each plan includes 5 dinner ideas, 2 side dishes, 1 dessert and a shopping list making meal planning easier than ever!!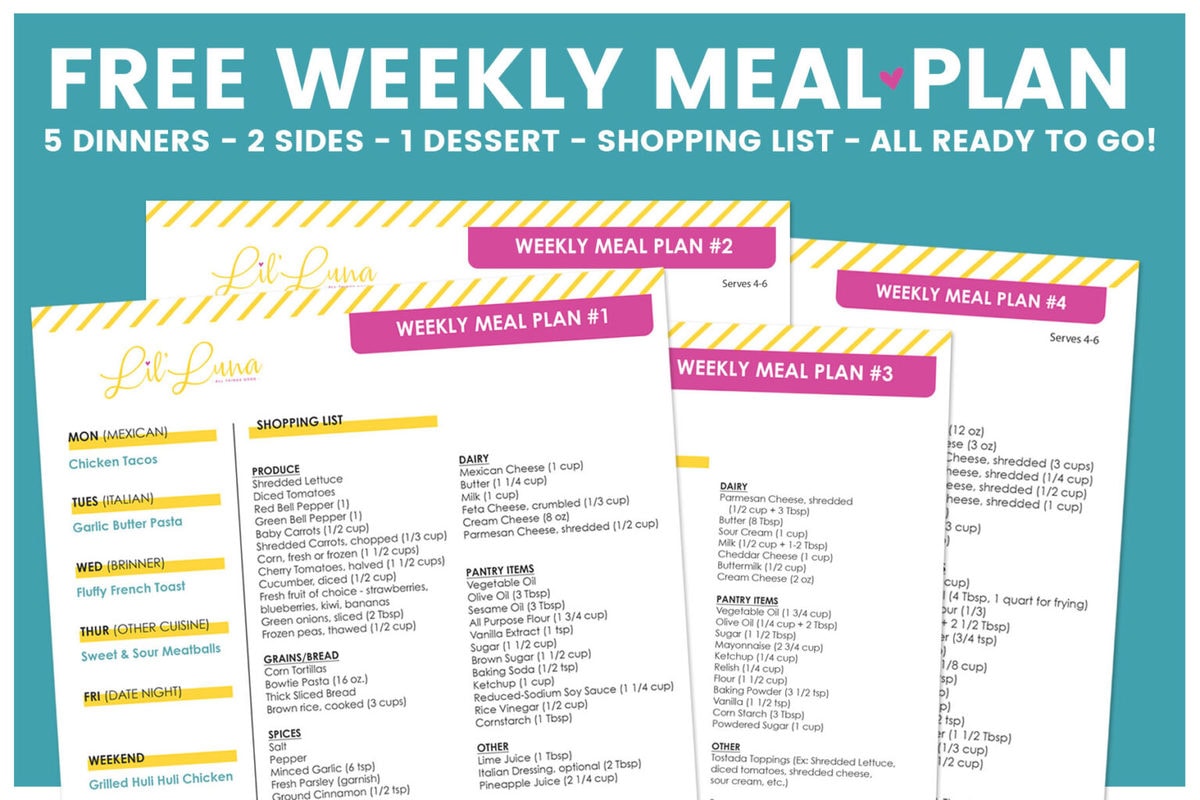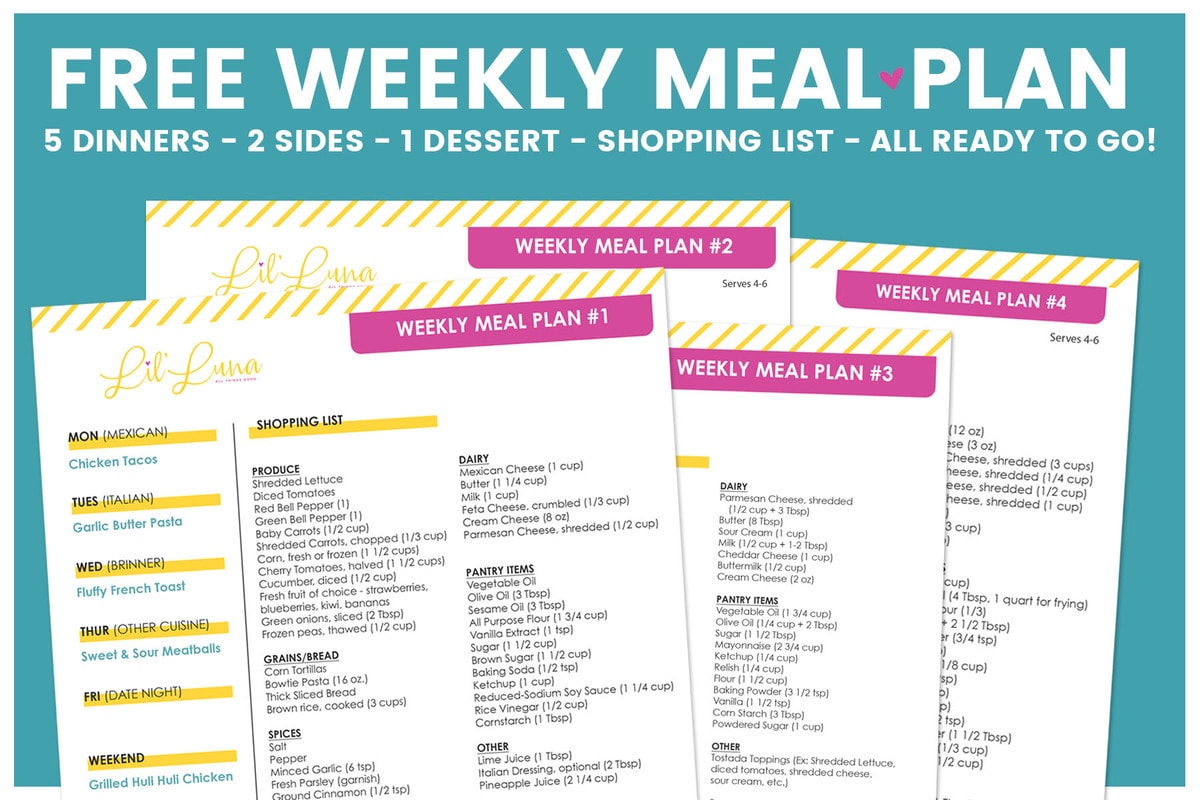 WEEKLY MEAL PLAN #96
Each week, I share with you a FREE meal plan that consists of 5 dinner ideas (Monday-Thursday plus one Weekend meal), 2 side dishes, and 1 dessert!
Included is a grocery list with EVERY ingredient you need for all the items on the meal plan.
This is meant to help simplify menu planning, shopping, and cooking so you can more easily enjoy meals with your family throughout the week!
TIP OF THE WEEK
On the menu this week is Creme Brulee French Toast. It's sweet, caramely and delicious!
Using stale/dry bread is best for making French toast. When using dry bread, it really soaks up the egg mixture and the bread will not fall apart. Using soft, thin bread slices results in soggy slices that will break into pieces.
Don't forget to top it with Homemade Whipped Cream or Buttermilk Syrup!
BENEFITS OF MEAL PLANNING
There's nothing worse than the dread every time a family members asks, "What's for dinner??" And your answer is "I have no clue." Having a meal plan for the week eliminates that completely, which is the number one benefit in my book!
Besides having a game plan in place, there are several other benefits of meal planning, including:
Cost: When you have a plan set in place, and a specific list of groceries, you eliminate cost wasted on impulse items or produce that never gets used.
Decrease Waste: No wasted money, and no wasted food! Having a set grocery list will help to avoid both of those issues.
Variety: Our meal plans specifically include a lot of variety, with Mexican, Italian, Breakfast for Dinner, and so much more! You can expose your family's palates to all kinds of meals.
No Indecision: Did you know there's such thing as "indecision fatigue"? The idea is that when you can't make a decision on something (like what to make for dinner) it actually makes you mentally fatigued. When dinners are already planned out, though, you avoid indecision completely!
Health: When you plan for/anticipate making well-rounded meals, you're much more likely to actually make them rather than defaulting to convenient boxed meals, or unhealthy fast food!
As you can see, there are so many benefits to meal planning!
And if you want to create your own menu, be sure to check out all our recipes and visit our recipe pages, including: Main Dish, Side Dishes, Desserts, Appetizers and Breakfast!
---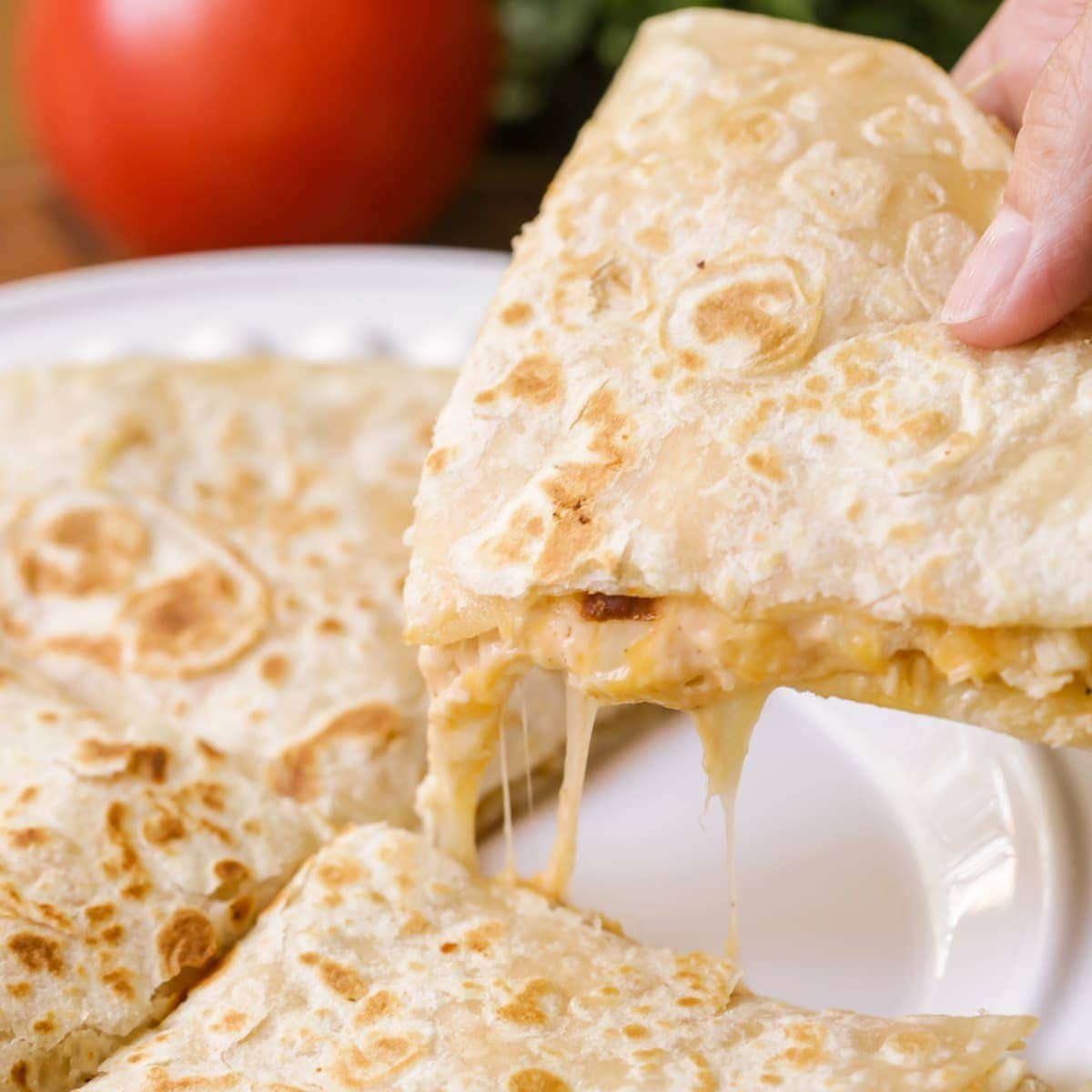 These easy, cheesy Chicken Quesadillas are a crowd favorite. They are not only filled with cheese and chicken, but a delicious homemade sauce that makes these hand-held goodies irresistible!
When eating quesadillas, some homemade Guacamole to dip them in is a must for us. It's one of our sides this week and, with it being packed with flavor and the perfect amount of spice, we know you're going to love this recipe!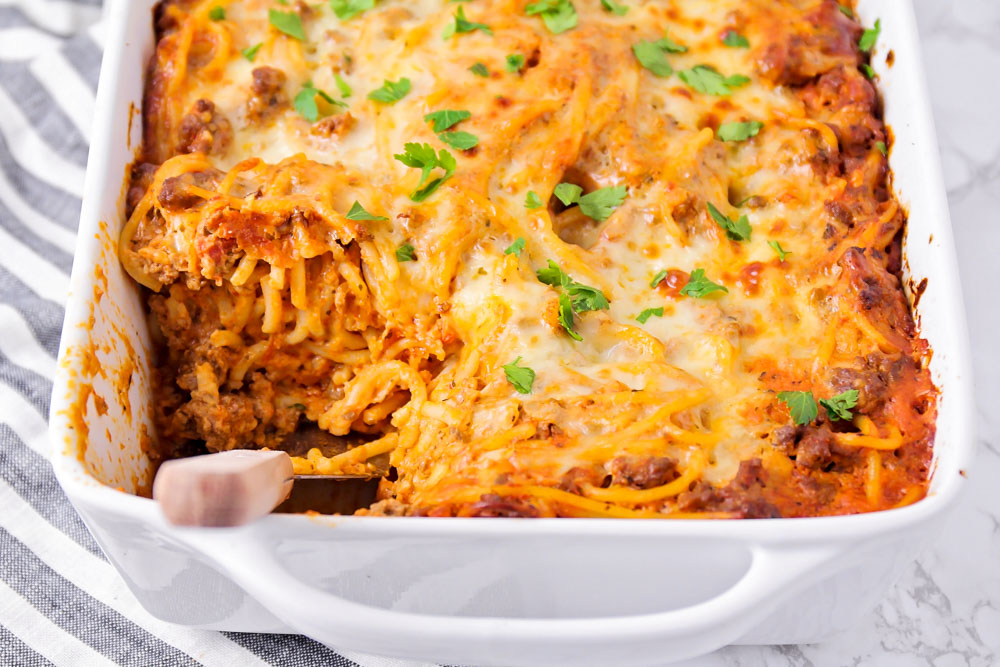 Spaghetti Casserole is the definition of comfort food! Hearty, delicious, and an easy way to make and eat spaghetti.
This crazy good dish pairs perfectly with Bruschetta and Tomato Mozzarella Salad. It'll be an Italian feast fit for a king!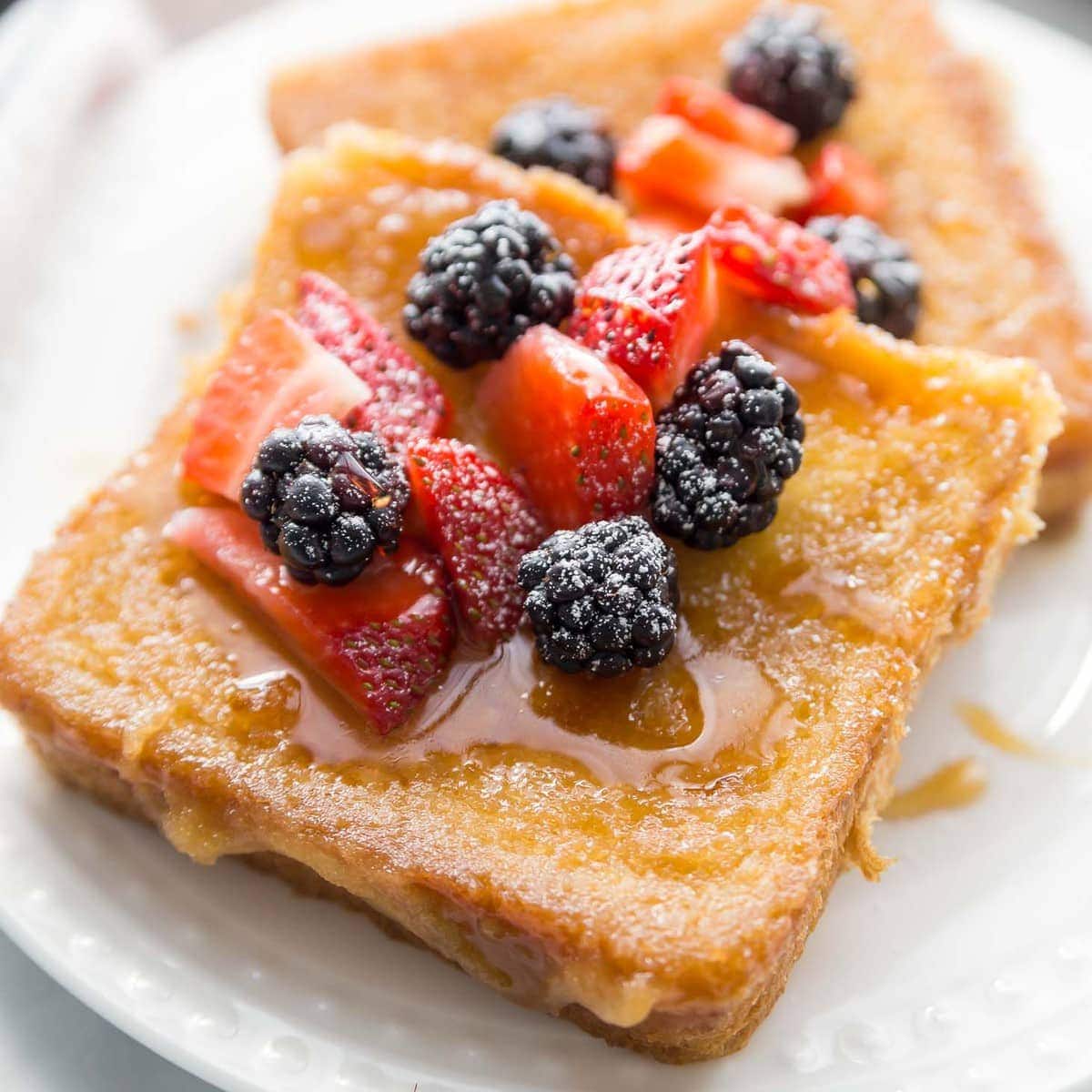 Delicious Creme Brulee French Toast that has a crisp caramel coating on one side. Everyone loves this tasty, buttery breakfast treat—especially served with buttermilk syrup and fresh berries!
When we want to add some protein to the meal, we also serve Scrambled Eggs and bacon and, if we really want to go all out, we also make Peanut Butter Banana Smoothies. This meal is sure to be a family favorite brinner!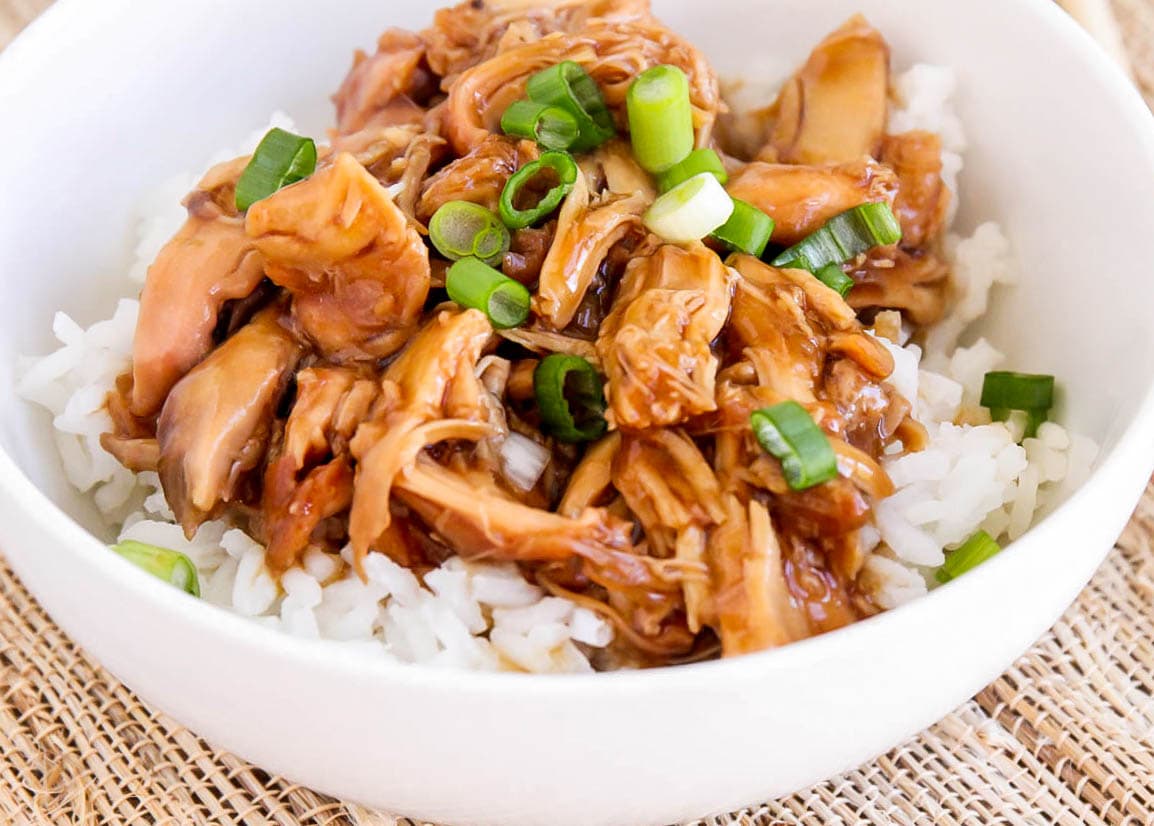 Make this super easy Crock Pot Teriyaki Chicken in your slow cooker, and serve over warm white rice for a delicious teriyaki bowl!
We usually eat this chicken with white rice, but other great options are Crock Pot Rice, Fried Rice or Cauliflower Rice. When we want to add veggies, we have a side of Roasted Broccoli.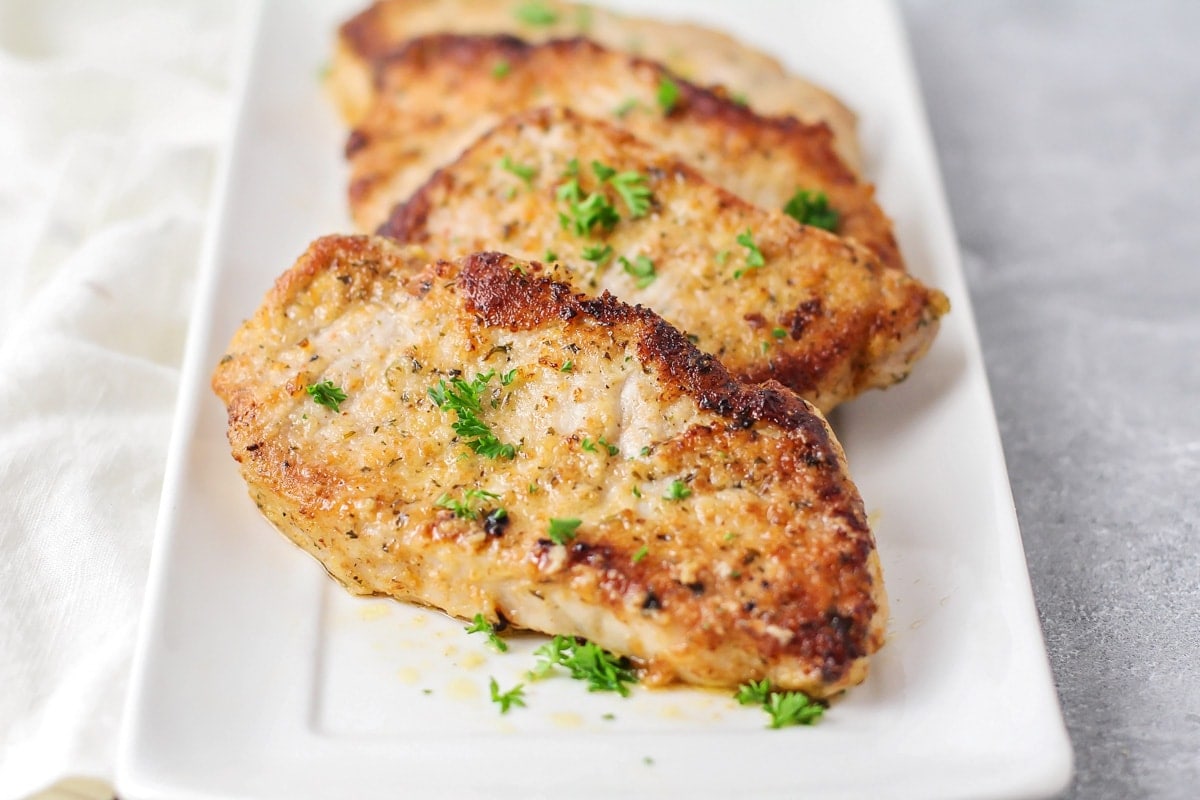 Fry up the most delicious Parmesan Crusted Pork Chops with less than 10 minutes of prep work!! They are perfectly juicy.
These yummy pork chops go great with mashed potatoes and Brussel Sprout Salad. Brussel Sprout Salad is one of our sides this week and is both beautiful and flavorful!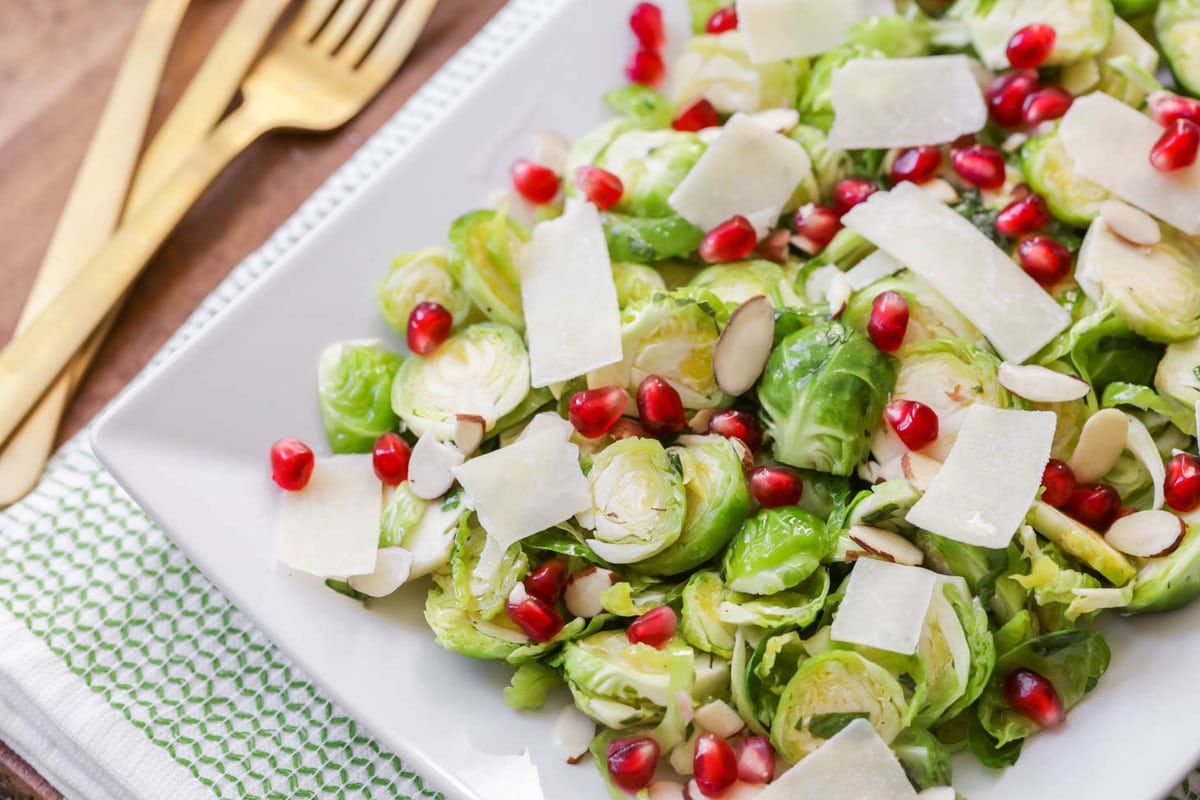 Our Top Two Choices
Spicy, chunky simple Guacamole is so easy and addicting, it's sure to be a crowd pleaser! You won't be able to stop eating it.
We love our homemade guacamole, but we have so many other Mexican dips that we also love including Queso Blanco, Hamburger Dip and 7 Layer Bean Dip. Check out all of our Mexican appetizers HERE.
---
Brussel Sprout Salad is as pretty as it is tasty—full of shredded Brussel sprouts, pomegranate seeds, sliced almonds, and a little bit of shaved parmesan.
Some other recipes that transform Brussel sprouts from ordinary to extraordinary are Balsamic Brussel Sprouts. Brussel Sprouts with Bacon and Parmesan Brussel Sprouts.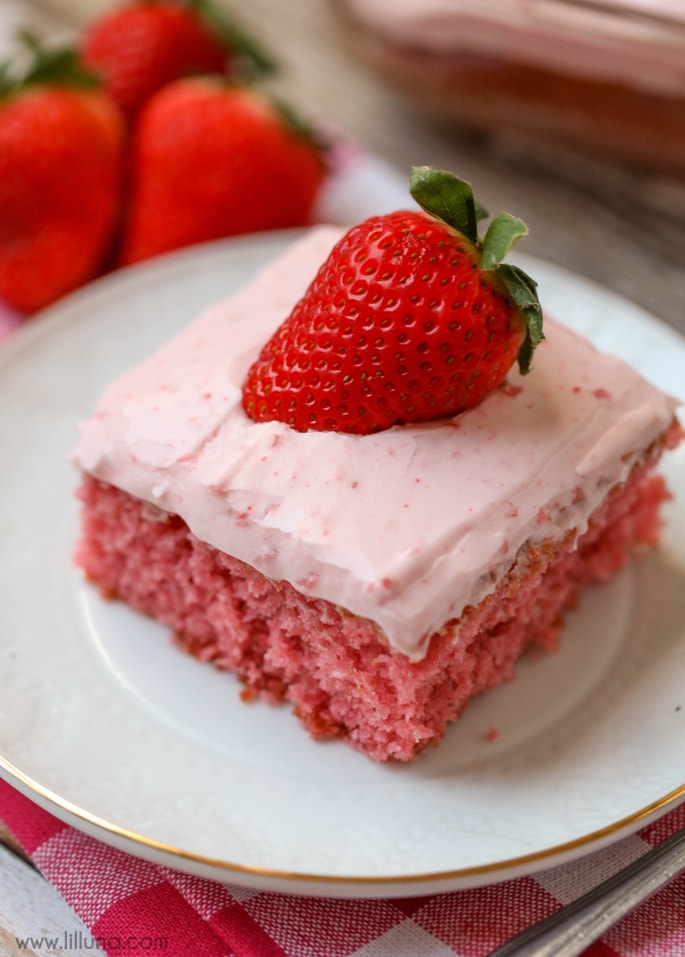 Perfect for feeding a crowd, this Strawberry Sheet Cake made with fresh pureed strawberries is especially tasty!
For more Strawberry Desserts, try:
---
Download the Meal Plan!
Click the link below to download this week's FREE Meal Plan!
And remember – if you want to create your own menu, be sure to check out all our recipes and visit our recipe pages, including: Main Dish, Side Dishes, Desserts, Appetizers and Breakfast!