I feel like I didn't even know Bruschetta existed until about 8 years ago. #sad
We had gone on a double date to one our favorite restaurants in Arizona called Oregano's. Our friends had ordered the Bruschetta and after trying it, I was wondering where it had been all my life. It was AMAZING!!! I immediately figured out how to make it and even found a pre-made bruschetta I liked at Sam's Club, which means we were having it all the time. Well, fast forward a few years and we've know found an even better way to enjoy it – with AVOCADOS!! Now we like to have this Guacamole Bruschetta as often as we can.
This recipe is especially great for parties and get togethers. We like to serve it in a bowl with a bunch of small hogi slices for people to dip with. Everyone loves it!! And if you're a fan of Bruschetta + Avocados then I think you'll love it too. 😉
MY OTHER RECIPES
Here's the recipe:

Guacamole Bruschetta
Ingredients
2 medium tomatoes, chopped
2 medium avocados, chopped
2 TB olive oil
¼ cup cilantro, chopped
1 tsp. minced garlic
2 TB chopped onions (optional)
2 TB lime juice
½ t. salt
¼ t. pepper
Instructions
Combine all ingredients together and mix well.
Refrigerate until ready to serve.
Place in bowl or on bread slices right before serving. ENJOY!
You can serve this with so many things, but we like to grab Hogi or Sub rolls from the bakery section of the grocery store. We slice it, add some butter to one side, sprinkle on some grated Parmesan cheese and then broil for a few minutes. It's amazing!
The result… delicious bruschetta for you to enjoy at home!!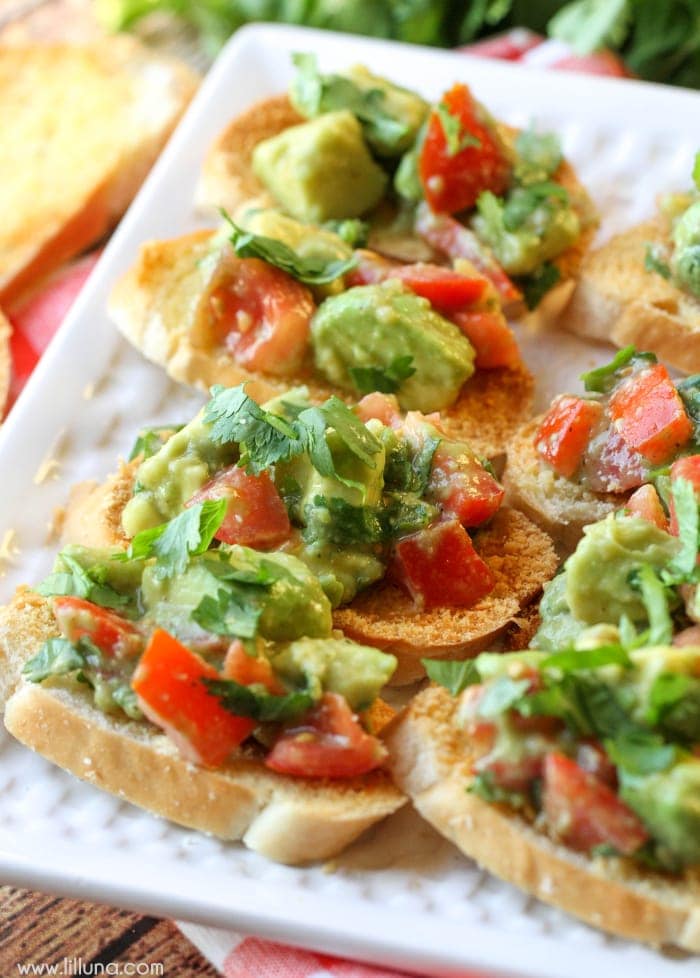 Seriously, I could eat this stuff all night long! SO GOOD!!
For more great appetizers, check out:
ENJOY!