Valentine's Cookie Jar Gift – CUTE and simple. A great idea for those who love to bake!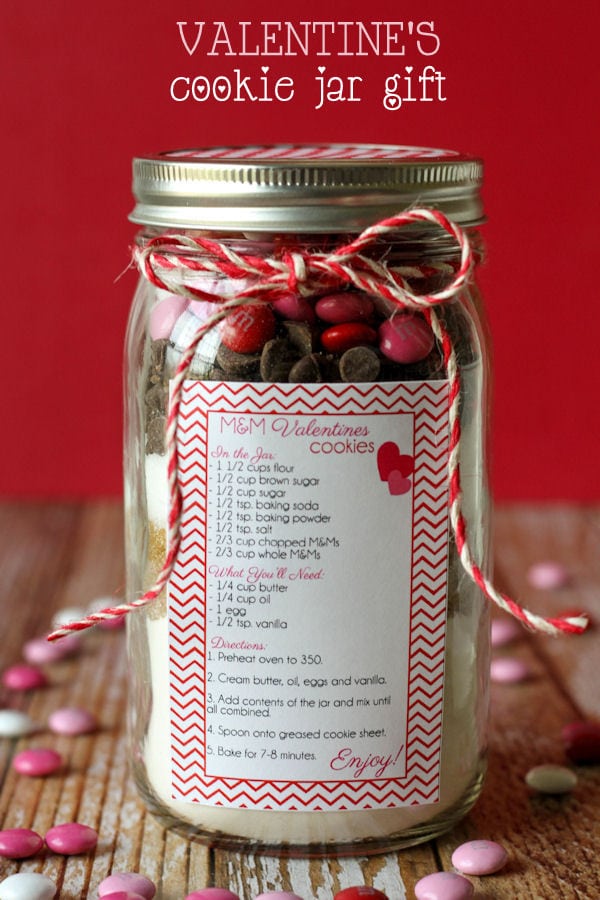 An Easy, Yummy Gift
You guys know I'm a little obsessed with easy, quick and inexpensive gift ideas. Really, I am!! I think it's mostly because being in a large family I feel like there are birthdays every week that need to be recognized and with 5 kids of my own I really need to have quick and cheap ideas on hand for these special days.
One of my favorite "go-to" gifts are my Cookie Jar Gifts. They're simple, quick and can be mass produced very easily. I realized I had yet to make one for Valentine's so I decided it was a good time to do that (and yes you better believe I'll make sure to hit all the holidays eventually).
I knew these would be perfect for my neighbors and even the sisters I visit teach at church. My daughter, Lily, also said her teacher would love one so we'll probably make her one for a simple Valentine's day treat. 😉
Not only are these Jar Gifts super cute, but they also help make super delicious cookies. And what's better than having almost all the ingredients taken care of when you're craving a sweet treat?!
Here is what you'll need to make a Valentine's Cookie Jar Gift: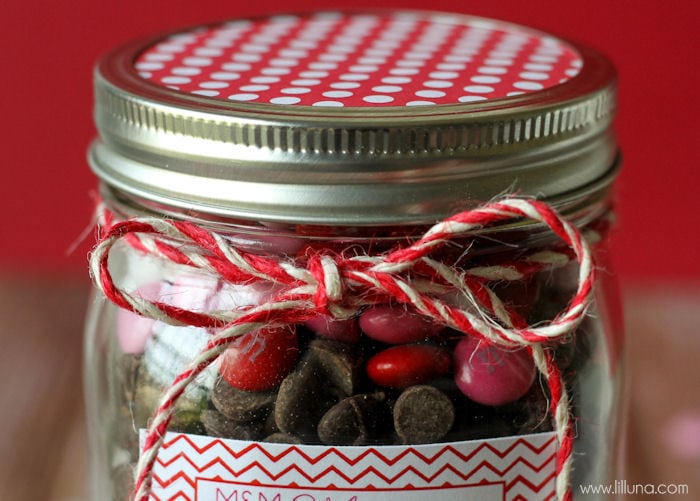 WHAT YOU NEED
Quart Jar
Cookie Ingredients (found below)
Scissors
Twine/Ribbon
Scrapbook Paper
HOW TO MAKE IT
1. Clean your jars and let dry completely.
2. Fill your jars…
Start with 1 ½ cups flour, ½ tsp. baking soda, 1/s tsp. baking powder, ½ tsp. salt.
Then add ½ cup brown sugar followed by ½ cup sugar.
Then add 2/3 cup milk chocolate chips OR 2/3 chopped M&Ms.
Top off with 2/3 cup Valentine's M&Ms.
3. From there you will need to download the Cookie Jar label.
 I suggest printing onto cardstock so the recipe can be more durable for later use.
Cut out and tape onto your jar (or use Glue Dots) and then tie some twine or ribbon around the top.
I also added some scrapbook paper on top. Easy!
Instead of using milk chocolate chips, you could also do a layer of chopped M&Ms. You would need about 2/3 cup before topping it off with 2/3 cup whole M&Ms. 😉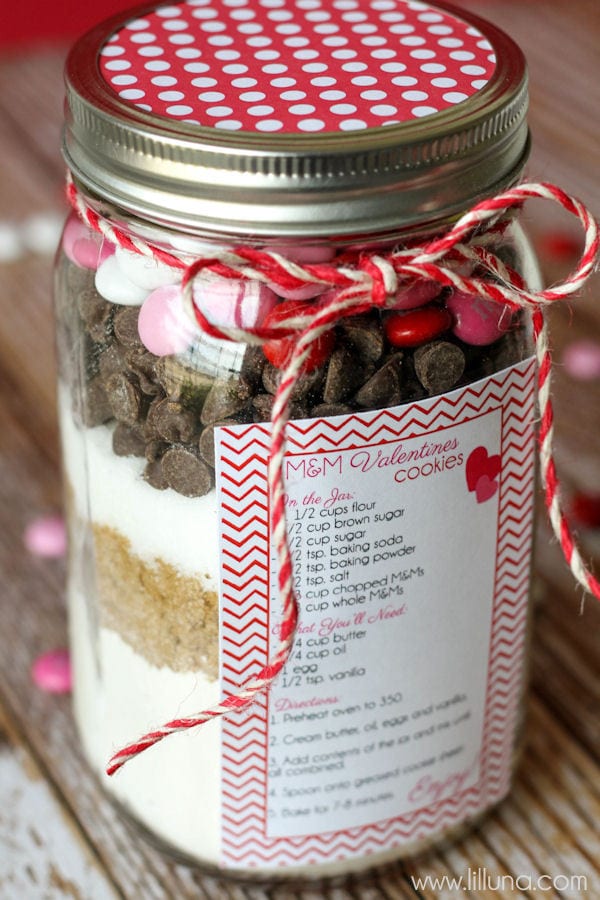 For more great Valentine's Ideas, check out:
Be sure to also check out all of our Valentine's recipes!