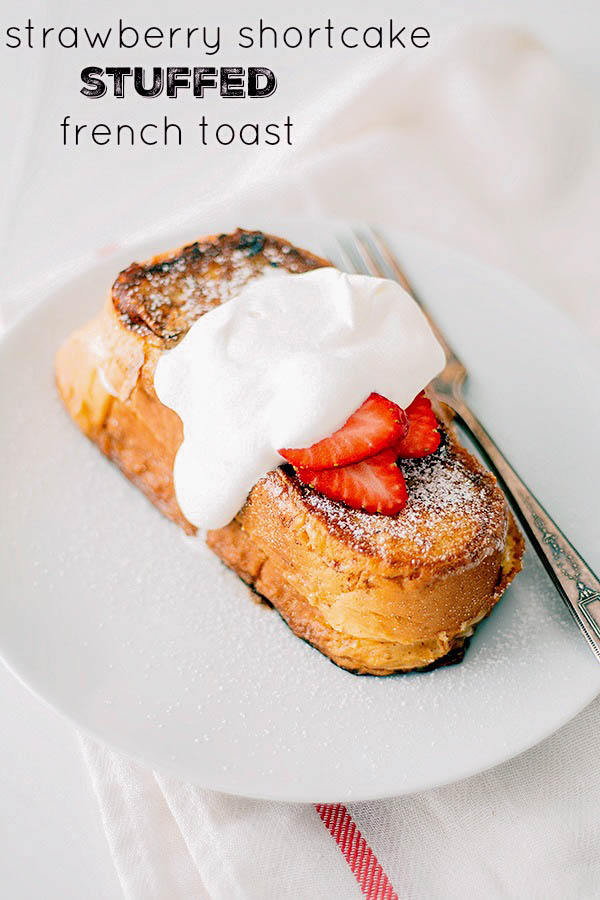 Breakfast is most definitely my favorite meal of the day. During the week our mornings are quite busy.Three days a week Charlie has football weight training an hour before schools starts. We're out the door by 6:30 Monday, Wednesday, and Friday, meaning that I am up no later than 5:30. These are NOT the mornings to get fancy in the kitchen.  So we started having breakfast for dinner once a week, and it is the kids' favorite night. I think they would eat pancakes, waffles or french toast every night if I allowed it.
Whether you try this strawberry shortcake stuffed french toast for breakfast, brunch, or brinner, it is sure to become a family favorite.
Any loaf of bread will do, but I recommend using brioche or challah cut thick to give you 8 slices.
MY OTHER RECIPES
Spread with cream cheese, top with strawberries, and sandwich together.
 Stuffed french toast is then cooked just as you would any french toast recipe.
strawberry shortcake stuffed french toast
Ingredients
1 loaf brioche of challah, cut into 8 slices
3 eggs
1½ cup whole milk
1 Tbsp sugar
1 tsp vanilla
½ tsp salt
dash of cinnamon
2 Tbsp butter
4 Tbsp cream cheese
1 cup of strawberries, hulled and sliced
1 cup of heavy cream, whipped
powdered sugar for topping
Instructions
in a shallow baking dish (large enough to fit the bread slices) whisk together the eggs, milk, sugar, vanilla, salt, and cinnamon
spread each slice of bread with ½ Tbsp cream cheese, and top half of the slices with strawberries
sandwich together - to make 4 sandwiches
place sandwiches in the egg mixture (1 or 2 at a time), and soak 1 minute per side
melt 1 Tbsp butter in a large skillet over medium, to medium low heat
place 2 stuffed french toast into the skillet, and cook 4 - 5 minutes on each side (make sure the egg mixture is completely cooked)
keep french toast warm in a 200 degree oven while you finish the batch
repeat with the remaining 2 sandwiches
top each stuffed french toast with powdered sugar, sliced berries, and freshly whipped cream
Allow the sandwiches to soak in the milk and egg mixture for about 1 minute on each side, drain off any excess, and then fry in a pre-heated skillet. I like to cook my french toast at a slightly lower temperature to ensure the egg cooks all the way without the bottoms getting too brown.
There's nothing worse than drippy soggy french toast.
Top your stuffed french toast with powdered sugar, freshly whipped cream, and more berries of course. If you have a major sweet tooth like my gang, a bit of maple syrup should do the trick.
enjoy!
______________________
This looks AMAZING. I'm definitely going to have to try this recipe for breakfast soon.
Thanks so much for sharing with us Heather!
For more delicious recipes from her, head on over to Heather's French Press!
And for more breakfast recipes, check out these recipes here on the site:
For all breakfast recipes, go HERE.
And for ALL recipes, go HERE.
And get weekly emails with monthly freebies by signing up for the Lil' Luna newsletter. 🙂
For even more great ideas follow me on Facebook – Pinterest – Instagram – Twitter – Periscope – Snapchat.
Don't miss a thing – Sign up for the Lil' Luna Newsletter today!