Hi Lil' Luna readers,  I'm Crystal from A Pumpkin & A Princess. I'm a wife, mother of 3, and crafty blogger. On my blog I love sharing crafts, recipes, DIY projects tutorials and fun activities to do with kids. Kristyn is such an inspiring blogger that I have always looked up to so it's an honor to be a part of her Christmas in July series.
1 – What is your favorite holiday and why?
This may be a little odd since we're talking about Christmas but my favorite holiday is Halloween. I'll admit I'm a little bias since it's my son's birthday. But I've always loved Halloween, it's such a fun holiday and I love dressing my kids up every year.
2 – What is your favorite Christmas Tradition?
My favorite Christmas tradition is sleeping next to the tree on Christmas eve. Every year we pull out the blankets and cuddle under the bright lights of the tree. My kids love this tradition because they think they will get a chance to see Santa. Luckily they fall asleep and never catch a glimpse of the good ol' Saint Nick. 😉
3 – What is your all-time favorite Christmas Movie?
My all-time favorite Christmas movie is Elf. Will Ferrell is hilarious, need I say more?
4 – What has been the best present you've ever received and why?
The best present I have received is finding out I was expecting our second child Christmas morning. After two miscarriages and many complications it was a wonderful blessing. She's a sweet little girl who is always ready to conquer the world. I don't think I could have asked for a better gift.
5 – Why do you blog?
I blog because I love creating and sharing my passion with others. Blogging has been a creative outlet for me as a SAHM. It enables me to do what I love and I'm grateful for the friendships I've made through blogging. It's amazing how great it feels to connect with my readers and read their sweet comments. I never in a million years thought I would be a blogger but I'm thankful to have my little space to share with you.
Today I'm sharing my Rick Rack Christmas Trees. To make these I took the back of an old frame and glued scrapbook paper onto it. I then hot glued rick rack onto the paper. This is a very quick, inexpensive, and easy project to make!
Thanks for having me Kristyn!
————————————————-
Thanks Crystal!! Can't wait to make these!
For more easy DIY Christmas crafts be sure to check out: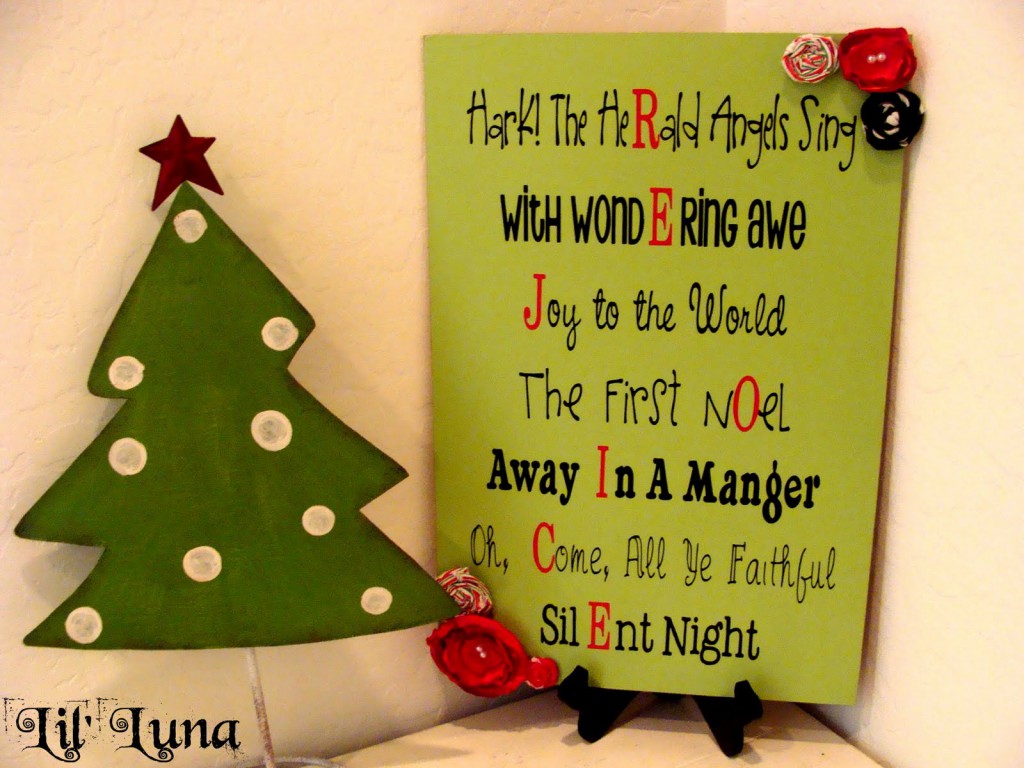 REJOICE Christmas Sign & Printable
And get weekly emails with monthly freebies by signing up for the Lil' Luna newsletter. 🙂
For even more great ideas follow me on Facebook – Pinterest – Instagram – Twitter – Periscope – Snapchat & YouTube.
ENJOY!!