Save yourself some time, money and stress by using this FREE Meal Plan that is full of amazing recipes. Each plan includes 5 dinner ideas, 2 side dishes, 1 dessert and a shopping list making meal planning easier than ever!!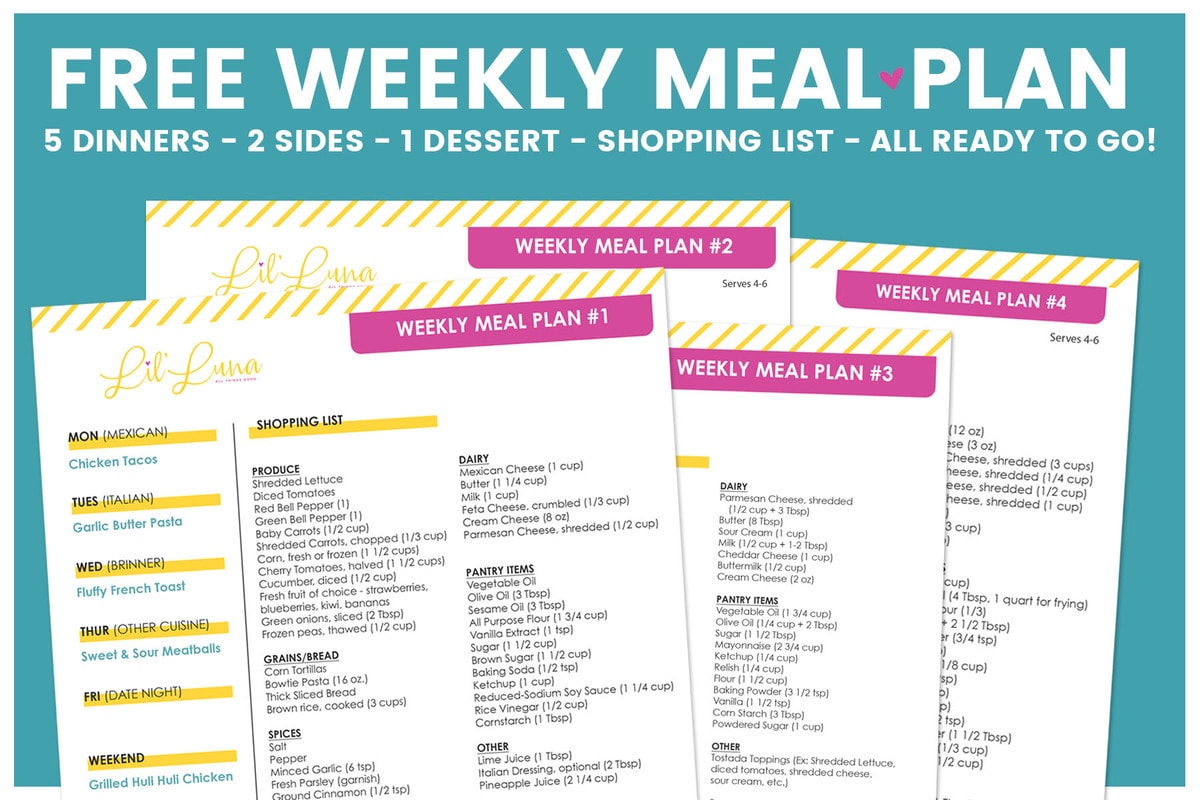 WEEKLY MEAL PLAN #76
Each week, I share with you a FREE meal plan that consists of 5 dinner ideas (Monday-Thursday plus one Weekend meal), 2 side dishes, and 1 dessert!
Included is a grocery list with EVERY ingredient you need for all the items on the meal plan.
This is meant to help simplify menu planning, shopping, and cooking so you can more easily enjoy meals with your family throughout the week!
TIP OF THE WEEK
The Yule Log Cake is a CLASSIC Christmas dessert.
It does require some time and effort!
However, while there are many steps to complete, the steps are very simple and straightforward. The difficulty level is not high, but it does require a bit of time.
So plan accordingly when preparing for this timeless and festive dessert. If time and effort is not something you have right now, keep it simple and still tasty with our Eggnog Milkshakes!;)
BENEFITS OF MEAL PLANNING
There's nothing worse than the dread every time a family members asks, "What's for dinner??" And your answer is "I have no clue." Having a meal plan for the week eliminates that completely, which is the number one benefit in my book!
Besides having a game plan in place, there are several other benefits of meal planning, including:
Cost: When you have a plan set in place, and a specific list of groceries, you eliminate cost wasted on impulse items or produce that never gets used.
Decrease Waste: No wasted money, and no wasted food! Having a set grocery list will help to avoid both of those issues.
Variety: Our meal plans specifically include a lot of variety, with Mexican, Italian, Breakfast for Dinner, and so much more! You can expose your family's palates to all kinds of meals.
No Indecision: Did you know there's such thing as "indecision fatigue"? The idea is that when you can't make a decision on something (like what to make for dinner) it actually makes you mentally fatigued. When dinners are already planned out, though, you avoid indecision completely!
Health: When you plan for/anticipate making well-rounded meals, you're much more likely to actually make them rather than defaulting to convenient boxed meals, or unhealthy fast food!
As you can see, there are so many benefits to meal planning!
And if you want to create your own menu, be sure to check out all our recipes and visit our recipe pages, including: Main Dish, Side Dishes, Desserts, Appetizers and Breakfast!
---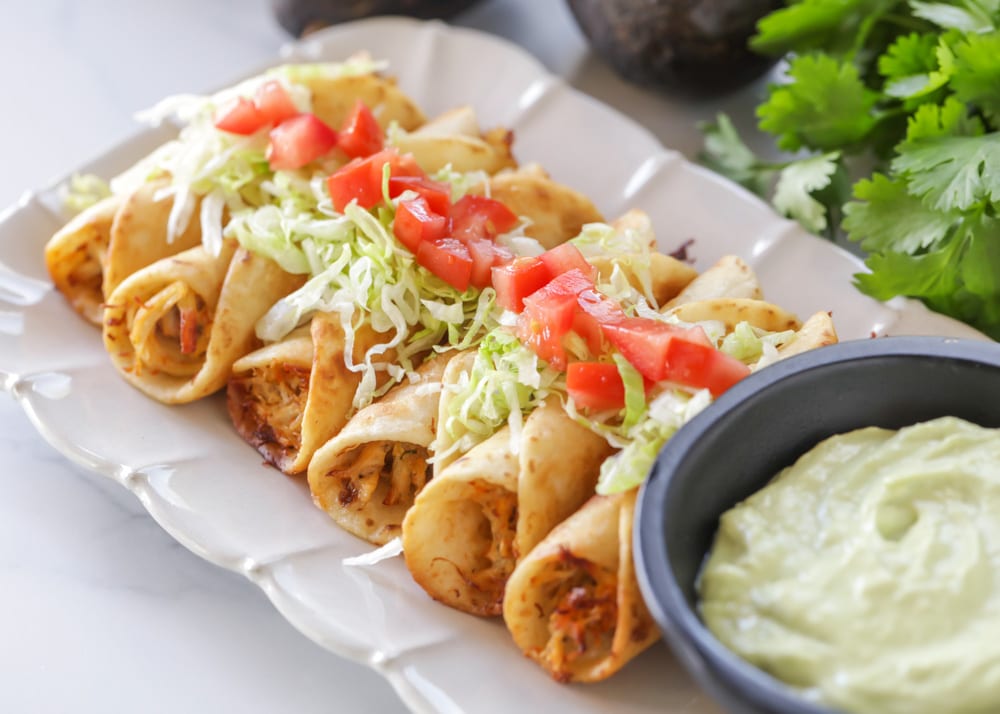 Delicious, crunchy chicken flautas filled with shredded chicken, salsa, cheese, and more! They can be fried, air fried or even baked into a delicious and easy dinner or appetizer.
We love to serve flautas with a variety of dips. Some of our favorites are Simple Guacamole, Pico de Gallo, Sweet Salsa Verde, and Avocado Cream Sauce. They all go great with these flautas!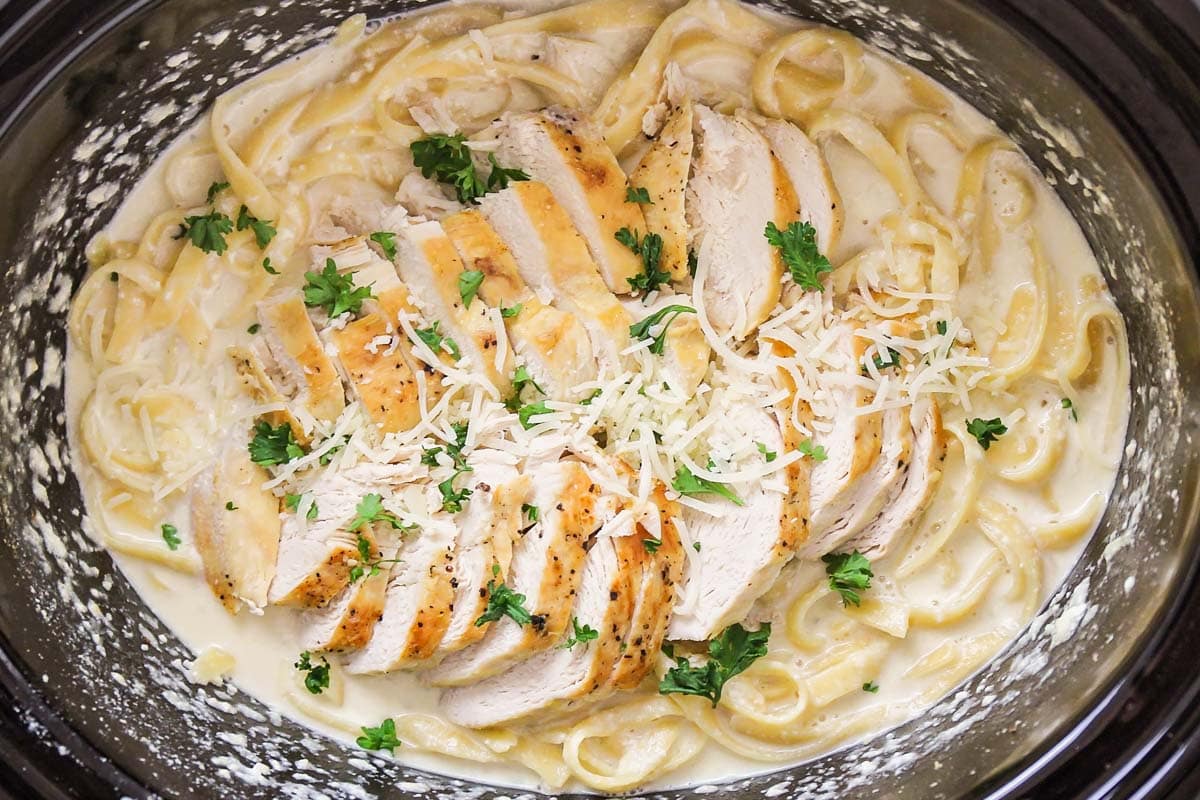 Creamy and delicious crock pot chicken Alfredo is an easy make ahead meal. It is filling and flavorful, perfect for busy weeknights!
We always serve a green salad with this divine dish, and we love to have Spinach Artichoke Dip before or with this meal. It's one of our featured sides this week and one of our favorite appetizers to make and serve this time of year.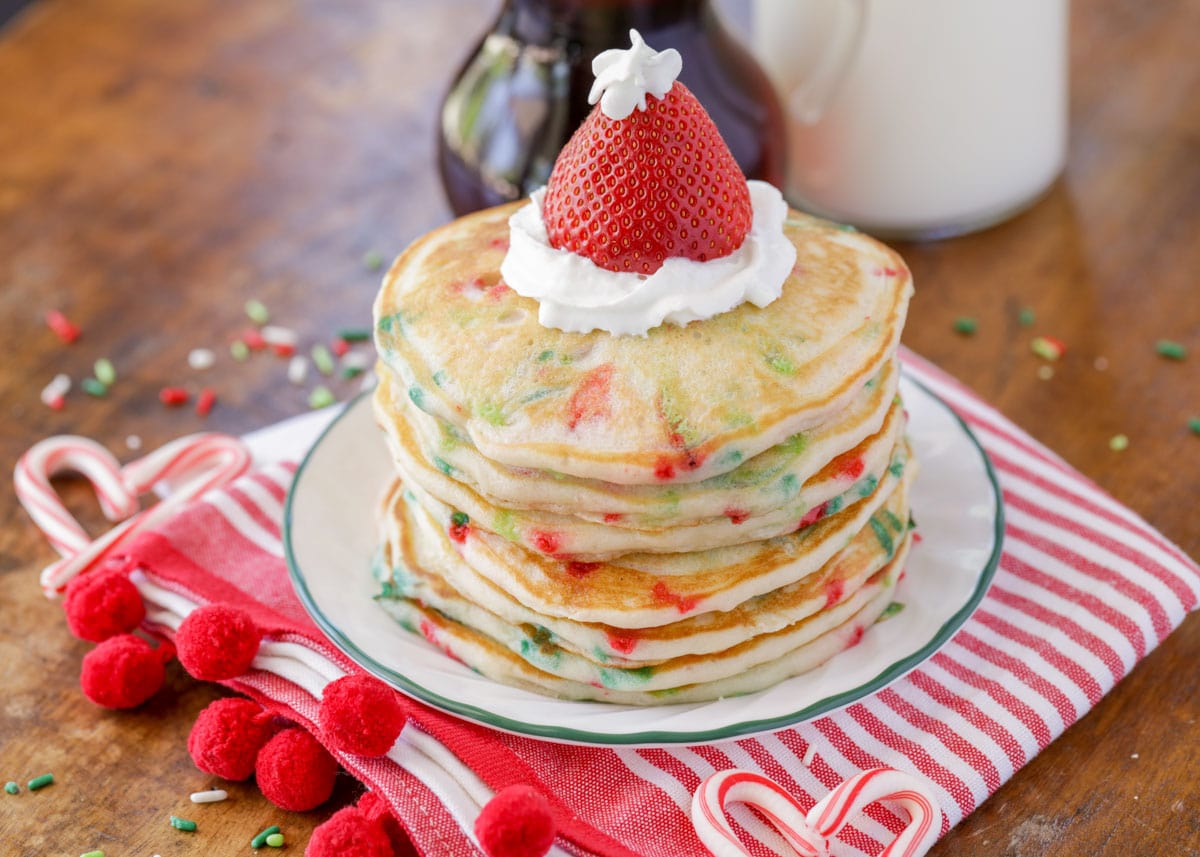 Adorable Christmas Pancakes filled with red and green sprinkles are perfect for Christmas morning and easy enough for the kids to help too!
We love topping these festive pancakes with Buttermilk Syrup or Homemade Whipped Cream and fresh fruit.
And, it's so much fun to serve hot chocolate with this meal too. Some of our favorite hot chocolate recipes are Mexican Hot Chocolate, Double Chocolate Hot Cocoa and White Chocolate Peppermint Hot Cocoa. If you want to make it really special, check out our Hot Chocolate Charcuterie Board. It's so fun for the holidays!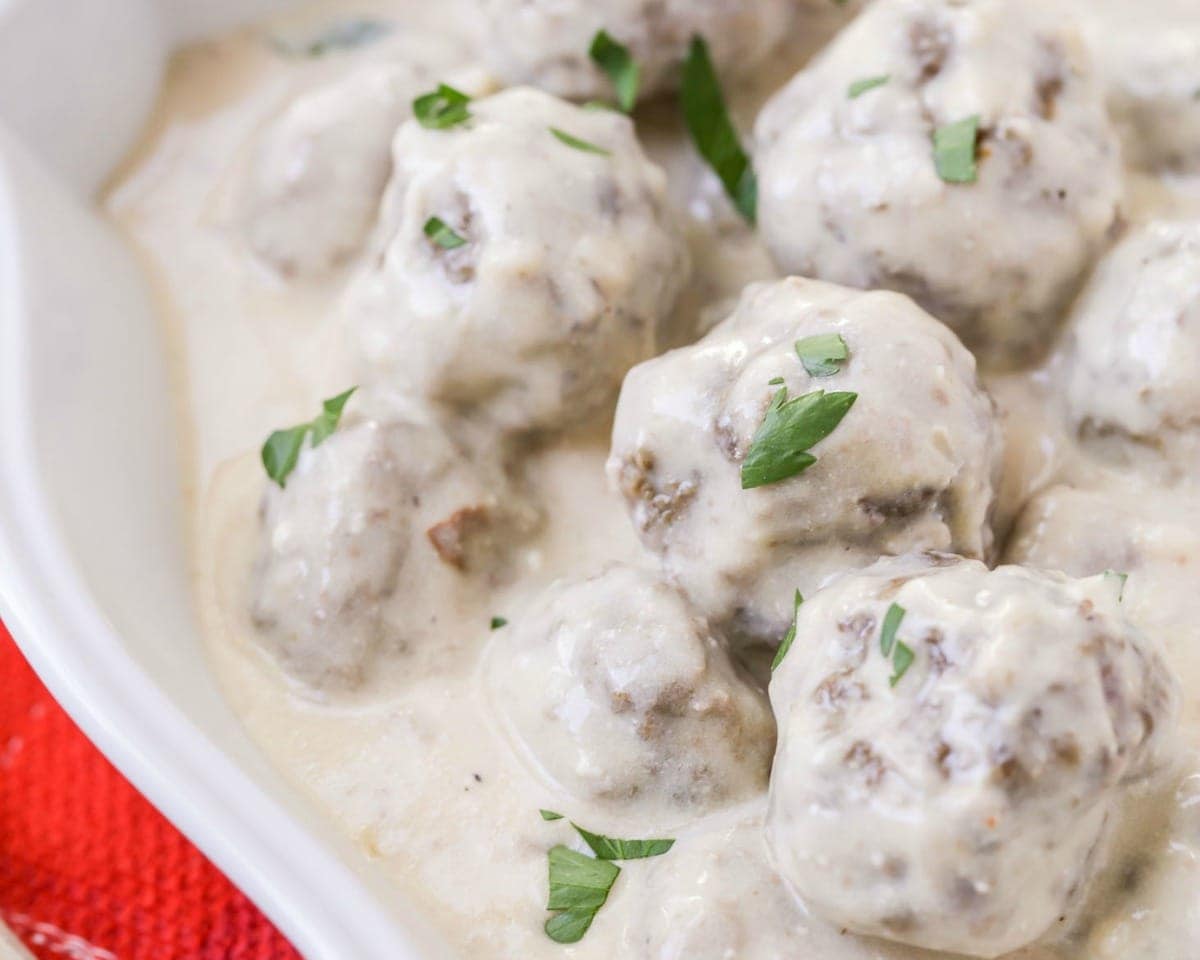 Swedish meatballs made from both pork and beef, cooked to perfection, and smothered in a creamy gravy. Served on top of mashed potatoes or with cooked vegetables, it's the perfect dish for holiday entertaining.
This traditional Swedish holiday meal can be served with mashed potatoes, roasted vegetables, rice or pasta. You really can't go wrong however you decide to serve this dish!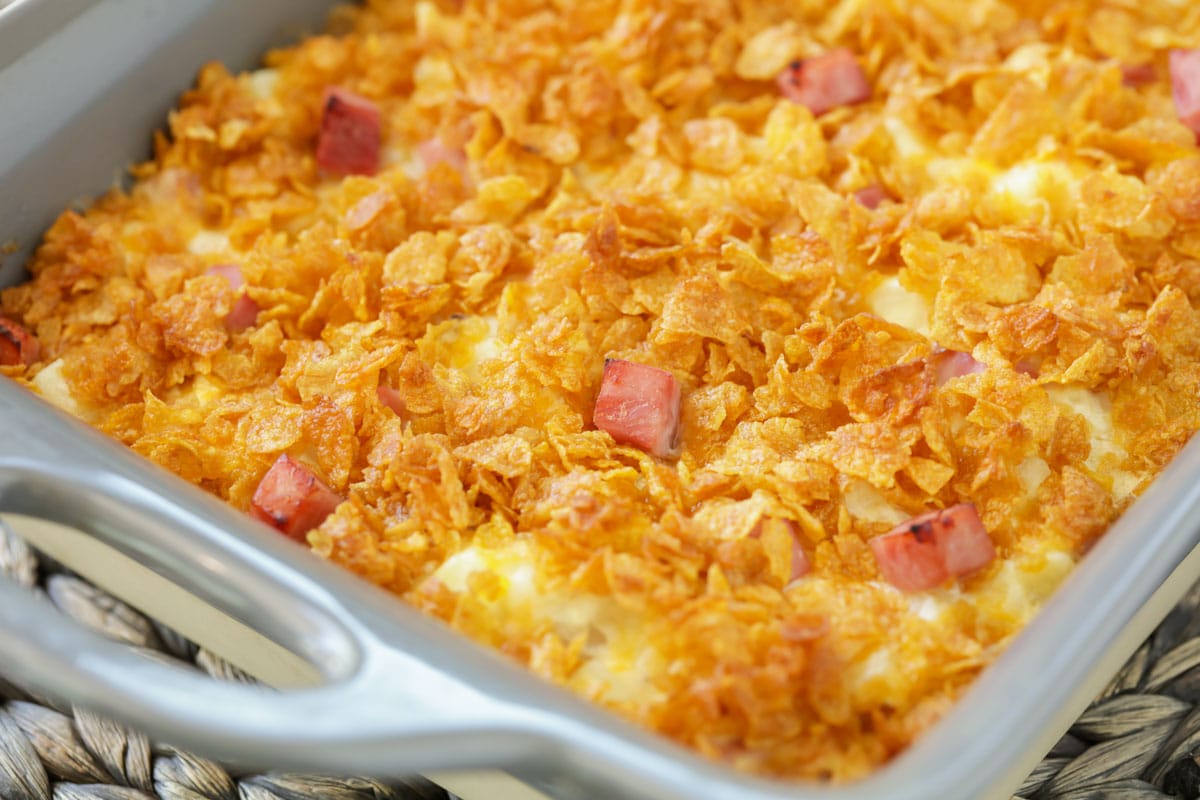 Cheesy ham and potato casserole is creamy and homey. Topped with crunchy corn flakes for the perfect side dish!
If you're already planning to cook a ham for Christmas, try our highly-rated Funeral Potatoes or Scalloped Potatoes to go alongside it. They're both delicious!
And, to round it off, serve our Christmas Tree Veggie Platter. It's one of our sides this week and it's perfect for Christmas day or any holiday gathering.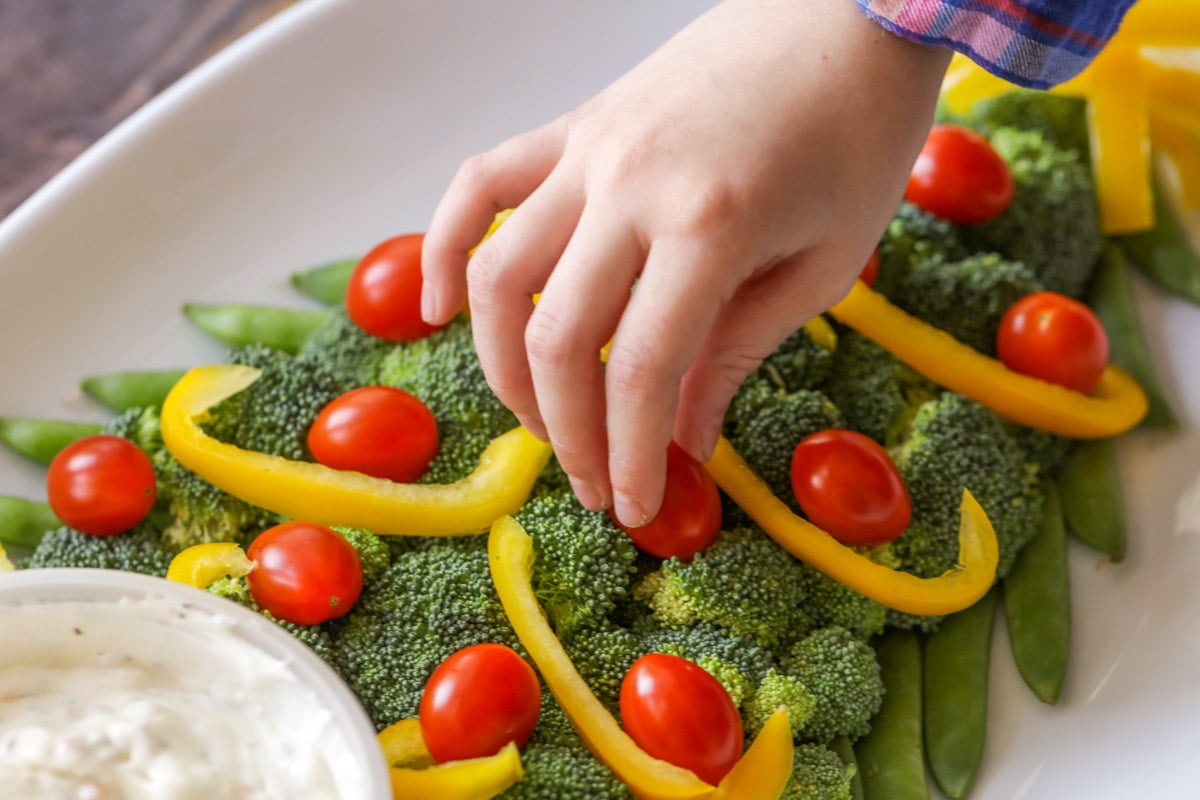 Our Top Two Choices
Christmas Tree Veggie Platter is a simple, festive and fun dish to make for all your upcoming holiday parties and get togethers.
Be sure to whip up some Homemade Ranch, Dill Vegetable Dip or Homemade Hummus to serve with the veggies. Be sure to check out our complete collection of appetizer dips.
---
This is the BEST Spinach Artichoke Dip recipe, and the ultimate dip for any get together! Filled with spinach, artichoke hearts, cheese, and more – this dip is sooo cheesy and perfect for any gathering!
Some of our other favorite appetizer dips that we love to serve at holiday parties are Queso Blanco, Bean Dip, Buffalo Chicken Dip and Jalapeño Popper Dip. We promise your guests will love all of these!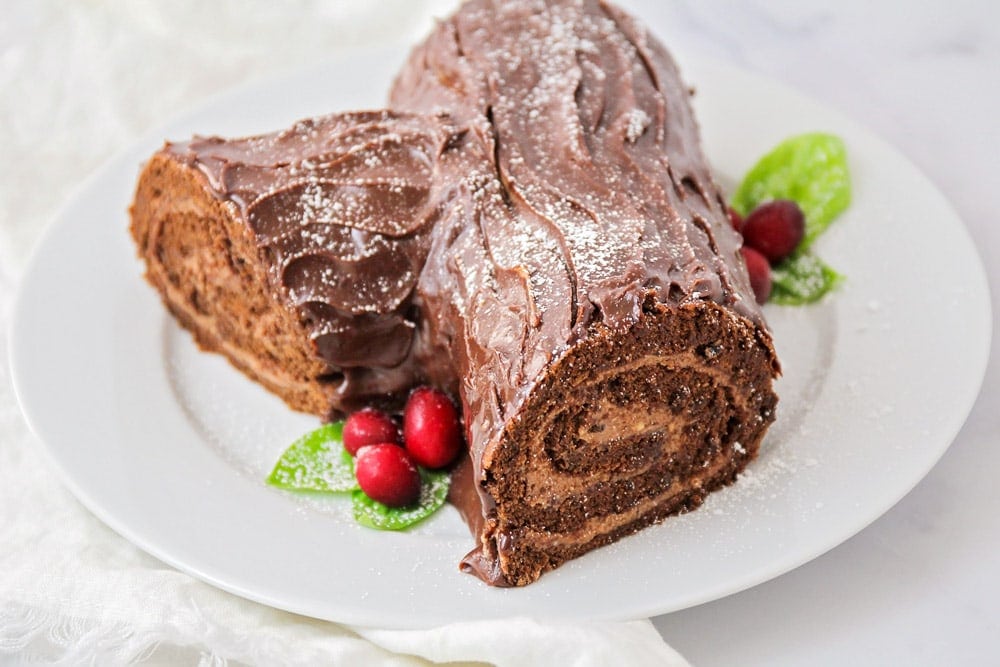 Yule log is a traditional holiday dessert made from a chocolate cake rolled with a chocolate filling and covered in a chocolatey ganache. It's as beautiful as it is tasty!
For more TRADITIONAL CHRISTMAS DESSERTS, try:
---
Click the link below to download this week's FREE Meal Plan!
And remember – if you want to create your own menu, be sure to check out all our recipes and visit our recipe pages, including: Main Dish, Side Dishes, Desserts, Appetizers and Breakfast!
Click HEre to Download the pdf!