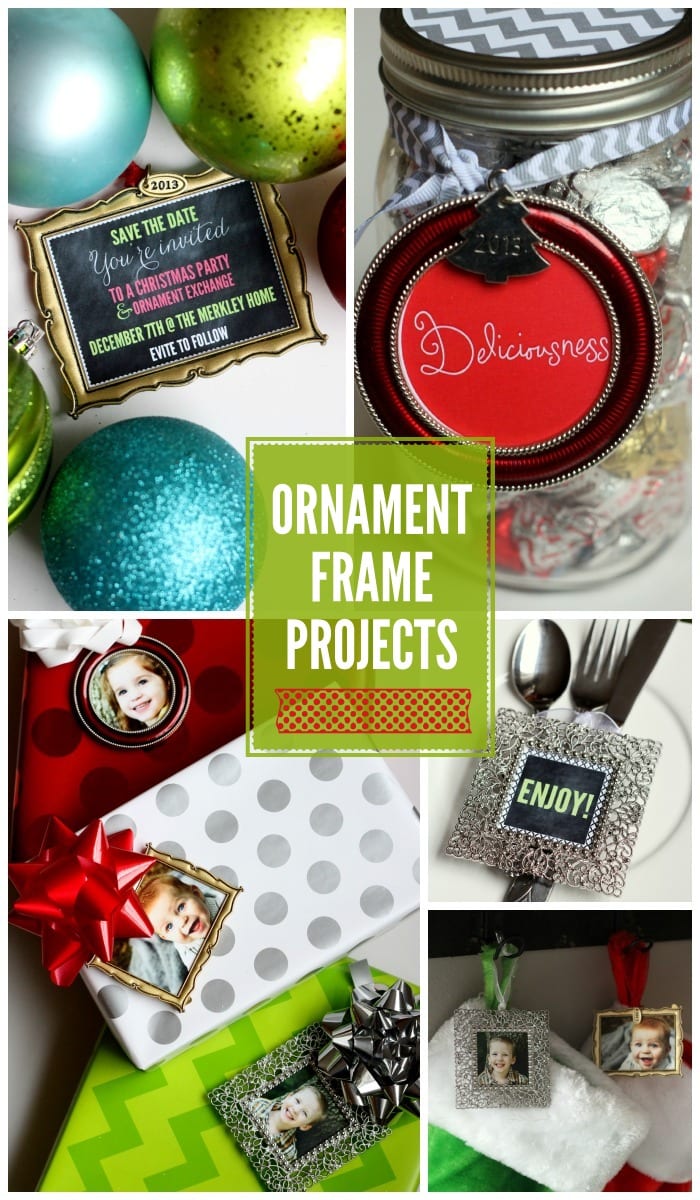 Have you been to Michael's lately?
If so you've probably seen all the wonderful and festive Christmas products they're carrying, including some great Ornament Frames. I was recently sent some from Michael's to use in some holiday projects. It was really so fun to "Think Outside the Frame" using these ornaments! Here is what I came up with for some great Ornament Frame Ideas…
What do you think?
All easy peasy right?!
Here is each project in a little more detail…
PICTURE GIFT TAGS
I thought it would be super fun to add these ornaments as the tags on the presents. The kids loved the idea because 3 of the 4 can't read and love that they know which present is theirs by which picture is on it!! And then what's even better is I can keep the ornaments each year to make one fun Family Tree that shows each kid each year!! 😀
I had to get a close up of my Wesley below cuz he's growing just WAYYYY too fast!!
SAVE THE DATE PARTY INVITES
What better way to invite someone to a Christmas Party and Ornament Exchange than with a real ornament? I thought it would be fun to make it a SAVE THE DATE invite which states that there will be an evite to follow up with. 🙂
SWEET FRAME TAGS
I also made a simple print that fits perfect in these circular frames. To use yourself just click on the image above, and then RIGHT-CLICK and SAVE. Open it in a program like WORD, RE-SIZE it, print, cut out and attach.
Easy!
Check Out My Other Recipes
PLACE SETTING FRAMES
I made some cute prints that I used to put in each frame that says ENJOY. You can download these tags in GREEN, WHITE and RED/PINK by going HERE. If you don't want to use these you can always stick some scrapbook paper in and then write on the top with Dry-Erase the name for your guest as an assigned place setting. 🙂
STOCKING LABELS
Last but not least, I needed new stockings for the kiddos… I only had a few with no names and thought it would be great to add these frames with each child's pictures to label them. They turned out great, and the kids are SO excited for them already.
I LOVED working with these cute and festive frames. They are such an easy way to jazz up any Christmas project!!
For more information about them go to Michaels.com.
For more Christmas Inspiration and FREE Printables be sure to check these collections out:
For all Free Prints go HERE.
For all crafts & tutorials go HERE.
And get weekly emails with monthly freebies by signing up for the Lil' Luna newsletter. 🙂
For even more great ideas follow me on Facebook – Pinterest – Instagram – Twitter – Periscope.
ENJOY!
This post is sponsored by Michael's. I received free product in order to make these projects. As always, all opinions are 100% my own.
Need more recipes and creative ideas? Sign up and get a FREE copy of my latest ebook!