September 1, 2014 Filed Under: Desserts, Holiday, Recipes by Kellyn Carpenter 1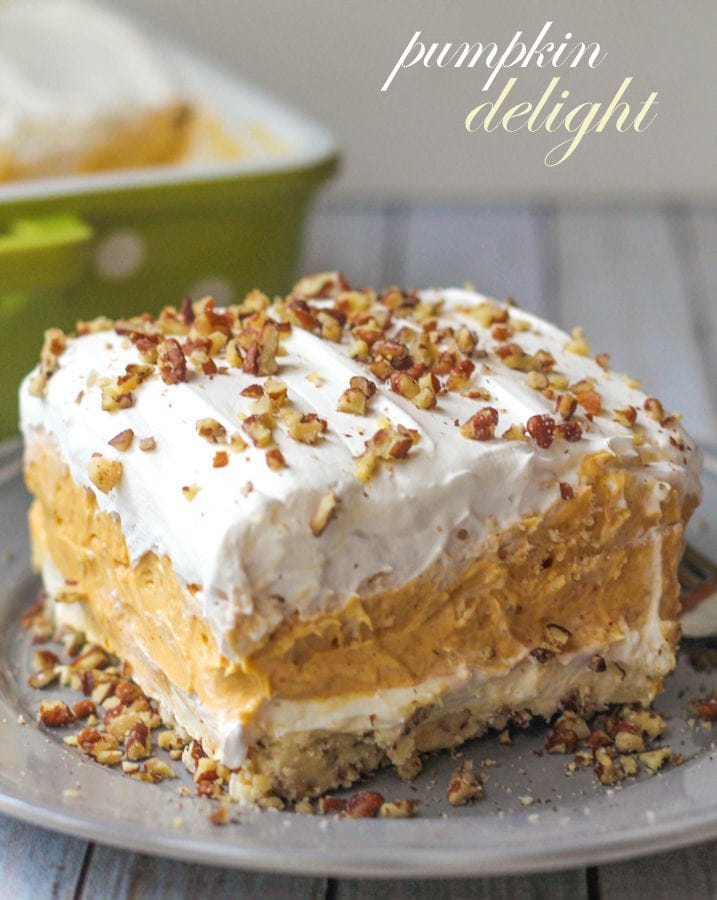 Happy Labor Day!
I hope you have the day off and get to spend it with family and friends! I know we're excited to spend time with our own little family as well as get some projects done.
With it being the start of September, I'm going all fall and y'all and wanted to start sharing some fall and Halloween projects with you guys. You may think it's early but time flies this time of year, and I'm making sure you guys have all the ideas early to get crackin' on your creations this season.
This next dessert is one that EVERY pumpkin lover will enjoy. It's one of those Layered desserts that everyone devours during the summer time, and I'm calling it Pumpkin Delight! With a pecan layer, cream cheese layer, pumpkin and pudding layer and a Cool Whip layer on top, it's sure to be a hit at your home! What I love most about these layered desserts, is that they are so easy and usually look like they took hours and hours to make – a great way to impress the guests.
I hope you enjoy this creamy and cool Pumpkin treat as much as we did! Read More »