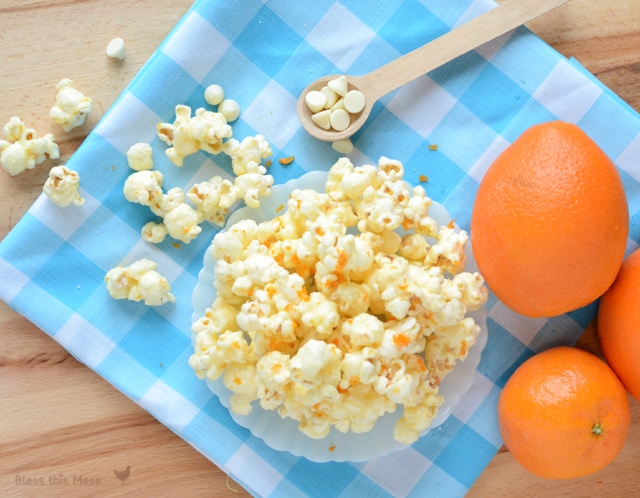 Hello!
I'm Melissa and I blog over at Bless this Mess. When Kristyn did a shout-out for contributors in December I saw the post, thought it would be awesome but there's no way I'd get it, and moved on with my day. My sister actually sent me a link to the post and told me I should do it. I wrote her back asking if she really thought I could make the cut, and she replied I had as good of chance as anyone. That was just the little confidence boost that I needed and I applied that night. Can you imagine the shock I got from an email saying Lil Luna accepted me. Wow. This is such a fun (and big) opportunity and you all won't be disappointed. I'm excited to work with Kristyn who is known for her kind helpfulness, to add to Lil Luna's useful and beautiful posts, and to get to know you, the readers, who I hear are some of the kindest and most loyal around. Thanks for having me.
I'm all about keeping it real, which can be hard when it comes to blogging, but I think it's important you all know why part of  why I'm here. I'm here in hopes you'll like what I have to share and come to my blog for more. My goal this year is to grow, grow, grow. I've been "fancy blogging", as I like to call it, for just over a year. I spent the last twelve months figuring out a new camera, the ins and outs of food photography and styling, and finding my voice and writing style. I feel like I still have plenty of room to improve, but I also have a good handle on what I'm doing, have a blog that looks nice, and am ready to have company over for dessert. So consider this an invitation of sorts.
MY OTHER RECIPES
Now here's what you'll find if you do come pay a visit: My blog is an honest picture of a happy small town life. You'll find posts about raising backyard chickens, gardening, remodeling our house while living in the mess and lots and lots of family-friendly recipes, dessert included. Throw in the occasional kid or holiday craft and you're set.
Now that we've met, on to the recipe. Popcorn. When you get to know me you'll find I'm addicted to the stuff and I thank/blame my Indiana up bringing for my love of it. I love popcorn in all forms, sweet, salty, and every combo of the two. Orange Dreamsicle Popcorn is a beautiful merriment of white chocolate, orange, and popcorn that will remind you of summer on these cold winter days. Make it for an after school snack or for movie night, either way, your family will thank you. And did I mention it's easy? Oh, so easy.
Orange Dreamsicle Popcorn
Makes 14 cups or 6 generous servings
Ingredients:
14 cups popped popcorn
2 cups white chocolate chips
Juice from one orange, about 1/3 cup
Zest from one orange, about 1 tsp.
1/4 tsp salt, optional
Directions:
In a large bowl add the popped popcorn and make sure to leave any tooth-breakin' kernels out. In a glass two-cup measuring cup, or other medium-sized microwave-safe bowl, add the chocolate chips, orange juice, and orange zest. Microwave on high, stirring often, until the mixture is smooth and all the way melted, about 1 minute. Pour the hot chocolate mixture over the popcorn and stir to coat well. Dump the popcorn on a large baking sheet or a piece of waxed paper on the counter. Sprinkle with salt if desired. Let the popcorn sit until the chocolate sets, about 20 minutes. Eat as soon as the chocolate is set. This is best the first day it's made, so I don't recommend storing any leftovers.
Notes:
Pop that poppin' corn however you see fit – air popper, stove top, it's up to you. It'll take about a cup of kernels to get that much popped corn.
I used Guittard White Chocolate Chips (blue bag, white writing) and they are oh so good.
If you think it needs a bit more orange flavor feel free to zest another orange right on top and mix it in.
This is the perfect things to stick in a brown paper bag with an "orange you glad…" knock-knock joke written on the outside. Who doesn't love knock-knock jokes?!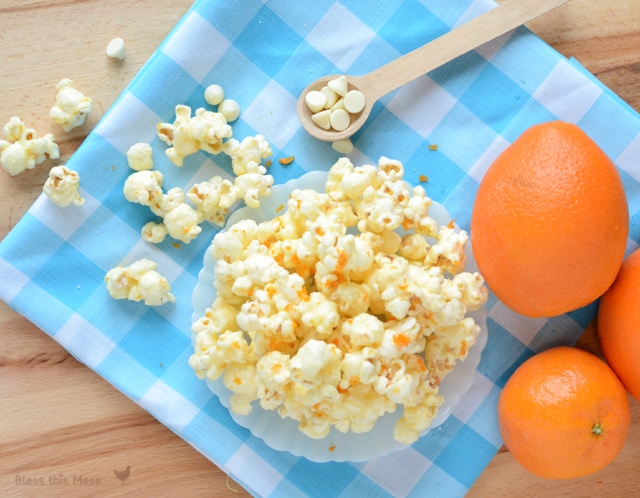 And if Orange Dreamsicle Popcorn isn't quite what you are looking for, you might enjoy these recipe:
1. Cheesy Chili Lime Popcorn
2. Cinnamon Popcorn with White Chocolate Drizzle
3. Gooey Marshmallow Popcorn
There you have it. A whole lot of popcorn, a new face, and an invitation to come pay me a visit (Bless this Mess). If you do stop by, be sure to say hello! I love meeting new people and I'd love to see your own blog if you have this addicting hobby too.
Keep calm and popcorn on, Melissa
————————
Thank Melissa! This recipe sounds heavenly!
And, for more popcorn recipes check out: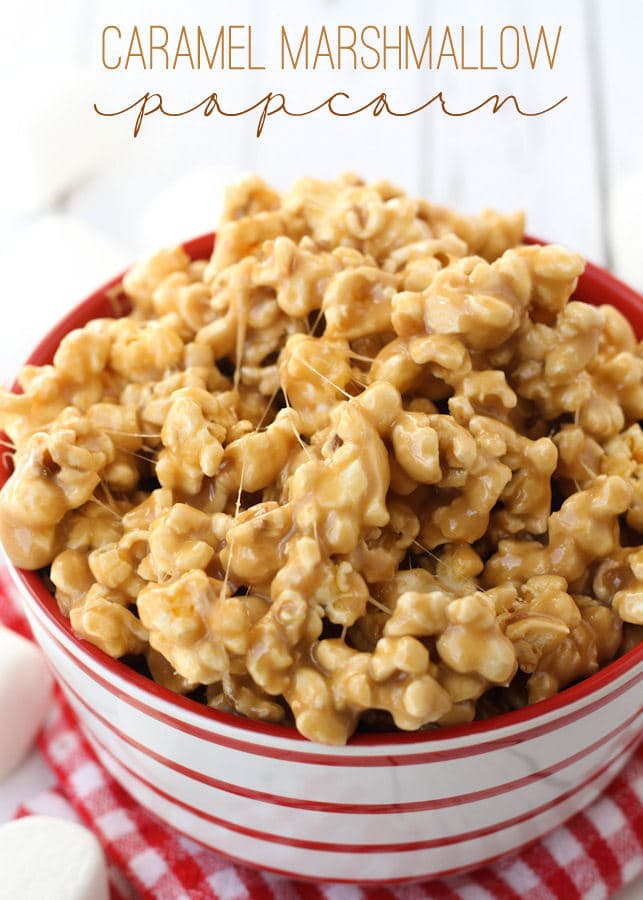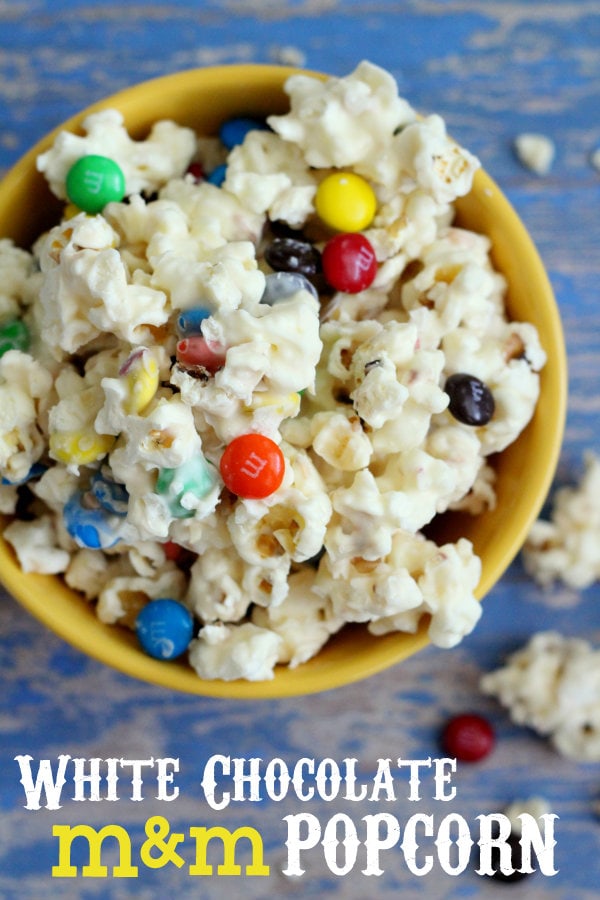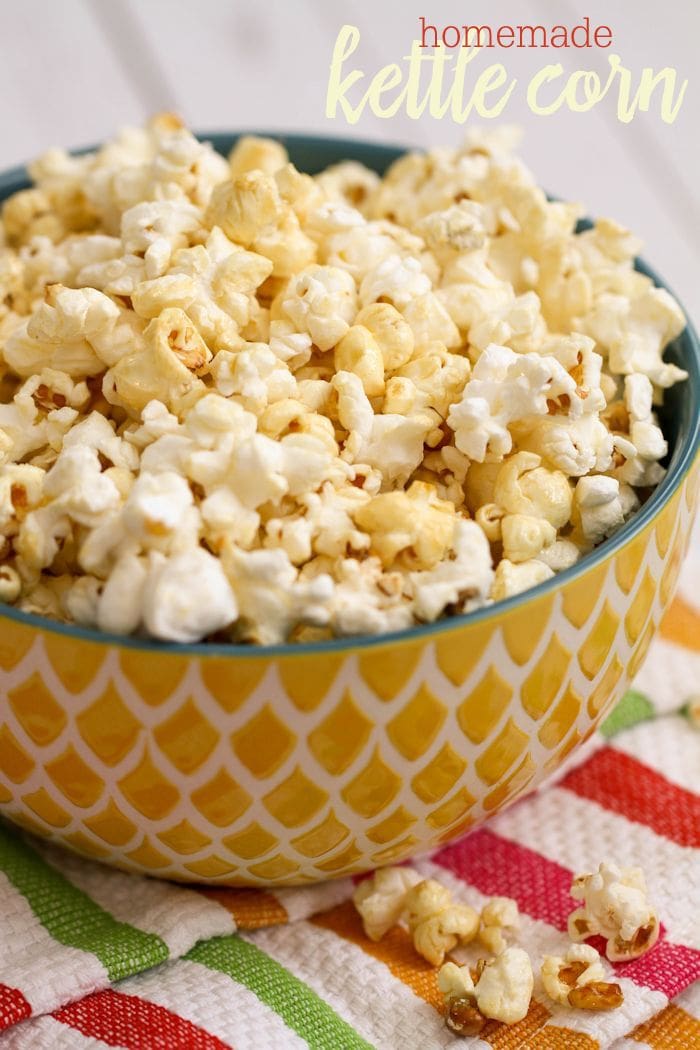 For all Sweet Treats by Lily go HERE.
For all Dessert recipes go HERE.
And get weekly emails with monthly freebies by signing up for the Lil' Luna newsletter. 🙂
For even more great ideas follow me on Facebook – Pinterest – Instagram – Twitter – Periscope – Snapchat.
Don't miss a thing – Sign up for the Lil' Luna Newsletter today!
ENJOY!!