I'm so excited to be sharing this next easy and fun gift idea with you today. I recently collaborated with HERSHEY'S KISSES to create a Merry KISSmas gift idea that is perfect for neighbors and friends!
The kids will love helping putting these guys together!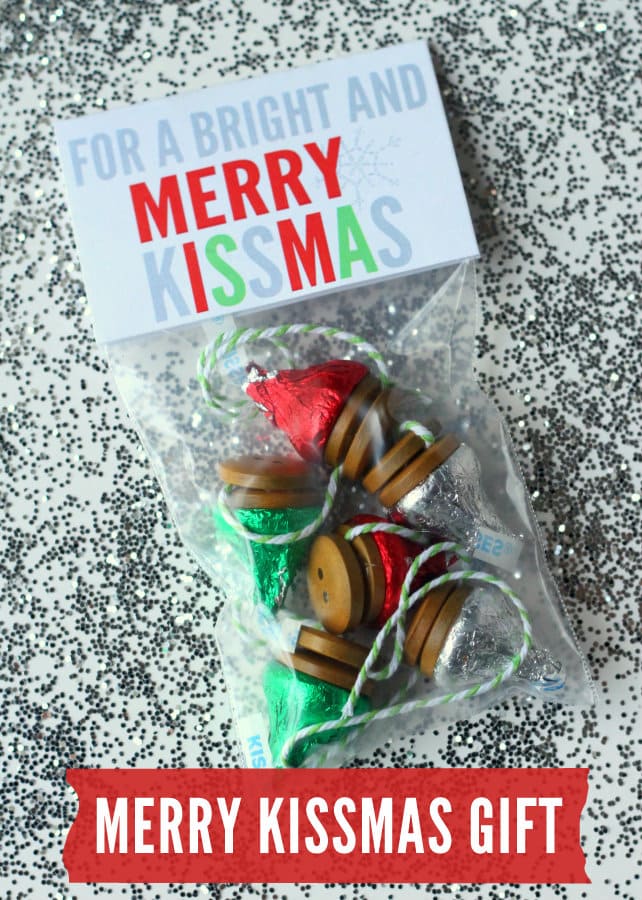 Here is what you'll need to make these too…
MY OTHER RECIPES
*Makes 1 strand of garland
SUPPLIES:
• 1 bag (11oz) of HERSHEY'S KISSES Brand Milk Chocolates in red, silver and green foils
• Twine or ribbon (your color of choice)
• Hot glue gun
• Approximately 5 gold or tan buttons
• 1 plastic treat or jewelry bag
• Stapler
• 1 pen to write a message on the gift tag (optional)
Resources:
• "MERRY KISSMAS" Gift Tag (jpeg)
INSTRUCTIONS:
1. Remove 5 HERSHEY'S KISSES Brand Milk Chocolates from the bag. Be sure you have a mix of red, silver and green foils. Keep the wrappers on.
2. Hot glue a button to the bottom of each HERSHEY'S KISSES Brand Milk Chocolate.
3. Then, add a dollop of hot glue to the bottom of each button, and quickly place twine on top. Immediately add another button on top to sandwich the twine in place.
4. Repeat step 3 with each HERSHEY'S KISSES Brand Milk Chocolate, using the same piece of twine but leaving 2 – 3 inches of twine between each chocolate depending on how long you want the garland to be. Once finished, you will have created your garland.*
5. Place the garland in the plastic bag.
6. Print out the "MERRY KISSMAS" Gift Tag and cut to size if needed.
*TO SAVE: Click on the TAG you want above, RIGHT-CLICK, SAVE. Open it in a program like Word and RE-SIZE it to fit your bag. To cut out more easily add a border to the tag in Word.
7. Attach the printable to the top of your gift bag by folding in half vertically over the top of the bag. Secure in place with a stapler.
8. Write a custom message on the back of the gift tag (on the white space) if desired. Gift to neighbors, family or friends for a unique and festive gift!
*You can add more than 5 HERSHEY'S KISSES Brand Milk Chocolates to make the garland even longer, if desired. However, you will then need more gold buttons and likely a bigger plastic bag.
Such an easy but fun gift idea, don't you think?
The kiddos and I LOVE doing fun things like this together as well as create new and festive traditions. And when you think about it it's easy to get caught up in busy schedules during the holidays. That's why we like to take time each year to step back and remember what it's all about – spreading holiday cheer and good wishes. This "MERRY KISSMAS" garland is the perfect way to do just that! It's a simple, inexpensive gift to brighten someone's day this holiday season.
For all Christmas ideas go HERE, and for more easy and fun gift ideas go HERE.
ENJOY!
*This is a sponsored post written on behalf of HERSHEY'S KISSES. I was compensated for this post, but as always all opinions are 100% my own.