Hello there! My name is Lindsay and I blog over at
Southern Lovely
.I have three little ones at home that keep me oh-so busy. :)I enjoy this creative outlet & all the wonderful friends that come along with blogging.
1 – What is your favorite holiday and why?
I enjoy celebrating all the different holidays, but Halloween makes the top of my list.I think it may have to do with having my birthday so close to the 31st.  I love all the fun festivities of the month.  We have a few traditions that make the holiday so exciting–spooky reading night, pumpkin patch & pumpkin carving.
2 – What is your favorite Christmas Tradition?
Gingerbread house decorating has become our family's favorite Christmas tradition.  We crank up the Christmas tunes & have the best time putting lots of detail into those little houses.  And watching the sweet hands of my children make them, is such a beautiful sight.
3 – What is your all-time favorite Christmas Movie?
My siblings & I had the best time watching Christmas Vacation together.  No matter how many times we watch it, we always laugh until our stomachs hurt.Now that I have children of my own, we have started watching How the Grinch Stole Christmas–with Jim Carrey.  Little Cindy Lou Who reminds me of my sweet Olivia. 🙂
4 – What has been the best present you've ever received and why?
I have received a lot of really wonderful gifts over the years, but hands down, my favorite is the book that my 5-year old put together for me.  Most of the words were missed spelled, but the pictures were the most adorable thing ever.   I am a lover of handmade gifts.
5 – Why do you blog?
When I started Southern Lovely, I was about to give birth to my 3rd child, my son Zac.  I did it because our family blog was being overtaken by all my crafts.  And honestly, I never dreamed it would turn into this.  I was shocked when I had more people than just my family reading it.   I have come to adore so many of my blogging friends.  My blog really is my outlet, amongst the loud chaos that three small children can bring. 🙂
MY OTHER RECIPES
Over the Christmas holiday, I made several festive crafts that I really enjoyed.
Here is how you can make some for yourself–
2×4's–3 pieces of the same length
Yarn–more than one color if you are doing stripes
paint for the wood
Hot glue
Ribbon
One tradition that I try to do each year with the kids, is some sort of craft. I knew this would be pretty kid-friendly, so I let my 5 year old have at it.
To start, simply paint the wood your desired color, let dry, then hot glue them together, standing vertically.
My special helper did all the painting, and was very precise at it–she is kind of a perfectionist, I wonder where she gets that from. 🙂
Next is wrapping the yarn around the wood. You can do stripes, or just one color, it's totally up to your preference.
I started the yarn at the top by adding hot glue, then I let my daughter wrap it over & over again. It wasn't perfect, but that's okay, it gave it character, and I will always remember that she helped with it!
Then embellish it! We added red berries & ribbon, but I'm sure there are so many other options as well!
So there you go, little presents wrapped perfectly for the holiday–and having a very special helper made it even more memorable!
Thanks so much for having me here today!
————————————————
Thanks Lindsay!! These are the cutest little gifts!!
For more Christmas gifts be sure to check out: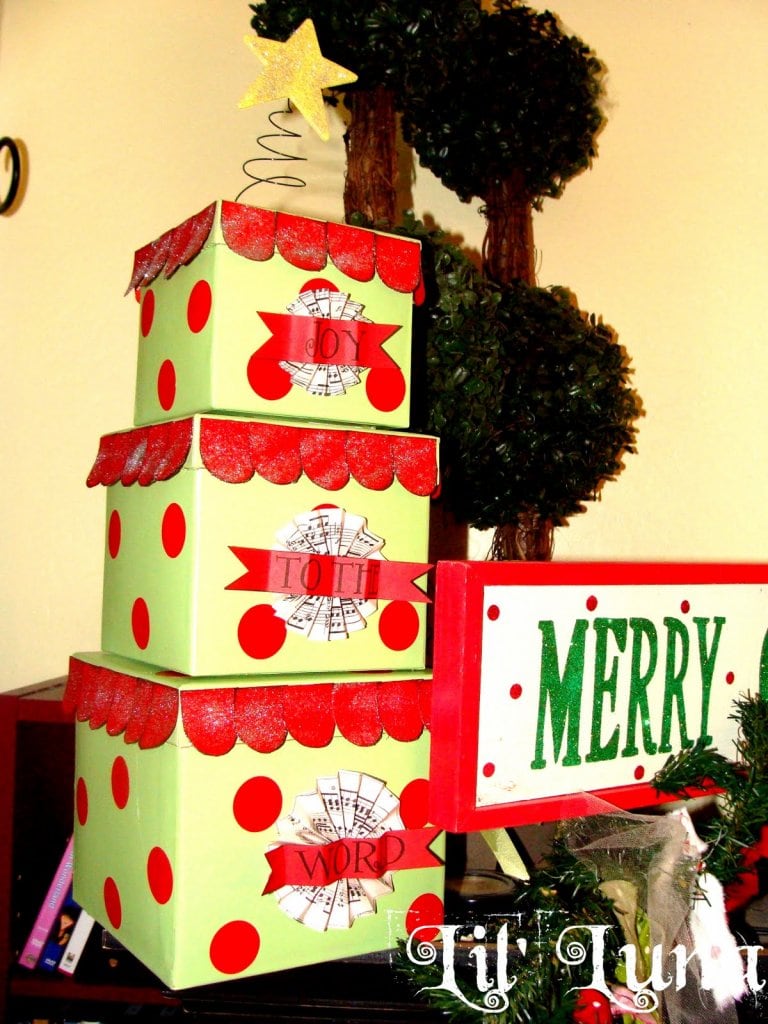 Gift Box Christmas Trees
Service Advent Calendar
And get weekly emails with monthly freebies by
signing up for the Lil' Luna newsletter
. 🙂
For even more great ideas follow me on Facebook – Pinterest – Instagram – Twitter – Periscope – Snapchat & YouTube.
ENJOY!!