Whether you are watching the big game, enjoying a New Year's celebration, or having a dinner party, there is something for everyone in our tasty collection of Party Appetizers!!
Appetizer Collections: Mexican Appetizers, Healthy Appetizers, Super Bowl Appetizers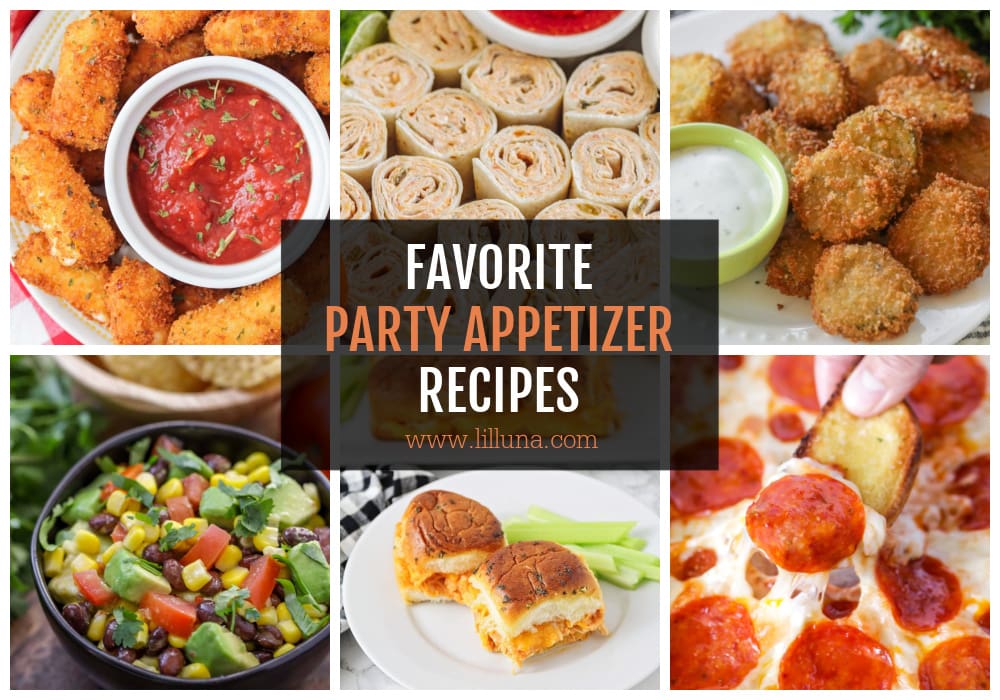 Every Party Needs Appetizers
Whether you are craving hot or cold, sweet or savory, there is an app for you – an appetizer that is! These appetizers are party perfect!!
When planning Party Appetizer ideas, there are a few things I like to consider:
Add variety, but make sure that the flavors are complementary.
Offer both warm and cool, sweet and savory, veggie and meaty.
Use tried and true recipes. If you want to use new recipes, do a practice run a couple weeks beforehand, to work out any kinks.
Offer both ready made (from a grocery store, or favorite bakery), as well as homemade.
Consider accommodating common allergies such as: gluten free, dairy free and nut free. Label the dishes as such, or include a list of ingredients.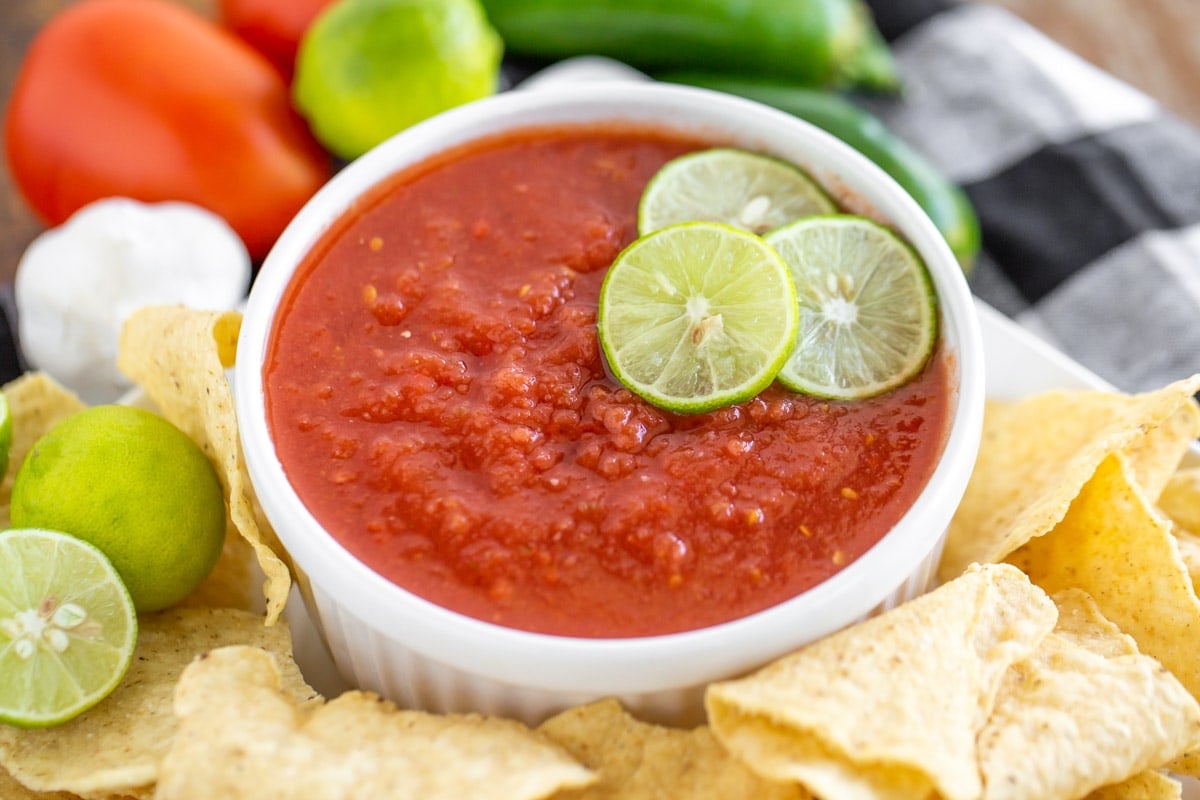 "Guest-imating"
I saw this term and loved it. When preparing food for a party, it really is a guess. Here are some tips that will help to estimate the amount you'll need for your guests:
For fewer than 10 guests: offer 2-3 different types of Party Appetizers.
For more than 10 guests: add another dish for every 5-8 additional guests.
Main dish. When appetizers are the main food at an event, plan to serve about 10-12 pieces per person for a two hour party. Add about 5 more pieces, per person, for every additional hour.
Side. If you will be serving dinner, fewer appetizers are needed. In this case, plan to serve a total of 3-4 appetizers per person.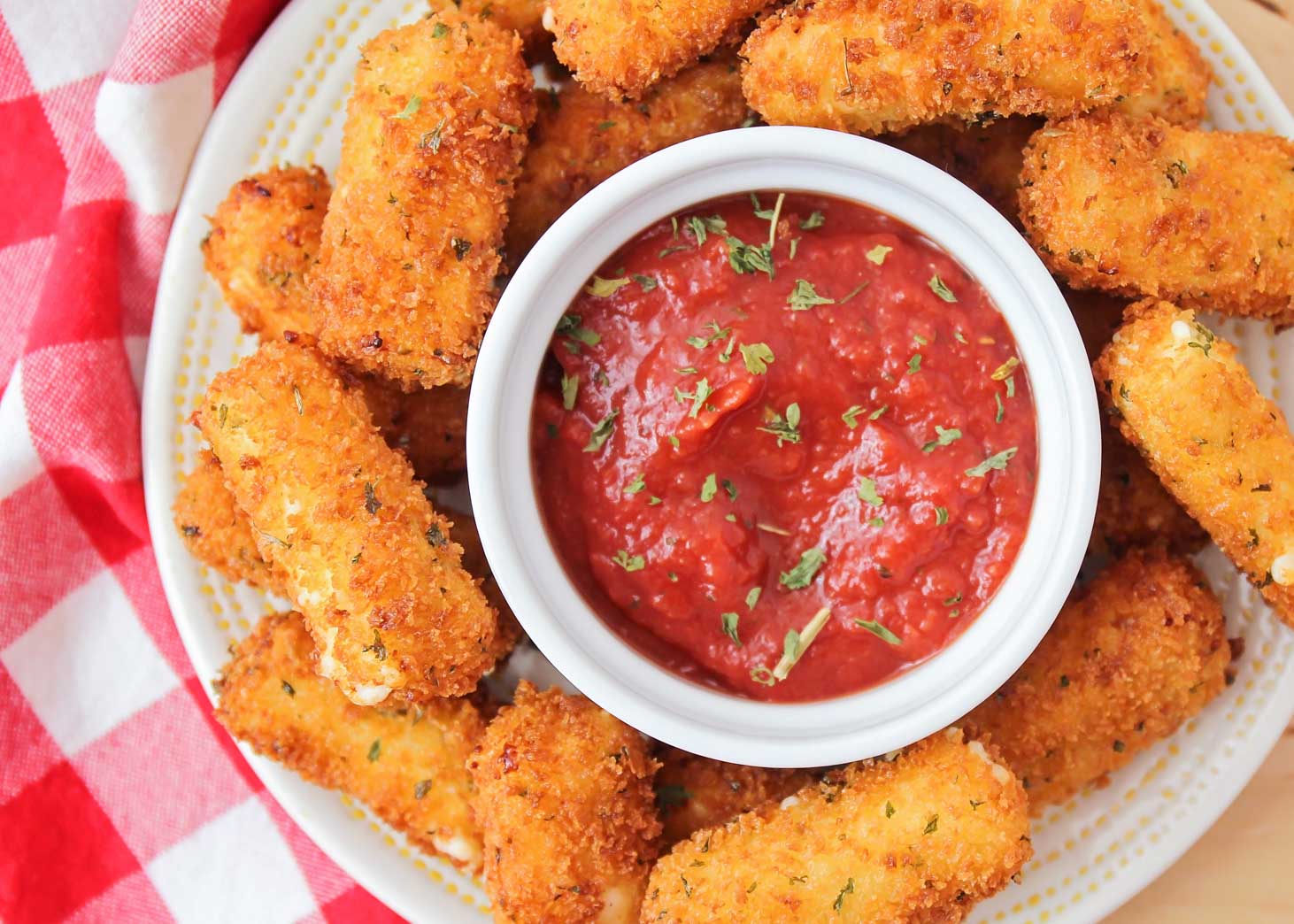 Planning Party Appetizers
Serving your appetizers. Over the years I've collected many different serving trays. When I first started out, I would limit myself to buying 1 new serving tray/stand, and then use what I had on hand.
Here are some great ways to serve your best Party Appetizers:
Line cookie sheets and other trays with parchment paper.
Use cutting boards or cake stands.
Check the dollar store for inexpensive serving bowls and trays.
Look around your house for unique bowls and trays, that you can line with parchment paper.
Be prepared! This motto isn't just for Boy Scouts, because if it can go wrong, it will. Planning ahead will make everything go as smoothly as possible.
Plan your menu a week before, then watch ads to see what is on sale.
Make ahead of time. Decide which dishes can be made ahead of time, and stored in the fridge.
Hot appetizers. Decide which foods need to be heated. Plan enough space to heat the dishes properly. The crock pot is a great kitchen tool to use.
Make room. Clean and organize the space the day before.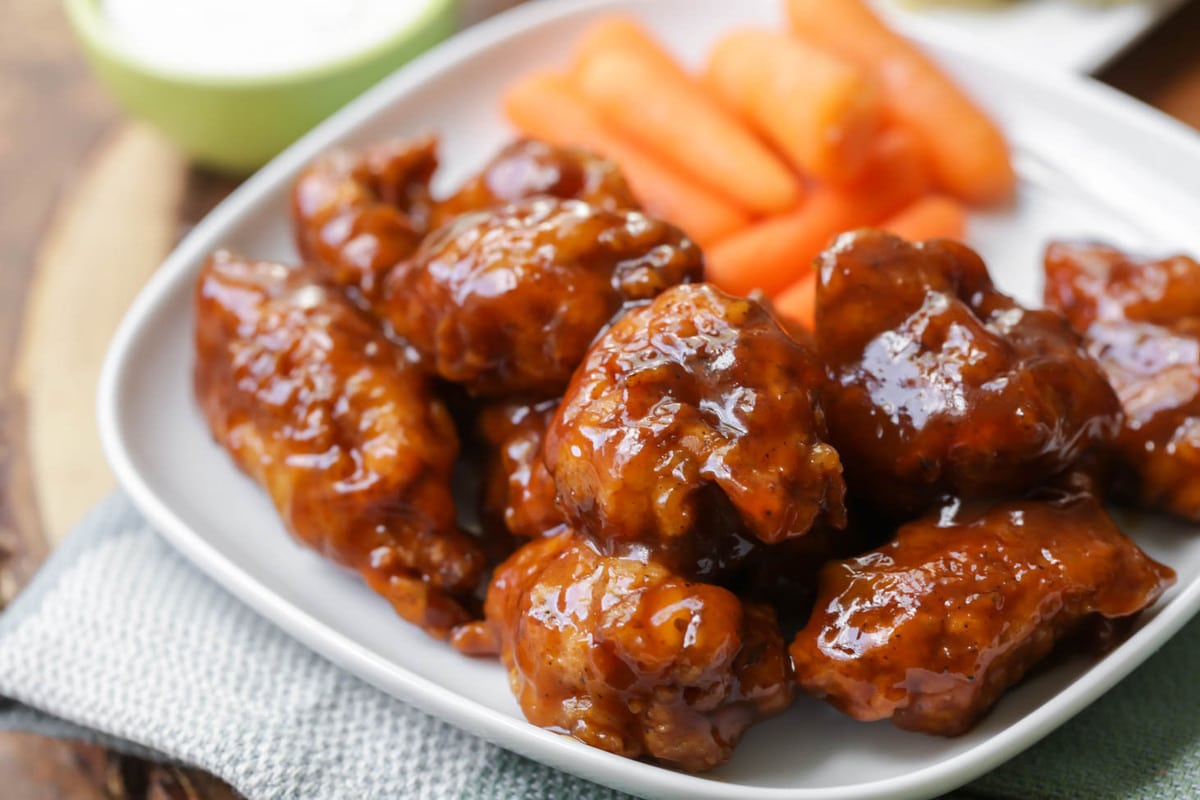 Appetizer etiquette for Guests + Hosts
DO NOT graze. Unless there is staff carrying trays for you to grab a bite, don't eat directly from the serving trays. Place appetizers on a plate before eating them.
This is especially true for dips and salsa – don't eat right out of the bowl. Hosts: be sure that every appetizer has serving tongs and spoons for easy serving.
DO NOT hover. Once you have acquired the desired appetizers, step away from the table to make room for other guests to easily grab food. Hosts: place appetizer tables, or stations, in a way that traffic can flow easily.
Napkin v plate. It's acceptable to hold one or two appetizers with a napkin, but if you take more than three items, get a plate. Hosts: be sure to provide plenty of plates and napkins, at every appetizer station, throughout the event.
Mix and mingle. Many parties, where finger foods are served, are mix and mingle. This means you're trying to hold your food and drink, while walking around chatting with others.
One trick to make this easier: firmly hold your glass, and balance your plate on top of the cup. This leaves your other hand free to eat, shake hands, etc. Hosts: provide sturdy plates and cups that can balance well together. Provide places for guests to sit, for those who may have trouble.
Dispose of garbage. Unless there is hired staff whose job it is to collect trash, dispose of your used plates, utensils, and particularly toothpicks correctly. Hosts: provide several receptacles throughout the venue, so guests don't need to hunt for a trash can.
---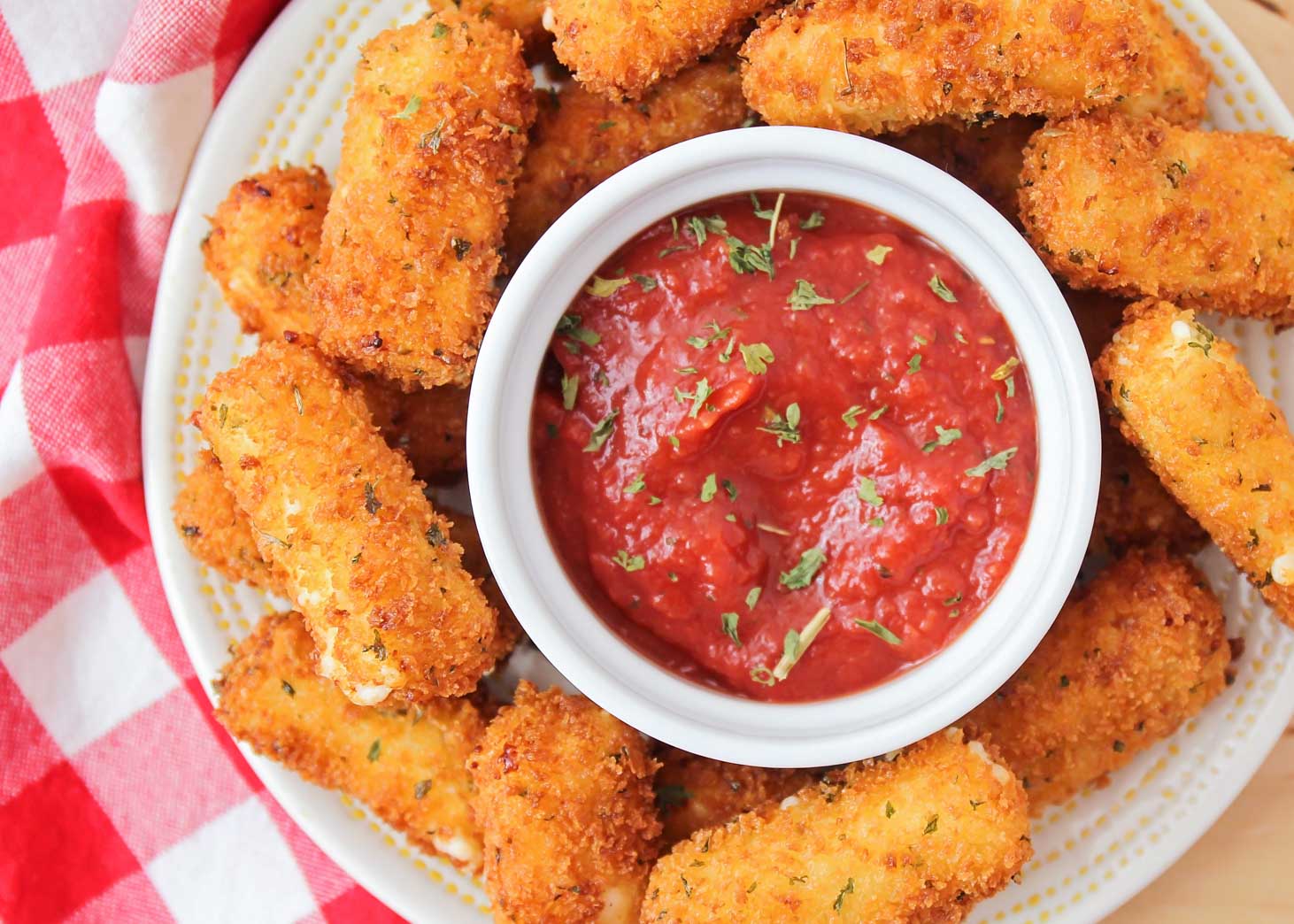 Best Party Appetizers
These are some of our top pics for Party Appetizers, and ones we almost always serve at our gatherings!
Mozzarella Sticks – Everyone is obsessed with these ooey gooey homemade mozzarella sticks, breaded with a flavorful coating and fried to a golden perfection.
Crockpot Meatballs – Sweet + savory Crockpot Meatballs are packed with flavor, and perfect for parties. They are SO easy, yet SO tasty!
Sausage Cream Cheese Crescent Rolls – This simple 3-ingredient appetizer is great for parties and get togethers and is so full of flavor! Everyone will love these Sausage Cream Cheese Crescent Rolls.
Air Fryer Zucchini – Crispy air fryer zucchini will give you all the flavor and none of the guilt! This healthy version still packs the flavor punch.
Buffalo Wings – Crispy tender chicken wings tossed in the most wonderful buffalo sauce! The best party appetizer for a crowd or party!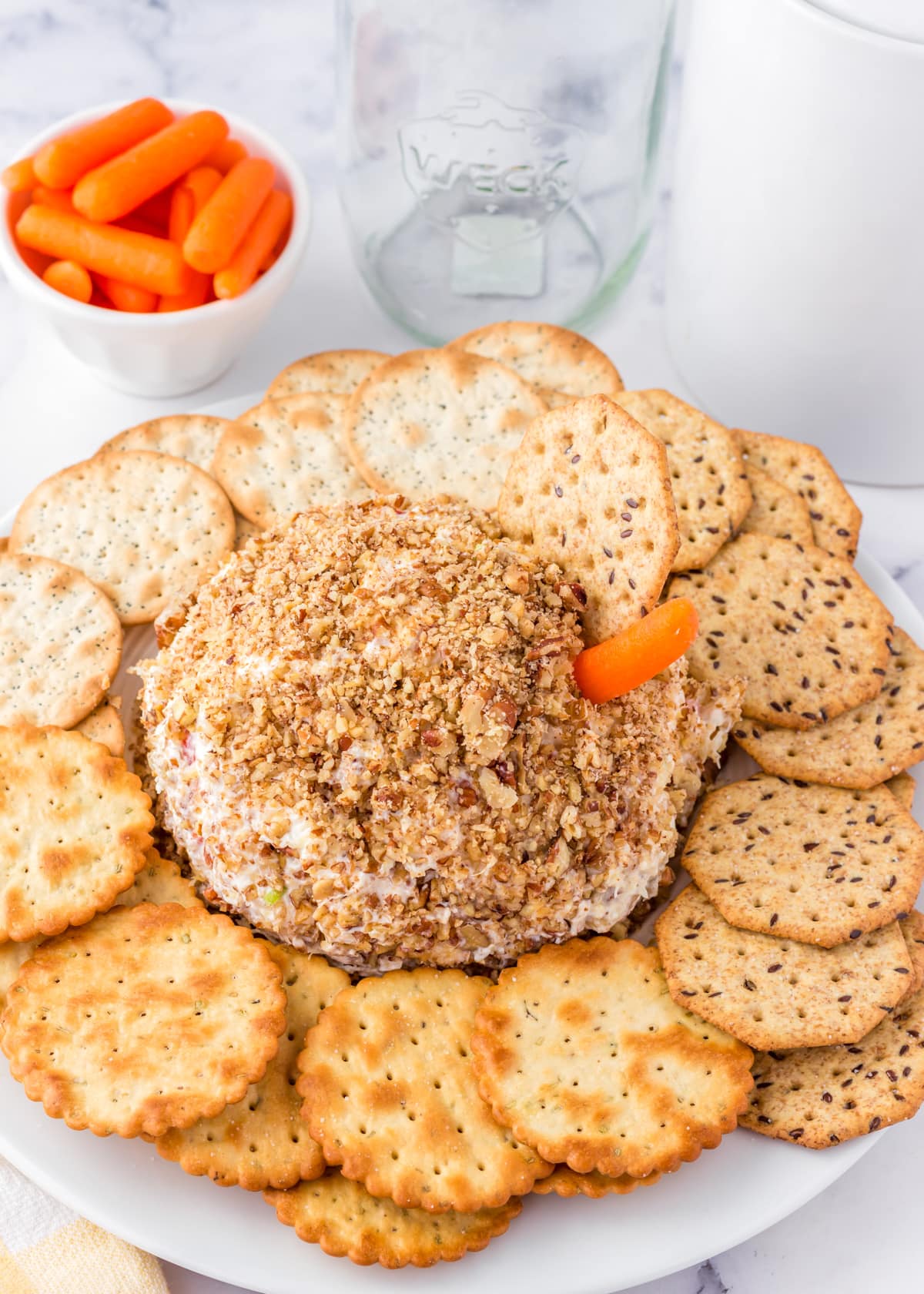 Pineapple Cheese Ball – Sweet + tangy Pineapple Cheese Ball is crusted with pecans for a perfect combination. The juicy pineapple pops are irresistible!
Brown Sugar Beanie Weenies – With only 5 minutes of prep and 3 ingredients, these Brown Sugar Beanie Weenies are by far one of the easiest appetizers!
Cheese Ball Bites – Mini Cheese Ball Bites taste just like a loaded cheese ball, but mini! They are perfect grab and go appetizers.
Guacamole – Spicy, chunky simple guacamole is so easy and addicting, it's sure to be a crowd pleaser! You won't be able to stop eating it.
Bruschetta – This yummy Homemade Bruschetta is simple and perfect for any party! It includes fresh ingredients and is the perfect Italian appetizer!
How To Make Pupusas – Learn how to make pupusas – a simple, savory, cheesy bean-stuffed corn cake that originates from El Salvador.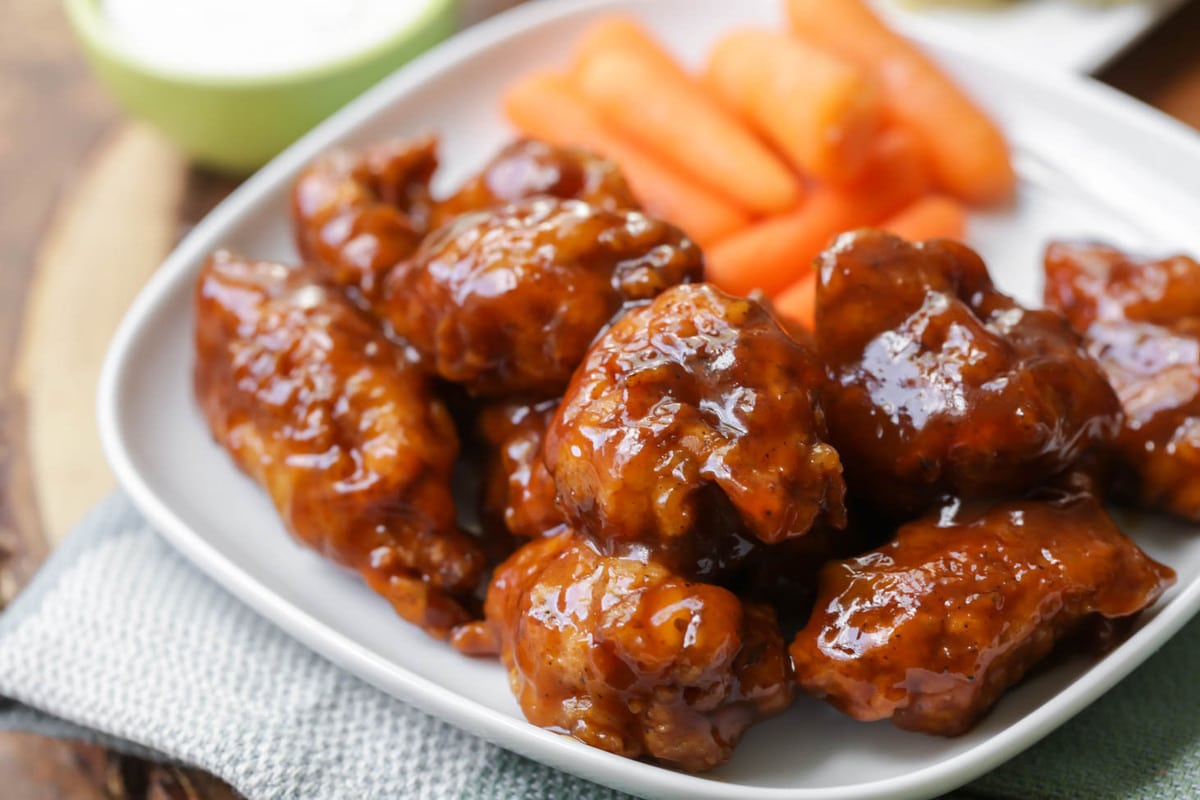 Boneless Honey BBQ Wings – Delicious homemade boneless chicken wings, double breaded, baked to a crispy perfection, then smothered in sweet and tangy honey bbq sauce.
Deep Fried Pickles – Deep Fried Pickles are crunchy, flavorful, and SO tasty! They are breaded and fried to perfection, making them a crowd favorite!
Bacon Wrapped Smokies – Bacon wrapped little smokies sprinkled with brown sugar, and baked to perfection. These bacon wrapped weenies are the ultimate appetizer for any party, and always the first to disappear!
Fried Green Beans – Crispy fried green beans making all of your appetizer dreams comes true! Breaded with seasoned bread crumbs and fried to crunchy perfection!
Dill Vegetable Dip – Fresh & creamy Dill Veggie Dip is quick, simple, and perfect for parties and snacking. It's our go-to vegetable dip!
Buffalo Chicken Pizza – Spicy buffalo chicken pizza is flavored with blue cheese and cilantro for an amped-up pizza night that everyone will love!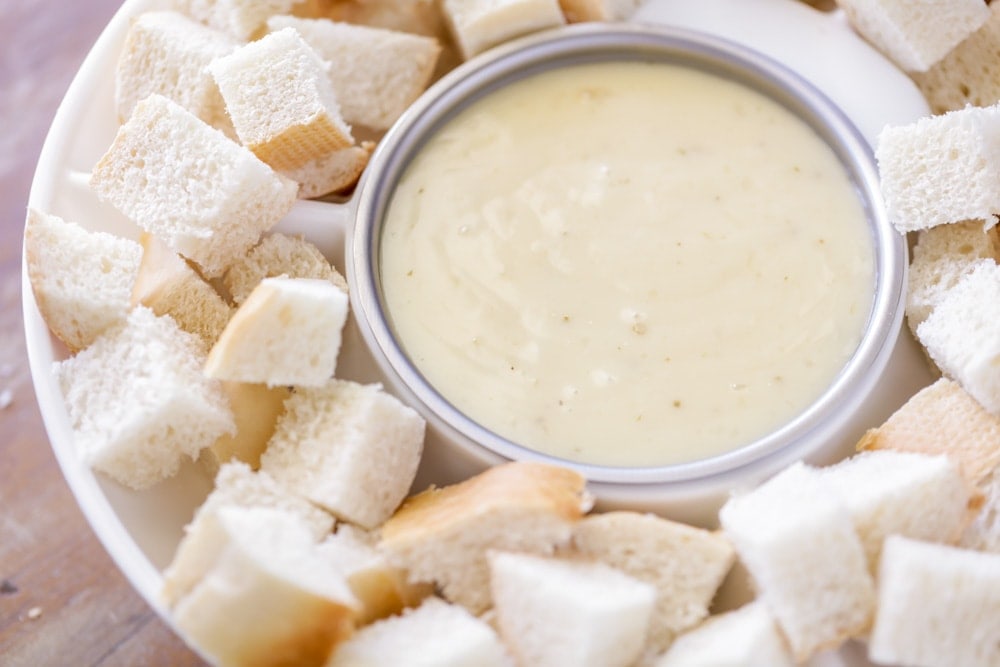 Cheese Fondue – This Cheese Fondue is gooey perfection literally made in minutes. It's a showstopper dip to share, or not!
Sweet Potato Skins – Crispy Sweet Potato Skins are a delicious buttery parmesan crusted appetizer. Whip these up for your next party!!
Jalapeno Poppers – Spicy fried Jalapeno Poppers are a classic appetizer that everyone wants! Bite into these cheesy poppers for a flavor explosion!
Chicken Parmesan Sliders – Deliciously cheesy Chicken Parmesan Sliders make a perfect appetizer, but can hold their own as a main dish too!
Brie Phyllo Tarts – Show-stopper Brie Phyllo Tarts are simply elegant and absolutely delicious. They are ready to enjoy in only 15 minutes!!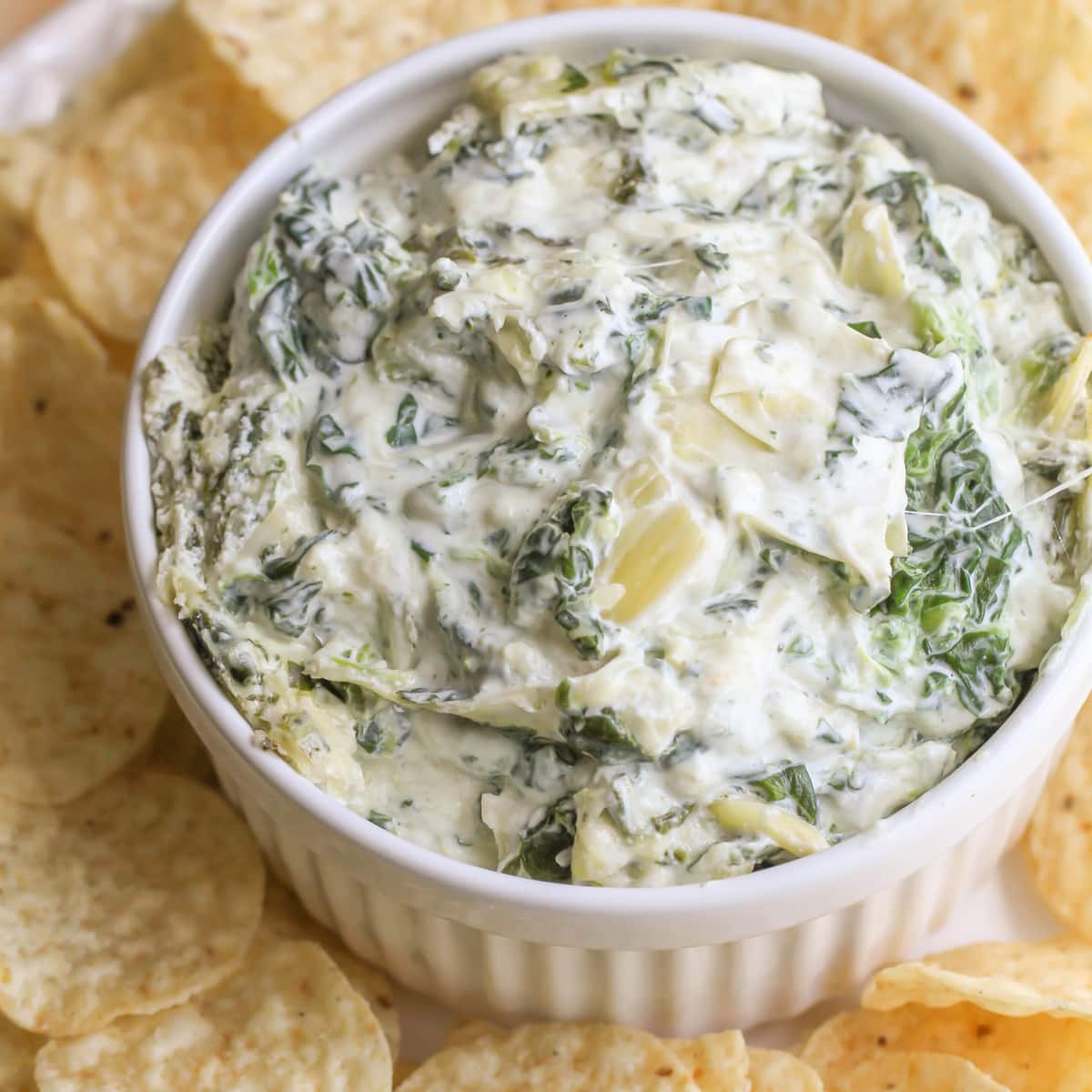 Easy party Appetizers
Each of these dishes are an easy appetizer recipe. Most are made fairly quickly, or have simple ingredients, and they are all delicious!
Spinach Artichoke Dip – This is the BEST Spinach Artichoke Dip recipe, and the ultimate dip for any get together! Filled with spinach, artichoke hearts, cheese, and more – this dip is sooo cheesy and perfect for any gathering!
Buffalo Chicken Dip – This dip has all the flavor of buffalo wings in a creamy, simple dip! Easy Buffalo Chicken Dip is perfect for parties and get-togethers.
Cheesy Pizza Muffins – These cheesy and delicious Pizza Muffins make for the perfect appetizer. They're filled with melty mozzarella, and topped with a yummy garlic butter, more cheese, and mini pepperonis.
Chili Cheese Dip – Make the BEST and yummiest Chili Cheese Dip in only 10 minutes and with a handful of ingredients. It's the perfect appetizer for any party.
7 Layer Bean Dip – This 7 Layer Bean Dip recipe is a must-have at every function! It has loads of flavor and all your favorite dip ingredients including avocados, olives, tomatoes, cheese, guacamole and more!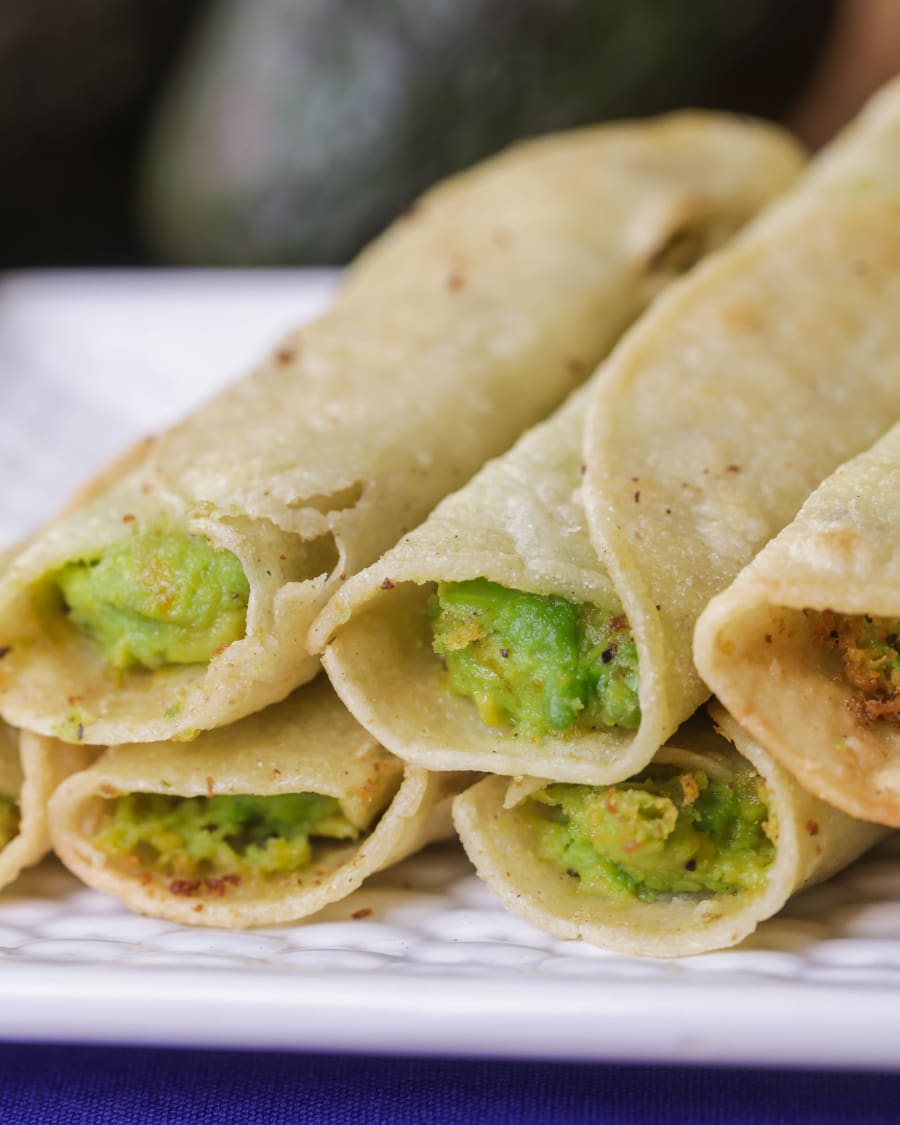 Avocado Taquitos – Avocado Taquitos aka "Flautas" are filled with avocados and cheese and fried to perfection! They're perfect for a main dish or appetizer.
Spinach Dip Bites – Spinach Dip Bites are crunchy, bite-size treats are cheesy and buttery, making them a great appetizer. They are a hit every time!
Buffalo Chicken Taquitos – Serve these Buffalo Chicken Taquitos as an easy dinner idea, or as an appetizer at your next party or get together.
Cheesy Garlic Bread – This is by far our favorite Garlic Bread recipe. It takes minutes to put together and is SO cheesy and delicious. It's the perfect side dish for any meal, but especially for pasta and Italian dishes!
Ham and Cheese Sliders – Quick + easy hot Ham and Cheese Sliders are absolutely addicting. They are a crowd favorite and disappear in minutes!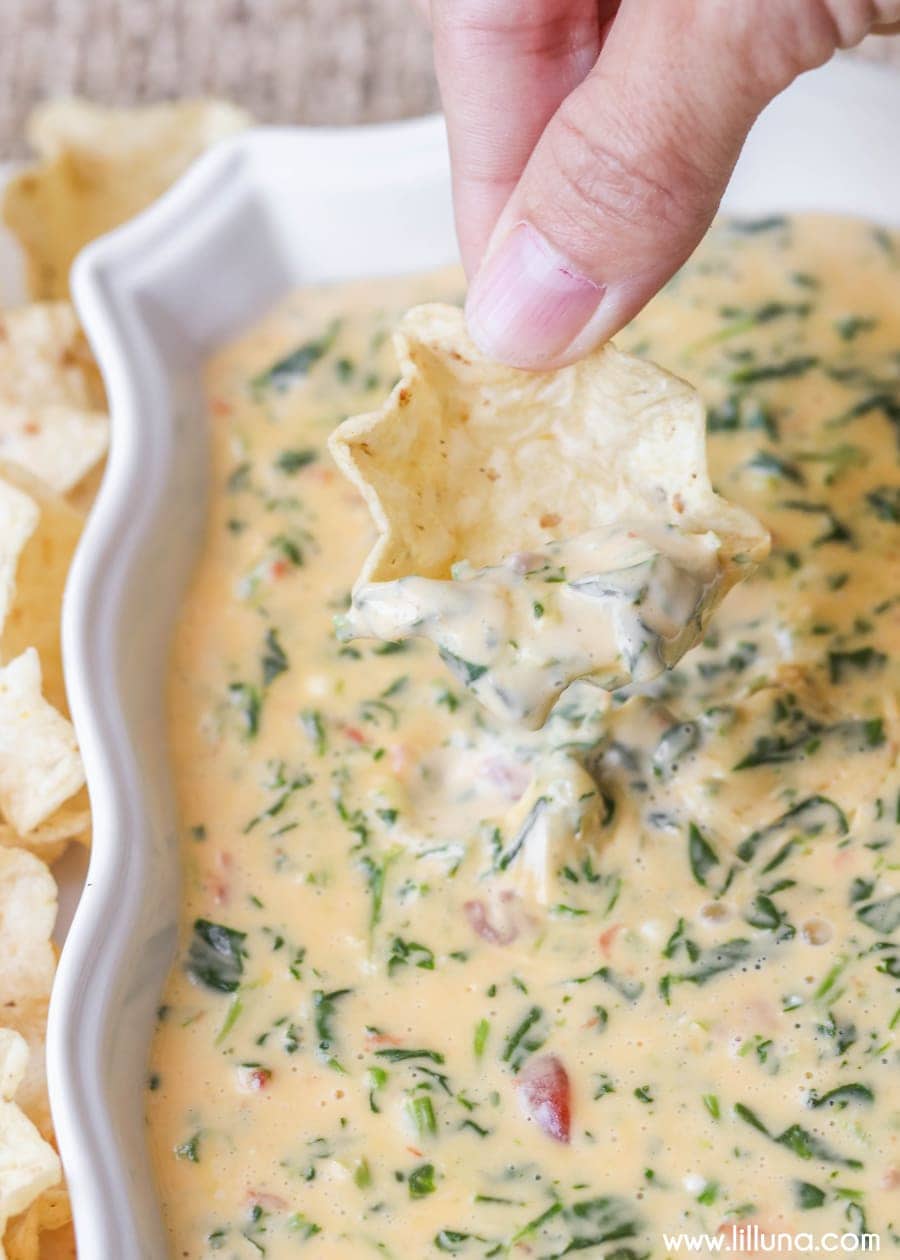 Cheesy Spinach Dip – Cheesy Velveeta Spinach Dip is a simple 5 ingredient dip that everyone will love! It's quick, easy, and SO tasty!
Mini Deep Dish Pizzas – Mini Deep Dish Pizzas are our new favorite dinner recipe. They're easy, quick and can be made custom for each person with their favorite toppings!
Chili's Salsa – The restaurant salsa you know and love, made at home anytime you like! This Chili's Salsa copycat recipe is literally made in minutes with the help of a blender.
French Onion Dip – French onion dip is tangy and savory. It requires only two ingredients and is made in under a minute!
Black Bean and Corn Salsa – This Black Bean and Corn Salsa is one of our favorite dips and appetizers. It's great with any Mexican dish or served with tortilla chips!!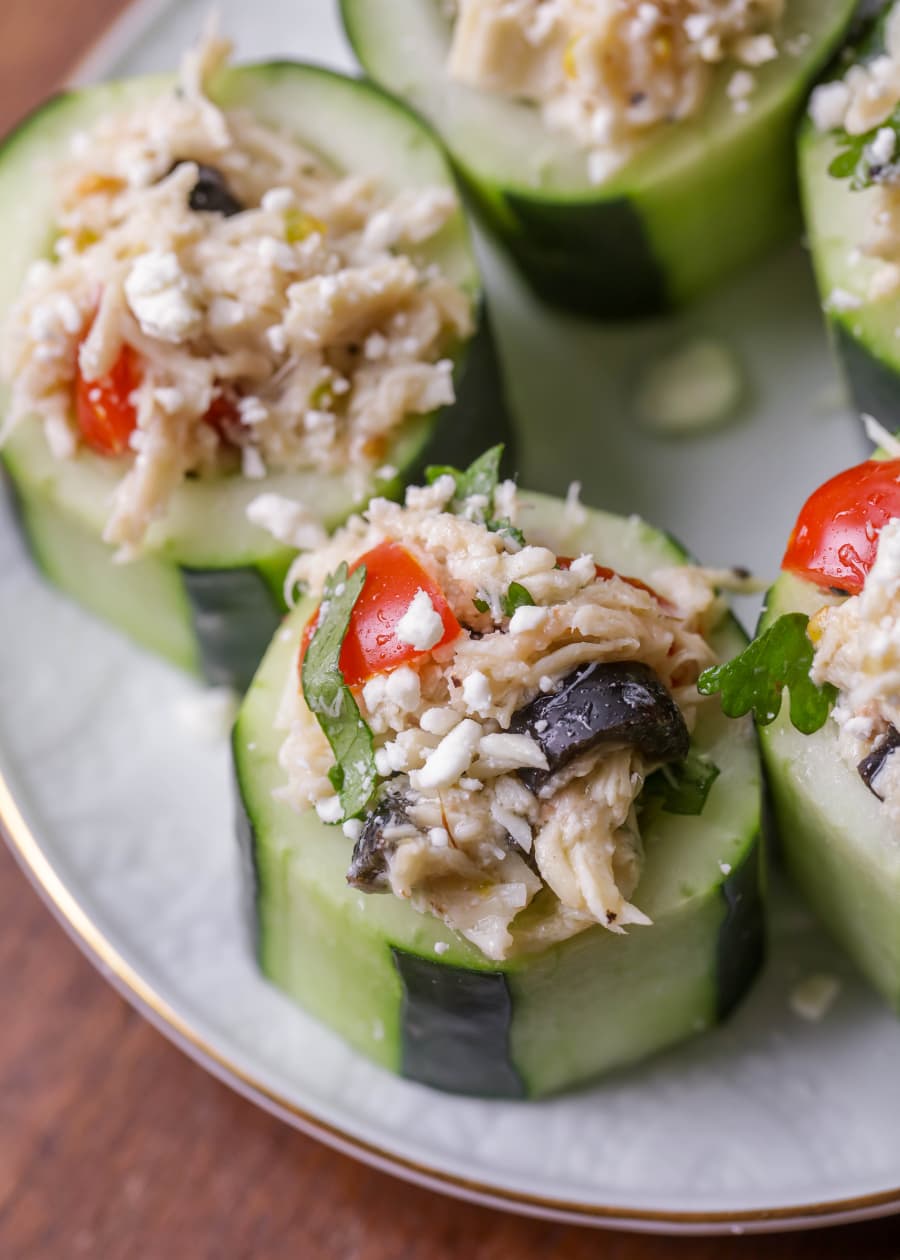 Cold Party appetizers
Cold Party Appetizers are typically lighter, and are nice way to balance out the menu.
They can most often be made ahead of time, which is a great way to free up time on party day for other items on your to-do list.
Greek Cucumber Cups – Simple Greek Cucumber Cups are a light and delicious appetizer that whips up in minutes. They are a perfect low calorie snack!
Caramel Apple Dip – The creamiest and most delicious Caramel Apple Dip you'll ever find. Just a few ingredients are required, but dark brown sugar and sweetened condensed milk make this recipe a crowd pleaser at any get together.
Caprese Kabobs – Simple, quick and delicious Caprese Kabobs take minutes to throw together and are perfect for any party or get together.
Yogurt Fruit Dip – Cream cheese, cool whip, vanilla yogurt, and vanilla pudding mix blended together to make this amazing Vanilla Yogurt Fruit dip for your favorite fruit!
Fiesta Pinwheels – Fiesta pinwheels are bite-size tortilla rolls filled with a spiced cream cheese mixture. They are a party in your mouth!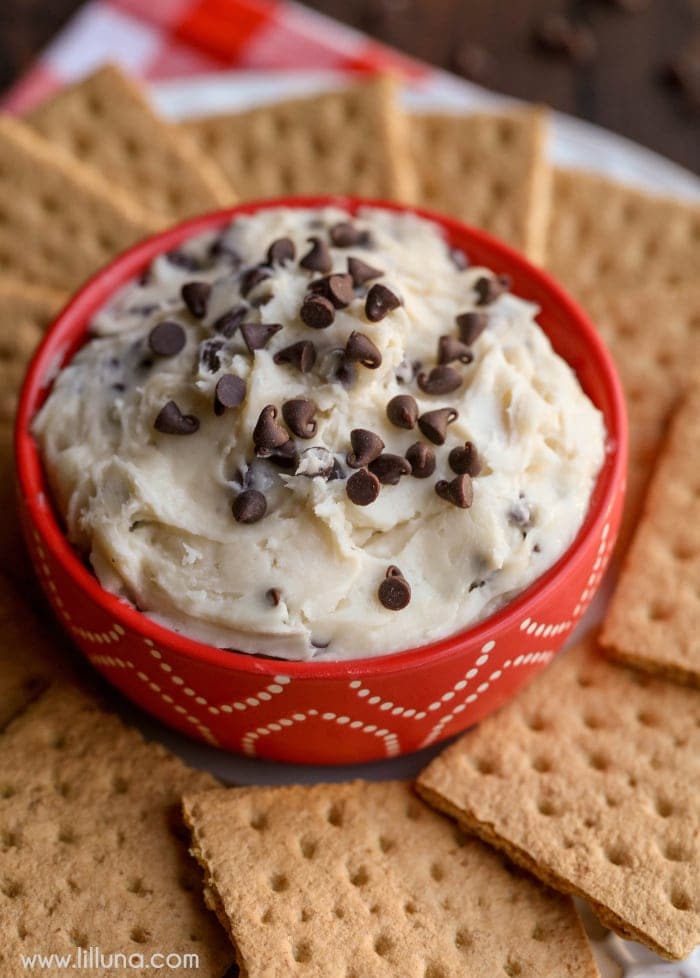 Chocolate Chip Dip – Chocolate Chip Dip is a simple dessert dip filled with mini chocolate chips that tastes like cookie dough! It's perfectly dippable.
Cream Cheese Fruit Dip – This Cream Cheese Fruit Dip is one of the best fruit dip recipes you will ever try! It takes just 5 simple ingredients – cream cheese, vanilla, sugar, marshmallow fluff, and cool whip – and ALWAYS vanishes in minutes!
Deviled Eggs – Nothing better than a smooth deviled egg appetizer! You'll be surprised with how easy these are to make. Tons of flavor, super delicious and perfect for parties and holidays.
Charcuterie Board – We all love to graze during holidays and parties, and what better way to do it than with a Charcuterie board?! Customize with all your favorite meats, cheeses, crackers, veggies, fruits and dips!
Bruschetta Caprese – Toasted bread rounds are topped with a mixture of juicy tomatoes, ripe avocado, and fresh mozzarella to make this Bruschetta Caprese. Top it all off with a balsamic glaze!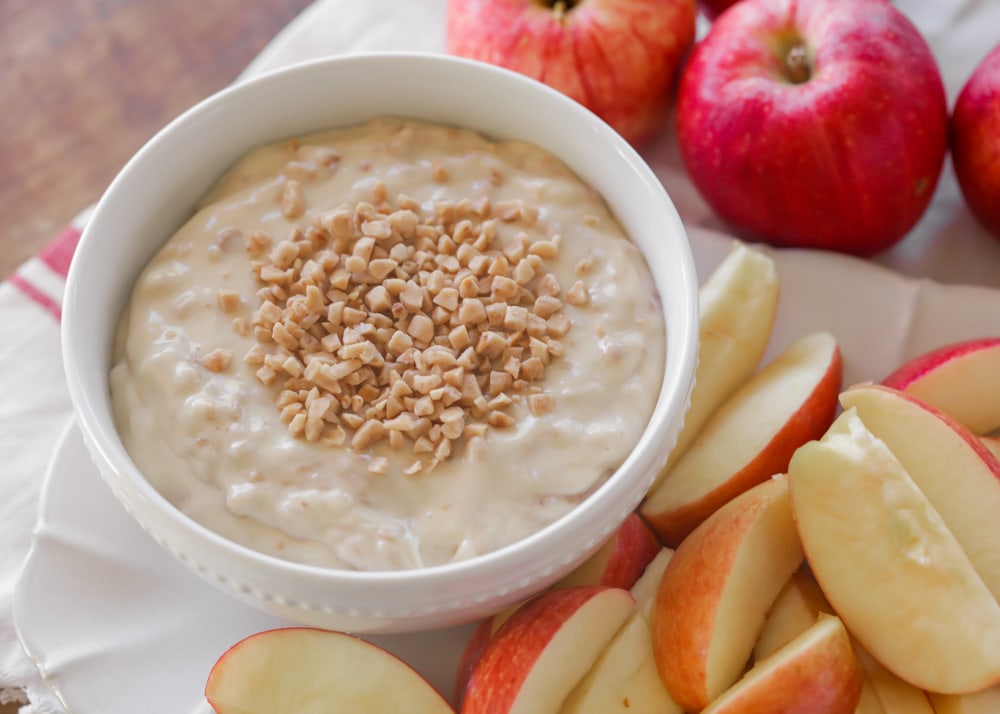 Apple Brickle Dip Recipe – This 5-Ingredient Apple Brickle Dip recipe takes minutes to make and is so delicious! Plus, it uses common ingredients including, cream cheese, brown sugar, sugar, & vanilla.
Bacon Ranch Cheese Ball – Spruce up your holiday appetizers with a tasty Bacon Ranch Cheese Ball. It's easy, delicious, and perfect served with crackers and veggies.
Cream Cheese Salsa Dip – Cream Cheese Salsa Dip is creamy + tangy, with an adjustable level of spice. This tasty twist on a classic red salsa is made in minutes!
Homemade Hummus – If you need a quick healthy snack or party appetizer, you can whip up this Homemade Hummus in 5 minutes or less!
Chocolate Chip Cheese Ball – Decadent Chocolate Chip Cheese Ball is a cool, creamy treat filled with mini chocolate chips and perfect for dipping!
---
The Complete List
Here are the picture recipe cards for all the recipes in this delicious collection! Plan the perfect gathering with these Perfect Party Appetizers that are sure to please.
Be sure to check out all of our Appetizer Recipes!
For more collections, see: Easy Appetizers, Appetizer Dips, Healthy Appetizers